Looking to whip up a relatively easy dessert that needs minimal effort from your end? This slow cooker apple blueberry cobbler ticks all the boxes and is actually pretty healthy-ish too!!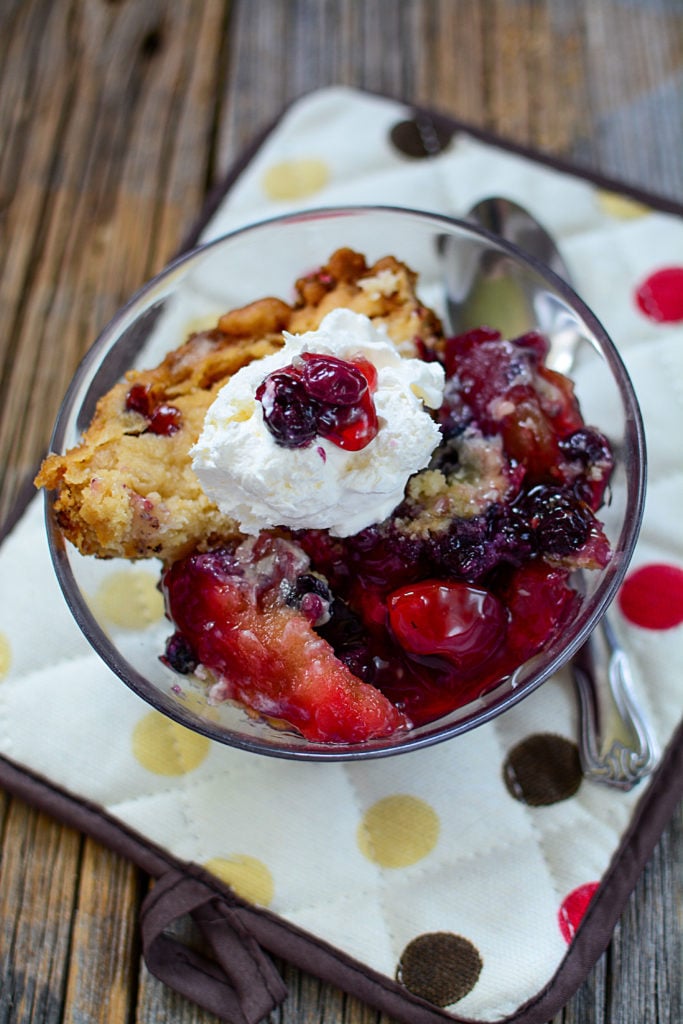 Wait, what's the difference between a cobbler, crisp, betty, etc?
I know, I know. The terms were totally confusing to me too. It actually was driving me crazy so I did some research and wrote a post on the differences between all these different baked desserts. Even a PANDOWDY!!
Slow Cooker Apple Blueberry Cobbler – Fruity Deliciousness!
You can whip this up when you've got guests coming over as the perfect, hearty end to a nice meal.
Or, just a great coffee companion snack as well! Breakfast?? SURE, why not??
Ready to go ahead and give it a shot? Scroll down and keep on reading!

Decoding the Nutrition on this Apple Blueberry Dessert
One of the best things about this cobbler is that it doesn't just taste delicious, but is actually has health benefits too.

For starters, it packs in blueberries- and you already know how berries are one of the most powerful foods on the planet. They are loaded with antioxidants and are chock full of nutrients like iron, magnesium, phosphorus, calcium, manganese, zinc and vitamin K.
Discussing the Ingredients for the Slow Cooker Cobbler
By the way, when you're buying your blueberries for this dessert recipe, choose fruit that is firm but ripe (with a beautiful blue/purple sheen). There should be no wrinkly skin or white spots on the berries.
In this recipe, they are teamed up with canned apples. Yes, perhaps not as healthy has fresh apples, which of course you can use if you have them on hand.
But even canned apples have high flavonoid and fiber content, as well as potassium, vitamins and several other minerals.
Granted, the cake mix used may not be found on the healthiest food lists of the year, but you can easily change this up.
Add a quarter cup of quick oats to the cake mix. Maybe add some ground flax seed as well, upping the nutrition factor of this super yummy dessert!
Lastly, you can forgo the cake mix entirely if you prefer, and use this topping recipe for a Peach and Blueberry Crisp that I made that would work out perfectly!

My Easy Version of Slow Cooker Apple Blueberry Crisp
My version of the slow cooker apple blueberry cobbler is simple, and that's the beauty of it. If you're on the lookout for even more simple dimple desserts like this one, take a peek at my Easy Fruit Cobbler Cheat and Summer time Sour Cherry Crisp.
I used ready-to-use apple pie filling for the bottom layer. You might want to whip it up yourself, and you can by following this apple pie filling recipe by Crazy for Crust, but you might want to undercook the apples initially so that the texture of the apples is just right, after slow cooking.
I preferred to use fresh blueberries for this cobbler recipe, but I believe you can use frozen ones too without any issue. Just make sure they're not old and mushy, and you're sorted!
And lastly, as I mentioned earlier, I used a ready made cake mix along with some melted butter to give it that perfect texture of a cobbler top. I used the Butter Pecan cake mix, since all these flavors go very well together but you can use whatever flavors you think would go nicely.
I think most flavors would except for the chocolate cake flavors.

Cooking the Apple Blueberry Cobbler to Perfection
Got the ingredients ready?
In the recipe card below, you can see how basically, the most 'work' of this recipe is putting together the cake mix cobbler portion and that's not even hard!
You'll want to cook it on low if you have the time (which is preferred) but you can cook it on high as well if you're on a time crunch.
Can I Cook This Blueberry Cobbler in the Oven?
Absolutely! You'll want your temp to be around 350, and bake it until the topping is nicely browned and crispy – about 30 minutes!

How to Serve This Slow Cooker Dessert
Done whipping it up? You can dig in right away- when it is hot, or pop it in the refrigerator and enjoy it cold.
It tastes delicious both ways. And of course, you can't go wrong with teaming it up with a scoop of vanilla ice cream or whipped topping, and to take it up a notch, a sprinkle of pecans.
Well, I hope I've convinced you of just how easy this dessert is to make. Look at the deliciousness that some apple pie filling, a cake mix, and some blueberries make!!
Slow Cooker Apple Blueberry Cobbler
Total Time:
5 hours
10 minutes
Are you looking for a super easy yet super delicious dessert? Well this slow cooker apple blueberry cobbler will fit the bill! Inexpensive to make, simple to put together, and delicious (with comfort food written all over it!!) dessert awaits!
Ingredients
1 Butter Pecan cake mix ** see notes below
1 can of apple pie mix (20 oz)
1 pint of fresh blueberries
½c butter, melted
Instructions
Grease the inside of the slow cooker bowl
Place the apple pie filling on the bottom of the slow cooker bowl
Sprinkle the fresh blueberries on top of the pie filling
In a separate bowl, mix the cake mix and the melted butter together. Break up any large pieces that form. You want the mixture to resemble course sand
Sprinkle the cobbler topping onto the blueberries.
Cover and cook on low for 5 - 6 hours, or high for 3 -4 hours.
Be careful on serving as the filling is extremely hot!
Serve with ice cream, whipped cream or have it with a cup of coffee!
Notes
1. Use fresh blueberries
2. Instead of Butter Pecan cake mix, you can use practically any other flavors except for chocolate and carrot.
3. Be sure to break up any large chunks of the butter/cake mix mixture.
4. Serve hot or cold!
Nutrition Information:
Yield:

6
Serving Size:

¾ cup
Amount Per Serving:
Calories:

585
Total Fat:

23g
Saturated Fat:

13g
Trans Fat:

1g
Unsaturated Fat:

8g
Cholesterol:

50mg
Sodium:

817mg
Carbohydrates:

91g
Fiber:

3g
Sugar:

51g
Protein:

5g
Nutritional information will depend on the brands you use for the ingredients. Calculations are estimates only.
***DON'T FORGET TO PIN THIS SLOW COOKER APPLE BLUEBERRY COBBLER RECIPE TO YOUR FAVORITE PINTEREST BOARD TO USE FOR LATER!***