Got that lovin', romantic feeling coming on? Want something to "woo" your other half, (or your hopeful other half?) with something sweet and delicious? I know.. I know. You want to make a cute little dessert, but you're not about to break out the cake pans and fondant, the icing tools and stand mixer. I hear that. What if I told you, you could make this crazy tasty slow cooker chocolate cherry cake with relatively no effort?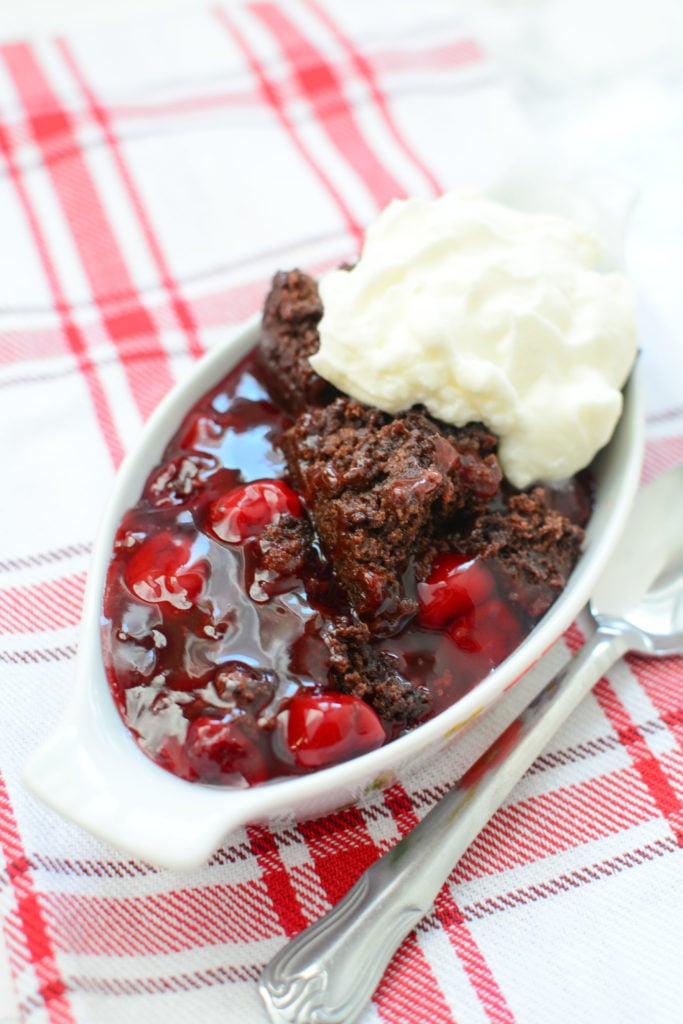 SLOW COOKER CHOCOLATE CHERRY CAKE
It's true. This slow-cooker chocolate cherry cake is made so easily with.. well, obviously, the slow cooker. I know right??! You CAN bake in a slow cooker! FYI, I'm going to attempt baking bread in the slow cooker as well in the next week or so! (Say a little prayer to the bread gods for me!). *** Update: I made the slow cooker bread – check out if the bread Gods were on my side or not! ***
What I especially love about this recipe is that it's SUPER versatile. Ok, let's say you make this Slow Cooker Chocolate Cherry Cake recipe for a special person. By the way, I'm no recipe critic but I think if your special person likes these flavors, you could also call your dessert a Black Forest Dump Cake, or even a maybe a Chocolate Cherry Cobbler because this slow cooker chocolate cherry cake has similar flavors to those other dishes……
But I think my original name sound more refined and well……. yummier… and who knows, your special person might be so impressed with your dessert-making culinary prowess that they ask for more kinds! You don't even have to tell them this is a slow cooker dessert and how easy it was to make. Let them think you toiled all day! But.. if they DO ask for more kinds of slow cooker desserts…….
What Other Flavors Can I make?
How about a Slow Cooker Butter Pecan Spiced Peach Cake? Or.. hmm.. How about a Slow Cooker French Vanilla Blueberry Cake? Uh huh.. I see you nodding and smiling over there. I just thought those up, and you know, I think I'm going to make them so I can report back to you about how good they are. They certainly sound good, that's for sure. I'm excited to try making them!
Ok, directions.
It's literally more work to write up this recipe than it is to make it! LOL
Spray or line your slow cooker insert. Take the canned cherry pie filling (I know, I love this stuff too and am always looking for recipes with canned cherries! If YOU have a recipe, let me know and maybe I can feature it on the blog!! That would be so exciting!!) and spread across the bottom of the (sprayed!) slow cooker bowl.
In a separate bowl, combine the cake mix and a ¾ c of butter. Cut it in with a pastry cutter, or the "home ec" trick of using two knives. If that doesn't work, (and is actually the method that worked best for me) is just to use your hands. Just start rubbing the butter into the cake mix to the point that it resembles the size of peas and is crumbly.
Pour that over the top of the cherry filling. Lid on. Bake on high for 2 hours or low for 4 hours. Remove the lid after the cooking time is up, and turn off the unit.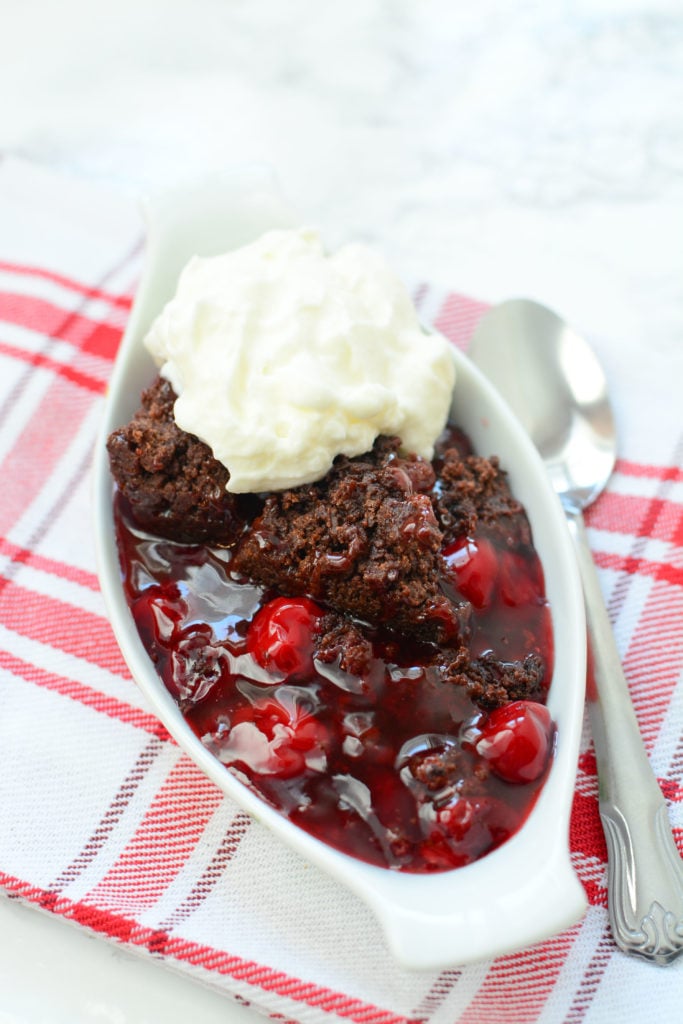 How to serve
There's a variety of ways you can serve with this delectable dessert. Try topping it with :
Ice cream
Whipped Topping
Drizzled Nutella
Chocolate shavings
Drizzled fudge topping
Drizzled caramel topping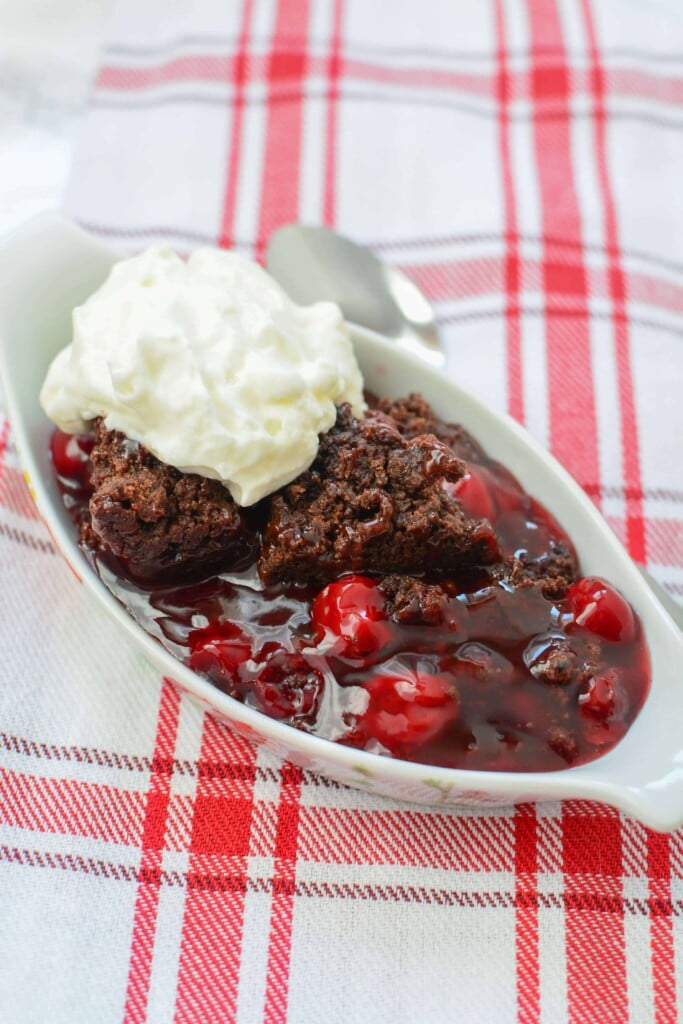 Also, you can eat this warm or cold. Both ways taste amazing.
(ahem.. I may have stood at the kitchen counter eating testing the recipe both ways. The things I do in the name of deliciousness! It was worth every second).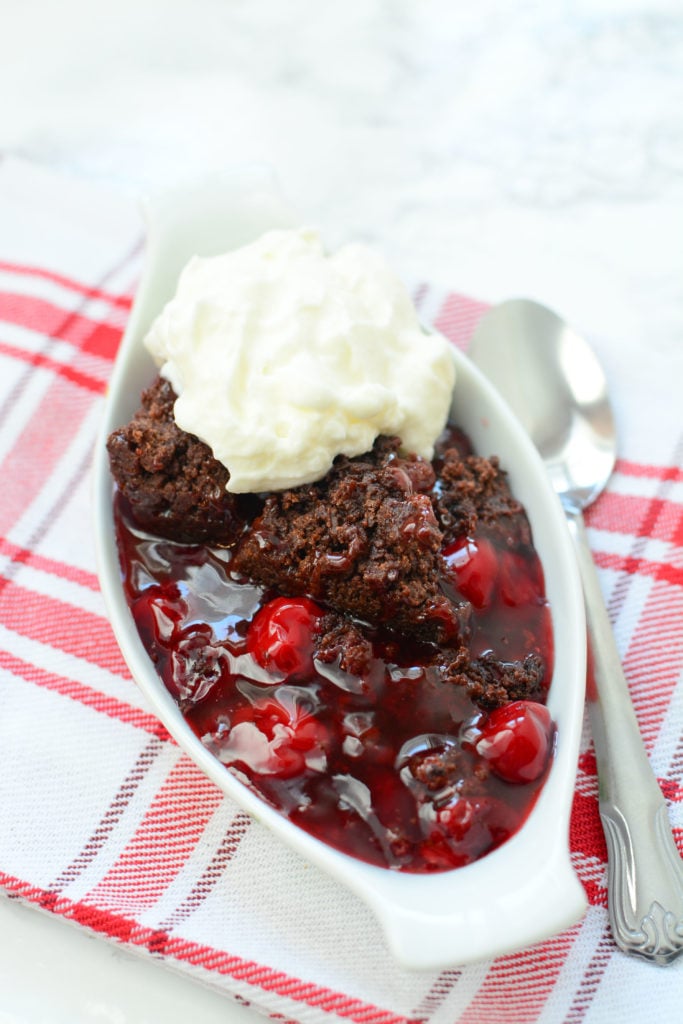 **Note: I've seen other recipes like this that just advise to sprinkle the cake over top the cherry filling and then plop the butter in small blobs around the top of the cake mix. I tried it this way and while it's more convenient to miss that step of cutting in the butter, the problem is that some of the butter doesn't reach all the cake mix, and you're left with dry, powder parts over the top. If you're ok with that, no worries, but for myself, I prefer the cake topping to have the same texture all over.
Well, that's it for this slow cooker chocolate cherry cake. Incidentally, if using a slow cooker to bake your dessert isn't your thing, click on this fantastic other Cherry Chocolate Cake Hack that's equally as easy to make. Either way though, if you're gearing up for a special night, try making this recipe that I reviewed from Ina Garten – Engagement Chicken (Meghan Markle apparently made it for Prince Harry the night he proposed!). The wonderful chicken recipe along with the chocolate cherry cake – I think would set you up for the perfect evening!
Slow Cooker Chocolate Cherry Cake
Total Time:
2 hours
5 minutes
A super delicious dense chocolately flavor with juicy cherries throughout. Perfect served with different types of topping. Ideal for sharing with that loved one on special holidays!
Ingredients
1 box chocolate cake mix
2 can cherry pie filling
¾ c butter
Instructions
Pour the cherry pie filling into the bottom of a greased/sprayed/lined slow cooker bowl.
In a bowl, combine the cake mix and butter.
Cut the butter into the cake mix until it resembles sandy chunks the size of peas.
Sprinkle the cake mix over the top of the cherries
Cook on high for 2 hours or low for 4 hours.
Enjoy!
Nutrition Information:
Yield:

8
Serving Size:

½ cup
Amount Per Serving:
Calories:

344
Total Fat:

18g
Saturated Fat:

11g
Trans Fat:

1g
Unsaturated Fat:

5g
Cholesterol:

46mg
Sodium:

192mg
Carbohydrates:

46g
Fiber:

1g
Sugar:

1g
Protein:

1g
All nutritional information is based on third-party calculations and is only an estimate. Each recipe and nutritional value will vary depending on the brands you use, measuring methods, and portion sizes per household.
******* Pin this Slow Cooker Chocolate Cherry Cake Recipe to your favorite Pinterest board for safe keeping!!*******