Pickle Brined Fried Chicken is not only delicious, but the chicken is also moist and never dry. The crispy seasoned coating is so tasty, this will be a much-requested fried chicken at all the cookouts!
This brined chicken doesn't taste like pickles!! Only pure juiciness!
Pickle Brined Fried Chicken
Oh yeah. I know what you're thinking. PICKLE BRINED FRIED CHICKEN??? Oh seriously my beautiful friend, this is the chicken with the mostest, I can tell you that. Super flavorful, super moist. There isn't a dry bite (or a sour puss pickle face look) anywhere when you make this lip smackin' chicken!
The idea is to marinate the chicken pieces in pickle brine for 6 – 12 hours (or overnight) before you even begin to season it. The pickle brine helps tenderize and flavor the chicken in a wonderful way.
You'd think that the chicken would taste like a huge pickle, but it doesn't! Trust me on this one!
If you don't have pickle juice from a jar of commercially prepared pickles, you can certainly make your own brine easily enough. I just find it a lot easier to use a jar of leftover pickle juice from a jar that's almost empty.
So if you have a jar of Aunt Bee's pickles that you absolutely adore and there's only 1 lonely pickle floating around in there, enjoy the pickle and use that juice to make this pickle brined fried chicken! Nothing goes to waste and it's a win-win!
Making pickle brined chicken perfect
After marinating the chicken remove it from the brine, and discard it. The pickle juice brine has done its job at this point.
When you have the flour and seasoning mixed up, place it in a ziplock bag. Dip the chicken in the buttermilk, and then throw the chicken into the seasoned flour mixture and give it a shake. (Shake one piece at a time). Coat it well and then place it on a plate to rest for about 10 minutes or so.
Meanwhile, have your oil heating up, either in a deep frying pan, or a deep fryer if you have one. After resting, place the chicken pieces into the oil (slowly and away from you please, splashing oil doesn't tickle!).
Fry the chicken for 15 minutes or so (use a thermometer and it should read 165 when done). Be sure to carefully flip your pickled chicken over in the oil at least once for even browning. If the chicken is browning too fast before it's ready, (it shouldn't), simply turn down the heat a tiny bit.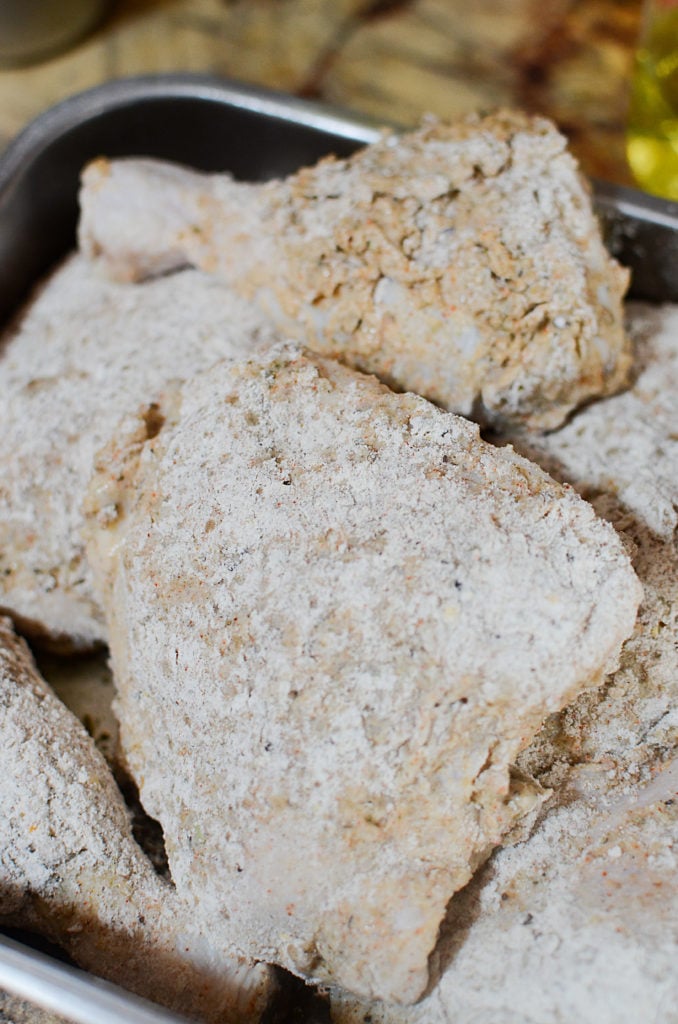 Let this super yummy pickle brined fried chicken rest on some kitchen towel to soak up any grease. It will be nice and crispy, and the flavor from all the seasonings is honestly so savory, I just love it!
Can I double dip the chicken in the batter?
You could even double-dip it if you want but then you'd want to be sure to extend the cooking time. I didn't double-dip the chicken because while I love deep-fried food (omg, who doesn't though???), a light, crispy fry to let the flavor of the chicken come through is what I prefer.
Guess what? You can freeze it!
Incidentally, you can freeze brined and cooked fried chicken. I have froze it for up to a month with no problems. When I want to have it for dinner, I will take it out and give it plenty of time to thaw completely.
After thawing, simply place it on a baking sheet and crisp it back up in the oven to warm through thoroughly. You could broil it for the last minute or so just to get that extra crispy covering but keep an eye on it, as it can burn quickly.
If you're looking for other chicken recipes, why not check out my Chicken Pancetta and Cheddar Bake that's easy peasy to put together and equally lip smakin'! And if that doesn't strike your fancy, there's a collection of Scandalous Chicken Recipes that will cover any sort of chicken craving you might be having!
Pickle Brined Fried Chicken Recipe
Yield:
8 pieces of chicken
This super tasty pickle brined fried chicken is an absolute must for fried chicken night! It's crispy, savory, and moist, you won't even give the Kentucky brand another thought!
Ingredients
1 chicken, cut into pieces (or use separate pieces, like thighs and drumsticks)
2 - 3 c pickle brine
2 – 3 c milk or buttermilk
1 ½ c flour
2 teaspoon garlic
1 tablespoon poultry seasoning
1 teaspoon smoked paprika
½ teaspoon regular paprika
1 tablespoon lemon pepper
1 teaspoon onion powder
pinch cayenne, or more if you like it spicy
Cooking oil enough for 1" in the pan you're using.
Instructions
Place chicken pieces into a container that is taller than wider. Pour in the pickle juice. An alternative solution is to place the chicken in a sturdy freezer zip lock bag, pour in the pickle juice, and remove all the air in the bag so that the chicken is surrounded by the pickle juice. Marinade for 6 – 12 hours.
Drain the chicken pickle juice from the chicken and place it onto a poultry safe cutting board and season the chicken with pepper.
In a bowl, combine the flour and all other dry seasonings together. Set the buttermilk into a large shallow bowl for dipping.
Dip the chicken pieces into the buttermilk.
Then, dip the chicken pieces into the seasoned flour. Be sure to get all surfaces covered in the seasoning. Let sit for 10 minutes.

Meanwhile, Preheat oil in a deep cast iron pan with high sides. The oil should read 350 on a thermometer when ready to start cooking.

After sitting, place the chicken into the oil slowly, and away from your face to prevent splashes. Cook the chicken for approximately 15 minutes altogether, but turning a few times while cooking.
The internal temperature of the chicken should register 165 degrees internally on a thermometer. (If using your deep fryer, follow the mfg instructions for cooking chicken).
Drain on a paper towel and serve!
Notes
For safety sake, it's important that when placing the chicken into the frying oil, that you place it slowly, and away from you so that if there are any splashes, the oil will be directed away from you.

If you find the buttermilk is not sticking to the chicken, you can quickly dip the chicken in the flour mixture lightly, then in the buttermilk, and then again into the seasoned flour.
Nutrition Information:
Yield:

4
Serving Size:

2 pieces
Amount Per Serving:
Calories:

500
Total Fat:

15g
Saturated Fat:

6g
Trans Fat:

0g
Unsaturated Fat:

8g
Cholesterol:

52mg
Sodium:

2807mg
Carbohydrates:

65g
Fiber:

4g
Sugar:

6g
Protein:

26g
All nutritional information is based on third-party calculations and is only an estimate. Each recipe and nutritional value will vary depending on the brands you use, measuring methods, and portion sizes per household.