Do you have leftover mashed potatoes to use up? Using them to make these sausage & potato patties for breakfast, lunch, dinner or even a snack will bring full bellies and happy smiles to anyone who tries them!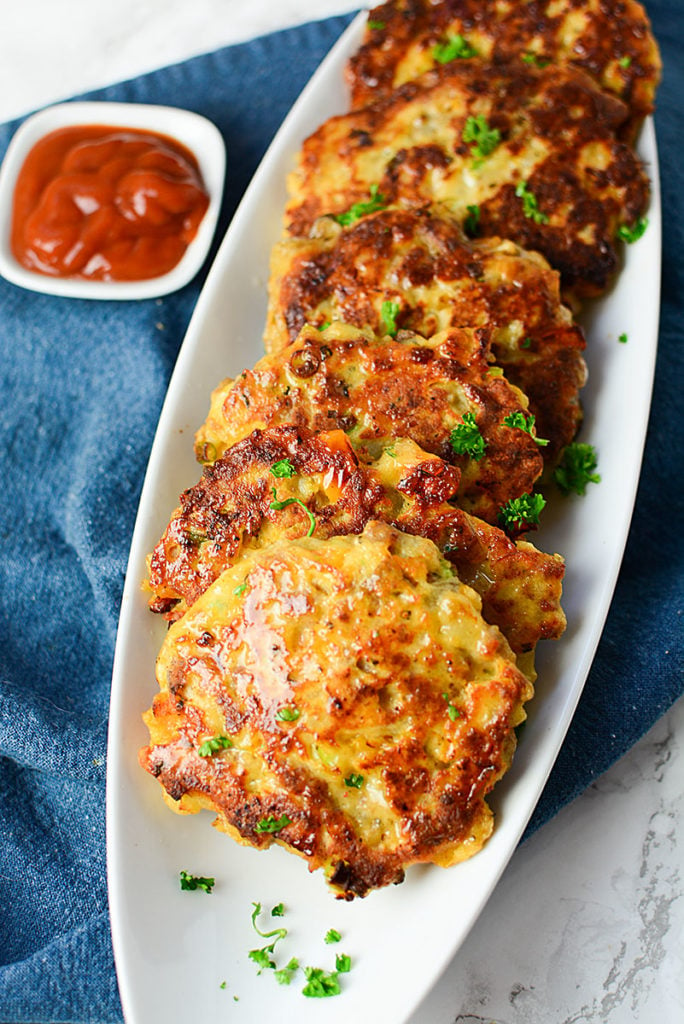 Leftover Mashed Potato Patties with Sausage!
In this day and age, we really don't want to waste anything, right? Groceries are expensive!!
Yes, ok, maybe potatoes aren't, BUT, let's not forget that every little effort we do to use up extra ingredients or stretch our meals, means we can save those pennies to buy stuff that REALLY matters, right?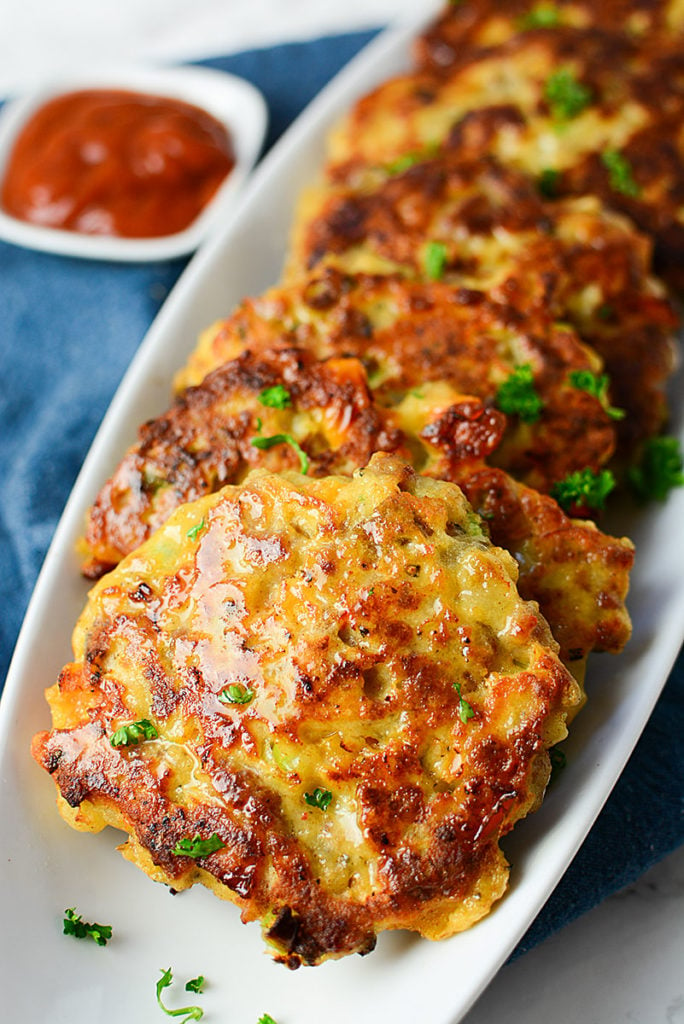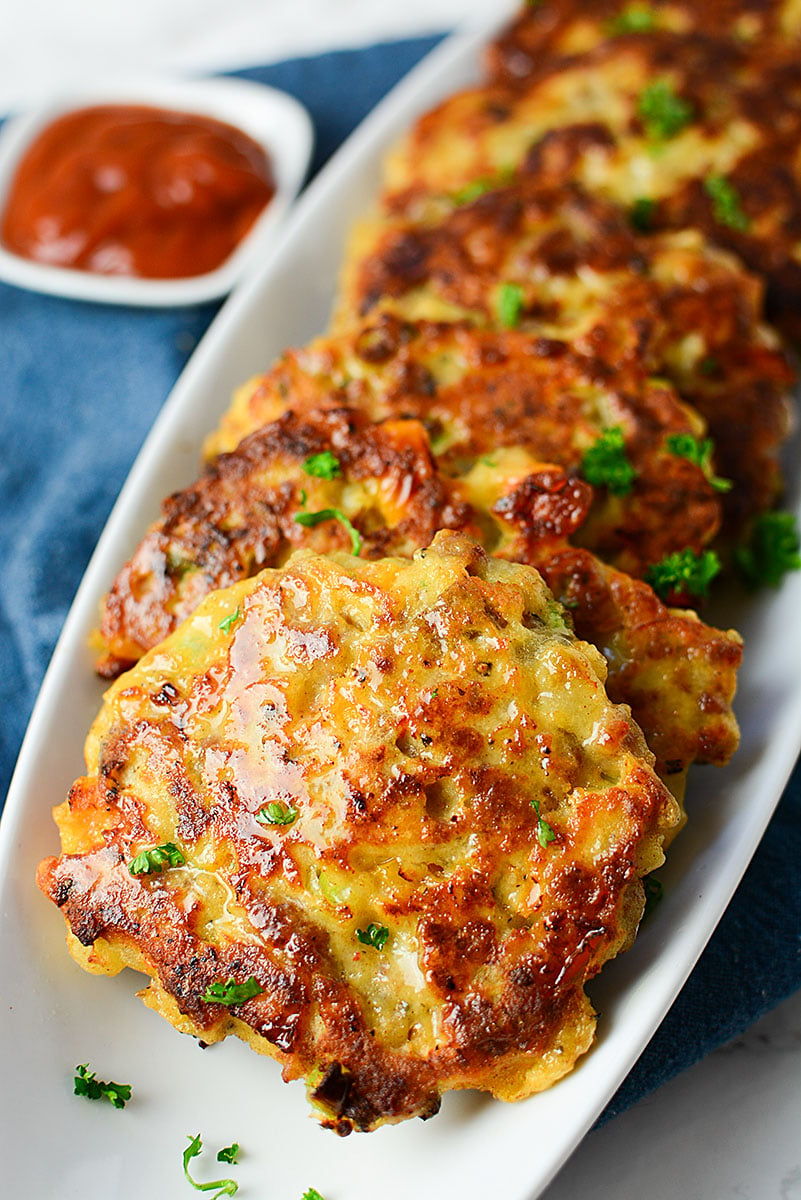 Making These Sausage & Potato Patties RIGHT!
When I say pretty much anything can go into these patties that you have in the fridge, I'm being very serious. In these particular patties, I put in:
Celery
Onion
Potatoes (of course)
Sausage
Sweet Pepper
Cheddar
Flour
Eggs
Seasonings
Now this list is pretty basic, BUT, feel free to add in or replace with:
Niblet corn
Diced cooked cauliflower or broccoli
Bacon
Flaked fish
Canned Chicken
Canned Corned Beef
Etc
Pretty much anything can go into these potato patties that you have laying around in your fridge. Keep in mind though, I wouldn't use things like tomatoes or other ingredients that are juicy – you might have issues having the patties not sticking together.
What Kind Of Sausage Should I Use For These Potato Patties?
Well, today I used these pre-seasoned sausage rounds. They were just around 3.5 ounces each and were uncooked. If you want to try making your own, here's a recipe to try – it's great because then you can control the flavors!
However, if you had regular breakfast sausage links, simply take the meat out of the casings and fry it up the same way I did.
I recommend using any sausage that you particularly like. I would just be wary of using a maple sausage unless you liked that flavor combination of potatoes, sausage with a hint of maple.
Can I Bake These Patties Instead Of Frying Them?
I think you could. I've never made them this way though so I can't guarantee how they will turn out. I like frying them because it creates a nice crispy crust on the outside of the pattie which adds to the delicious texture.
I think if you wanted to bake them, I would use a greased baking sheet and lay them single layer so that as much surface area is touching the pan as possible.
Is It Possible To Use Sweet Potatoes Instead Of Regular Potatoes?
Yes absolutely! If you have leftover mashed sweet potatoes, like the Instant Pot Maple Butter Sweet Potatoes that I made, by all means, use that!
Plus, if you used this recipe, the addition of sausage or bacon would create a fantastic sweet/salty flavor contrast that would be DELICIOUS!
What About Freezing These Potato Cakes?
Again, not a problem. Freeze them AFTER you've cooked them. Let them cool, place them on a baking sheet and freeze them in a single layer.
Then, place them in a freezer-safe container or bag.
To reheat, personally, I would leave them in the fridge overnight to thaw, but if you don't have that time, thaw them slowly in the microwave.
Then fry them in a bit of oil or butter in a frying pan to crisp them up again and heat through.
Are These Sausage and Potato Patties Gluten-Free?
As the recipe is written, no, they wouldn't be gluten-free. However, if you omitted the flour and/or replaced it with something like buckwheat flour to help provide the potato cakes with structure.
What Goes With These Sausage & Potato Patties?
The possibilities are endless here!
If the Meal Is Dinner: You could serve anything from pork chops, hamburger patties, or even roast beef with these! (Imagine putting some gravy over those patties from the roast beef!)
If the Meal is Breakfast: Well, if you used the sausage to make the patties you could serve bacon with them. How about some fried eggs? Perfect! And as a condiment, why not try some ketchup or even sour cream??? Yum!
What If Your Leftover Potatoes Aren't Mashed?
Well, you could easily reheat them and add some melted butter and cream or milk to mash them, but they must be heated to make the job a lot easier.
If you don't want to go through all that, then take a peek at this Chicken Ranch Potato Bake recipe I have using leftover chicken. The recipe uses fresh potatoes, but you can easily use your leftovers – just don't cook the dish as long!
Ok, so there you have it!! I hope you enjoy this recipe and btw… I personally think these Sausage & Potato Patties are so good that I like to heat one up, cut it up in bite-size pieces, grab a little dish of ketchup, and get to dunkin'!! Makes a perfect snack!
Thanks so much for stopping by The Salty Pot today and I hope you have a fantastic day!
~Joanne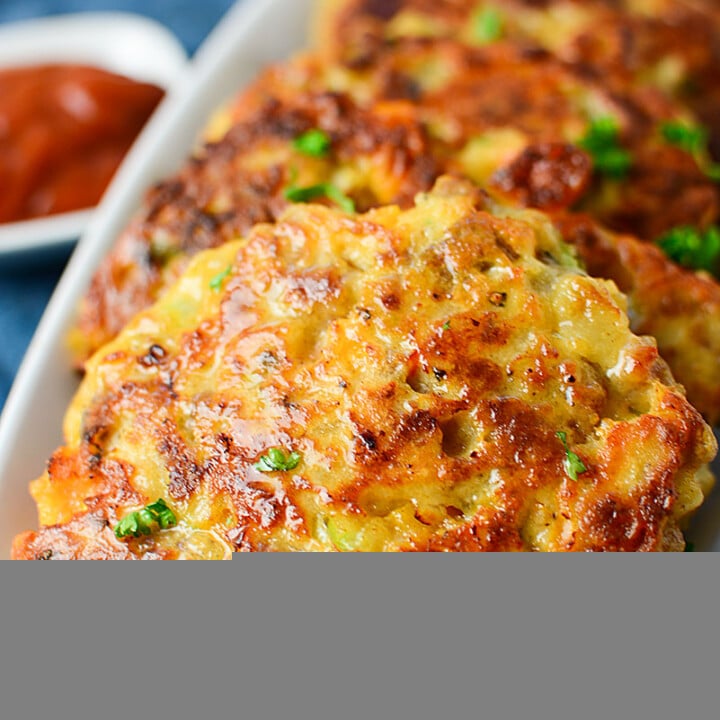 Sausage and Potato Patties
If you're looking to stretch your grocery dollar in a super tasty way, try these delicious Sausage & Potato Patties! Zesty sausage, yummy mashed potatoes, gooey cheese, these patties have the right mix to fill those tummies on a dime!
Ingredients
2c mashed potatoes (leftovers are great!)
7 ounces of raw sausage meat (patties or links are perfectly fine if you don't have loose sausage meat)
½ diced sweet pepper
1 stalk celery, diced
½ onion, diced
1 green onion (if you have it)
2 eggs
¼c flour (optional)
1c cheddar, shredded
1 teaspoon garlic
1 ½ teaspoon rosemary, fresh, minced (or dry is fine)
pinch of dried chili flakes (optional)
as desired, salt and pepper
1 tablespoon of butter or oil for frying (see notes)
Instructions
In a frying pan, begin the saute the celery and the onion together until they soften.
Add the loose sausage (or, if using patties, begin to break them up) so they resemble crumbles.
Add the sweet pepper and continue cooking until everything is softened and the sausage is cooked through.
Let the mixture cool a bit so when you add the eggs, they don't scramble.
In a bowl, mix together the mashed potatoes, cheddar, sausage mixture, green onion if you're using it, flour, salt, pepper, garlic, rosemary, and dried chili flakes if using.
Add the eggs and mix well.
Form mixture into 6 patties and place in the frying pan you used to cook the sausage. If you need extra oil, add it now for frying, or if there is fat from when you cooked the sausage, use that.
Fry each pattie on both sides until the pattie is cooked through and is nice and crispy on both sides.
Notes
Be sure to saute the veggies before adding them to the pattie mixture or there may be too much moisture to make them hold together.
This recipe is very versatile, so feel free to substitute any extra ingredients you might prefer that you have on hand.
Nutrition Information:
Yield:

6
Serving Size:

1 pattie
Amount Per Serving:
Calories:

389
Total Fat:

27g
Saturated Fat:

10g
Trans Fat:

1g
Unsaturated Fat:

13g
Cholesterol:

124mg
Sodium:

688mg
Carbohydrates:

19g
Fiber:

2g
Sugar:

2g
Protein:

18g
These calculations are approximate and will depend on the types of ingredients or brand names that you use.
**DON'T FORGET TO PIN THIS SAUSAGE AND POTATO PATTIES PIN TO YOUR FAVORITE PINTEREST PIN TO USE LATER!!**