Crock Pot Apple Cinnamon Oatmeal is the perfect hearty and healthy breakfast. The epitome of fall flavors is a combo of apples and cinnamon and it's absolutely divine when mixed with your morning oatmeal. Sweet with hints of cinnamon and the goodness of apples and oats, rest assured you can start your day off right with this breakfast.
Best thing? You can make it ahead of time with 5 minutes of prep time in the crock pot. Make it once and have breakfast all week in a snap.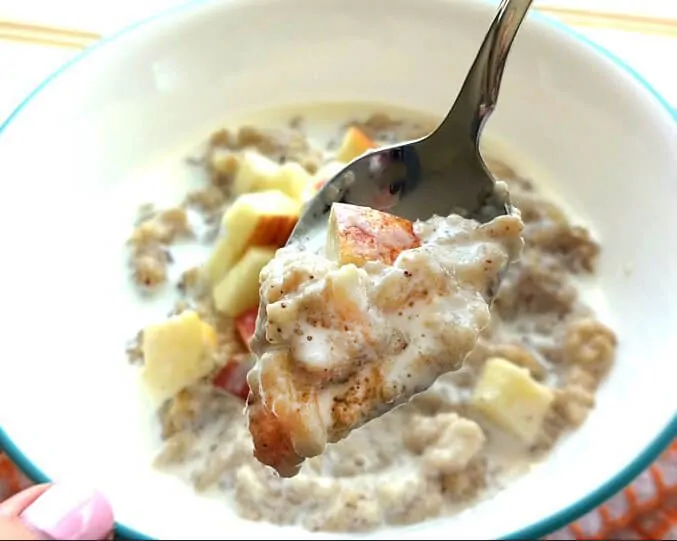 Slow Cooker Apple Cinnamon Oatmeal
Today, our crock pot oatmeal recipe will be made with steel-cut oats. They are less processed than your typical rolled oat – and also take a bit longer to cook, hence the slow cooker use.
Our slow cooker apple cinnamon steel-cut oats (I know, a mouthful right??) has that creamy and comforting characteristic of regular oats, but with that no-mistake texture and chew of steel-cut oats.
Trust me when I say if what you're looking for a is hearty, fruity, warm, and comforting breakfast, this steel-cut oats recipe is a winner.
Why I Love This Recipe
It takes less than 5 minutes of prep work to make this breakfast.
You can make a large batch of it and eat all week.
Just like my Coconut Peach or Strawberry Cream Steel Cut Oat Recipes, the addition of fruit while it cooks is not only healthy but absolutely scrumptious!
The Ingredients You'll Need for Crock Pot Oatmeal
Steel cut Oats – You can certainly use regular rolled oats for this recipe but I really prefer the texture and the chew that steel-cut oats lend to this hearty breakfast. Be sure to use regular steel-cut oats, not quick-cooking ones because that will affect the cooking time. I will give you the cooking times below in the recipe card if you want to use rolled oats instead.
Apple – I use only one apple in this recipe and the choice is yours on which kind to pick. I used a Gala apple which has a nice sweetness.
Milk and Cream – You can always substitute water for all the dairy in this oats recipe, but I really love the flavor and creaminess that the milk and cream uses. You can use all milk and skip the cream to save on some calories (but it's ohhh so delicious with a little bit of cream!).
Sugar – I love the deep molasses flavor that brown sugar brings to this breakfast. Use regular white sugar if that's all you have.
Cinnamon – Use the type of cinnamon you have on hand. The cinnamon adds sweetness to the oats without actually adding sugar.
Vanilla Extract – I think vanilla is essential to this recipe! Like the cinnamon, it adds a hint of warmth and sweetness to the cereal.
What Kind Of Apples Can I Use In This Recipe?
You can use pretty much any variety of apples you prefer for these slow-cooker oats. For this recipe I used Gala, but my favorite apples are Ambrosia. However, feel free to use:
Gala
Red Delicious
Fuji
MacIntosh
Honeycrisp
I would not, however, use a granny smith. I think they are a tad too tart for this recipe.
How to Make Easy Apple Cinnamon Oatmeal
It's a matter of throwing everything into the slow cooker bowl and letting it do its thing. 
Granted, there's one step beforehand that I like to do, and that's grate the apples. 
I like grating the apples because it gives more "appley" flavor throughout this oatmeal recipe. You can certainly simply dice the apple into small pieces, that's totally fine as well. Go with your preference, you'll always pick the right way! (Remember to put some lemon juice over the apple slices to help them not turn too brown)
Line the slow cooker bowl with a liner or parchment paper if you want minimal cleanup. Then put all the ingredients together, along with the grated apple, and give a mix. Put the lid on, and simply wait!
A few hours later and voila, you have the perfect slow cooker apple cinnamon oatmeal.
Serve warm or even chilled if you like. I love it warm, with a splash of milk and a side of buttered toast. Seriously, it's a breakfast of champions to me!
Check out this quick video below to see how it's made!
Serving These Apple Cinnamon Oats
My most favorite way to serve steel-cut oats is in a bowl with a bit of table (or heavy) cream drizzled over top. But, if you want something different, the possibilities are endless when it comes to topping the oats. You can try a few different things suggested here and see what you like.
Extra apple
Different berries like blueberries, blackberries, strawberries, etc.
Try adding some crushed/chopped nuts like cashews or pecans.
Plump up some raisins in hot water for a few minutes, drain and top them on your oats.
Dried Cranberries, treated the same way as the raisins, would be incredible with the apple and cinnamon.
Applesauce
Nut butter warmed and drizzled over top.
Sprinkle some heart-healthy hemp hearts over the top of the oats as well.
Storing and Freezing
These oats store and even freeze like a dream! Portion out the amount you want per serving and then store in the fridge for up to five days or simply put them into a freezer-friendly container and store in the freezer for up to 3 months.
To thaw, take a portion out and thaw in the fridge overnight. Thawing the outside of the container by running hot water over the container to get them out and transfer into a bowl, is another option, and then reheat from there.
One other option for freezing is to take a small freezer-friendly bag and put the oats in the bag, pushing as much air out and freezing them flat in the bag. This way you can stack them in the freezer and they will thaw much more easily when you need them.
Questions You Might Have
Should you soak steel-cut oats before cooking?
I've never soaked steel-cut oats before cooking them in the slow cooker.
Can you overcook the steel-cut oats?
Technically you probably can but it takes a very long time for them to break down enough to be overcooked. Honestly, I think they would burn to the bottom before they actually overcooked and got super mushy.
Slow Cooker Apple Cinnamon Oatmeal
Cook Time:
2 hours
30 minutes
Total Time:
2 hours
35 minutes
Warm, creamy, sweet and hearty, this breakfast recipe for slow cooker oats has it all. Perfect for those chilly mornings when you need to eat something to get your day started right!
Ingredients
1 c steel cut oats
2 apples, grated, peeled and cored
3 tablespoon brown sugar
2 teaspoon cinnamon
½ c apple juice
1 teaspoon lemon juice
3 c milk
½ c cream
2 teaspoon vanilla
Instructions
OPTIONAL STEP: Grate the apples and pour over the lemon juice to prevent as much browning as possible.
Pour the steel-cut oats into a parchment-lined slow cooker bowl.
Add the rest of the ingredients and mix well
Cook on high for 3 - 3.5 hours, or low for 5. Keep an eye on it as it cooks, as some slow cookers cook faster (and slower) than others.
When the oatmeal is cooked, spoon into bowls and drizzle with cream or milk. Serve with buttered toast. Enjoy!
Notes
- Don't use quick-cooking steel-cut oats for this recipe as they cook at different times versus the regular steel-cut oats.
- If you wanted to use rolled oats instead, cut your cooking time down by about an hour for both temperatures. Remember to check them as they cook though.
- Add a few tablespoons of chia seeds to increase the protein of this breakfast cereal.
Nutrition Information:
Yield:

6 cups
Serving Size:

1 cup
Amount Per Serving:
Calories:

298
Total Fat:

11g
Saturated Fat:

6g
Trans Fat:

0g
Unsaturated Fat:

4g
Cholesterol:

32mg
Sodium:

68mg
Carbohydrates:

42g
Fiber:

5g
Sugar:

21g
Protein:

8g
All nutritional information is based on third-party calculations and is only an estimate. Each recipe and nutritional value will vary depending on the brands you use, measuring methods, and portion sizes per household.
*******PIN THIS SLOW COOKER APPLE CINNAMON OATMEAL RECIPE TO YOUR FAVORITE BOARD TO SAVE FOR LATER! *******