Tomato and basil are like best friends. They go together in whole form (fruit and leaf) and in soup form (pulverized and blended.) Today, we talk about them together in soup form, IN A BLENDER. Hence, the name, Creamy Blender Tomato and Basil Soup!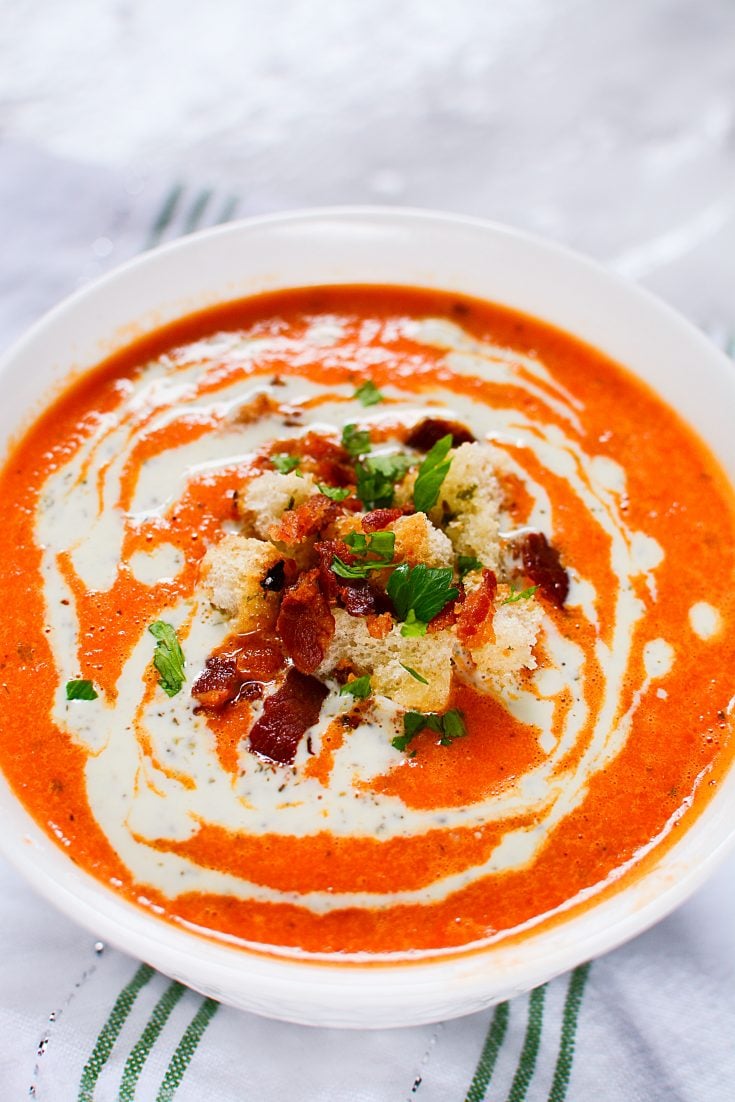 Making Tomato Basil Soup In A Blender
Believe it or not, it's totally possible! So the good folks down at Instant Pot partnered with me on their new Ace Blender. If you follow me on Instagram, you saw that this blender is a BEAST of a blender!
It's solid construction and easy to navigate digital pad proves that making anything, from pureeing super smooth soup to crushing the perfect ice with no problems, making the perfect blended smoothies to making a host of alternative nuts milks, it's all a complete possibility. Seriously. I would NOT steer you wrong here.
The tomato basil soup I'm making today was chosen because I LOVE that flavor combination and because the blender not only makes this soup super smooth – it COOKS IT IN THE BLENDER AS WELL!!!! I kid you not!!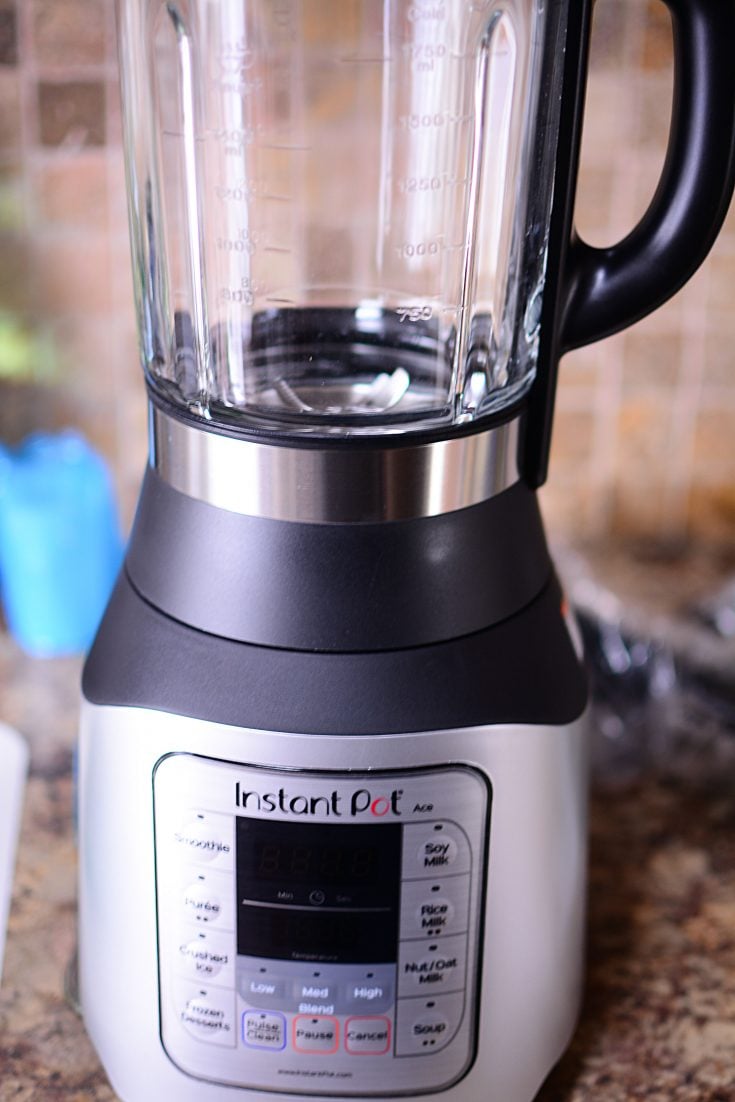 Talk about one-pot cooking!
The tomatoes you want to use can be your favorite tomatoes. Just keep in mind that the bigger and 'waterier' the tomatoes, the thinner the soup will be. I used Roma's because I prefer the meatier texture they have, but you can use:
Beefsteak
San Marzanos (the most popular Italian tomato)
Canned diced tomatoes – these will work but fresh is better. (I would buy the kinds with extra added spices)
Different colored tomatoes like yellow girl and black crimson
And simply the regular hothouse that you buy at the grocers.
Do I Need To Peel The Tomatoes?
Yes and no. If you are using a deluxe blender such as the Ace Blender, then no, not really. The quadruple blades will likely pulverize any tomato skin that might be there. However, if you have a regular blender, then I probably would.
How Do I Peel A Tomato?
It's so incredibly easy, I'm sure you'll be amazed. I wrote a quick tutorial on how to peel tomatoes that you can check out when you have a minute.
I usually try to peel tomatoes because I like knowing that there most definitely won't be any missed chunk of rolled up tomato peel in my dish. It's just a personal preference.
Also, if you are going to make salsa, or can/preserve tomatoes, the skin should be removed from them before making your product.
What Do I Serve With Tomato Basil Soup?
Pretty much anything you'd serve with any other soup. Crackers, crusty bread, croutons, etc. This time, I garnished the soup with my garlic butter croutons and some crispy bacon bits!
Having said that, the most popular pairing is the tomato soup with a golden grilled cheese sandwich. Often you'll see the sandwich cut into squares and used in place of the croutons.
Do I Have To Use The Cream To Make It Creamy?
No, not at all. The cream helps to make it creamy and a bit thick of course but you could thicken the soup with a combination of flour and butter (in a roux), or by using a cornstarch slurry.
If you are not really watching your dairy intake, and just happen to not like the taste of cream, you could always use plain yogurt in its place.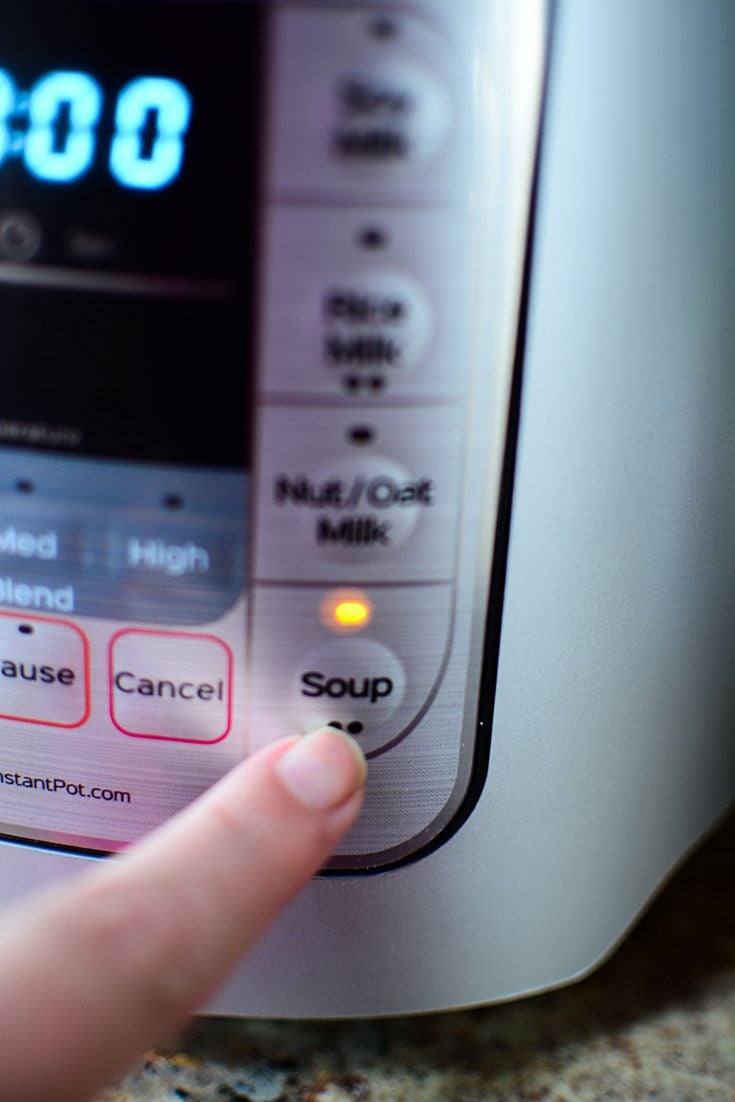 What If My Blender Doesn't Have A Heat Function?
Not a problem. Simply blend the soup in your blender and then transfer to a pot on the stove. The Ace Blender makes things very convenient because of the heating function, but making it on the stove is just another step, and it may not be as smooth, depending on your blender.
But it will be super tasty, nonetheless!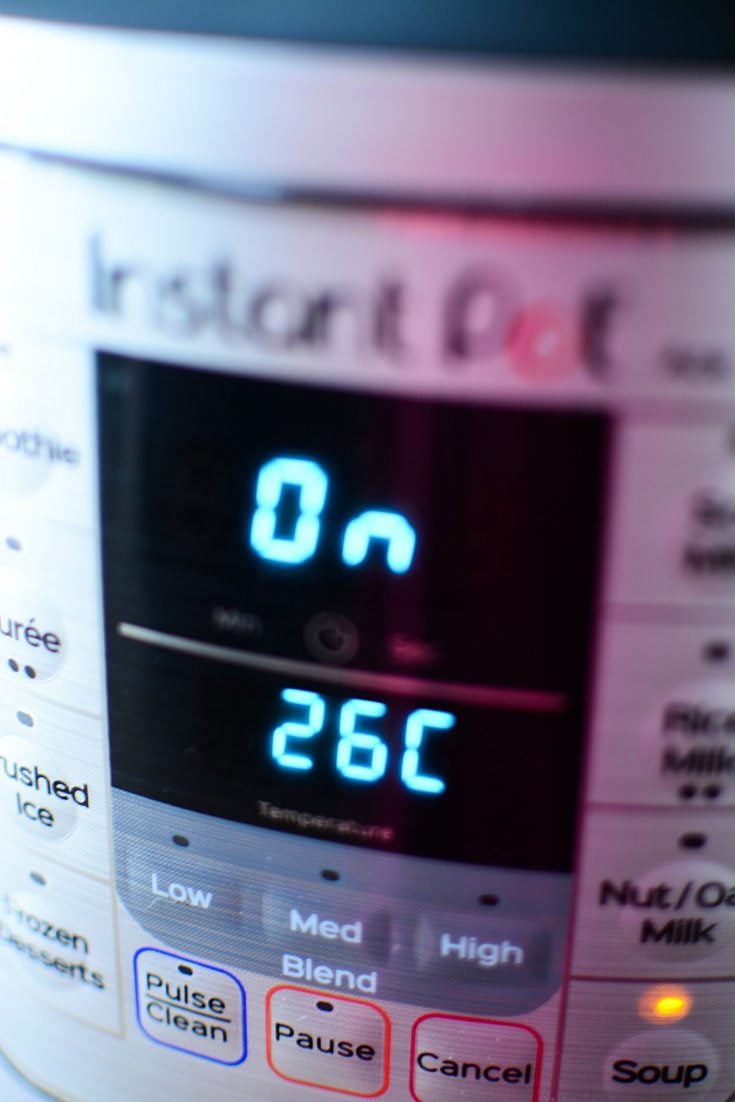 The Instant Pot Ace Blender Increasing In Heat To Cook Soup
How Else Could I Blend This Soup?
If you don't have an Instant Pot Ace Blender (which I really recommend you should because IT MAKES ICE CREAM!!).. lol.. you could always use an immersion blender (but be VERY careful of splashing the hot soup!), and even a potato masher. Yes, the last won't get the soup very smooth, but it's an alternative that fits if you don't mind some texture in your soup!
Can I Freeze This Soup?
Sure can! However, I would freeze it before you add the cream. That way, when you thaw the soup and reheat it, then you can add fresh cream to make it creamy, and do the creamy basil addition as well.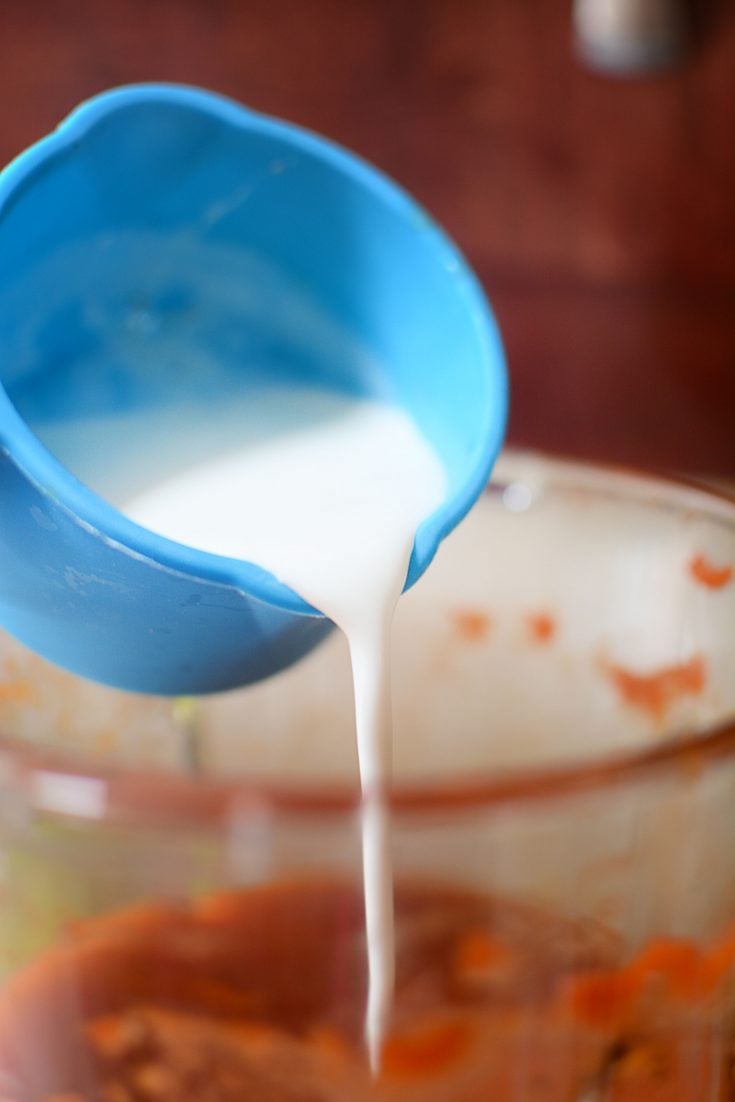 Tips and Tricks to Make This Soup Amazing:
Use your favorite tasting tomato
Do not use fresh basil unless you are stirring it in at the end. Blended fresh basil with tomatoes will make the soup turn a bit greeny brown.
Using fresh garlic will enhance the flavor better than garlic powder, but use what you have in your pantry!
Ok! Well, that about does it for this creamy blender tomato basil soup! If you have any questions, please leave them below, and as always, thank you SO much for stopping by The Salty Pot today! I hope you have a wonderful day!!!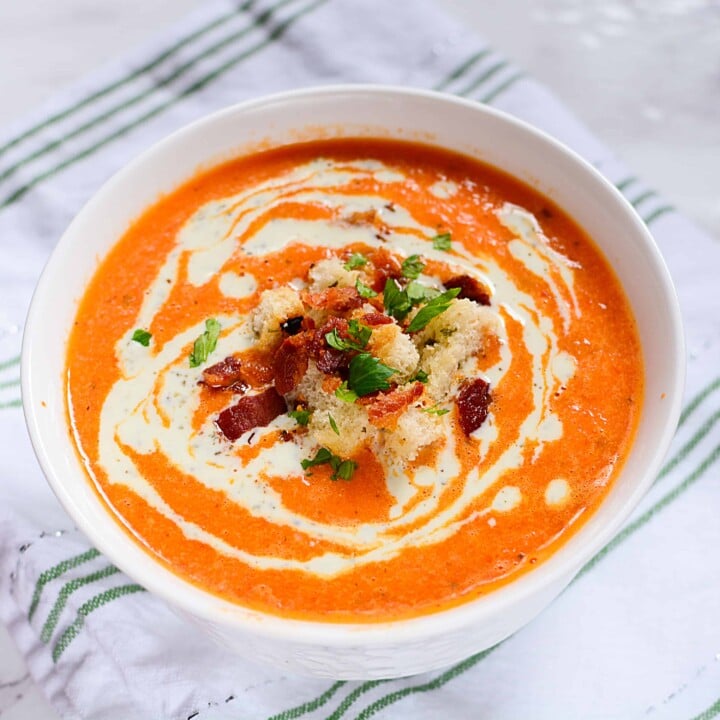 Creamy Blender Tomato and Basil Soup
A creamy tomato basil soup made in the Instant Pot Ace Blender! Smooth and creamy with hints of delicious herbal basil and garnished with croutons and bacon! Best of all, this soup is made and cooked right directly in the Ace Blender!
Ingredients
8 - 10 Plum Tomatoes, peeled
2 - 3 cups of chicken or vegetable stock
1tsp garlic, minced
2 - 3 sundried tomatoes
1 teaspoon smoked paprika
2c heavy whipping cream
1 tablespoon minced basil
1 - 2 teaspoon dried basil
as desired, salt and pepper
Garnish: Garlic butter croutons, basil leaves and crispy bacon
Instructions
Peel tomatoes according to the tutorial *optional
Add peeled tomatoes to the blender carafe
Add the chicken stock, sundried tomatoes, dried basil, garlic, paprika, salt, and pepper.
Select "soup" on the Ace Blender, and press it twice for a time of 20 minutes. *see notes below for regular blender
While the soup is blending, in a small bowl, combine 1cup of cream and the minced basil. Set aside.
When the soup is done blending, carefully remove the center cup of the lid, and pour in the remaining cream. Pulse to distribute the cream.
Carefully pour the creamy soup into a bowl. With a spoon, drizzle in the basil cream mixture to create a pretty pattern on the top of the soup.
Garnish with the breadcrumbs, basil leaves, and bacon.
Notes
1. If your blender does not have the heating element, simply blend the ingredients together as much as possible and then add to a heavy-bottomed pot to heat through and bring to a boil.
Remove the pot from the heat when adding the cream, and stir in. Spoon into a bowl and drizzle the basil cream over top.
Nutrition Information:
Yield:

8
Serving Size:

1
Amount Per Serving:
Calories:

474
Total Fat:

37g
Saturated Fat:

18g
Trans Fat:

1g
Unsaturated Fat:

16g
Cholesterol:

167mg
Sodium:

305mg
Carbohydrates:

7g
Fiber:

1g
Sugar:

4g
Protein:

29g
All nutritional information is based on third party calculations and is only an estimate. Each recipe and nutritional value will vary depending on the brands you use, measuring methods and portion sizes per household.
**DON'T FORGET TO PIN THIS CREAMY BLENDER TOMATO BASIL SOUP RECIPE TO YOUR FAVORITE PINTEREST BOARD TO USE FOR LATER!**