With the right tools and know-how, you can easily purchase inexpensive and tougher cuts of beef at the grocery store and turn them into tender, flavorful, and juicy steaks. This comprehensive guide to meat tenderizing will discuss all methods of tenderizing meat, including the best meat tenderizer tool for tough steaks.
Wondering what the best meat tenderizers are? I've got you covered! Read on and learn how to make the toughest cuts of meat tender and juicy!
Meat Tenderizing Methods
There are a plethora of meat tenderizing solutions on the market.
Blade Tenderizers: Blade meat tenderizers pierce the meat to break up tough issues. The 48 Blade Meat Tenderizer is my personal favorite. It has 48 tiny steel knives that help break down the connective tissues.
Mallet Style Tenderizers: A meat mallet or meat hammer is not the greatest option for breaking down tougher cuts of meat, as they will crush the meat fibers but don't do much to break down the connective tissue which is what makes the meat difficult to chew.
Tenderizing powders: A powdered meat tenderizer breaks down the connective tissue using enzymes but often leaves behind a mushy texture on the steak.
Salting: This method works by breaking down the muscle fibers in tough cuts of meat but will also leech a lot of the natural juices in the meat, thus making it very easy for the meat to dry out on the grill.
Marinades: These work the same as tenderizing powders but in a much more gentle fashion while imparting the flavors that make up the marinade. Common marinade ingredients are oil, vinegar, lemon juice, ginger, herbs, and pineapple juice. Marinades are great for tenderizing and seasoning flank steak and skirt steak.
Tea: Tea contains tannins which are a natural tenderizer. Soak meat in 1-2 cups of cooled black tea for up to 24 hours.
Coffee: The acidity in the coffee helps tenderize the meat and adds flavor. Soak beef in cooled coffee for up to 24 hours.
Cola: Like coffee, the acid in cola helps tenderize the meat. It also adds a subtle caramel flavor that is quite nice.
Ginger: A popular ingredient in marinades, ginger contains a natural proteolytic enzyme that helps break down meat protein.
Baking Soda: Like ginger, baking soda helps break down the meat protein. Just be sure you rinse well to remove all of the baking soda.
Buttermilk or Yogurt: Both are acidic and also contain calcium which activates the meat enzymes to break down protein. Soak for up to several hours and rinse well before cooking.
Beer or Wine: Both contain tannins and acid which are both natural meat tenderizers. They will impart some flavor to the beef, so be mindful of that. Soak for at least an hour before cooking.
Slow Cooking: Moist meat over a longer period results in softened connective tissue.
The Best Meat Tenderizer for Beef
A while ago, my father and I were talking about grilling steaks. I was telling him my budget just couldn't fit in those pricey, tender cuts of steak anymore.
He told me about this tool that helps turn tough meat into REALLY tender, flavorful steaks.
Enter the 48 Blade Meat Tenderizer. I think this is the best choice for tenderizing steak.
When my dad mentioned he had one of these tenderizers years ago, I looked it up on the net, and this specific model was still being sold!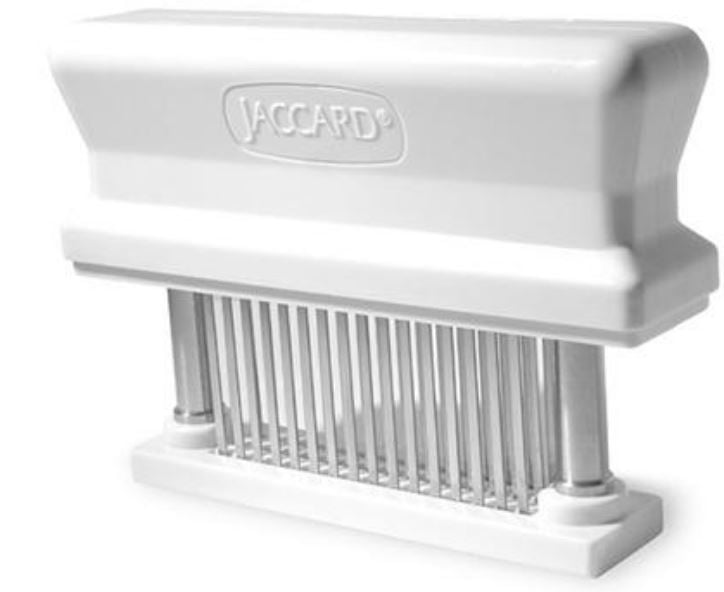 These tenderizers work exactly like the big tenderizing machines that big butcher shops and meat plants use to help tenderize tough pieces of meat, breaking down tough muscle fibers. This is just the mini version of needle meat tenderizers. It is super easy to use, not requiring much effort.
This meat tenderizing tool is not new on the market, but it's new to me and it's the best method I've used so far. So go ahead and buy those tougher cuts of steak because this tenderizer will fix that tough chewy steak problem!
It's called the Jaccard Meat Tenderizer. It is a kitchen tool I recommend to everyone as the best way to tenderize steak.
***I will tell you upfront – I purchased this tenderizer with my own money, this post is NOT sponsored.
How The 48 Blade Tenderizer Tool Works
Budget steak cuts often have a lot of fantastic flavors, but that flavor also comes with lots of connective tissue that makes the meat tough – the more tissue present, the tougher the meat.
The tenderizer has 48 tiny stainless steel blades connected to a handle. When you push down on the handle, the thin blades go into the meat, breaking down the connective tissue.
I have a model that has 48 blades, so you don't have to go over the surface of the meat too much to achieve tenderness. There is a model that has 16 blades that work just as well, but you'll need to do a few more passes over the surface of the steak.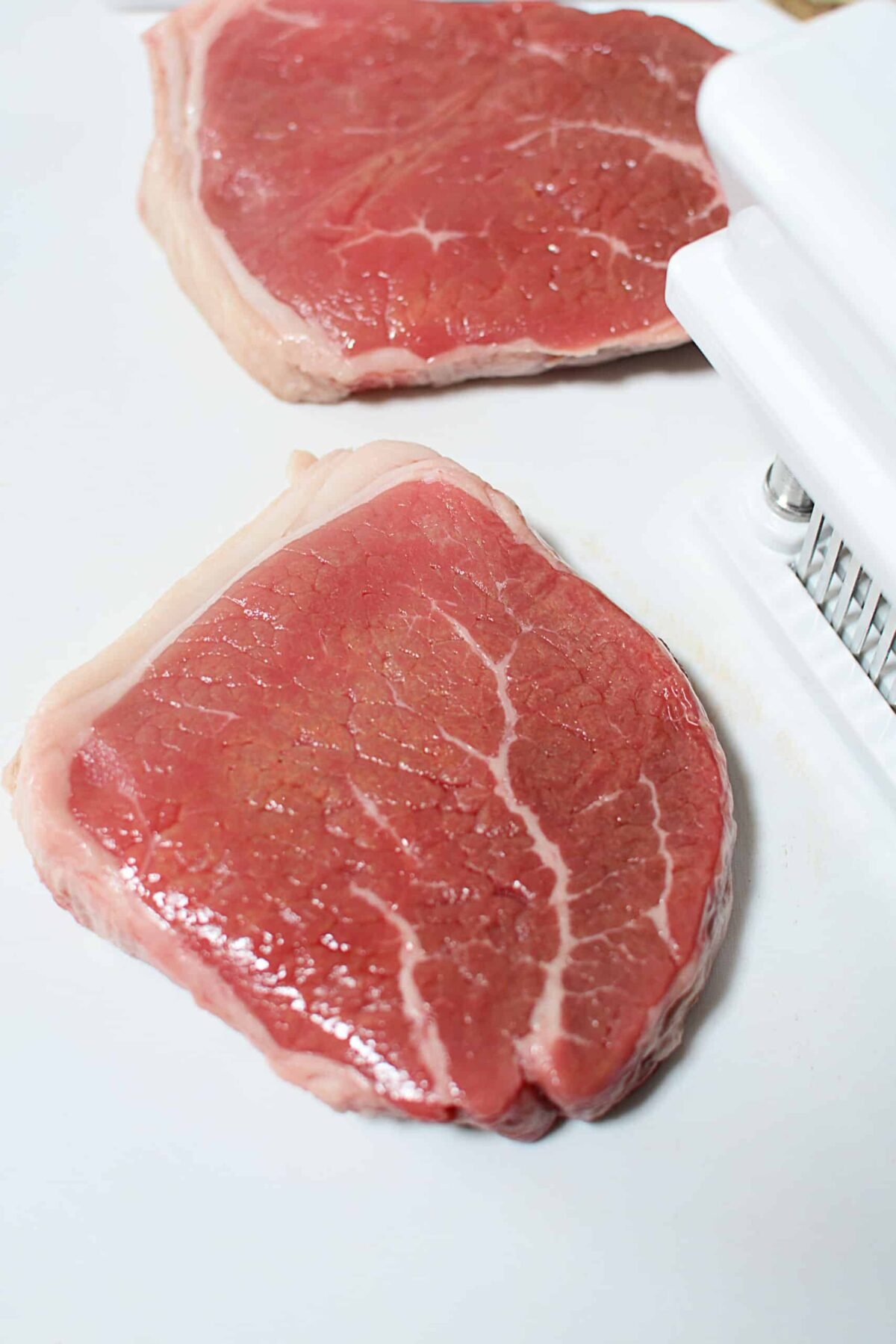 The mechanics of this meat tenderizer serve another purpose.
It doesn't just break down the tougher fibers in the meat, but also creates little channels in the meat that help a marinade seep into the deeper muscle fibers which in turn, makes it more flavorful after cooking! When you have the right tools you don't have to buy expensive cuts of meat.
A few other benefits of the tenderizing tool are:
The meat cooks up to 40% quicker which allows the meat to retain more of its natural flavor and marinade.
It promotes even cooking across varying thicknesses of the meat to ensure it's grilled to perfection each time.
Can I Use this Tenderizer on Any Type of Meat?
Yes, you may use it on chicken, pork, and veal cutlets too. Most meats will benefit from this meat tenderizer.
Are Blade Meat Tenderizers Dishwasher Safe?
Yes. After I use mine, I will CAREFULLY (those blades are sharp!) push the machine down so the needles are exposed and I wash them in a bowl of hot soapy water. For extra assurances, I place the tenderizer on the top rack of the dishwasher and have never had a problem.
Just be sure the tenderizer is dry (I let my needle meat tenderizer sit at room temperature on a drying towel overnight) before putting the case lid back on it.
These meat tenderizing methods aren't limited to beef. They are great for pork chops, chicken,
My Favorite Steak Tenderizer Methods
I love a good juicy steak, but my grocery budget doesn't always allow it. My tried and true method for achieving the most tender juicy steak is to use a combination of tenderizing methods.
First I use the 48 Blade Meat Tenderizer to break up the connective tissue, and then I soak the steaks in a good marinade for a few hours. This method always yields the best results and turns a tough piece of meat into something that tastes more like prime rib.
Best Marinade Recipes
Summer Grillin' Keto Steak Marinade
Homemade Meat Tenderizer Marinade
Total Time:
2 hours
5 minutes
This marinade not only has outstanding flavor, but the ingredient help to soften to tough meat fibers even more so you have the most succulent meat imaginable!
Ingredients
⅓ cup Avocado or Olive oil
¼ cup Balsamic Vinegar
3 Tablespoons Worchestershire Sauce
¼ cup Soy Sauce
2 teaspoons Dijon Mustard
2-3 teaspoons Garlic, minced
salt and pepper to taste
*optional - dash of cayenne or chili flakes
Instructions
Mix all ingredients together.
Taste and adjust for personal preference.
Marinate meat for a minimum of two hours.
Enjoy!
Notes
If you use regular soy sauce (not low sodium), omit the salt called for in the recipe. If you use a low sodium, taste after combining all ingredients to taste for salt preference.
I prefer to use avocado oil as it's a neutral flavored oil, but if you enjoy the flavor of olive oil, go ahead and use that.
I have added ½ a tablespoon of brown sugar from time to time. It adds just a tiny bit of sweetness and helps with caramelization, but sometimes I don't want the sugar in the marinade, so its definitely optional.
Remember that if you add any hot peppers or cayenne, the longer the meat sits in the marinade, the hotter the meat can taste.
Nutrition Information:
Yield:

8
Serving Size:

2 tablespoons
Amount Per Serving:
Calories:

44
Total Fat:

3g
Saturated Fat:

0g
Trans Fat:

0g
Unsaturated Fat:

2g
Cholesterol:

0mg
Sodium:

538mg
Carbohydrates:

3g
Fiber:

1g
Sugar:

2g
Protein:

1g
All nutritional information is based on third-party calculations and is only an estimate. Each recipe and nutritional value will vary depending on the brands you use, measuring methods, and portion sizes per household.