These mind-blowingly delicious Beef Hot Pockets have crispy, butter pastry that's holding a rich, roast beef filling that's absolutely divine when dipped into a savory beef gravy.
The Everything Bagel seasoning that's sprinkled on top helps to elevate these buttery beef hand pies to a whole new level.
This post may contain affiliate links. If you make a purchase after clicking a link, I may earn a small commission AT NO COST TO YOU. As an Amazon Affiliate, I earn from qualifying purchases.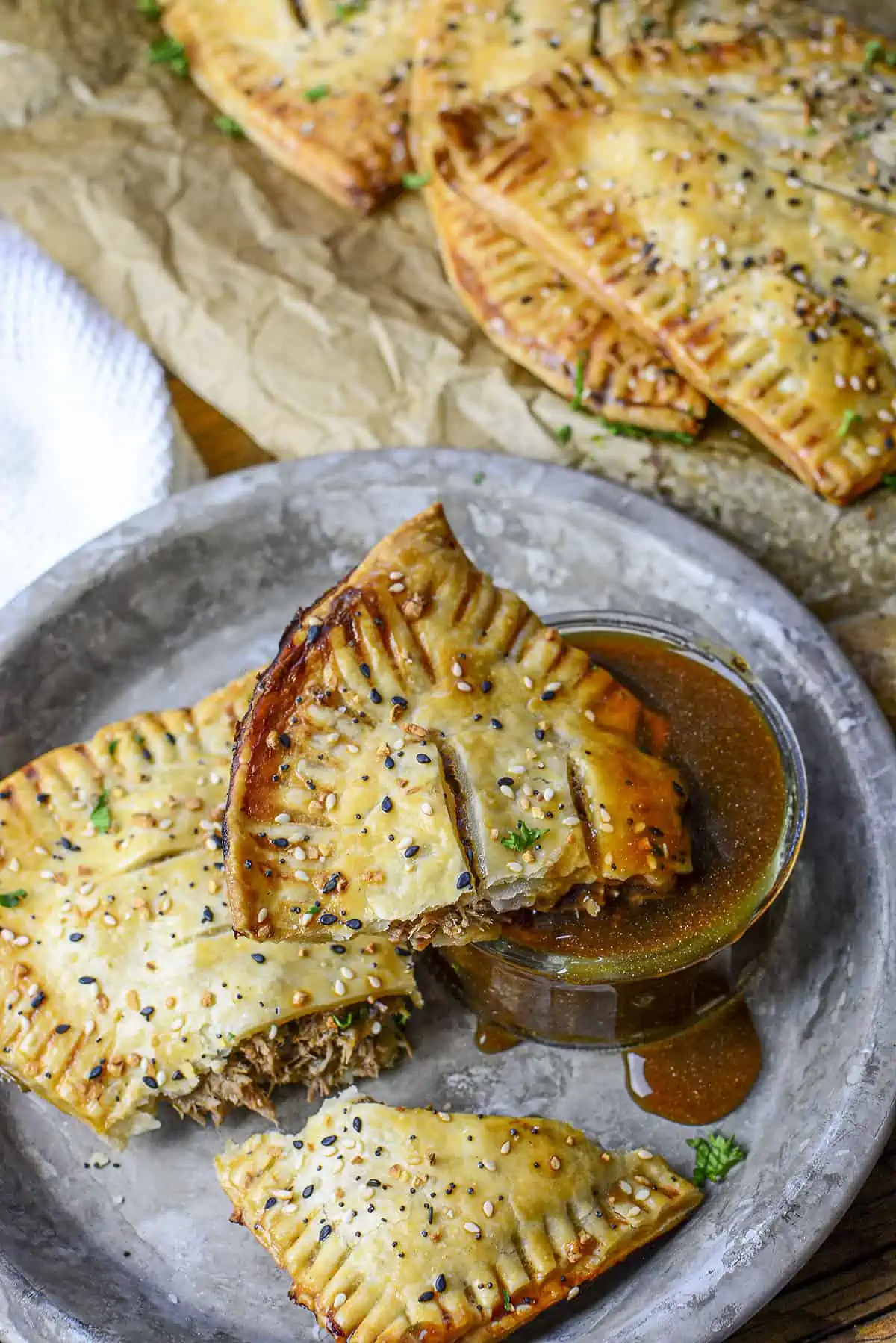 Why You'll Love These Beef Hot Pockets
The crust is tender, buttery, and flaky that compliments the flavors of the beef in a fantastic way
They are perfect to make when you have leftover roast beef.
It's like having a meat pie, but in a handheld version that's way more fun to eat!
These hand pies make for an inexpensive dinner, perfect for stretching budgets.
Ingredients Needed:
Beef: This hot pocket recipe is ideally made with your leftover roast beef. This 3 Packet Roast recipe that I make always has enough leftover beef (plus gravy) to make these hand pies.
Pie Pastry: You can certainly make your own pie pastry which would save even more money, but for convenience's sake, using commercially made pie crust is a perfectly good option.
Gravy drippings or gravy packets: Sometimes there's not enough leftover gravy when we make our roasts, so using a gravy packet is perfect.
Everything Bagel Seasoning: I love this seasoning because it's delicious and savory, and it goes well with everything.
Egg: This is optional, but I like a nice egg wash to make the pastry have a nice sheen and it helps it get to a golden brown color. Also, the egg wash helps the seasoning stay without falling off the pastry.
Look below for the printable recipe card giving you all the exact cooking times, tips and tricks needed to make this recipe perfect.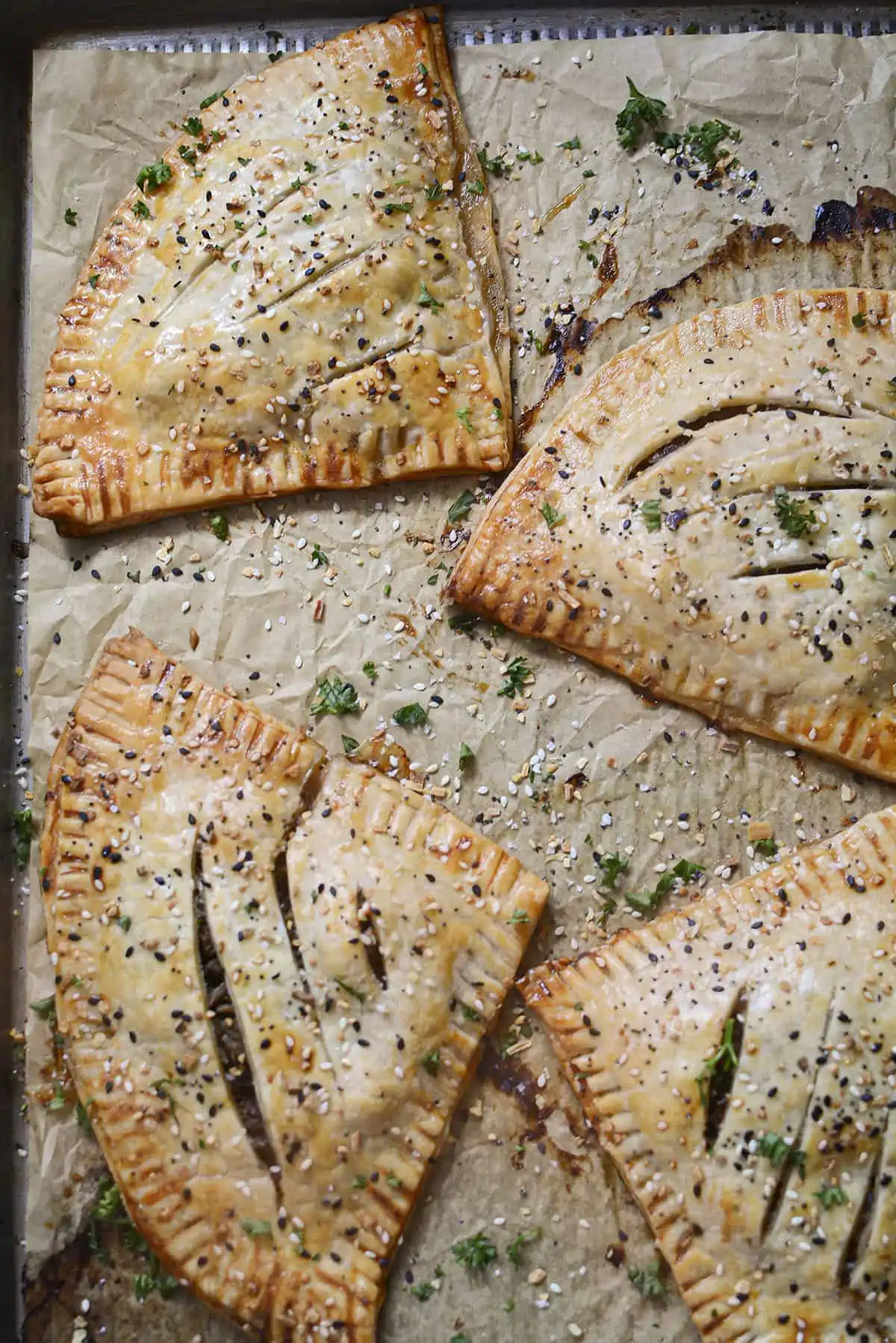 How To Make Them
Making these beef pockets is super easy. It's basically an assembly and if you've worked with pastry dough before, this will be a breeze. And, if you're using commercially made crusts, it's even easier!
Begin by chopping up the leftover beef into small bits. In a pot add the beef drippings (or gravy), to moisten the beef.
Take one of the crusts and portion it into four sections. Add the beef to each section, leaving a ½″-1″ border around each piece.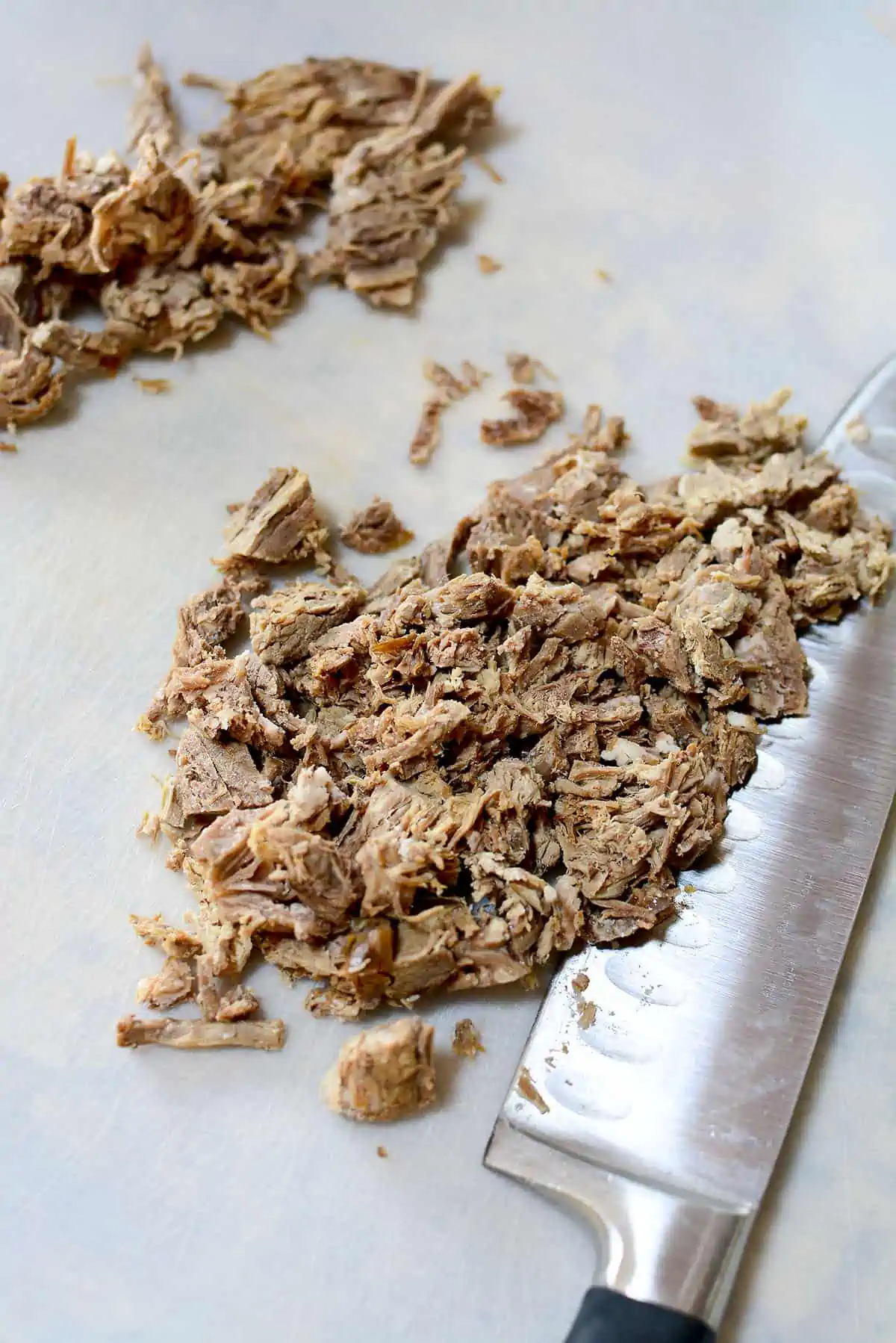 Cut the section pastry crust and section it into four pieces like the first crust. Place one section over the top of another section with the beef on it, so it creates the 'lid' of the hand pie. Pinch (or use a fork) to close the borders of each hand pie.
Make up the egg wash and liberally brush onto the tops of each beef hot pocket. Sprinkle the seasoning over the top so it sticks to the pastry.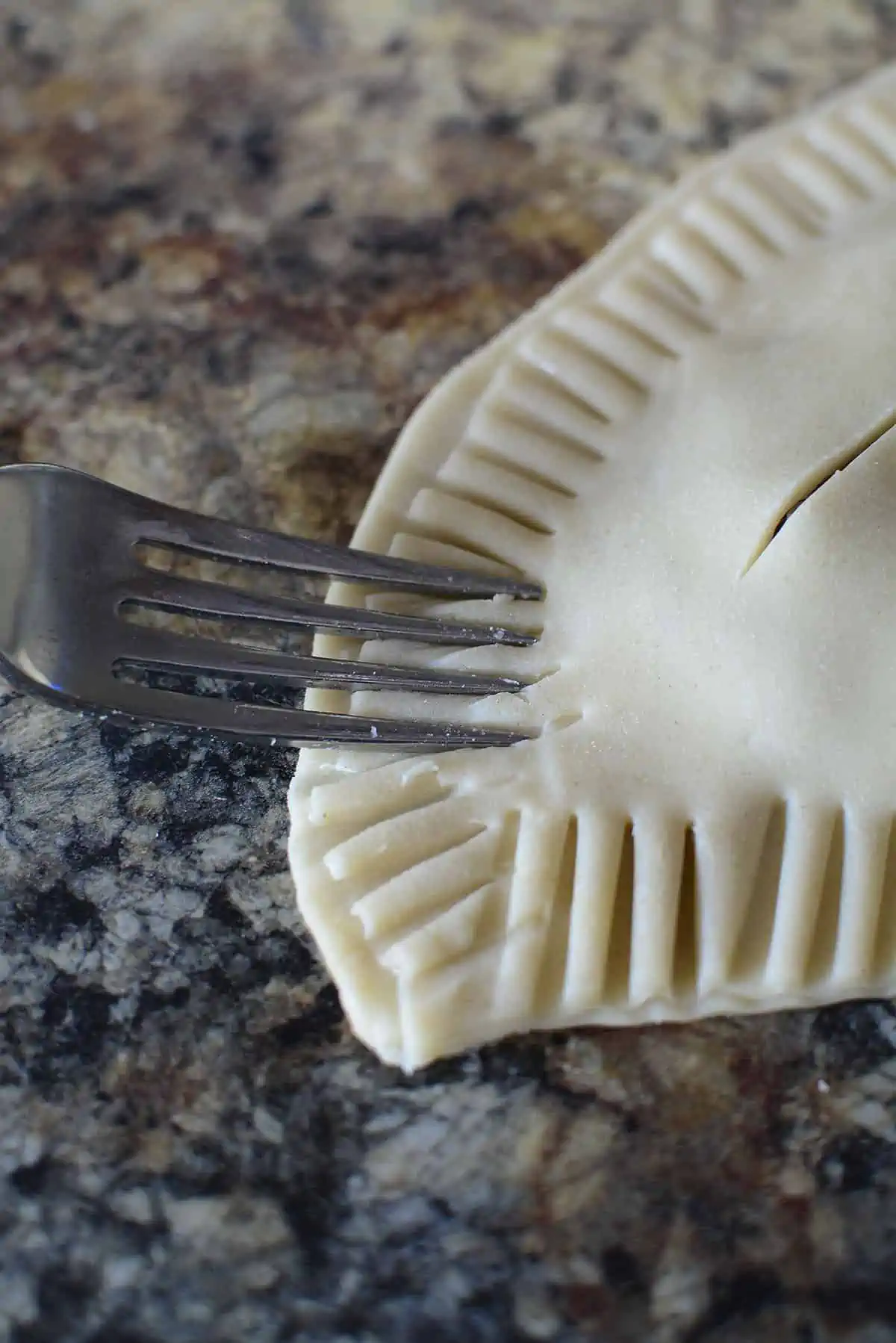 Place on a parchment-lined baking sheet and bake until golden and crispy.
Useful Cooking Tip: Using a fork, I find, helps to seal the borders the best. If you want extra insurance for a good seal, try dipping your finger into water and wetting the borders of the pockets before sealing.
Putting Your Own Twist On It
It's super easy to put your own mark on these homemade meat pies. The filling can easily be changed up by using:
Cooked ground beef
Chopped cooked chicken thighs or breasts
Ground or minced pork
Ground lamb
Instead of adding pan drippings or gravy to moisten the meat, try using a savory relish or chutney. That would add extra flavor in the filling and would be delicious!
For a topping, try using Montreal Steak Seasoning instead of Everything But The Bagel for a different flavor as well.
Ideas for Serving
These Beef Hand Pies are super delicious just as they are, dipped in gravy, for a nice snack. But, if you wanted to serve them as a meal for lunch or dinner, they would go great with nice cheesy mashed potatoes (that you could drizzle some of the gravy on as well).
For a more casual meal, a side of french fries, or if you wanted to serve a fun and delicious side veggie, these easy Air Fryer Zucchini Sticks would be perfect!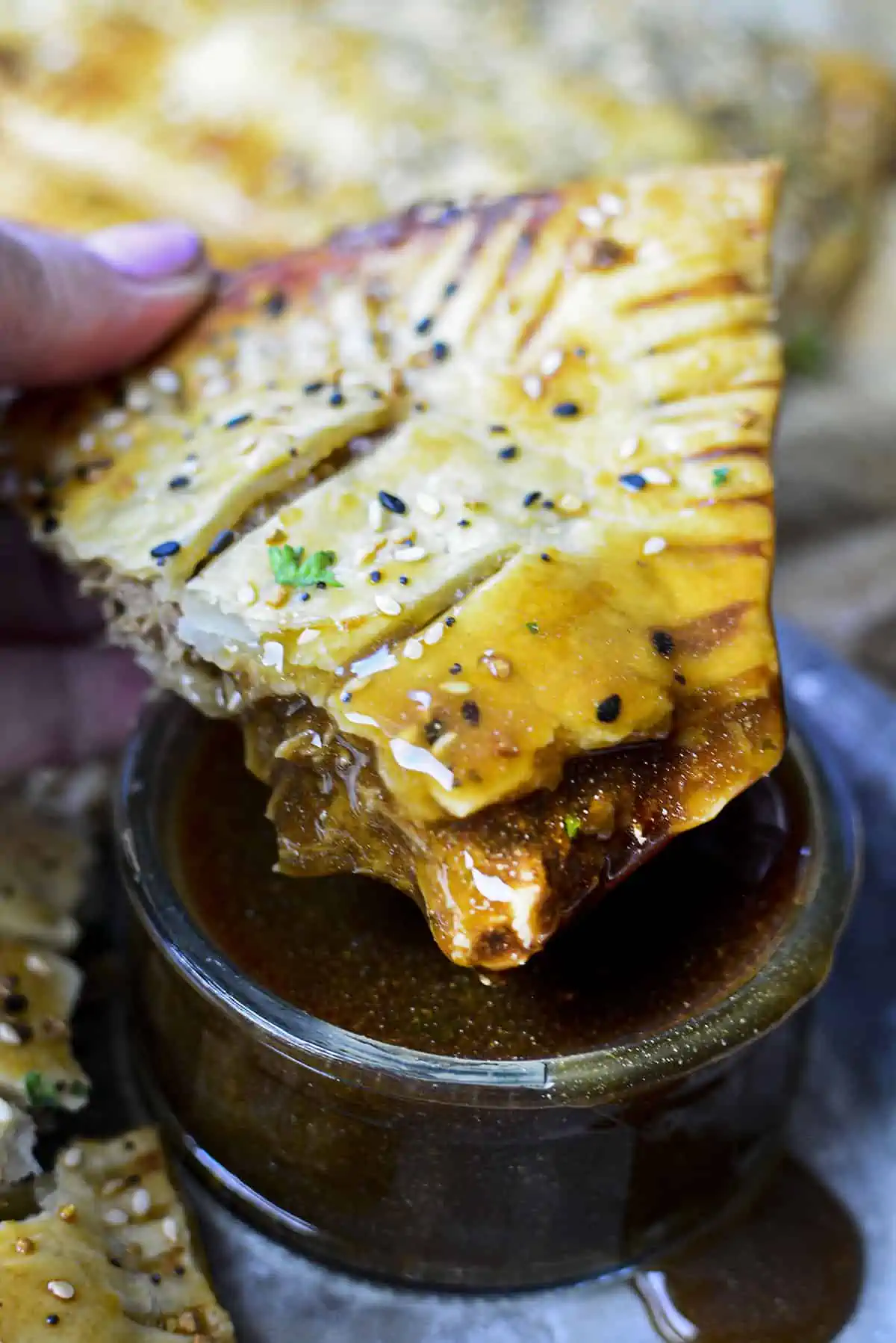 Storing the Leftovers
If you happen to have leftovers, keeping them in the fridge for up to 4 days will be great. Keep them in an air-tight container.
If you wanted to freeze them, wrap them well with saran wrap, then in foil. That way, it will keep the freezer burn at bay.
To thaw, place them in the fridge overnight. You could also place them in the microwave, but know that you might sacrifice some texture from the pastry.
Questions You Might Have
Can I use puff pastry instead of pie pastry?
I think you could, but I've never done it. My only concern would be how much it puffs up and if it will stay sealed. An idea to make them easier would be to make them in a 'sweet danish' style, or open-faced almost. Cut the squares and don't put the top of them, bake them like that. If you try it this way, let me know!
Can I add other things to the filling?
Sure! Just remember that you might need bigger pastry pieces to make sure that you get all the filling encased in the dough. You could try minced veggies or some sauteed onion would be delish as well!
I hope you enjoy this Beef Hot Pocket recipe. I think that the more you make it, you'll see how versatile it is for using up extra things you have in the fridge.
Have you tried this leftover beef recipe before? If so, please leave the recipe a star rating and a comment below, letting me know what you thought. I love hearing from you! Have a wonderful day!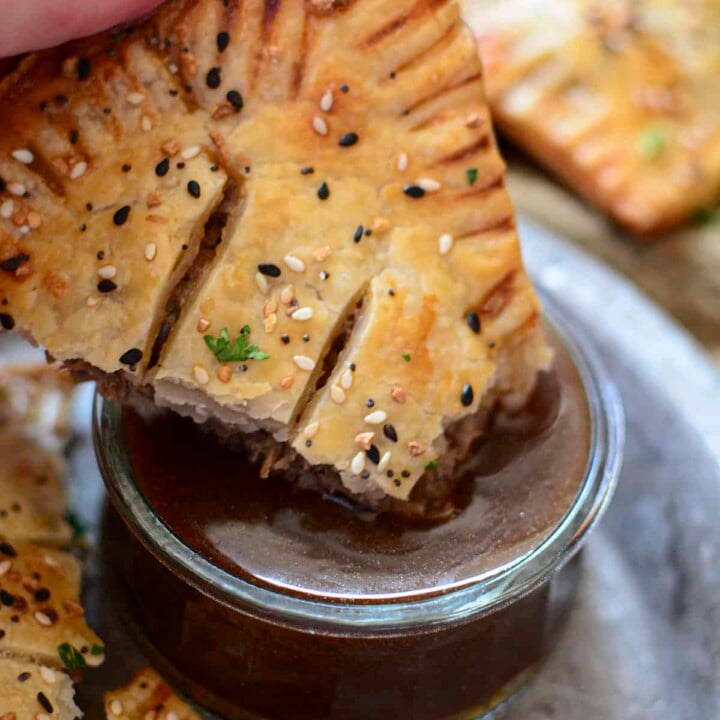 Beef Hot Pockets
Buttery flaky crust with a rich and savory beef filling are the main ingredients in these Beef Hot Pockets. So delicious and perfect for using leftover roast beef, or to make and freeze for meal prep!
Ingredients
2 cups Roast Beef, chopped fine
1 packet gravy mix powder
2 Pie crusts
as desired, Everything but the Bagel Seasoning
1 egg (beaten and mixed with water to make an egg wash)
Instructions
Preheat the oven to 375 degrees Farenheight
Make the gravy according to the directions on the back of the packet. Set aside. *see notes*
Mix a few tablespoons of gravy into the chopped meat mixture.
Take one of the pie crusts and cut it into 4 sections.
Divide the beef evenly between each 4 quadrants, leaving an inch border to each piece.
Take the second crust and divide/cut it into another 4 sections like you did the first crust.
With your finger, dip it in some water and wet the borders of each piece of dough with the beef on it, then take a section from the second crust and lay that on top of the first piece with the beef.
With a fork, crimp the borders so to create a seal, joining the two pieces of dough together.
Do that with all sections of dough.
With a sharp knife, cut three vent holes in the top of each hot pocket to let steam escape during baking.
Brush on the egg wash over top each hot pocket and then sprinkle with the bagel seasoning.
Bake in the oven for 18 - 20 minutes, or until the pastry is cooked through, and golden brown.
Notes
For serving, divide the remaining gravy into bowls for dipping.
Let the hot pockets cool to the point of being able to handle them with your hands to eat them that way, or, let them cool for 5 minutes when taking them out of the oven and then serve on a plate with your chosen sides to eat with a fork.
Nutrition Information:
Yield:

4
Serving Size:

1
Amount Per Serving:
Calories:

628
Total Fat:

28g
Saturated Fat:

9g
Trans Fat:

0g
Unsaturated Fat:

16g
Cholesterol:

104mg
Sodium:

1802mg
Carbohydrates:

62g
Fiber:

3g
Sugar:

6g
Protein:

31g
All nutritional information is based on third-party calculations and is only an estimate. Each recipe and nutritional value will vary depending on the brands you use, measuring methods, and portion sizes per household.