Hearty Beef and Rice soup has everything you'd want in a filling, nourishing soup. A rich beef stock, beef pieces, loaded with delicious vegetables and wild rice, this soup will be asked for again and again.
This delicious beefy recipe is similar to my Slow Cooker Beef and Barley Stew. It's another stick to your ribs kind of meal that's cheap to make!
HEARTY BEEF AND RICE SOUP
Those cold winter nights are approaching, and there's literally nothing better than getting settled in a corner of your couch with a warm blanket and a bowl of steaming hot soup with your favorite movie- right?
For just those days, here's a super comforting and delicious beef soup recipe that is one of my favorites- it is a hearty beef soup with wild rice that's super filling, cheap to make, and nutritious too!
INGREDIENTS FOR THIS SOUP:
Beef bones
Seasonings
Water
Assorted veggies
Wild Rice (see notes in the recipe card for wild rice alternatives)
So How Do I Make It?
This beef soup is so hearty you could almost call it a stew, and it couldn't be easier to make!
I made this soothing winter soup using slow-cooked beef bones! This is an optional step (you could use store-bought beef broth as well). I had some beef soup bones that I bought from the butcher and the best thing about this is that beef bones are usually super cheap and when you make the broth, the flavor is incredible!!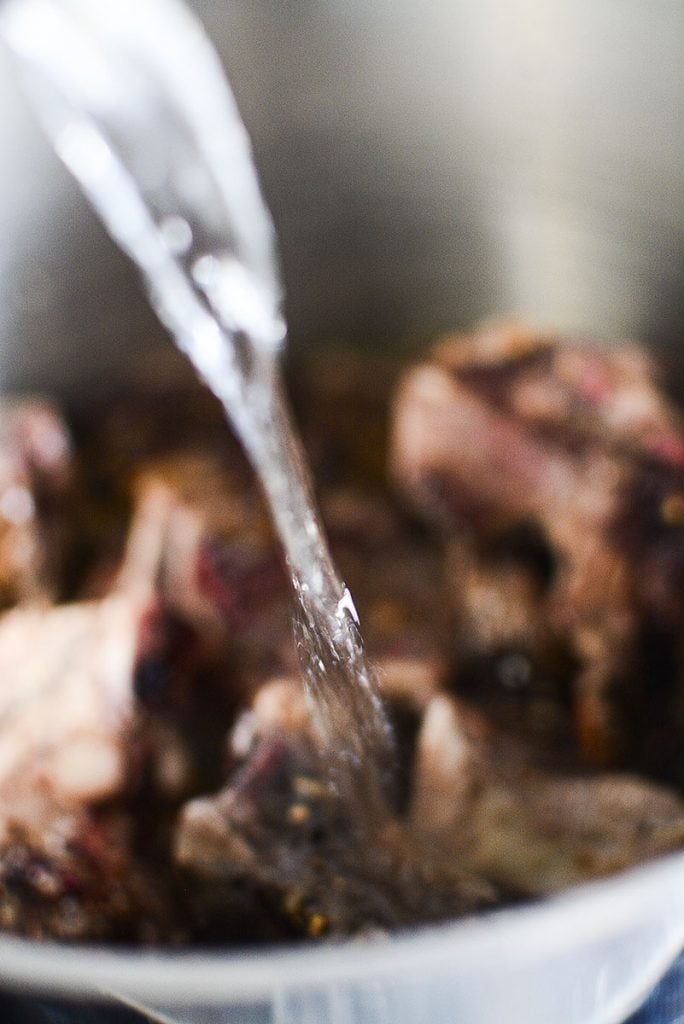 The idea behind slow cooking the beef bones is that you'll be able to get that depth of flavor and all that nutrition from the beef bones and simmered meat all in the broth water. I also took the extra step of roasting the bones in the oven first, to develop those caramelized beefy flavors that are so unctuous with beef.
If you want to use purchased bone broth, then pick up a little bit of extra beef while you're at it. You could buy an inexpensive steak and cube it up really small, or even some ground beef will work out perfectly as well!
Apart from the beef, you'll also need a handful of other ingredients like onions, canned tomatoes, celery, wild rice, peas and carrots (or another other mixed frozen veggies that you prefer), corn (taken off the cob if you have it handy) and some spices.
All of these ingredients really take the soup up a notch and make it a complete meal to dig into. This soup is as easy as throwing all the ingredients into a pot and letting it simmer until the rice and veggies are fully cooked!

Check the recipe card below to find out more details on how to build even MORE rich, savory flavor in this incredible beef veggie rice soup!
Can I Store it For Later?
Loved making the soup? Wondering if you can make it in a huge batch and store it for later? Of course you can!
Worried that freezing this substantial soup right in the broth might change the flavors or textures? No worries, my gorgeous reader, I have some tips!!
This nourishing soup will freeze beautifully and stay good for up to a month (or even two). Just pour it into an airtight container and but leave a few inches at the top for the soup to expand as it freezes.
If you're thinking of storing it in your refrigerator, remember that it'll stay fresh in there for just 4-5 days from the day you made it. You might find that the rice will absorb more of the broth the longer it sits, but to get around that, simply add a bit more beef broth (or even water) to loosen the mixture up a tad.
What Kind of Rice Can I Use?
While my recipe calls for using wild rice, if you don't have it, you can totally use any other long grained white rice instead. Just remember that this will cut down the cooking time as well, so just check your bag of rice to note its cooking time, and you should be fine.
Wild rice is actually a super healthy alternative to regular rice, and has been found to contain a lot more protein and up to 3 times more fiber than regular rice.
Please don't use a minute rice, as it will overcook as it cooks with the veggies and will get really mushy.
Serving Ideas and Suggestions
While the soup is definitely a complete meal in itself, if you're looking to make it even better, you can serve it with some crackers on the side, or even just some homemade buttered bread or crusty rolls.
This is actually a great way to utilize those leftovers in your refrigerator, and still enjoy a filling and healthy low-cost meal!
Speaking of low-cost meals, if you're looking for a few other ideas, why not check out my Easy Skillet Beef and Broccoli Ramen , or my Instant Pot 3 Packet Chicken is super delicious! A few other ideas could be Haluski with Kielbasa (Noodles, cabbage, and sausage – a crowd favorite!!), and my Instant Pot Sweet and Sticky Drumsticks!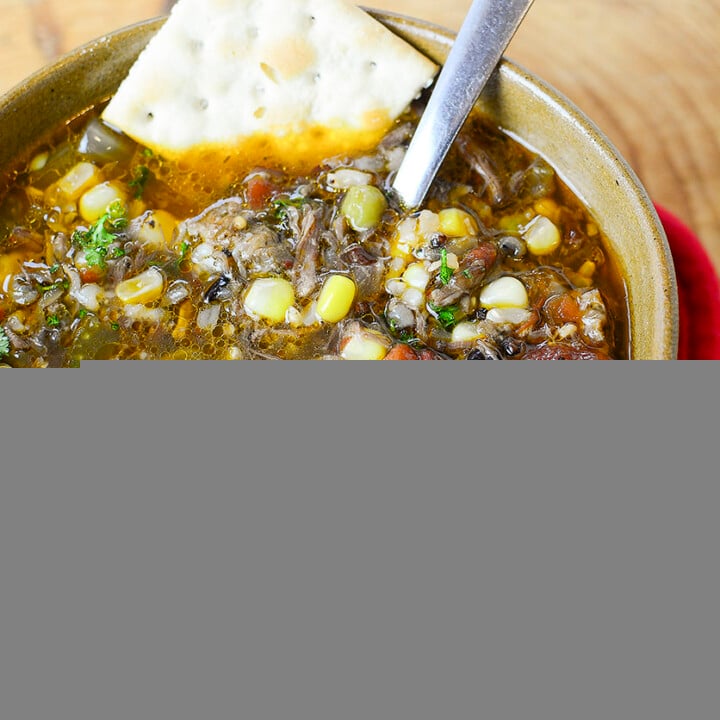 Beef and Rice Soup
A rich, hearty, and beefy soup recipe that is super versatile! Beef, vegetables, and rice make a combination that's filling and satisfying!
Ingredients
For The Beef Broth:
2 lbs meaty beef bones (or approximately 12 oz beef)
Montreal Steak Seasoning
1 tablespoon olive oil
8c water
For The Soup:
1c corn *See notes
3c frozen vegetables
2 stalks celery
½ onion
14 oz fire roasted tomatoes, drained**See notes
1c Tri colored wild rice ***See notes
2 teaspoon garlic
(8c beef stock *IF NOT MAKING YOUR OWN WITH BEEF BONES.)
as desired, salt and pepper
Instructions
If you're not making your own broth, skip to step # 6 . In a large baking dish, place the bones and sprinkle the montreal steak seasoning and olive oil over them. Roast in the oven for 30 minutes.
Sprinkle the bones with Montreal steak seasoning, or you're favorite all-purpose seasoning. Place the bones in a roaster and roast, covered, for approximately 1 hour at 350F.
When the bones are done roasting, remove them from the roaster and place them in a large soup pot. Fill the pot with 8 cups of water, or enough water to cover the bones by 1".
Bring the bones up to a boil and then turn down the heat to a simmer. Simmer the bones for at least 4 - 6 hours, covered. (The longer the better, actually.) Check on the broth levels as the bones are simmering to replenish any evaporated broth.
Once the broth is complete, remove the bones onto a large plate. Let them cool. Drain the bone broth into a large bowl and set aside.
While the bones are cooling, place the celery, onion and bay leaf in the pot the bones came out of.
For those who didn't start out with beef bones, please start the recipe here:
Saute until the celery and onion are slightly soft. Add the garlic, salt and pepper. If you are using ground beef, add it now and saute until it's brown and cooked through.
Add the rest of the vegetables and continue to saute for about 5 minutes.
As the veggies are sauteing, remove the meat from the bones and discard the bones.
Add the meat into the pot with the veggies and pour in the broth.
Bring the soup to a boil. When the soup is boiling, add the rice, stir and bring to a simmer. Because my rice is a mix wild rice, it took 30 minutes to cook, but please refer to your package directions for the cooking time.
Once the rice is cooked, your soup is ready to go!
Notes
If you are not using beef bones to start this recipe, skip to step #6 to begin the recipe.
You can use ground beef or cut up steak for this recipe if you're not using beefy soup bones.
Be sure to note the cooking time on your package of rice to gauge how long to cook the soup to finish the rice.
*I cut the corn off a cob, but feel free to use canned or frozen corn for this recipe.
**I had a can of fire-roasted tomatoes which added fantastic flavor, but a regular can of tomatoes will work just fine as well!
***The rice I used was tri-colored wild rice. There are many types of rice so you'll want to note the cooking time on the package of the rice you use. Any type of rice you want to use for this recipe will work, only the cooking times will be different.
Nutrition Information:
Yield:

10
Serving Size:

1 cup
Amount Per Serving:
Calories:

378
Total Fat:

21g
Saturated Fat:

8g
Trans Fat:

0g
Unsaturated Fat:

11g
Cholesterol:

86mg
Sodium:

220mg
Carbohydrates:

16g
Fiber:

4g
Sugar:

4g
Protein:

29g