Ok, so homemade garlic butter croutons might not sound like much, but let me tell you my dear reader!!! Garlicky, buttery, perfectly seasoned little cubes of bread add an incredible amount of savory, yummy flavor to pretty much ANYTHING!! Except for ice cream. Yeah, don't add them to ice cream.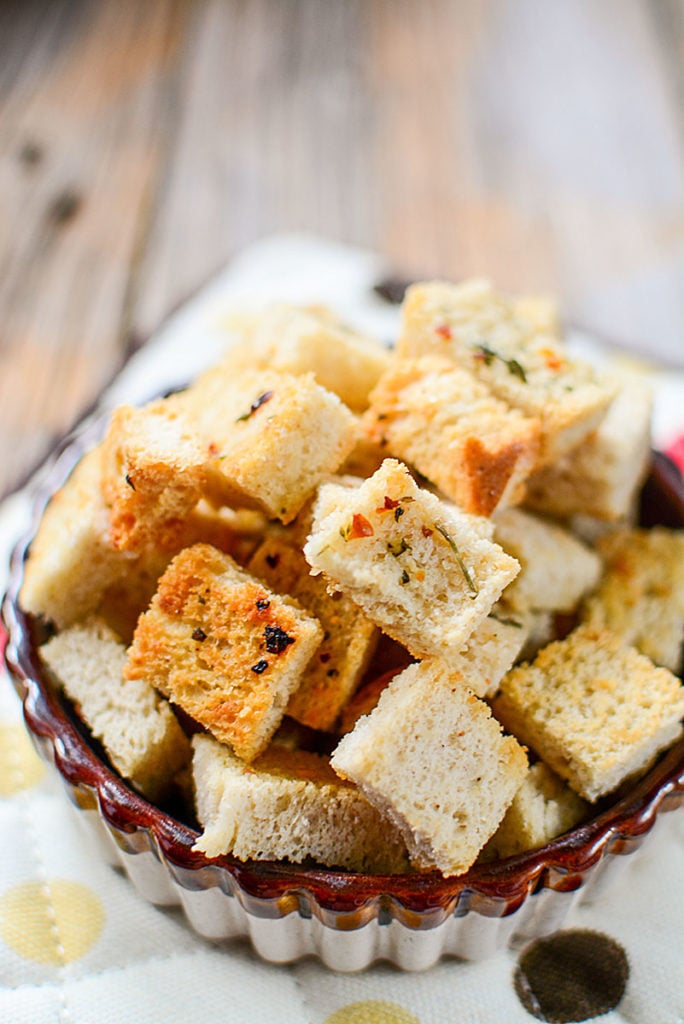 HOMEMADE GARLIC BUTTER CROUTONS
Don't you just love garlic and how it can transform a simple recipe into a heavenly delicious one? Or maybe you just can't resist the aroma of garlic bread.
Well, guess what? This super simple garlic butter croutons recipe will be a sure hit among anyone who tastes these magical squares of goodness!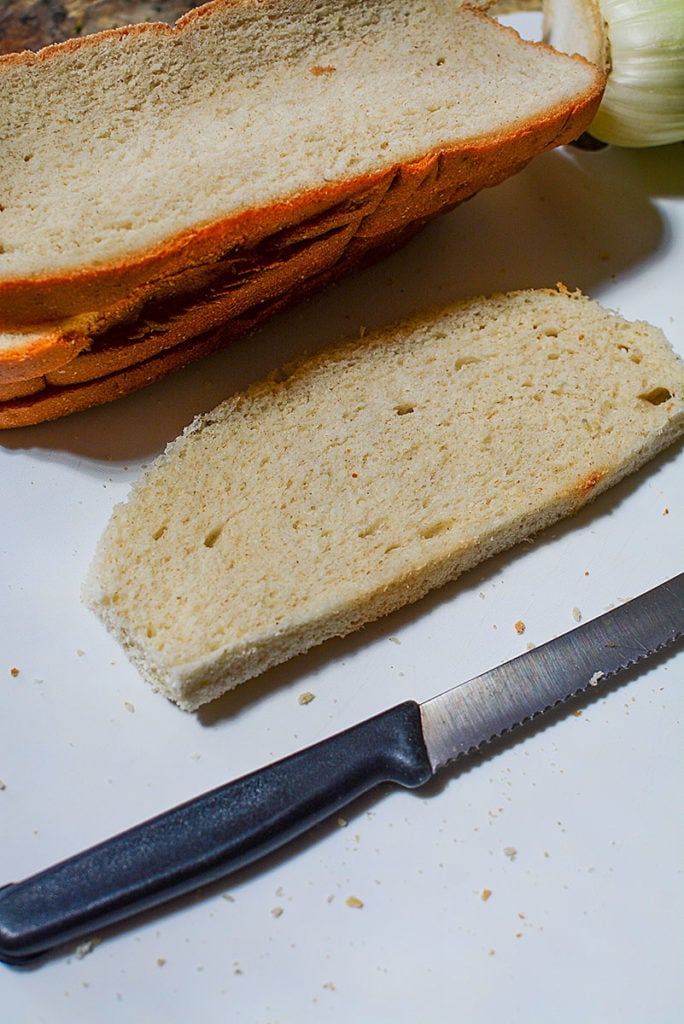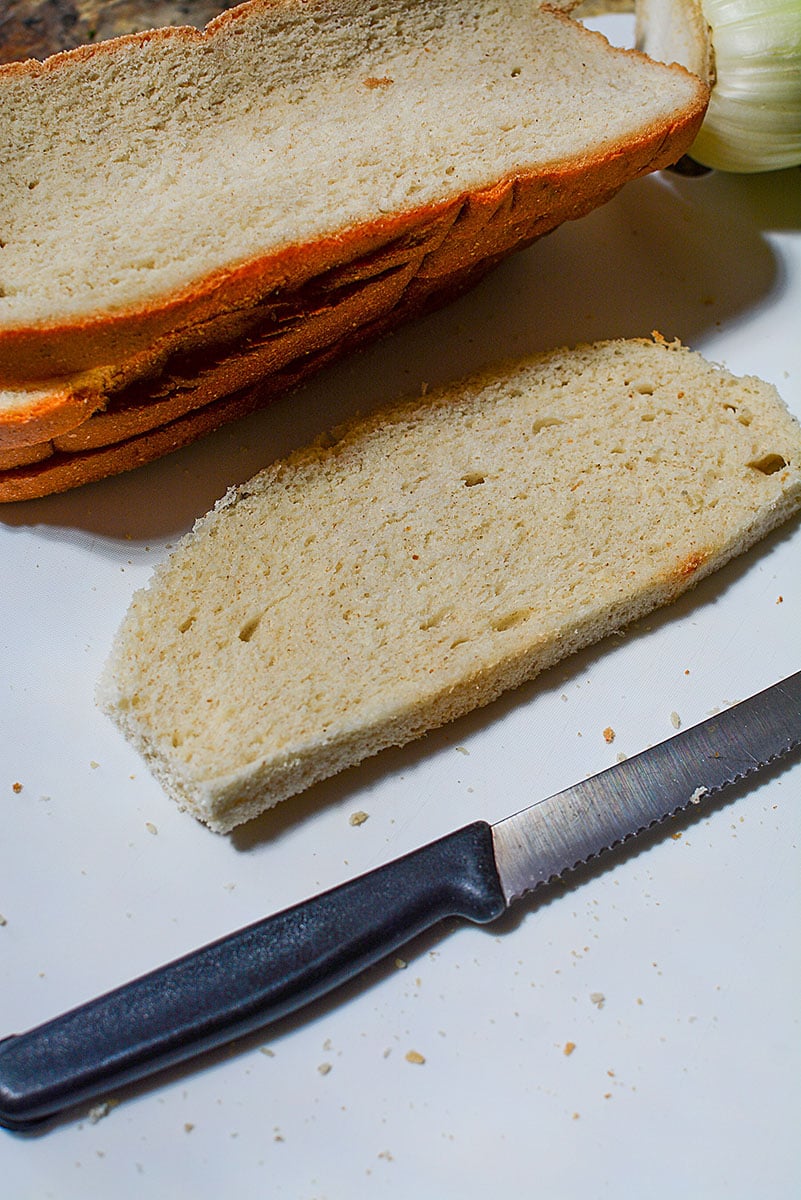 And, by the way, if you're into saving money, these buttery croutons can help with that!! This recipe is perfect for using up leftover bread, uses ingredients that might go to waste, and helps us brush up on our basic cooking skills!!
Read on to discover all about how you can make them, along with some quick tips and tricks to make sure you nail it in the first attempt.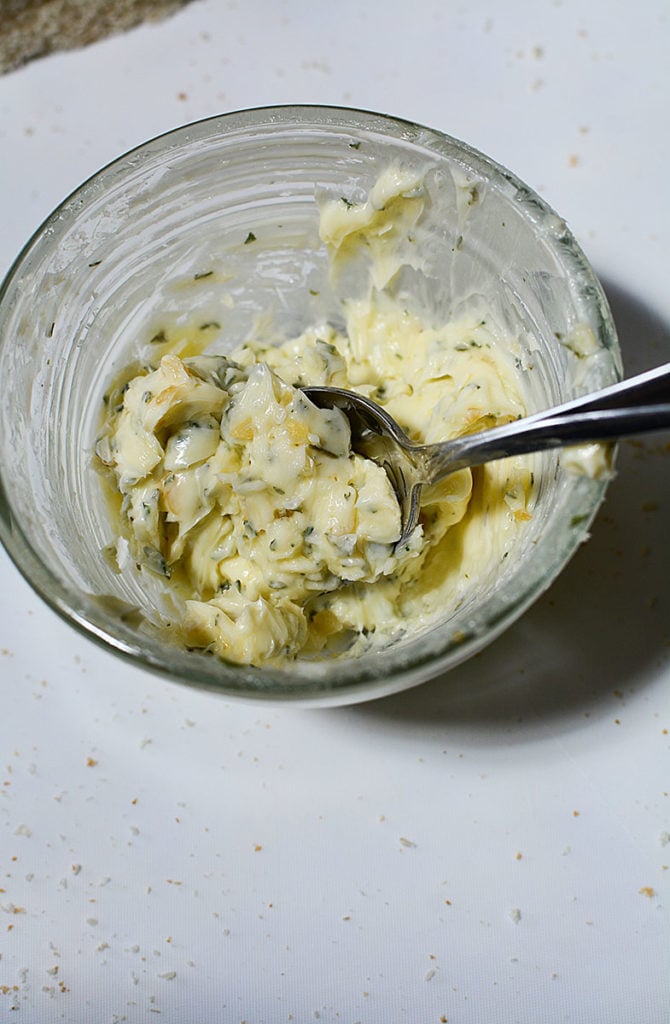 Choosing the Bread for these Garlic Butter Croutons
This is actually one of the most important factors in the whole making of the homemade garlic butter croutons story. With all the different types of bread out there, it can be almost overwhelming to choose which type of bread to use to make the croutons.
Basically almost any type of bread will do. Regular white bread, brown bread, seedy bread, sourdough, rye, pumpernickel would be interesting, .. etc. You get my drift. The key thing in making these garlic croutons is this:
Make sure you choose bread that is fresh and not entirely dried out. If it's dried out already, it will be hard to work with. If your bread is totally dried out at this point, look at using that up with this recipe for making your own seasoned breadcrumbs!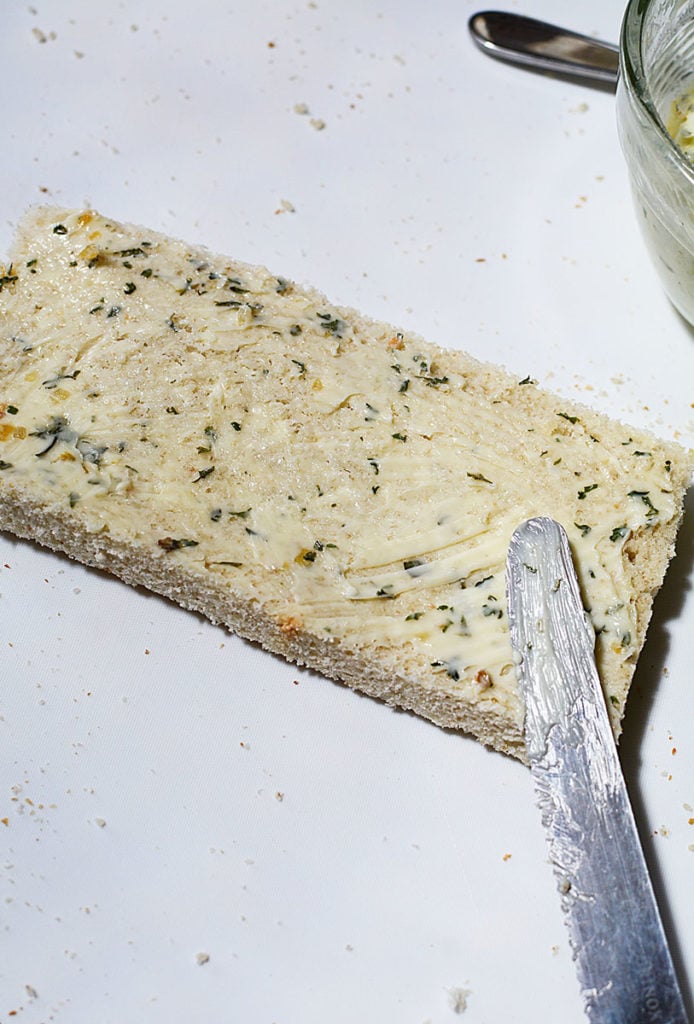 So you could use bread that is freshly baked, or one that is a day old, or even one that is stale and has lost some of its moisture. You can choose any of them to whip up these croutons, but ideally, the bread must have a little moisture left in it.
Just make sure the bread you're choosing isn't sweetened. Loaves of bread that are used for sweet applications have a fair amount of sugar in them just won't be nice in the end. Like, Grandma's sweetened easter bread won't cut the mustard for these homemade croutons. lol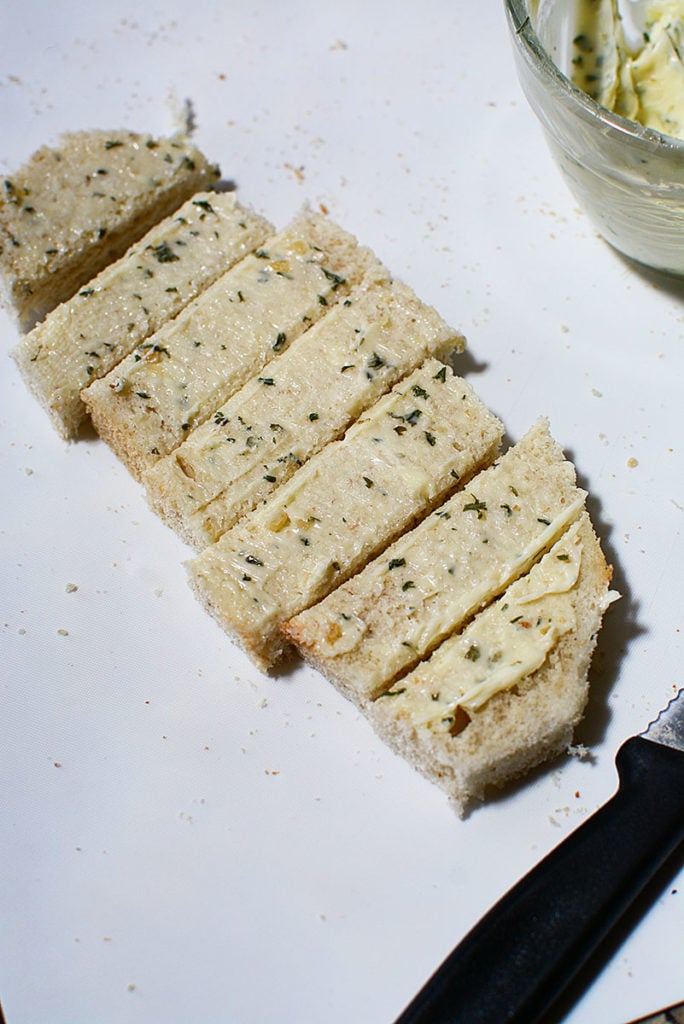 How to Make Garlic Croutons the Right Way
The actual process of making the garlic butter croutons is super easy. Once you have chosen your bread, all you really need is some butter (This homemade butter recipe works amazingly well too), garlic powder or granulated garlic (dried) and some dried parsley.
Just a side note here. For the garlic, you can use minced fresh garlic, like I did today in this recipe. However, if you're going to store your recipe for any length of time unless you're keeping them in the freezer, I would suggest using the powdered or granulated garlic for this recipe.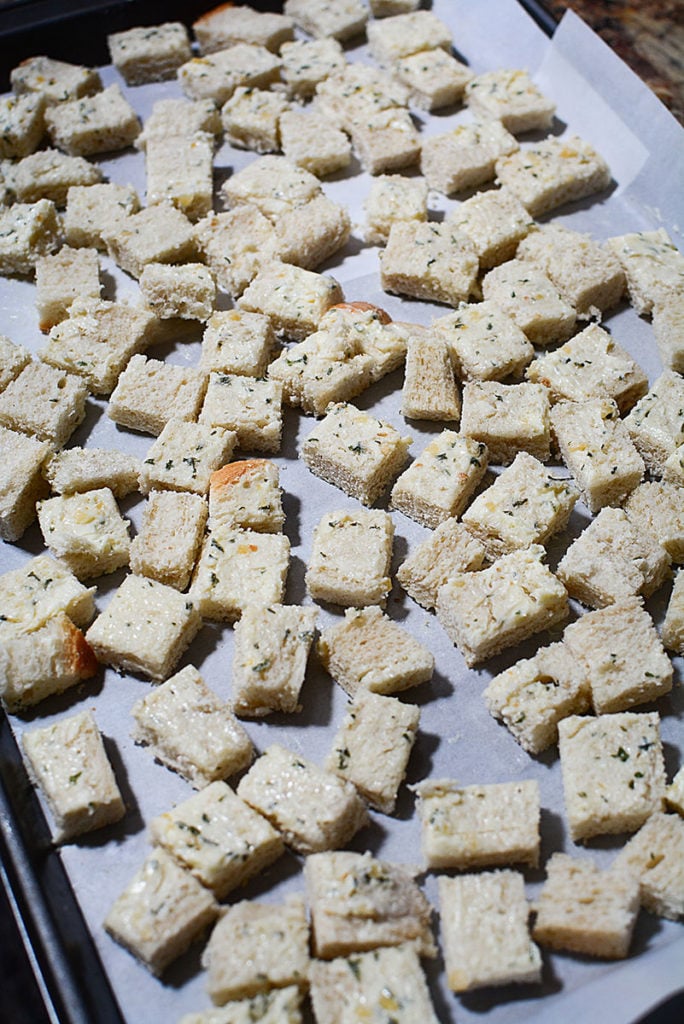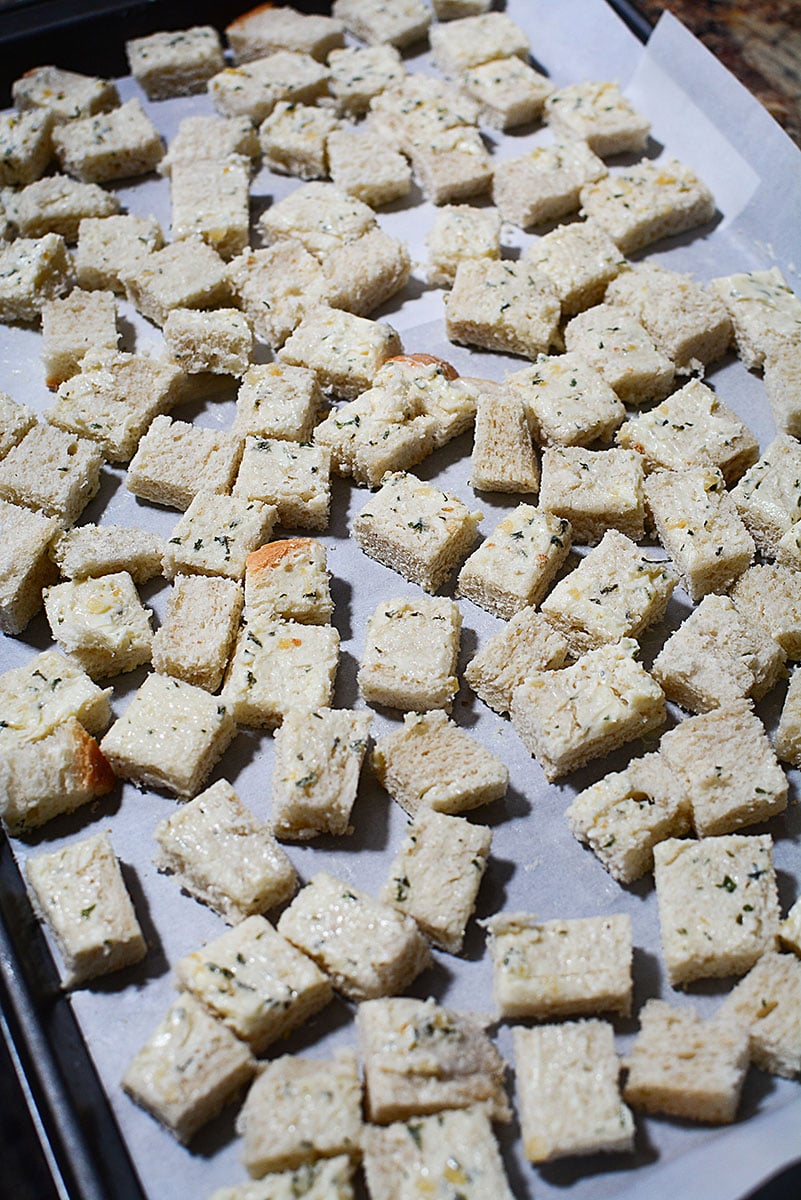 The reason being is because the moisture in the garlic (even though you will be drying them in the oven) might hold even the smallest amount of moisture that might cause the croutons to mold or get funky tasting.
So if you're going to use the garlic butter croutons up within a week or so, (or freeze them), then go ahead and use fresh garlic.
You can start by cutting off the crust off the sides of the bread or leave them on, whatever you prefer. If you like that rustic look, g'head an leave them on. If you don't like the harder texture of the crusts, then cut them off.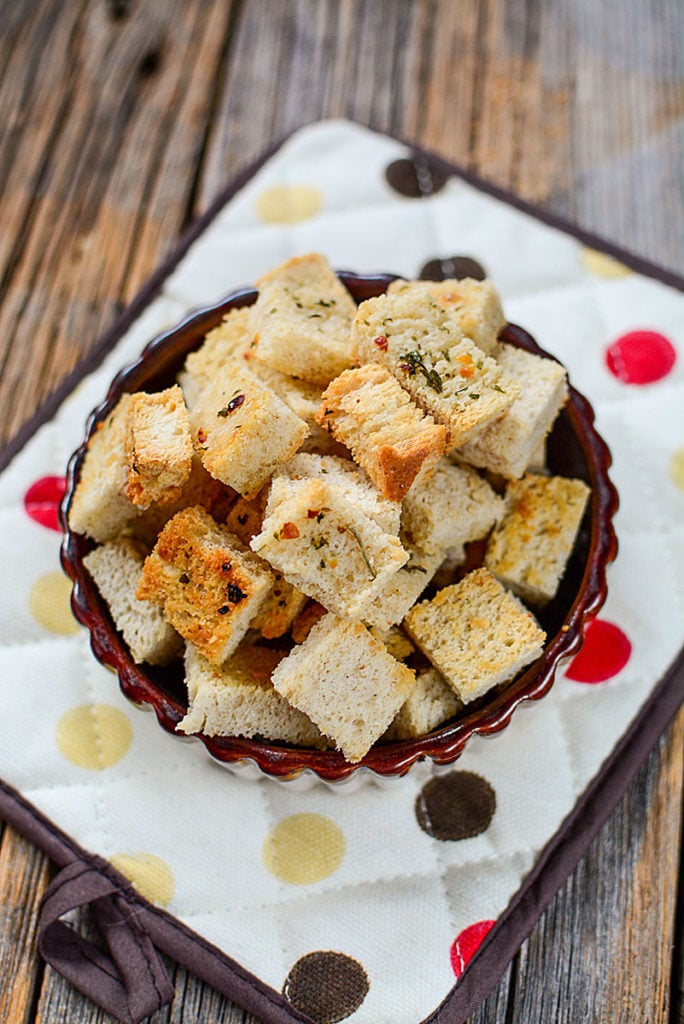 Next, mix the butter with the garlic and parsley in a small bowl. If you 've used unsalted butter, you might want to add a pinch or so of salt to the butter just to enhance the flavor.
Spread the butter mixture on slices of bread and cut the bread into one-inch squares. Place them on a parchment-lined baking sheet and bake them in the oven until they are nice and crisp.
Alternatively, you can swap the butter for margarine. Personally I prefer butter for everything over margarine, but it's totally up to you, both work great. Also, I suppose you could even add the garlic, salt, and parsley to nice olive oil and spread that on the bread. I've never done it, but I think it might turn out nicely as well if butter's not your game.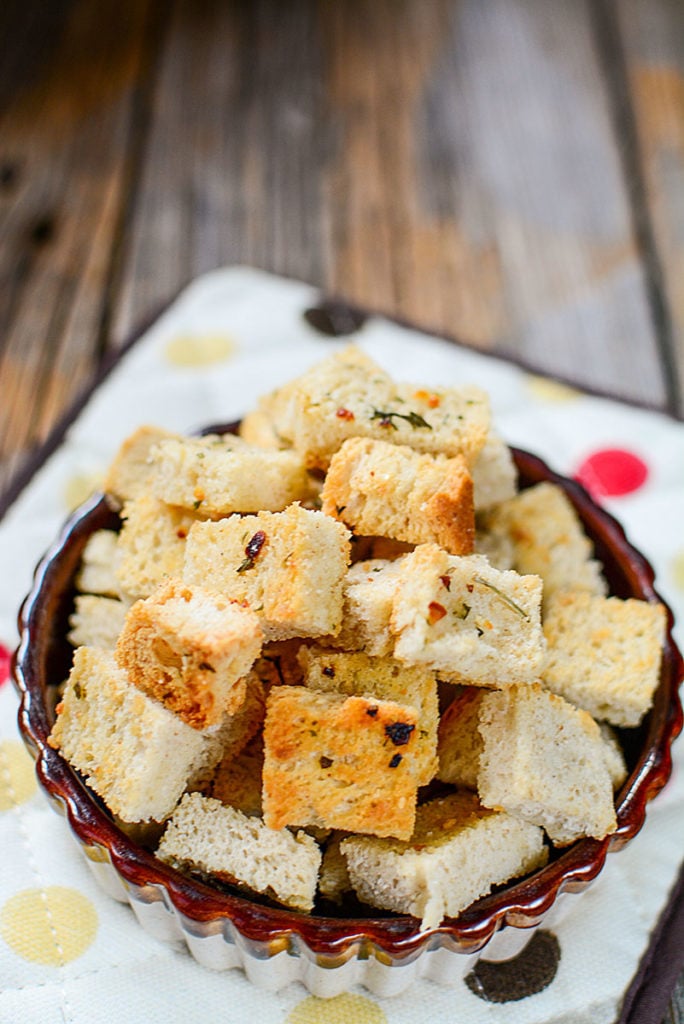 Other uses for these buttery garlic croutons
Apart from being an excellent accompaniment for your homemade soups, there are several other ways you can put these garlic butter croutons to use.
You can crush a handful of these croutons and sprinkle them over the top layer of your casserole.

You can add them to your plain salads to lend them a nice punch of flavor and a crunchy texture.

Love scrambled eggs? Adding these croutons sprinkled over the top eliminates the need for toast with them!

Croutons can also work wonderfully well for savory bread pudding recipes.

You can use them in a stuffing for your turkey or chicken dinners
And of course, you can always whip up a homemade fondue and use these croutons to go along with it!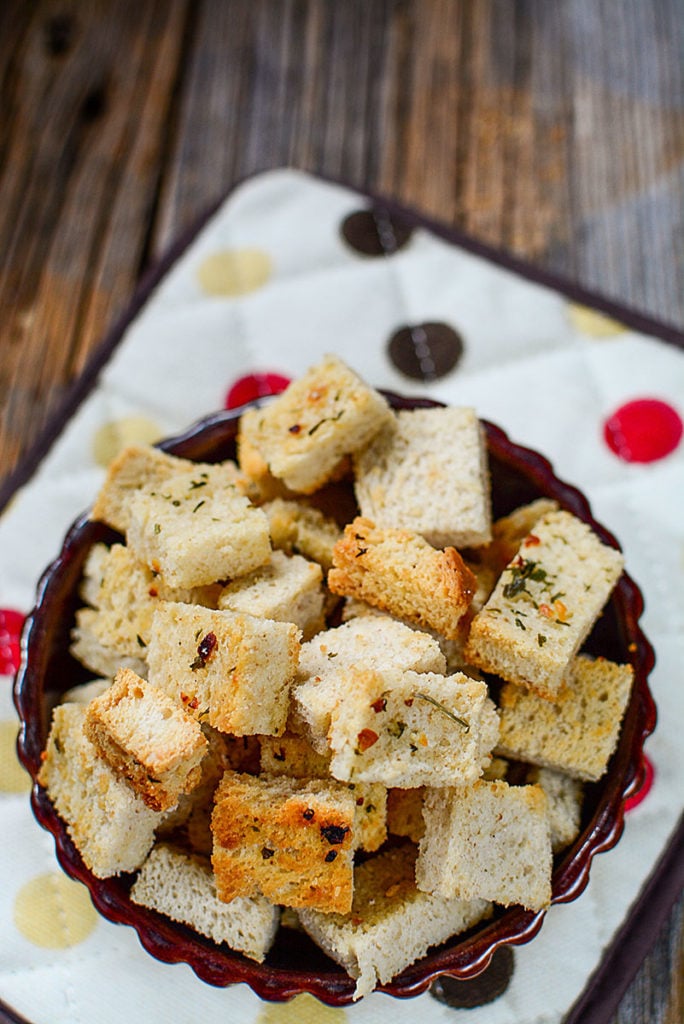 How long garlic butter croutons keep for?
Ok, so this depends. If you make them with fresh garlic, I would keep them in the fridge for up to two weeks and then I'd freeze them. They'll keep in the freezer in a freezer-safe (very important!!) container/bag for up to three months. When you want to use them, thaw them outside the bag on a tray so that no moisture gets them soggy.
If you used garlic powder or granulated garlic in the butter, then I would feel comfortable putting them in an airtight container for up to a month.
I hope you've enjoyed this How-to recipe that's part of my Back To Basics series. Take a look at other recipe posts I have in that series like How to make your own Chicken Bone Broth, How to make your own ketchup, How to Preserve Your Summer Herbs, and even How to make your own No Knead Bread!! (super easy, by the way!!) I hope you check back often to see the other recipes I will post coming up in this Back To Basics series!
***DON'T FORGET TO PIN THIS HOW TO MAKE GARLIC BUTTER CROUTONS TO YOUR FAVORITE PINTEREST BOARD TO SAVE FOR LATER!!***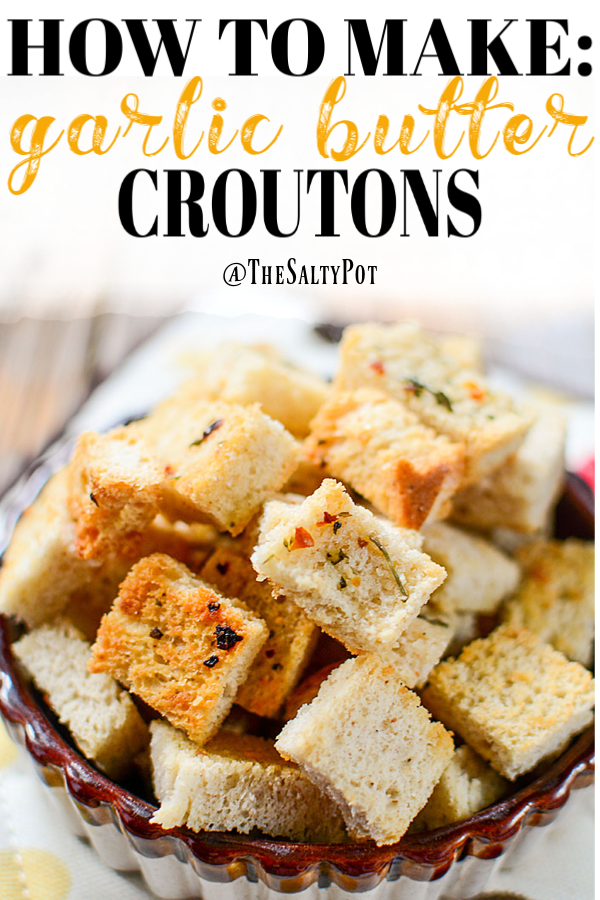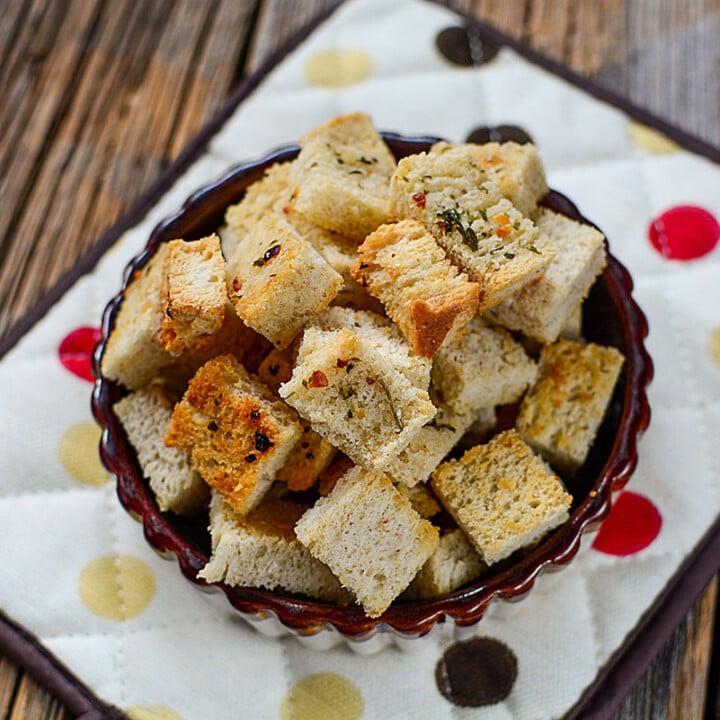 HOMEMADE GARLIC BUTTER CROUTONS!!
Ingredients
10 slices of bread, crusts removed (optional to remove crusts)
½ c of butter
1 teaspoon of minced garlic, or ½ teaspoon of garlic powder
1 teaspoon dried parsley
(Pinch of red pepper flakes, optional)
Instructions
Preheat the oven to 300
In a bowl, mix the butter, garlic, and parsley together.
Butter both sides of the bread with the butter mixture.
Cut each slice of bread into 1" squares and place onto a parchment-lined baking sheet.
Roast them in the oven for 5 minutes or until they become dried crispy and golden brown
Allow to cool completely and store in an airtight container.
Notes
1. Be sure to use bread that is not already completely dried out.
2. us fresh garlic only if you are going to use all the croutons on up in a few days.
3. Add salt if you use unsalted butter.
4. Feel free to add a pinch of red pepper flakes to add a zip to the croutons. I did and they were excellent!!
Nutrition Information:
Yield:

10
Serving Size:

1 cup
Amount Per Serving:
Calories:

165
Total Fat:

10g
Saturated Fat:

6g
Trans Fat:

0g
Unsaturated Fat:

3g
Cholesterol:

24mg
Sodium:

226mg
Carbohydrates:

16g
Fiber:

1g
Sugar:

2g
Protein:

3g