Black Olive Hummus is a slight twist on your regular chickpea hummus. The saltiness of the kalamata olives cut through the rich creaminess of the chickpea mixture. This hummus dip is rich, briny, and INCREDIBLY delicious served on crackers, vegetables, or you know…. a spoon!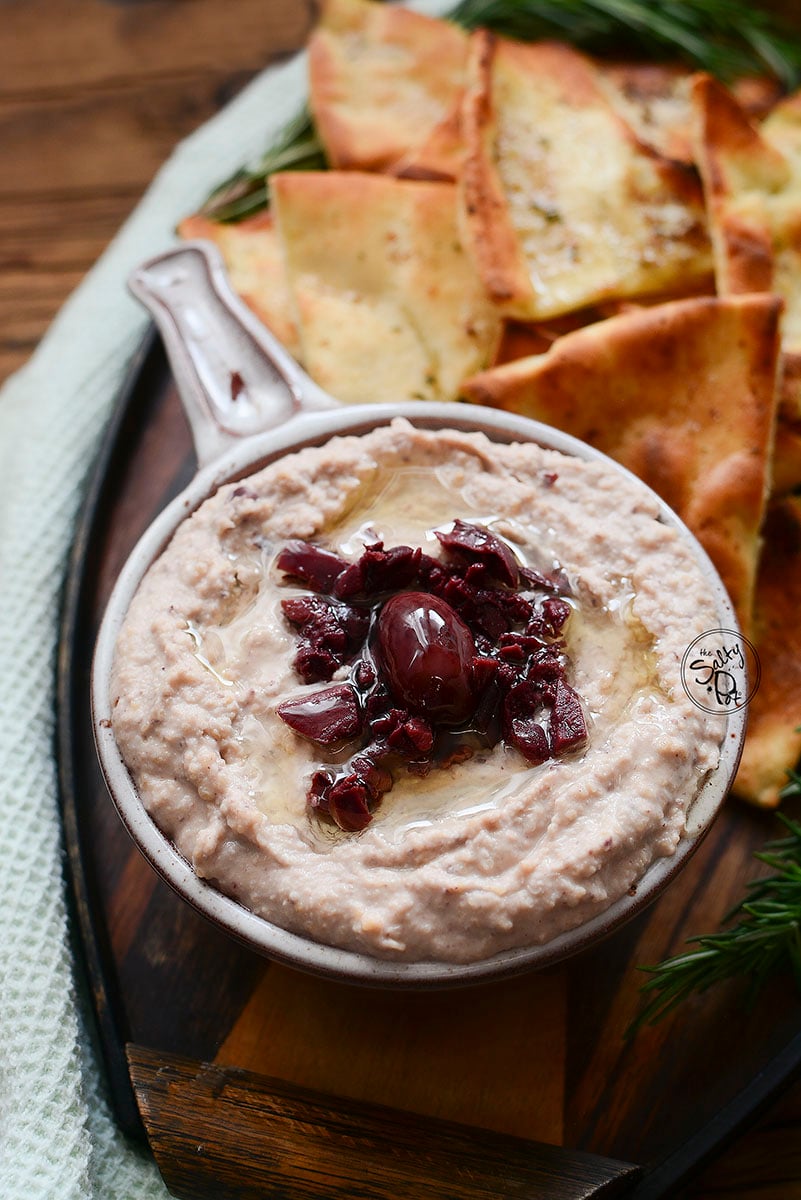 Hummus ~ A deliciously addictive dip that suits ANY vegetable dipper!
Black Olive Hummus Dip
I know we've all heard of HUMMUS, right? In the case that you haven't, hummus is a Middle Eastern dip typically made of chickpeas. The chickpeas are soaked, boiled, and then blended with olive oil, tahini, and other spices. Usually, it's served with pita bread or other bread/vegetables for dipping. It's sublime.
Seriously, SERIOUSLY sublime.
Since hummus has made its way to North America, there's been a whole slew of riffs on the traditional hummus. Now, it's pretty common to find flavored hummus dips like Roasted Red Pepper Hummus, Black Bean Hummus, and even beetroot hummus.
While commercially made hummus is usually delicious, nothing beats homemade. This way, you can control the flavors and make it exactly as you wish with your own twist on it, just like my White Bean Mediterranean Hummus. It's crazy delicious!!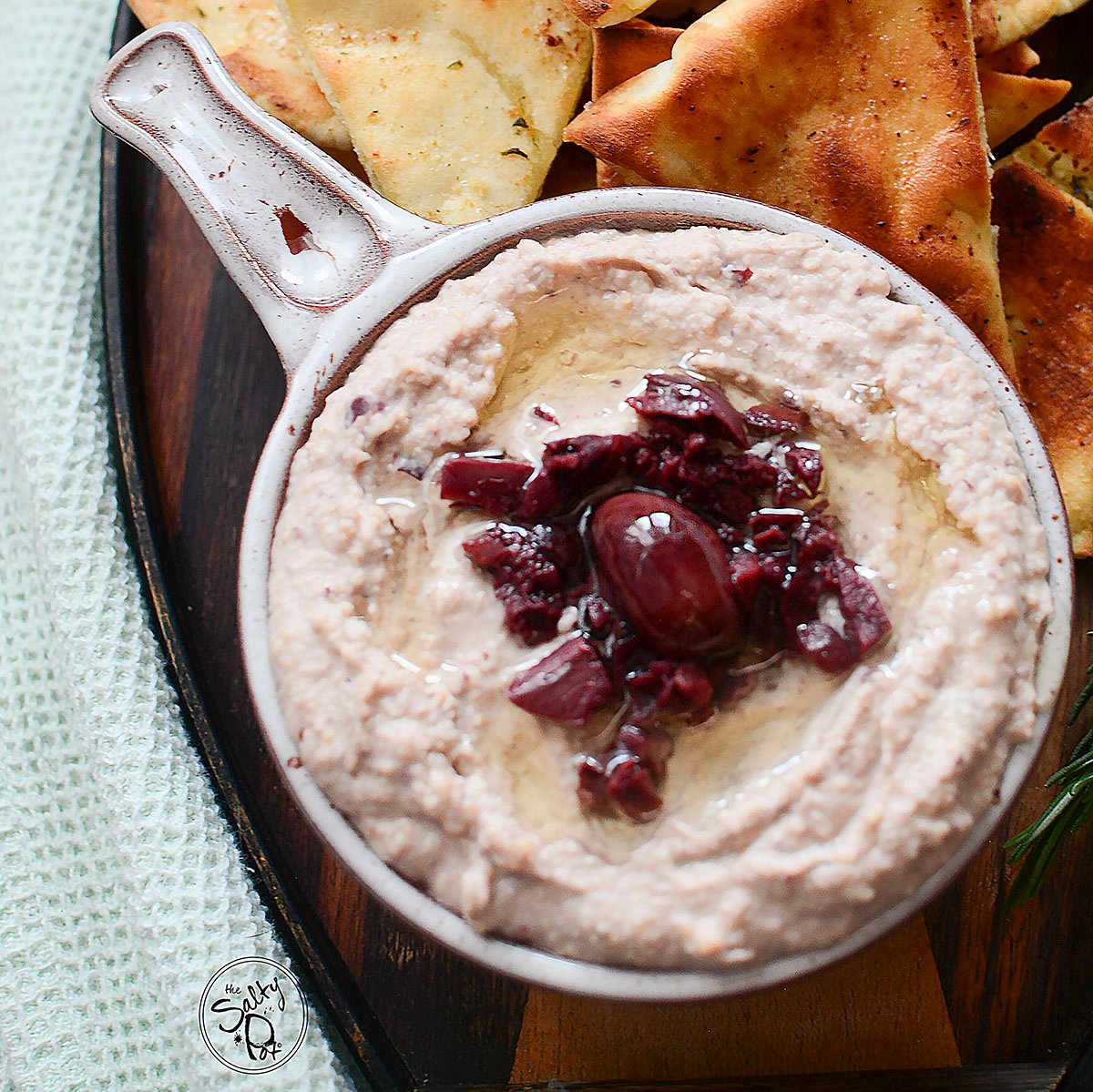 Ingredients for this Black Olive Hummus
OLIVES: I wanted to use KALAMATA olives because of their salty, briny flavor. The ones I used had pits in them, so I had to cut the meat off the pit, but I'm pretty certain you can buy them pitted. If you can't find kalamata olives, you can certainly use regular black olives.
Could you use green olives instead? OF COURSE! And quite honestly, I think using nice, salty green olives would be a perfect substitute for kalamata olives. Feel free to even mix the olives if you wish – it would bring fantastic flavors to this creamy hummus.
CHICKPEAS: I had a bag of dried chickpeas that I wanted to use so I pre-soaked them and then boiled them to soften even further. But the easier and more convenient way to cut your effort in half is by using canned chickpeas.
Did you know that another name for chickpeas is GARBONZO BEANS? Why one is a 'pea' and the other name is a 'bean' for the same thing, is unclear. But I just know they are delicious!!
TAHINI: Tahini is ground-up sesame seeds mixed with oil. I've made hummus before without tahini, but I highly recommend adding it because it really enhances the flavor of the dip. You can usually purchase tahini at most major grocery stores now. If not, I know that amazon sells it as well.
GARLIC: Minced garlic is preferred here. I suppose you could use powdered granulated garlic in a pinch, but do not use garlic salt, as it could make the dip too salty if you add the extra salt listed in the recipe.
AVOCADO OIL: Tradition calls for olive oil here, but I prefer to use avocado oil because it's neutral in flavor. However, if you have a really nice olive oil that you love, please use it! The oil in this recipe helps to make the hummus creamy and smooth.
LEMON JUICE: If at all possible, use real lemon juice for this recipe. It seriously makes all the difference in the world in flavor. But again, if all you have is bottled, that's totally fine. It's better to use bottled than to leave it out. The lemon also helps cut through the richness and really brightens up the flavors.
COLD WATER: Ice cold, please. It helps to make the dip a nice consistency without using too much oil.
SEASONINGS: I used simple pink salt (you can use regular salt if you don't have Himalayan salt).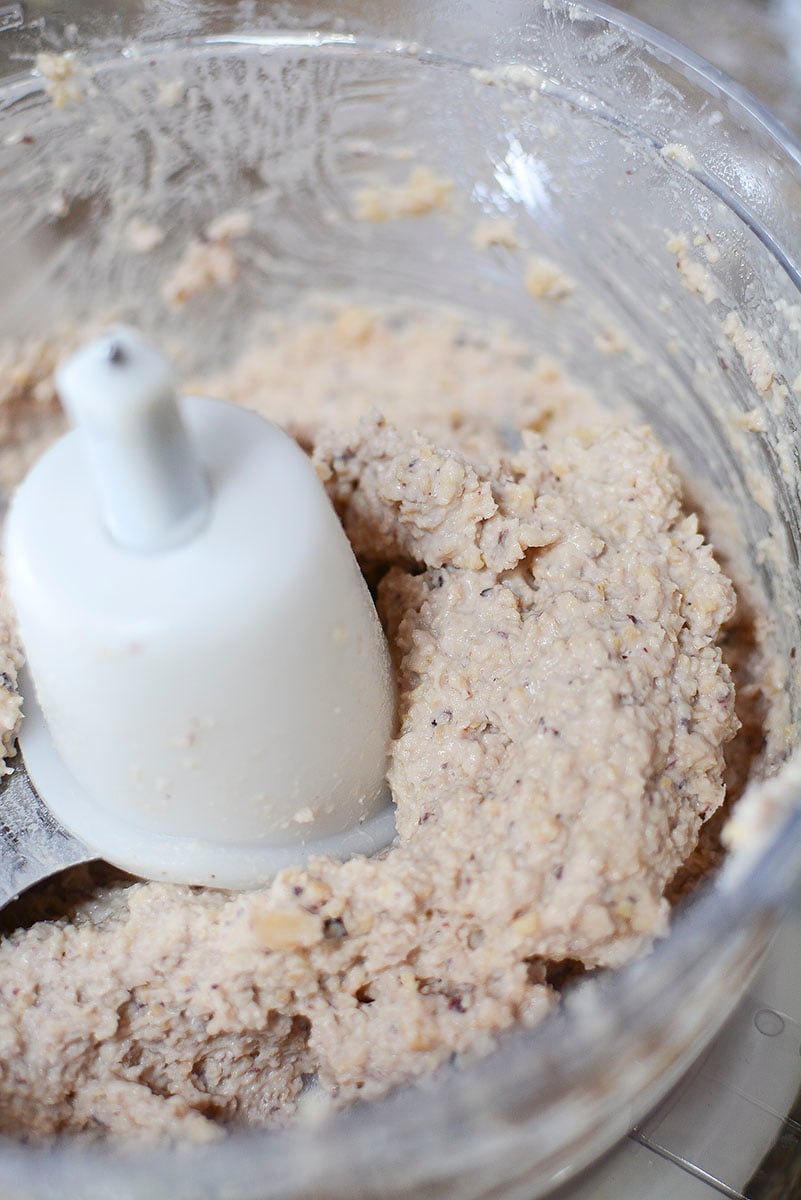 How to Serve Black Olive Hummus
You have quite a few options here, which is awesome.
So the obvious would be to serve it in a pretty dish, and using the back of a spoon, make a few swirls in the top and drizzle a little oil (avocado or olive) over the top. If you wanted to spare the extra calories, skip the oil and sprinkle the top with a little cumin or smoked paprika.
And of course, you can't go wrong with using a few of the diced olives from earlier to sprinkle over the top.
You can serve the chickpea hummus with regular, soft pita bread or do what I did, and make the pita into pita chips like my Buttery Garlic Rosemary Pita Chips! They're incredible with the dip and honestly, it's REALLY hard to stop and just one!
Also, consider using fresh veggies like carrot sticks, celery sticks, broccoli, cucumber, and even cherry tomatoes as dippers to carry the dip. The juiciness from the tomatoes mixed with the creaminess of the hummus is incredible!
Another awesome way to use this olive hummus is to use it as a condiment or a spread! Smear a few tablespoons on wraps, pitas, or sandwiches and it adds an almost mayo-type creaminess with extra flavor.
Adding a touch of water, apple cider vinegar, or more lemon juice, and a tad bit of mustard to a portion of hummus will be perfect for a salad dressing!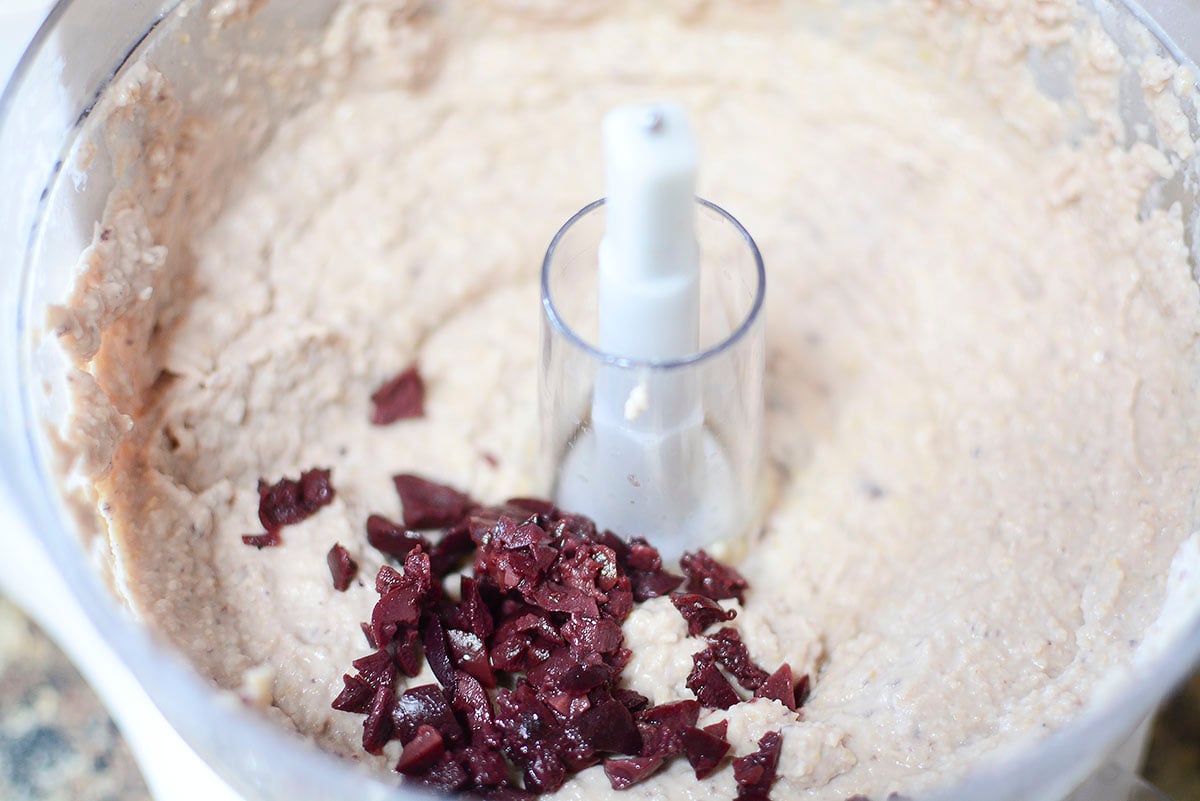 Storing and Freezing Hummus
This hummus dip recipe will store perfect in the fridge for up to 4 – 5 days. Word of caution though. Please do not double dip in the container. Take what you need for the use and then double dip veggies in the portion you took from the dip.
If you dip veggies and such in the container that the dip is being stored in, and then put it back into the fridge, you run a much higher risk of contaminating the dip with bacteria.
Yes, surprisingly, hummus freezes beautifully. And having the olives mixed in the dip doesn't change that.
You can store it for up to 3 months in an air-tight container with room to expand as it freezes. To thaw, leave in the fridge overnight and you might want to give it a bit of a stir before you use it as the oils may come to sit on the top of the hummus.
While you're here, I'd love it if you wanted to check out my Salty Pot FB PAGE and became part of The Salty Pot family! I also have a FB Group all about frugal ideas, and I'd love to see you there!!
CLASSIC LEMON CURD
This classic lemon curd recipe is a zingy winner! The condiment is perfect on toast, as a topping on your morning oatmeal, or your center jam to thumbprint cookies. The possibilities are endless.
Ingredients
1 C Sugar
4 Large Lemons, zested and juiced
1/2c Butter, unsalted, softened
4 Large Eggs
1 Large Egg Yolks
3/4 C Fresh Squeezed Lemon Juice (from above lemons, see notes)
Instructions
1. Cream together the sugar, butter, and lemon zest until well combined and creamy.
2. Slowly, beat in one egg at a time (including the last egg yolk).
3. Add the lemon juice and incorporate until it's smooth.
4. Transfer to a pot and slowly begin to heat the mixture over medium heat. Bring to a simmer, constantly stirring so it doesn't scorch on the bottom.
5. Within 10 - 15 minutes or so, the curd should start to thicken and become the consistency of pudding.
6. Remove off the heat. You can leave it as is, but I like to strain the mixture to ensure extra smoothness.
7. Transfer the curd into clean, empty jars and let cool before placing them in the fridge. The mixture will set up a bit more as it gets cooler.
8. Enjoy!
Notes
If the lemons you use don't yield enough juice to make the 3/4 cup, then you can add a bit of the bottled lemon juice to make up the difference, or simply add another fresh lemon to the recipe if you prefer.
For storage containers, you can split this curd into batches, storing in 3x6 ounce jars, or 6x3 ounce jars. You can also use what you have on hand, and if you're going to freeze the curd, just be sure that the container you're using is freezer-friendly.
- You can use a sugar substitute such as honey instead of pure sugar and it won't affect the texture.
- Use the freshest eggs you can to ensure a nice thick curd.
- Rolling room temperature lemons on the countertop before cutting them helps get as much juice as possible from the fruit!
- Zest the fruit BEFORE juicing. It's much more difficult to try and zest lemons after the fruit has been opened/cut and juiced.
Nutrition Information:
Yield:

18
Serving Size:

2 Tablespoons
Amount Per Serving:
Calories:

119
Total Fat:

7g
Saturated Fat:

4g
Trans Fat:

0g
Unsaturated Fat:

3g
Cholesterol:

75mg
Sodium:

21mg
Carbohydrates:

14g
Fiber:

1g
Sugar:

12g
Protein:

2g
All nutritional information is based on third-party calculations and is only an estimate. Each recipe and nutritional value will vary depending on the brands you use, measuring methods, and portion sizes per household.
Creamy Black Olive Hummus
Black olive hummus is creamy like your traditional hummus but is rich, briny, and INCREDIBLY delicious served on crackers, vegetables, or you know.... a spoon.
Ingredients
1 1/2c Chickpeas (also called garbanzo beans) (see notes)
1/3c Tahini
1/4c Lemon juice (see notes)
1 tsp Garlic, minced
3 Tbsp Avocado oil, or Olive oil
16- 18 Black Olives, diced (save one whole for garnish if you like)
As desired, Salt
1/4c Water, ice cold
Instructions
In a food processer (or good blender), mix the lemon juice, tahini, garlic, and salt.
After the inital blend, add the chickpeas. Blend again to break everything up.
Add 1-2 tablespoons of the oil. Blend and then stop to scrape down the sides. If the mixture is super thick and pasty, add the remaining tablespoon of oil.
Add the ice water in small increments until you get the consistency of a smooth thick dip. You may not use the entire amount of water.
When it's smooth and creamy, fold in 3/4 of the minced olives. Don't blend these, as you want the olives to stay minced and not pureed.
Transfer mixture to a serving bowl and chill for 30 minutes or until you're ready to serve. When serving, garnish the dip by drizzling some extra oil over the top and sprinkle the remaining 1/4 of black olives.
Notes
1. You can use canned (and drained ) chickpeas or boil your own chickpeas from dry.
2. Use fresh lemon juice rather than bottled. You can also use some of the zest into the hummus recipe for an even brighter, lemony tang.
3. Serve with fresh vegetables, pita bread or use it as a condiment/spread for wraps and sandwiches.
Nutrition Information:
Yield:

32
Serving Size:

1 tablespoon
Amount Per Serving:
Calories:

37
Total Fat:

3g
Saturated Fat:

0g
Trans Fat:

0g
Unsaturated Fat:

3g
Cholesterol:

0mg
Sodium:

35mg
Carbohydrates:

2g
Fiber:

0g
Sugar:

0g
Protein:

1g
All nutritional information is based on third party calculations and is only an estimate. Each recipe and nutritional value will vary depending on the brands you use, measuring methods and portion sizes per household.