Toast toppers are a variety of delicious toppings for toast that add great flavor to your otherwise boring toast and tea. Get any of these toast topping ideas on the go for a super quick, super delicious, and super healthy way to start your day!
This post may contain affiliate links. If you make a purchase after clicking a link, I may earn a small commission AT NO COST TO YOU. As an Amazon Affiliate, I earn from qualifying purchases.
Mornings can be a blur for many, and in the hustle of getting ready in time, breakfast can take a back seat, and you might end up sticking to the plain 'ol peanut butter on your toast.
But what if there were not just 1 or 2 …..but 6 super ways to lend your morning toast that 'wow' factor? Well, that's exactly what I've got here for you.
SIX TOAST TOPPER IDEAS: Let's get started!
Peanut Butter + Fruit
Since you're already adding that generous slather of your favorite peanut butter on your toast, why not take it up a notch with some fruits too?
Fresh blueberries, (or sliced apples!), coconut flakes, and chia seeds all work wonderfully. And of course, you can try different fruits and variations to see what works best for you.
Ricotta & Tomatoes
Ricotta cheese is incredibly delicious, and when teamed up with tomatoes, it is a combination you can't go wrong with!
Spread the cheese over your toast, top it with cherry tomatoes (try charring them in the oven for even MORE amazing flavor!), a dash of salt, pepper, and a sprinkle of fresh or dried herbs of your choice (basil, Italian herbs, parsley, and chives are great). 
If you have a bit of extra time, try making this Lemon Dill Yogurt Cheese Toast ahead of time for an amazing substitute for the ricotta. Its infused lemon and dill flavors will add stacked flavor with the tomatoes – mind-blowingly tasty for sure!!! 
Superfood Toast
And if you're on a healthy eating regime, this superfood toast is a must-try. Top your basic toast with raw natural (Locally sourced if possible!) honey.
I used creamed, clover honey in this instance. Raw honey is an incredible superfood! Add some banana slices, chia seeds (or crushed flax seeds), and a dash of cinnamon powder. This power-packed breakfast option will have you buzzing around with energy in no time. 
Incidentally, if you wanted another idea to use your package of chia seeds, why not try making this Cherry Chia Seed Pudding Parfait. I often have it for breakfast simply because it's a genius way to pack in those health benefits, and feel like you're having dessert for breakfast!
B.T.E. Toast
B.T.E. Toast = Bacon, Tomato, and Egg toast. It's super convenient and incredibly tasty having all your favorite food items on one toast!
Toast up some super seedy bread, spread some tasty mayo as a base, sliced hardboiled egg, and sliced tomato, and sprinkle (real!) bacon bits over the top! I added green onion and hemp hearts for extra…. extra! lol
Veggie Hummus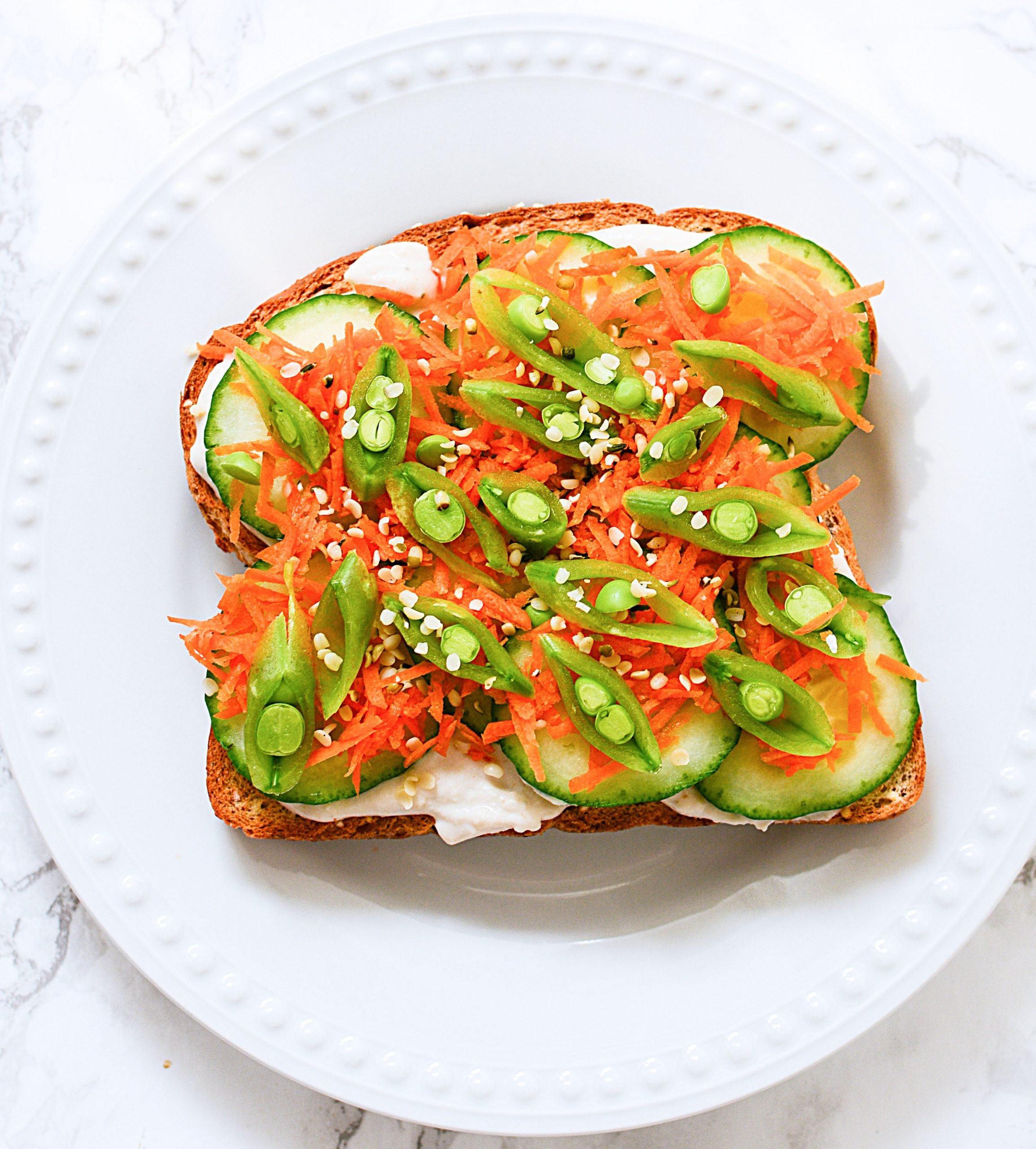 This toast topper is like having veggie platter flavors on toast!
Gotta love the flavor (and health benefits!) of hummus! Here, I used my recipe for White Bean Rosemary Hummus. Spreading a nice dollop as the base on the toast really helped marry the rest of the veggies!
Carrot shreds, cucumber slices, a few snap peas cut on the bias, and some sesame seeds made this toast topper crazy flavorful!! Don't forget to S&P the veggies to help bring out their naturally sweet and fresh flavors.
Avocado Toast
And of course, no breakfast suggestion list is complete without the infamous avocado-toast duo. There are tons of different variations you can try with this one like this Simple Avocado Toast recipe.
Easy to put together, but SUPER delicious! You could also try spreading the mashed avocado on toast or slice it up and team it with anything from crumbled feta cheese and pickled radishes to a fried egg and sesame seeds.
So there you have it, 6 ways to up your morning toast game with some delicious toast toppers! Experiment with different flavors and ingredient combinations and get started on the ones that tickle your taste buds in the right way!
And as usual, thank you SO much for stopping by The Salty Pot today. If you have any questions or comments, please feel free to leave them below, OR you can always shoot me an email at joanne@thesaltypot.com.
***DON'T FORGET TO PIN THIS PIN FOR TOAST TOPPERS: 6 WAYS TO ADD WOW TO YOUR TOAST, TO YOUR FAVORITE PINTEREST BOARD TO USE LATER!!