Beef barley stew.!This is one of the first things I think about when the cold weather hits and I'm called to drag out the slow cooker. It's almost like a staple meal, and one of the best things about slow cooker beef barely stew is just that… it's done in the slow cooker! So easy peasy!
Slow Cooker Beef Barely Stew
When the weather starts it's swing downward and the urge to have cozy warm, stick to your ribs kind of meals – slow cooker beef barley stew comes to the forefront. It freezes amazingly well so you can make a huge batch of it, and then portion it out in smaller serving sizes, and then quickly reheat them on busy weekday nights when it's super chilly outside!
How is Beef Barley Stew made?
This is the fun part guys! I'll tell you in a few super easy steps:
1. ***This step is optional guys. You don't need to do it, but it adds A LOT of flavor if you do! .. So, take your left over roast beef, and reheat it in a fry pan. Use a bit of butter or oil, whichever you prefer. You want to get some good caramelization on some pieces (not all), so you'll want to use a bit of a higher heat. Watch it though, as you don't want burnt beef on your hands. … on in your pan. You know what I mean.

2. Place all the chopped onions, celery, carrot and stuff, and place it in the slow cooker bowl.

3. Add the beef and sprinkle in the barley

4. Add the broth, gravy packet and spices and let it go! I also added some left over sauteed mushrooms to the mix as well, but again, it's optional if you have them on hand. Low for 7 – 8 hours or high for 5 – 6. Keep an eye on it as sometimes, some cookers cook faster or hotter than others, and so the cooking time should be adjusted according to how yours cooks.
Why Beef Barely Stew and not Beef Barley Soup?
Beef Barley Stew has less brothy volume than a beef barley soup. However, that being said, this recipe can EASILY be adapted towards more of a soup if that's what you're after. Simply add more broth as it cooks and leave out the packaged gravy mix. So in this recipe, I made it with 6 cups of beef broth, but you can add another two cups and it would be more "brothy" and more like soup. If you do this, you'll also want to adjust the seasoning a bit more, maybe add a bit more salt and pepper, garlic, and slightly extra aromatics such as onion and celery. But really, with the addition of only two cups of beef broth, if the broth that you start out with is yummy and savory to begin with, there won't be that many adjustments needed.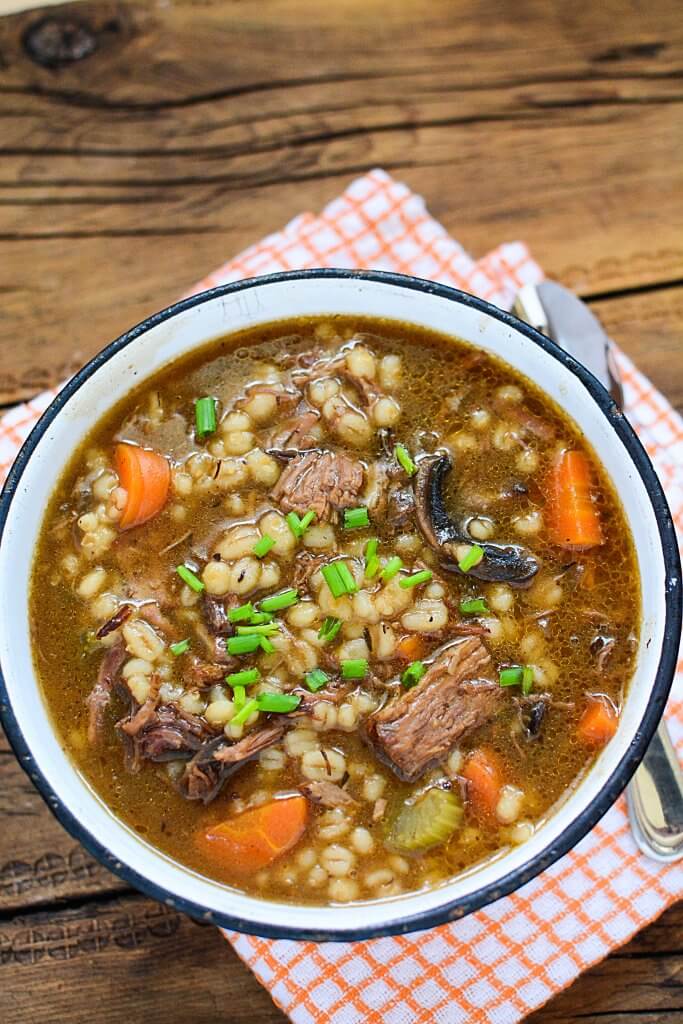 That's how awesome this slow cooker beef barley stew recipe is! Easily changeable for the win!
Recipe Notes for this Slow Cooker Beef Barley Stew Recipe:
You'll find that in this recipe, I only use one carrot. I do this because personally, I find that the carrot adds a certain sweetness, and I find if you use more than one, it adds too much of that carrot-y sweetness to the stew.
For me, I'm all about the savory flavors in a stew, or even soup for that matter. But hey, if you prefer a slightly sweeter flavor in your beef stews or beef soups, then by all means, add more!
I used left over beef roast that I made the day before, for this crockpot beef barley stew. It just seemed like a natural fit for that sort of thing ya' know?
(Plus.. we had received some early snowfall, so it kicked me into "slow cooker season" bigtime! Does this sort of thing happen to you as well?}
I took it an extra step (cuz I'm all extra like that… haha!! J/k – I'm the farthest from being extra like that! haha!) . That extra step was to saute the left over beef in a frying pan with a bit of butter. I wanted to get some natural caramelization on it because we all know that caramelization brings extra flavor to any dish. This step is optional of course, so depending on your available time, do it, or don't – the dish will still be yummy in the end!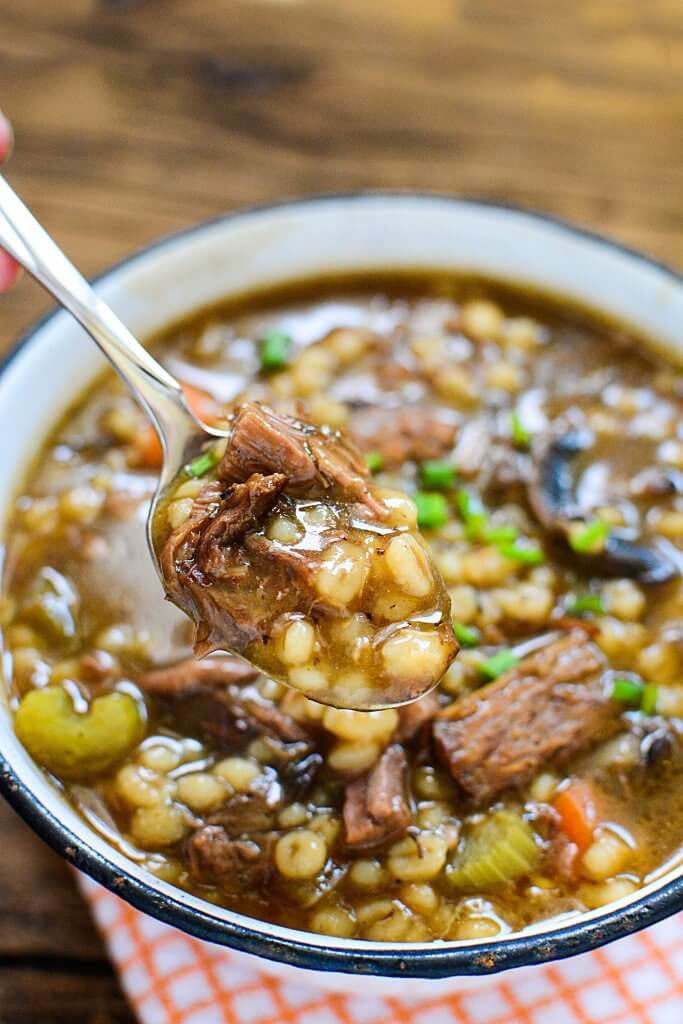 Btw, if you're looking for more slow cooker/crockpot recipes, check these out:
I hope you love this slow cooker beef barley stew as much as I did! If you make it, please let me know and comment below about how you liked it! Did you make any changes? If you can let me know, that would be awesome!!
Check the Slow Cooker Beef Barley Stew Recipe card below for your reference. You can print them off and keep them in your recipe collection if you'd like. It makes things so much easier to check back at when you're cooking!
Slow Cooker Beef Barley Stew Recipe
Total Time:
8 hours
10 minutes
Looking for a hearty, filling and nutritious easy meal to make? Check out this Slow Cooker Beef Barley Stew. It's  sort of like Beef Barley Soup, but better because it's thicker and a more "stick yer ribs" kinda. Hearty and tasty with lots of beefy savory flavor!
Ingredients
2 cups beef roast, cooked, shredded or diced
1/2 cup barley, raw
1 potato, diced, large
2-3 ribs celery, sliced
1 onion, diced
1 carrot, sliced. *Use more if you prefer
1/2 cup sauteed mushrooms, **optional, can used fresh, or canned as well or just omit.
2 tsp garlic, minced
1 tsp salt and pepper, **use as desired
1 pkg mushroom gravy mix, **can use powdered beef gravy mix as well
6 cups beef broth
1 pinch salt and pepper, **Use as desired!
1 tsp thyme, dried
Instructions
Saute the beef with the butter over medium high heat until completely warmed through and it has started to slightly caramelize. **This is an optional step. If you want to omit this step, simply skip to step 2.
Add all ingredients listed above to the slow cooker bowl. Mix well until everything is well incorporated.
Cook on low for 7 - 8 hours or high for 5 - 6. Keep in mind these cooking times are approximate as all slow cookers/crockpots cook at slightly hotter or slower temps. Keep and eye on the stew until around the beginning cooking times and when the barley is cooked through and the carrots and potatoes are tender, the stew is ready to serve.
Enjoy!
Nutrition Information:
Yield:

6
Serving Size:

2 cups
Amount Per Serving:
Calories:

408
Total Fat:

18g
Saturated Fat:

7g
Trans Fat:

0g
Unsaturated Fat:

9g
Cholesterol:

94mg
Sodium:

1477mg
Carbohydrates:

30g
Fiber:

5g
Sugar:

3g
Protein:

31g
All nutritional information is based on third-party calculations and is only an estimate. Each recipe and nutritional value will vary depending on the brands you use, measuring methods, and portion sizes per household.
**********PIN THIS SLOW COOKER BEEF AND BARLEY STEW RECIPE BELOW TO YOUR PINTEREST TO USE IT LATER!! **********