Pretty like a tropical flower, this Tropical Tequila Sunset Drink tastes as delicious as it is pretty. It's an easy cocktail to whip up when having company last minute, or for any pool party to give you that beachy vibe.
Beachy Tropical Sunset Cocktail
This island cocktail transports you to a tropical paradise with its cheery citrus flavor. The layered splendor of this nice refreshing drink swirls into a bright tropical orange reminiscent of those breezy brilliant colors of a sunset in the Caribbean.
If you are looking for an easy-to-put-together drink for a warm summer night you can't go wrong with this tropical sunset drink. This one is easy to make by the glass or even the pitcher though you definitely get the full effect of the sunrise by mixing by the glass.
Ingredients For This Tequila Cocktail
Orange Juice: Freshly squeezed, or ready to go from the store, and even reconstituted from frozen orange juice will fit the bill.
Tequila: The best brand is your favorite brand.
Ice
Fruit garnish like maraschino cherries and orange slices for a pretty garnish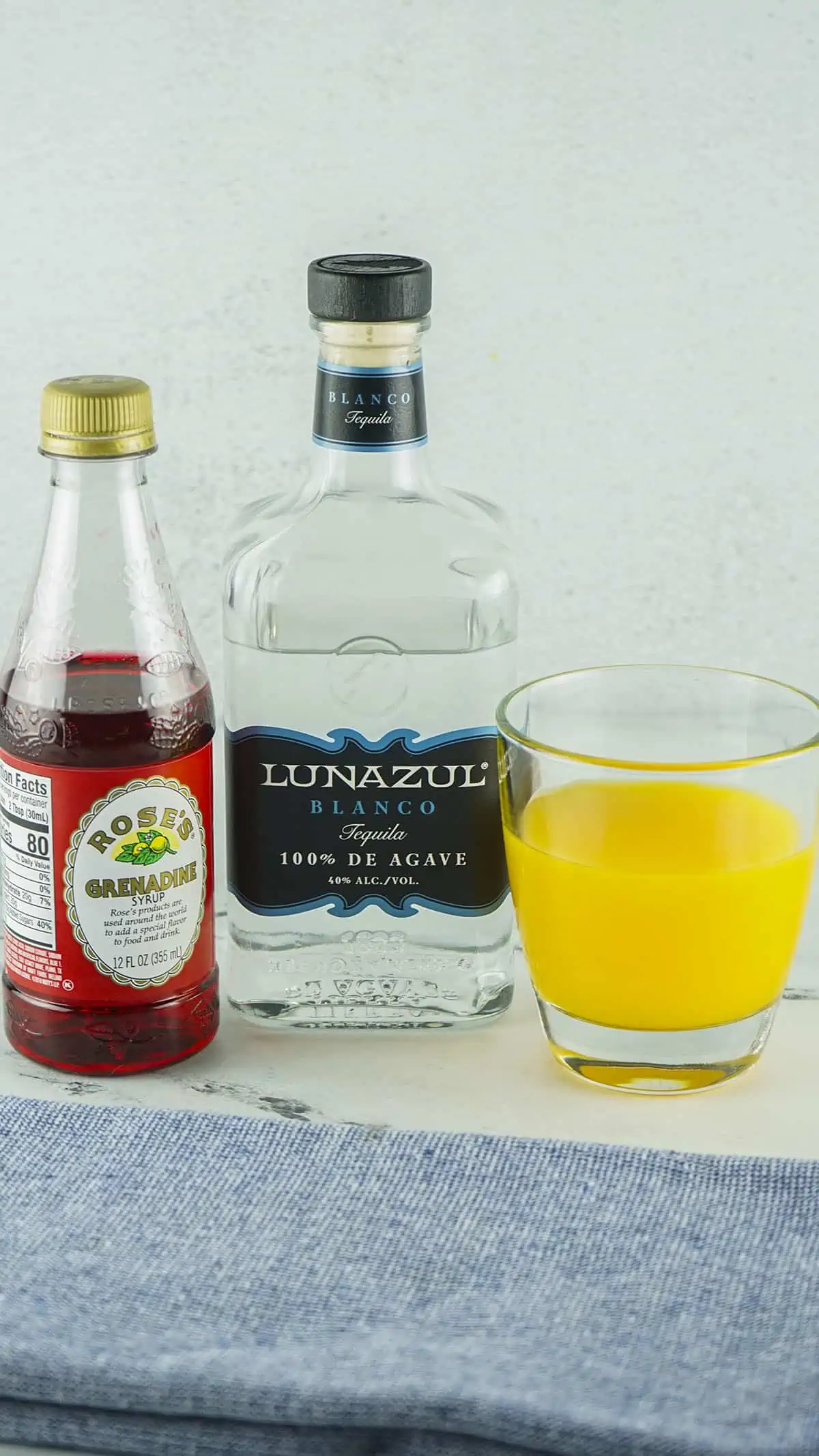 How to make your own Tropical Sunset Recipe
Start by filling each glass with plenty of ice. This will chill your drink and keep it cold. It will not water it down unless you take a long while to drink it.
Pour your Tequila and ice-cold orange juice into your glasses
Add in a slow drizzle of Grenadine and allow it to settle at the bottom of the drink.
Add in a stir stick or straw, and an orange slice, a pineapple wedge, and a cherry can be added to garnish if you would like.
After serving, stir the drink to create a smooth bright orange result. As it mixes, watch the red and orange swirl, it's so pretty!
Look below at the printable recipe card for all the exact ingredients and directions to make these tequila cocktails!
Switching up the Cocktail Recipe
Juice: You can change this cocktail up and make it even more tropical flavored by switching the orange juice for pineapple, mango juices, any tropical fruit juice, or even fruit punch. Depending on the juice you add, the color may be slightly different. And adding a squeeze of lime juice would be divine.
Rum: Switch up the lineup a bit by adding some Malibu rum, or completely replace the tequila for the coconut rum to give the cocktails even more Caribbean fever like my piña colada shots!
Sparkle: Add some sparkle! If you want to have some uniqueness and make it fancy for a party you can add edible glitter that will swirl when you stir the final drink. This can be a fun and exciting way to make any cocktail amazing and unique by adding a hint of sparkle.
Slushie: Make it a slushy drink (similar to my Pineapple Vodka Slushie) with the option to use a blender to mix the tequila and juice together and crush the ice. To help keep the red on the bottom when serving you can place the grenadine at the bottom of the glass and swirl to spread it right before pouring your slush into the glasses. This is a great option on the hottest of days!
Juice Ice Cubes: If you have the time ahead of the party, try making layered juice ice cubes that can be blended into a slushie version, and can be used for both versions (alcoholic or non-alcoholic) of this drink.
Looking for more tropical treats to relax at the end of the day? Try this Hibiscus ice tea to enjoy the amazing benefits of this flower.
How to make this deliciously tropical layered drink into a Mocktail
If you are serving these at a party and have guests abstaining from alcohol, you can easily make a mocktail version by leaving out the tequila.
Then, to spice it up a little, replace the tequila with some lemon-lime or club soda to add some bubbly interest. This can be a fun option for a unique twist.
Another option is to purchase Non-Alcoholic Tequila Spirits that taste like tequila but contain no alcohol.
Make Ahead Options and Storage
To make this sweet orange cocktail ahead of time, you can premix the tequila and orange juice and easily store this mixture. However, after mixing your drink with ice you will not want to store this as the ice will water the drink down.
If you need to make as much of this as possible ahead of time for a party, stick with simply mixing the orange juice and tequila and storing it in the refrigerator. This can be stored until the expiration date of the orange juice.
Party Snack Ideas to Serve alongside this Tequila Cocktail
There are so many great ideas for this. Easy to make snacks like a charcuterie board for grazing and these Buttery Seasoned Corn Chips and Garlic Ranch Pretzels would be fun. Add some Pineapple Habanero Salsa to round it out a bit.
And if you wanted something to serve that's still an appetizer but a bit more substantial, these Sweet and Sticky Chicken Wing Skewers would be a huge hit along with these Hawaiian Burger Bites! Try these Pineapple baked beans in the slow cooker and serve some Pineapple Chicken Foil Packets for a well-rounded tropical party menu.
Did you try this Tequila Sunset Cocktail? I'd love to hear what you thought about it! Please leave a ***star rating*** and a comment in the recipe card section! Have a wonderful day!
~Joanne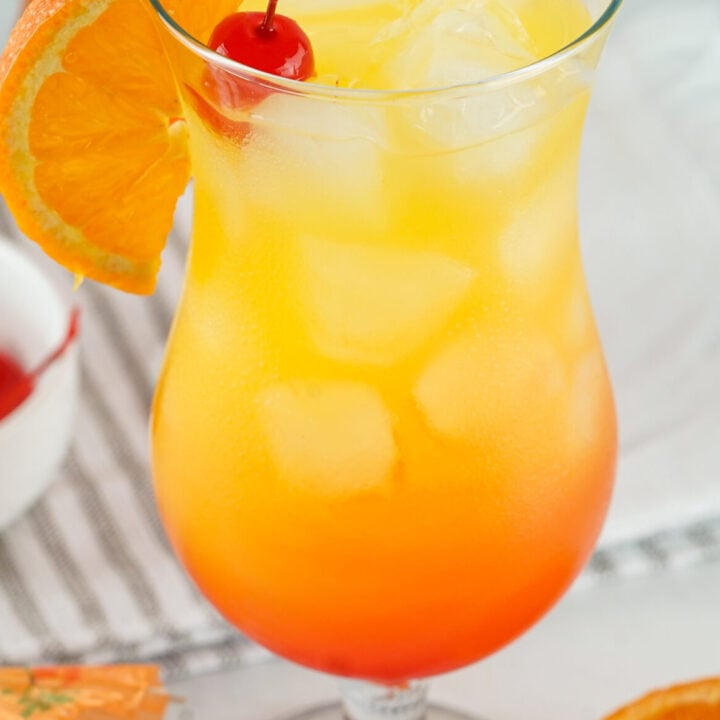 Tequila Sunset Drink
This delicious Tequila Sunset Drink will transport you to the tropics in one sip. Easy to make with tequila, orange juice and grenadine, this sweet cocktail will bring that beachy vibe to any get together.
Ingredients
8 ounces Orange Juice
4 ounces Tequila
½ ounce Grenadine
Ice as desired
Instructions
1. Begin by placing the ice in the glasses. (see below for the slushie version)
2. Pour the tequila and orange juice into the glass.
3. Put the grenadine into the glass by slowly drizzling it along the side wall of the glass. This way the grenadine will pool at the bottom.
4. Serve the drink with the layers visible and a stir stick or straw. Let your guest mix up the ingredients.
5. Garnish with cherries, orange slices and a fun drink umbrella!
Notes
1. To make a slushie version, instead of adding the ice to the glass, blend the ice, tequila and orange juice together. You may need significantly more ice than if you were just to place it in the glass.
Pour the grenadine into the glasses and then slowly spoon in the tequila orange slush mixture over top the grenadine to keep the layers separate.
2. If you have larger glasses than a typical 8 ounce tumbler, (like a hurricane glass for instance), increase the grenadine amounts and increase the orange juice by approximately 2 ounces.
3. Juices like Sunny D or a tropical fruit punch will make the cocktail sweeter if that's what you're looking for.
4. A good idea is to use a No Pulp orange juice to keep the cocktail smooth.
Nutrition Information:
Yield:

2
Serving Size:

1
Amount Per Serving:
Calories:

203
Total Fat:

0g
Saturated Fat:

0g
Trans Fat:

0g
Unsaturated Fat:

0g
Cholesterol:

0mg
Sodium:

4mg
Carbohydrates:

18g
Fiber:

0g
Sugar:

14g
Protein:

1g
All nutritional information is based on third-party calculations and is only an estimate. Each recipe and nutritional value will vary depending on the brands you use, measuring methods, and portion sizes per household.