This Hibiscus Iced Tea Recipe is one of those perfect summer drinks! It's unique, refreshing, and definitely delicious!
Whether you're on a "me-time" break or you're with some friends or family, this drink is absolutely great for celebrating the hot season while cooling yourself down.
This post may contain affiliate links. If you make a purchase after clicking a link, I may earn a small commission AT NO COST TO YOU. As an Amazon Affiliate, I earn from qualifying purchases.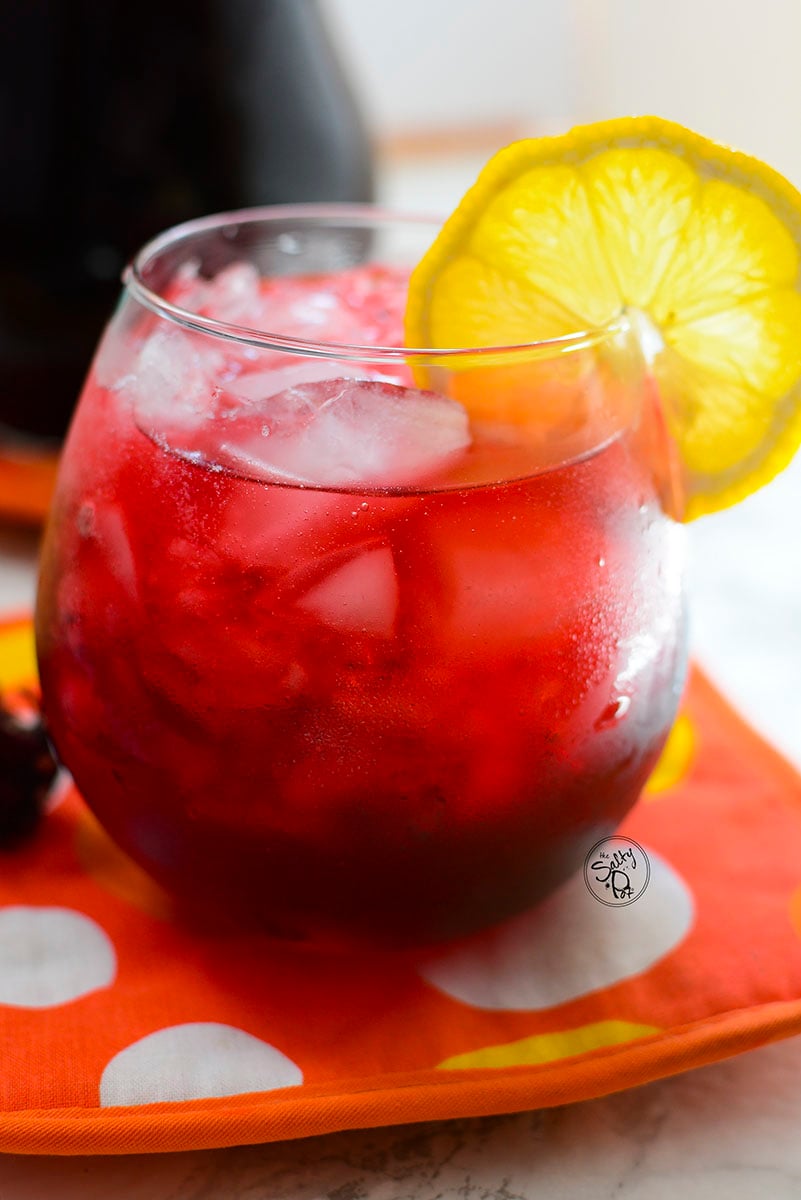 Hibiscus flowers are beautiful AND flavorful!
Hibiscus Iced Tea
This Hibiscus Iced Tea is a sweet, delicious, tart flavored tea that you can enjoy anytime. Its gorgeous crimson and deep magenta color compliments the light sour and sweet-tart flavor of the iced drink. You can serve this on hot summer days which makes it more refreshing, one sip at a time.
What Are Hibiscus Flowers?
Hibiscus flowers, or also called Sorrel, are large colorful flowers that are usually white, red, purple, and lilac. It has a lot of different types: some are used for ornaments and others, for cooking. That's why, for this recipe, you have to make sure you get food-grade ones that are safe to eat and not sprayed with chemicals.
These are the dried hibiscus flowers I used.
Edible hibiscus flowers are full of nutritious benefits. In fact, it's a popular herbal remedy and an effective medical treatment in some countries. It's filled with antioxidants and vitamins that can help relieve upset stomach, high blood pressure, fever, and bacterial infections. By making these flowers into teas and liquid extracts, it can be a perfect drink for diet and staying fit.
Beautiful and healthy – a perfect combination! And what more can I say? You should definitely try this.
The Benefits of drinking Hibiscus Iced Tea?
Whether you drink it hot or iced, there are some great advantages of drinking this herbal tea (besides being delicious). According to Healthline, Hibiscus Tea (or Sorrel Tea) has at least 8 health benefits! It's great for your skin, is high in vitamin C, and has some great antioxidants.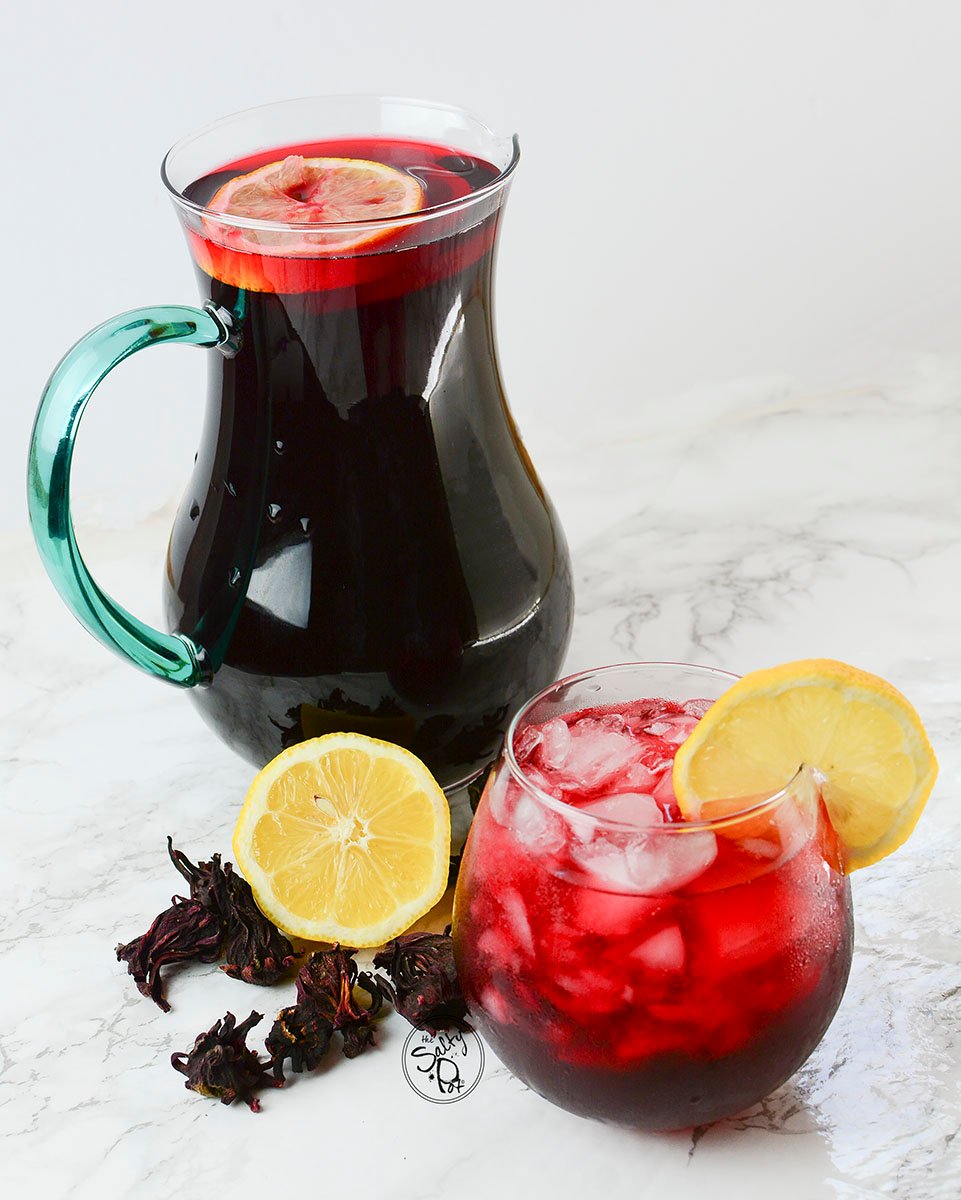 Ingredients Needed
It's a pretty small list!
Hibiscus flowers: You'll need dried FOOD GRADE hibiscus flowers. Food grade is most important here. Organic is great if you can get them, but if not, regular ones will do just fine.
Candied ginger: This is optional but I love the slight hint of spiciness that ginger gives to the drink. I used candied because that's what I had on hand, but if you prefer not to have the added sugar to the drink, then you can choose fresh grated/sliced or even powdered.
Water: I used water from my fridge-filtered spout. You can be as particular as you'd like with this; using mineral, distilled, filtered, or even tap water is just fine.
Honey: I like using local, raw honey for my iced tea and I highly recommend it. Not only are you supporting your local beekeeper, but very often, the honey sold in the grocery stores is cut with cheap high fructose corn syrup and isn't pure honey.
How Do I Make Hibiscus Ginger Tea?
1. Bring water to a boil.
2. Add the hibiscus flowers.
3. Add the pieces of sugared ginger.
4. Add the honey and mix to dissolve.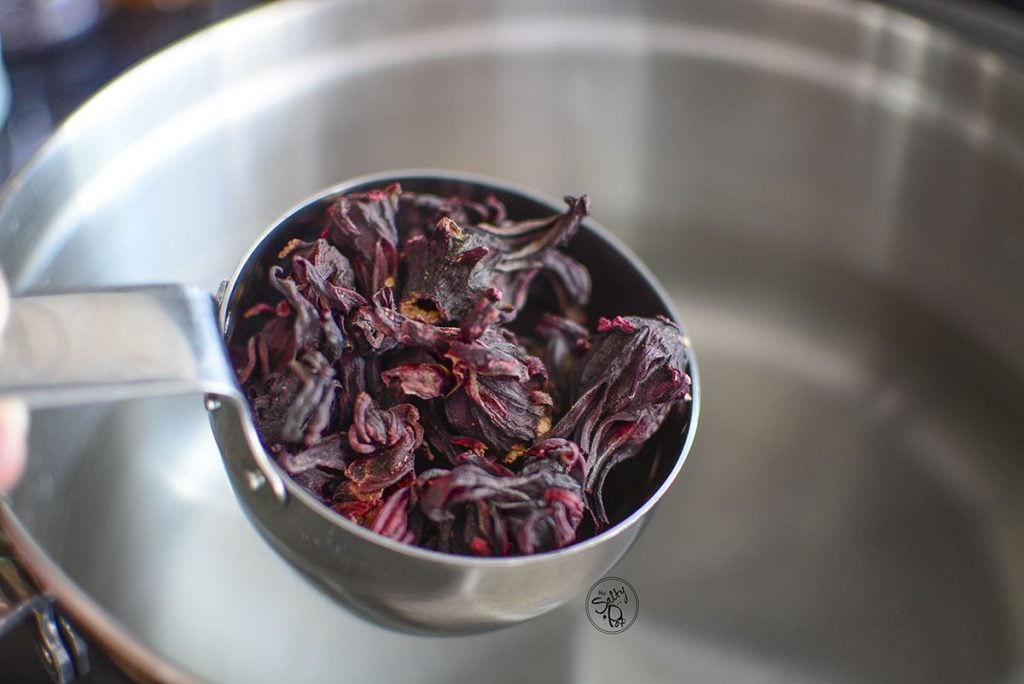 5. Stir all together and let steep for at least 4-6 hours or overnight.
6. After steeping time, sieve the hibiscus petals and ginger from the liquid.
7. Taste the tea and adjust for sweetness.
8. Serve over lots of ice with a squeeze of lemon or lime.
And that's it! You can check the full specific directions below in the recipe card.
Serving Tips
You can serve this tea in a combo of half hibiscus tea and half-flavored seltzer water. In this recipe, I used pineapple seltzer water that's carbonated so it adds even more interest to the drink with the carbonation.
Use pineapple, mango, orange, peach, and any berry-flavored carbonated water. Using a lemon-lime soda would be wonderful with this as well. You can also serve the iced tea with pieces of fruit to infuse such as watermelon, berries, etc. 
Try mixing this tea with a shot of iced coffee concentrate for a boost of caffeine in this summer drink. Take the flavor up a notch with a hint of vanilla.
If you wanted to make it more of an adult cocktail, then you could easily add an ounce of light rum or vodka would be a nice addition.
Looking for More Drink Ideas?
My recipe for Watermelon Vodka Punch and the Tropical Mermaid cocktail are all adult-orientated drinks, but can easily be made child-friendly by omitting the alcohol.
Also, if you're looking for more child-friendly summer drinks, try taking a peek at my 25 Ideas For Mocktails recipe collection!
Storage Ideas
Hibiscus Iced Tea can last on the fridge for up to a week. You can also freeze it for up to six months as long as you put it in a freezer-friendly container.
Another freezing idea is to put the tea in ice cube containers, freeze it, and then place all the cubes in freezer bags. That way, you can simply add the cubes to a pitcher and let them melt. They'd also be great as the replacement for the ice cubes in serving, that way, regular ice wouldn't dilute the flavor of your hibiscus tea!
When freezing, just remember to leave room in the freezer container for expansion as it freezes.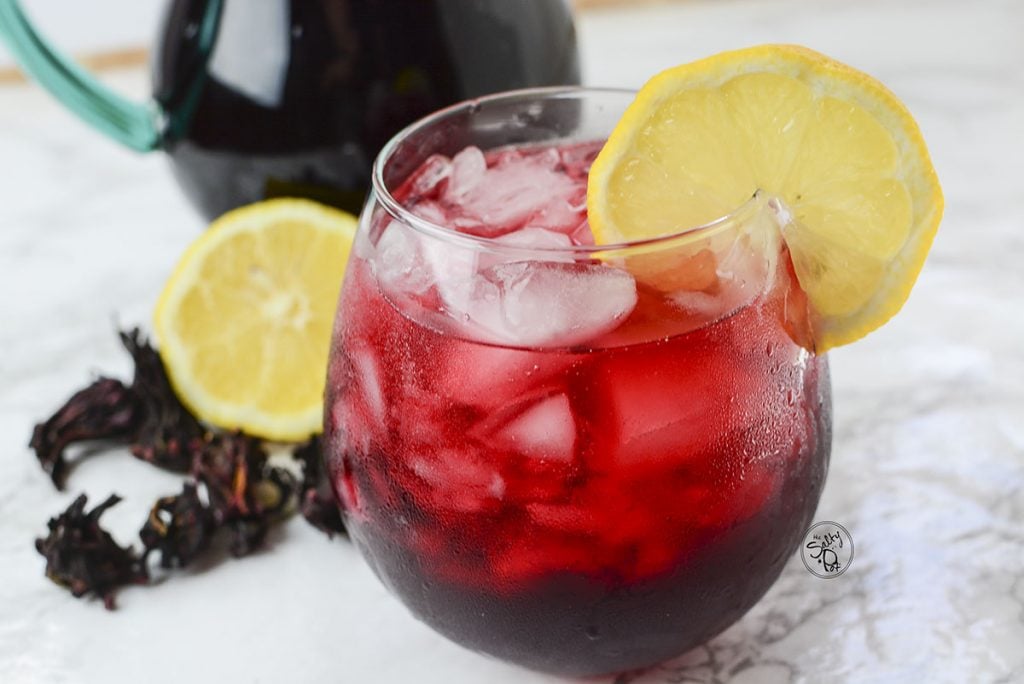 Thank you so much for stopping by The Salty Pot today, and I hope you have a wonderful day!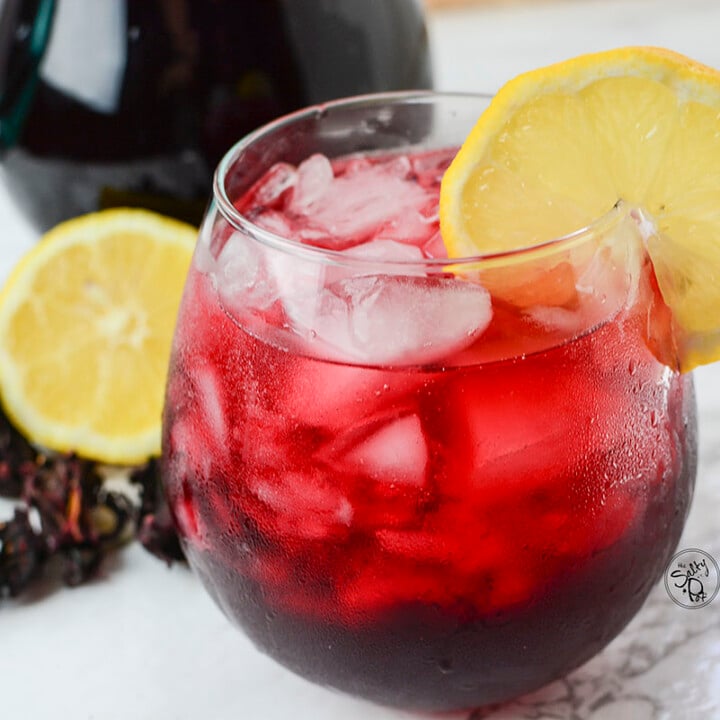 Hibiscus Iced Tea
Total Time:
4 hours
20 minutes
Sweet and tart, this refreshing Hibiscus Iced Tea is perfect for cooling down on a hot summer's day!
Ingredients
2c Hibiscus flowers, dried
8c water
2 tablespoon Honey, raw
2-3 pieces of candied ginger, large
lemon slices for garnish
Instructions
1. Bring 8 cups of water to a boil.

2. Add two cups of dried food-grade hibiscus flowers.

3. Add 2 generous tablespoons of honey

4. Stir all together and let steep with a lid on for at least 4-6 hours or overnight.

5. After steeping time, line a colander with a cheesecloth and drain the pot, separating the flowers from the liquid.

6. Taste liquid and adjust for sweetness.

7. Serve over lots of ice with a squeeze of lemon or lime.
Notes
These are the hibiscus flowers I used.
Be sure to taste the tea after it's steeped to adjust the sweetness level. I prefer my tea a bit on the more tart side, but feel free to make it sweeter for your preferences.
Nutrition Information:
Yield:

8 cups
Serving Size:

1 cup
Amount Per Serving:
Calories:

20
Total Fat:

0g
Saturated Fat:

0g
Trans Fat:

0g
Unsaturated Fat:

0g
Cholesterol:

0mg
Sodium:

10mg
Carbohydrates:

5g
Fiber:

0g
Sugar:

5g
Protein:

0g
All nutritional information is based on third-party calculations and is only an estimate. Each recipe and nutritional value will vary depending on the brands you use, measuring methods, and portion sizes per household.