Nothing screams tropical fun summertime like juicy pineapple! This Poolside Pineapple Slushie, similar to my Tropical Pina Colada Shots, are great for bringing the beach to you while making a wonderful addition to your backyard summer parties.
Frozen pineapple that's blended smooth gives that cool and sweet slushie texture while the orange juice and fruit punch combination offer a perfect tropical hit.
These will be on repeat alllllll summer!
This post may contain affiliate links. If you make a purchase after clicking a link, I may earn a small commission AT NO COST TO YOU. As an Amazon Affiliate, I earn from qualifying purchases.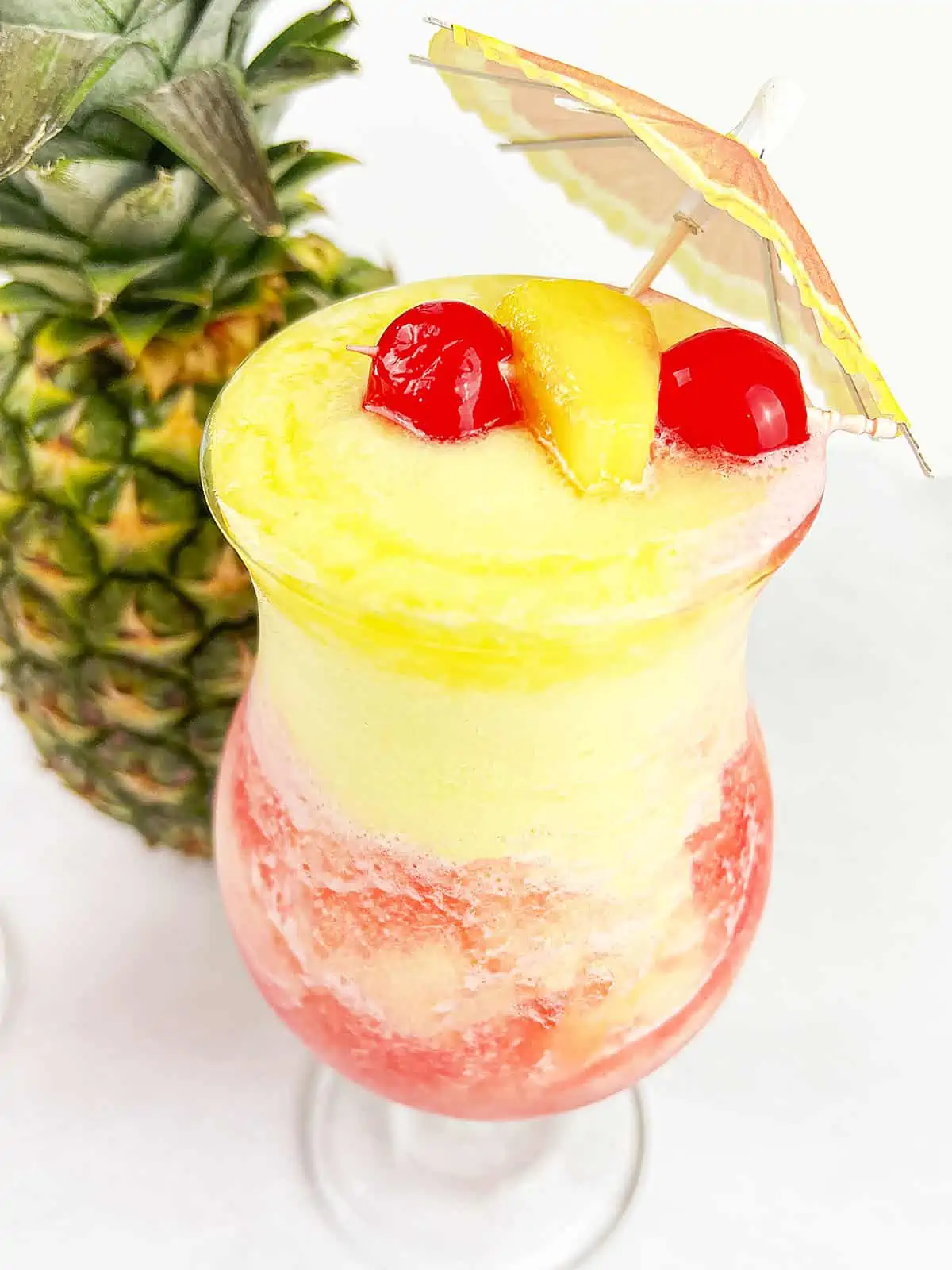 What's to Love about this Tropical Pineapple Slush Recipe
This Tropical Pineapple Slush Cocktail is loads of fun and makes a great addition to a favorite tropical sunrise cocktail in your summer party drink menu. This is super easy to make and perfect for making use of all of those fresh pineapples on sale this time of year.
How to make this Pineapple Rum Slush
What you need:
Frozen pineapple
Vodka (try pineapple or another tropical flavor)
Orange juice
Pineapple and cherry to garnish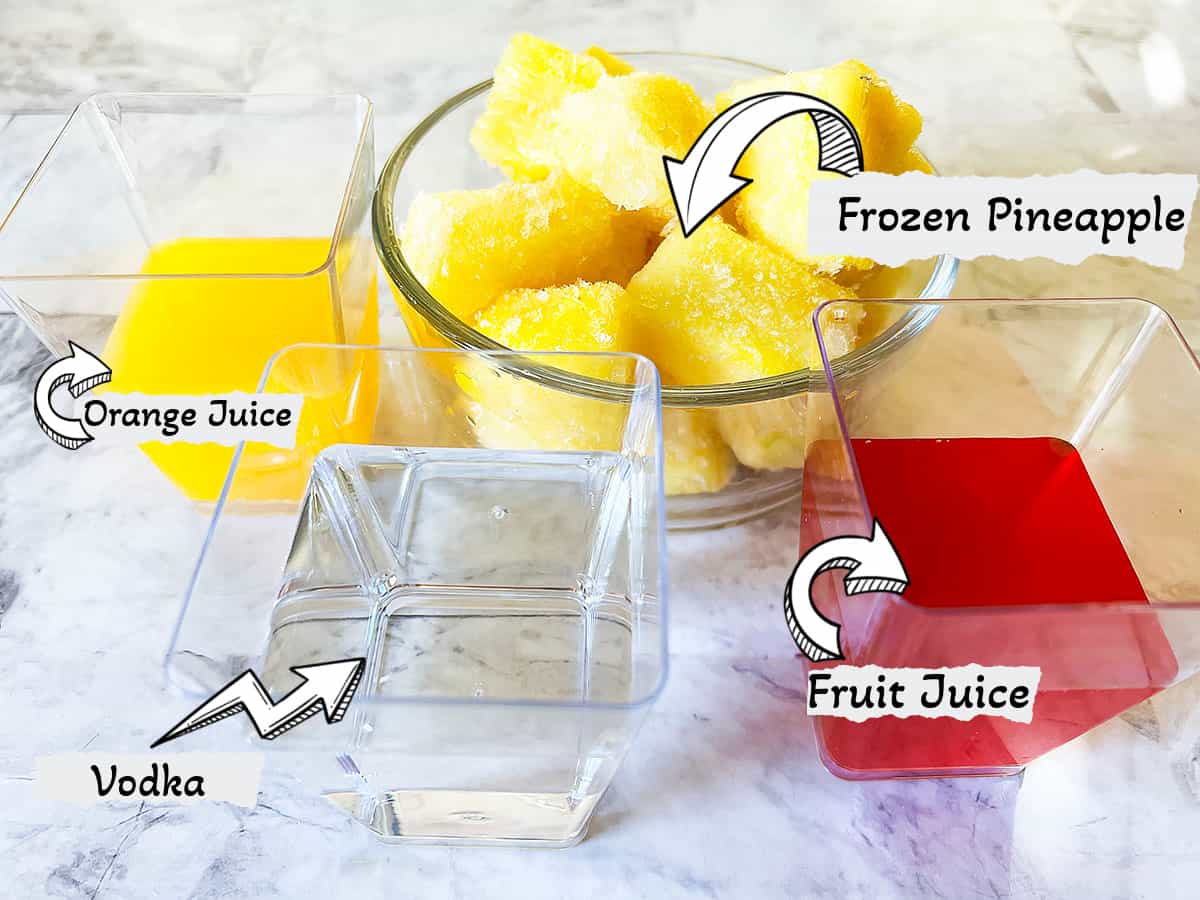 Directions:
Making this tropical pineapple slushie cocktail is super easy.
Start by placing the frozen pineapple and vodka into your blender. Start blending on the pulse option if your blender has it. Pulsing the mixture to begin with will make it easier on your blender. When the pieces are smaller, then you can leave it on a higher speed and blend until you have the consistency you prefer.
Then, add a bit of the fruit juice to the bottom of the glass. Spoon the pineapple slush into the glass to almost the top.
Spoon a bit of orange juice over the top and garnish with the pineapple pieces and cherries.
If you wish you can leave the vodka out until later and stir it into each glass if you will be serving these slushies to children and adults that do not drink.
If you only have fresh pineapple rather than frozen on hand you can add ice to create a slush. This will dilute the drink as the ice melts so be sure to serve these right away if you use ice in place of frozen pineapple.
Salty Pot Tip: If you find pineapple on sale, it's the perfect time to stock up. Just peel the pineapple, remove the core and cut up into chunks. Freeze on a parchment lined tray then store in freezer safe bags, ready to make your pineapple slush!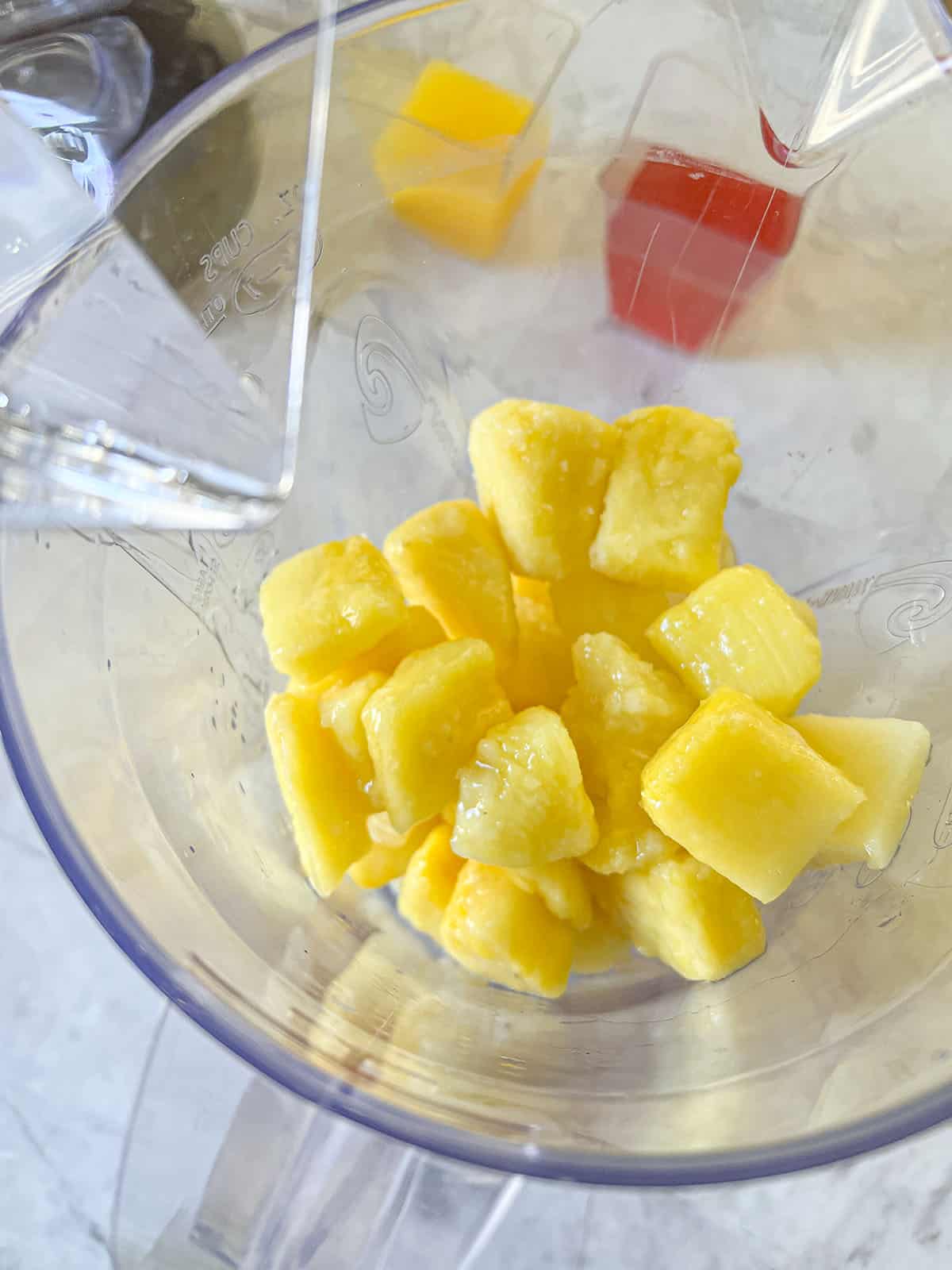 How to make this Tropical Pineapple Slush Kid-friendly
Making this tropical Pineapple slush is super easy and you can easily make it kid-friendly by leaving the alcohol out. Try adding the vodka separately into individual glasses and giving a stir when you serve it to adults.
Kids love cold pineapple slushies just as much as we do. Make it even healthier for them by swapping out the fruit punch for the juice when making it for kids.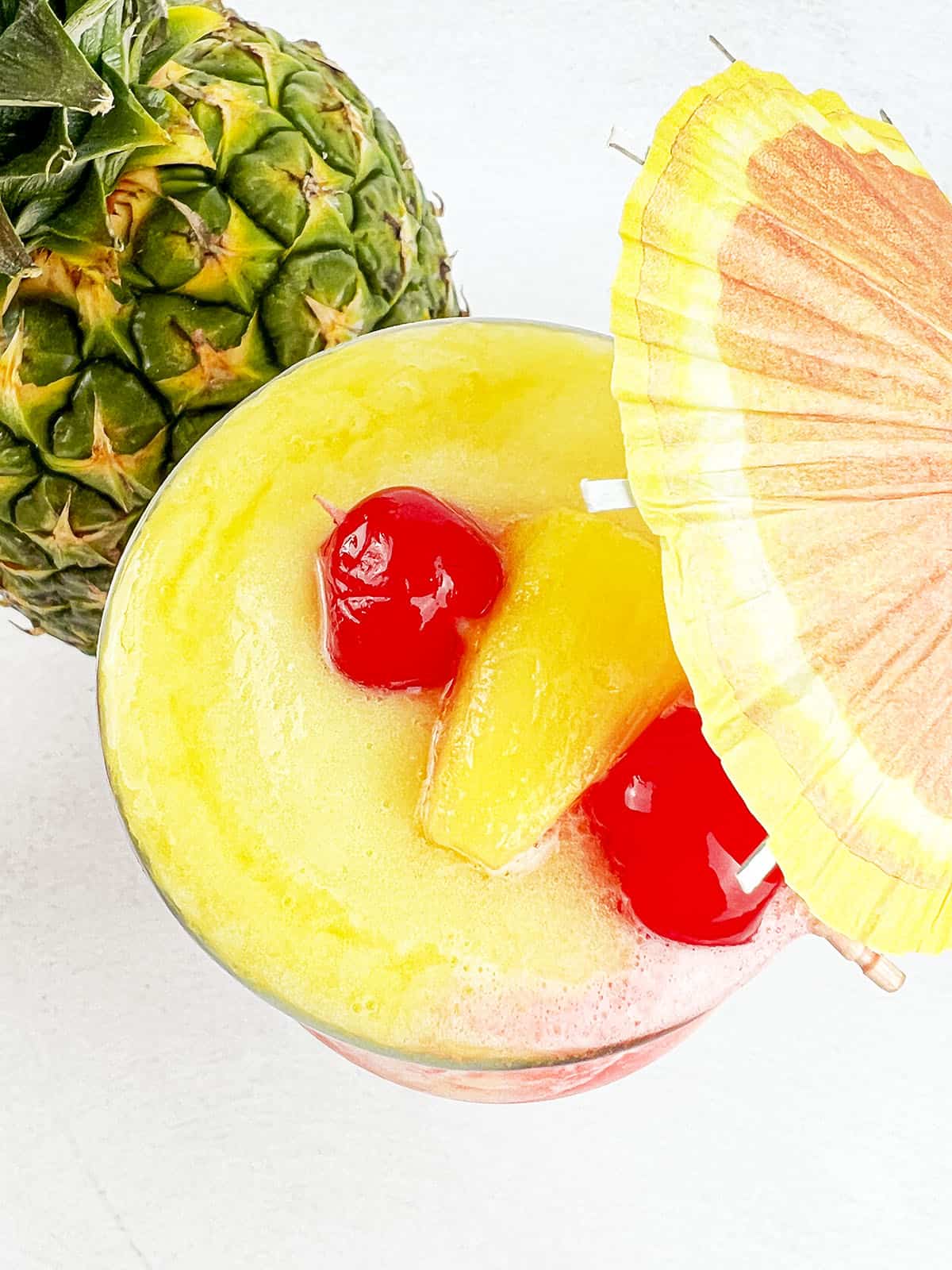 Make it your own
To take this slushie up a notch and make it more of a frozen pina colada try adding some coconut milk and a bit of pineapple juice instead.
Try blending the pineapple (see notes in the recipe card on how to do that) with coconut milk ice cream to make a thicker consistency, almost pineapple slushy milkshake with vodka!
You can add other tropical fruits to change up the flavor a bit or swap out the orange juice or fruit punch for another tropical flavor. You could also use whipped cream flavored vodka for an interesting flavor variation.
How to store leftovers
This one will not store well and will quickly melt. If you make more than you need you could always opt to freeze it in ice cube trays to blend again when you want to use it to simply blend your melted leftovers with ice to make it slushy again.
You could also pour the leftovers into popsicle molds and make some refreshing pineapple pops!
If you want to make this ahead you can opt to blend everything together including fresh pineapple and then when ready to serve blend in ice.
Another make-a-head option would be to fill a pitcher with everything but the pineapple so you can dump it directly into the blender adding in the pineapple so you can skip measuring everything out in the middle of a party.
Other Drinks to Feature at your Pool Party
If you are looking for some food to serve at your pool party check out this list of Game Day Snacks that make the perfect grazing table options for hungry pool party guests. Fire up the grill for these country-style pork ribs and cool off with some iced coffee.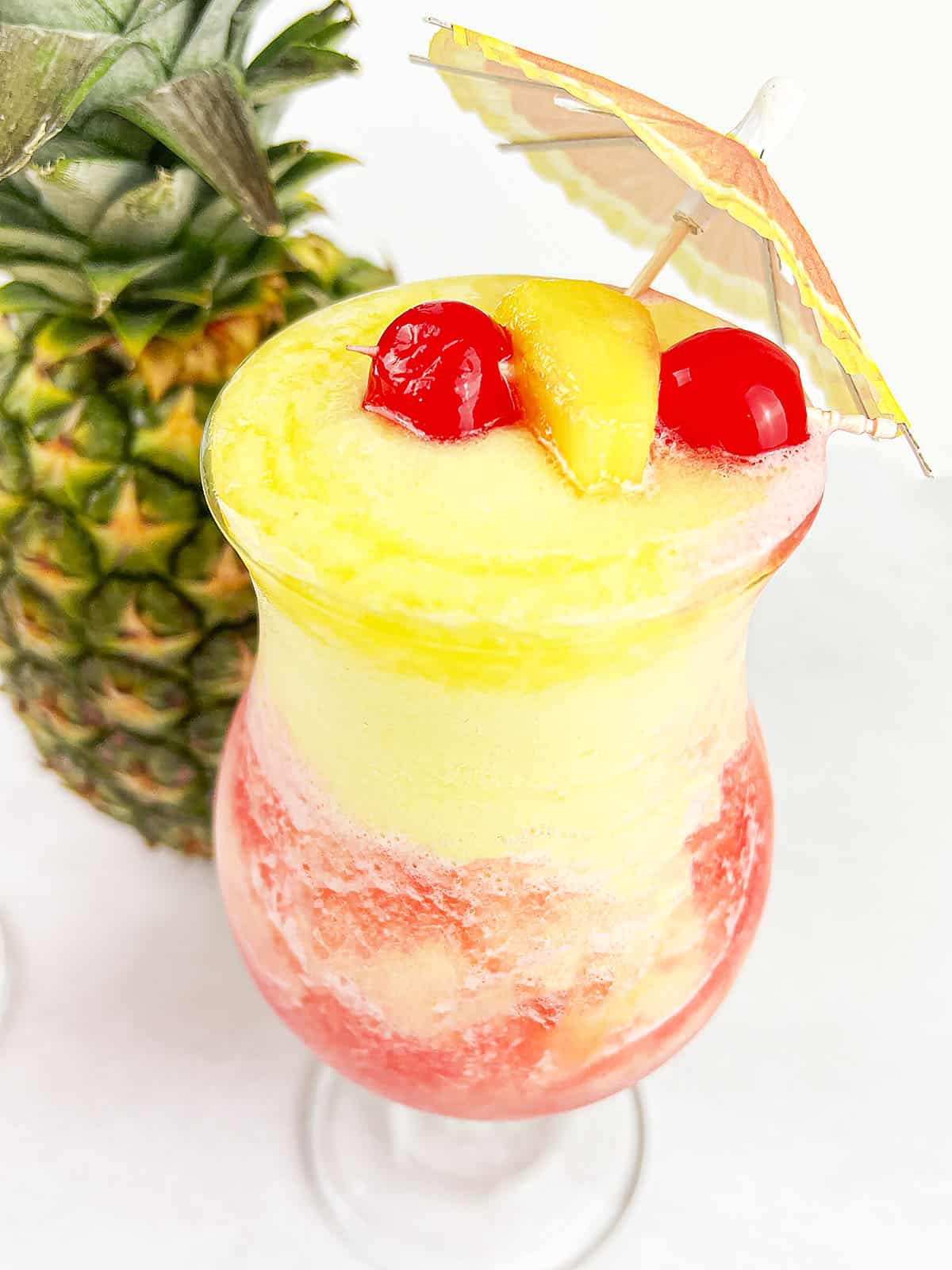 Questions You Might Have
Can I use fresh pineapple?
That's not a problem. You'll have to add ice to get the slushie consistency and if you wanted to add anything creamy you should be sure to heat and soften, then cool the pineapple to de-activate the Bromelien enzyme which will curdle the diary.
Will pineapple curdle coconut milk?
It may, yes. If you don't wan't to prep the pineapple ahead of time by cooking it, then it's safe to use an ice cream flavored vodka for those flavors.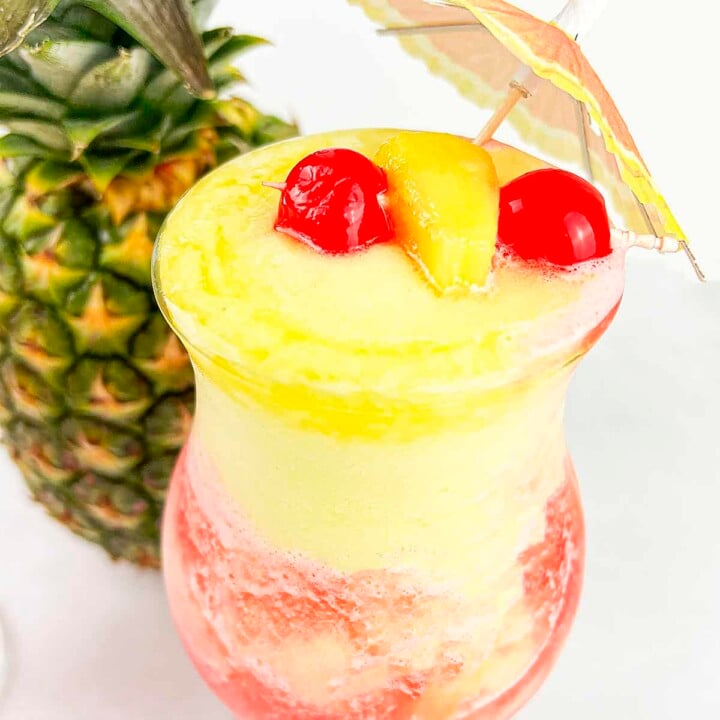 Poolside Pineapple Slushie Cocktail
Yield:
2 Slushie Cocktails
This Pineapple Slushie is perfect for serving poolside in the hot days of summer. Use fresh, frozen or even canned pineapple, this tropical pineapple slush is icy, sweet, and delicious! Make it once and you'll see why it will be on repeat!
Ingredients
4 cups Pineapple chunks, frozen
4 ounces Vodka
½ cup Fruit Punch
½ cup Orange Juice
Pineapple chunks and maraschino cherries for garnish
Instructions
Place the frozen pineapple and the vodka into the blender.
Start with the "pulse' setting to get the pineapple broken down. Then when made into smaller chunks, blend on high speed until smooth and creamy.
Pour ¼ cup of Fruit punch in the bottom of the glass.
Spoon in the pineapple slush, leaving a little room at the top of the glass.
Spoon over a few tablespoons of orange juice over the top.
Add a fruit garnish and a fun paper umbrella.
(To make the garnish, place a toothpick through 2 cherries and a piece of pineapple and then rest over top the drink.)
Enjoy!
Notes
1. To make the slushie kid friendly as well, blend the pineapple with a little orange juice and leave the alcohol out. For adults, then mix the pineapple slush with the vodka in a different glass after blending.
2. Switch it up by putting the orange juice on the bottom and spooning over the fruit punch on the top.
3. You can use canned or fresh pineapple, just mix ice in the blender with the fruit to make it slushie.
4. Try switching regular vodka for whipped cream vodka for a different flavor profile.
Nutrition Information:
Yield:

2
Serving Size:

1
Amount Per Serving:
Calories:

561
Total Fat:

1g
Saturated Fat:

0g
Trans Fat:

0g
Unsaturated Fat:

0g
Cholesterol:

0mg
Sodium:

12mg
Carbohydrates:

113g
Fiber:

5g
Sugar:

104g
Protein:

3g
All nutritional information is based on third-party calculations and is only an estimate. Each recipe and nutritional value will vary depending on the brands you use, measuring methods, and portion sizes per household.