Pineapple Baked Beans are a hit at every event I take them to. The pineapple and other ingredients help add a tangy sweetness, the bacon adds a nice smoky element, and I love that they're deliciously saucy! Making these in the slow cooker has the added benefit of becoming a one-pan side dish that you can take the whole thing to the party and serve right out of the cooker!
This post may contain affiliate links. If you make a purchase after clicking a link, I may earn a small commission AT NO COST TO YOU. As an Amazon Affiliate, I earn from qualifying purchases.
Pineapple Baked Beans = A side dish that goes with practically anything!
Easy Slow Cooker Pineapple Baked Beans
If you love baked beans like my family does, they are pretty much a staple at any gathering. Heck, I don't even need a gathering to serve them, because they are just so delicious. What's so amazing with this recipe is that it's also super easy to make because you use commercially prepared brown beans AND you can do it in a slow cooker as well, without taking up that much space on your oven. (This implied you're putting the slow cooker in the oven which is incorrect).
Cooking this side dish is simple because it's really just adding most of the ingredients into the crockpot and letting the flavors all meld together. In this recipe, we use store-bought baked beans as our base, and then add all the extra tasty elements that take these baked brown beans to a whole new level.
Main Ingredients Needed For These Crockpot Baked Beans
Baked Beans: I used commercially prepared baked beans as an easy base for this recipe. There are other recipes out there for making your baked beans from scratch – soaking and cooking the beans way ahead of time. While that might be a cost-effective way to making them, I like easy, so I chose canned baked beans.

Kidney Beans: I used Red kidney beans here for added nutrition and to bulk up the recipe a bit. 1 can will do it, but if you wanted to serve even more people, add two.

Pineapple: Again, to make things easy, use canned pineapple here. You'll need crushed and sliced pineapple for this recipe.

Chili Sauce: Heinz has a great chili sauce (not sponsored) that's nice in this recipe. It's not spicy at all and adds a great depth of flavor. If you prefer not to use the chili sauce, you can use ketchup instead.

Bacon: You can use maple bacon here as it will go well with the baked beans. I like hickory-smoked bacon and it imparts a nice smoky, salty flavor, which goes really well with the sweet, sour, tangy, delicious flavor of the beans!
Making These Beans The Easy Way
Open all the bean cans and put them in your crockpot. Add the rest of the ingredients except only half the bacon. The reason is that as it cooks, the bacon can lose some of its crispy texture, so I like to add the remaining super crispy bacon at the end of the cooking time.
Cook on low for the day and serve! Easy Peazy my friends!
Serving
I've served this crockpot baked beans side dish at many barbeques and cookouts and they've been a hit every time because they can be served with pretty much anything else that's being served at the event.
They go well with hotdogs, hamburgers, steaks, and smokies. You can even serve them up in the dead of winter where they would go nicely with pot roasts or beside a casserole.
Oh, they're also perfectly served next to roasted corn on the cob! I could literally make a meal with just those two ingredients.
And if you're looking for something different to do with the beans, they can be served on top of fresh biscuits as well.
Storing Baked Beans
IF you have leftovers (which I rarely do!), what's really great about these beans is that they are a breeze to store after they're made. If you wanted to freeze them, they can last up to 4 months in the freezer as long as they're kept in an airtight container to prevent freezer burn.
After thawing from the freezer, simply reheat them on the stove or microwave before serving.

You can also put them in the refrigerator as well and they can pretty much last in there for up to five days.
Recipe Tips
Just a few tips when making this delicious side dish, make sure to add half the bacon while cooking, and then the other half before serving to preserve the textural crunch of the bacon in the beans.
You can also add extra beans if you want to stretch the recipe even more. You can add more kidney beans, black beans, etc. according to your desire.
I add just a ½ teaspoon of vanilla to the beans. I know it sounds crazy, but the vanilla just provides a hint of something deliciously different to the recipe. If you start out using the baked beans in a maple sauce, then please omit the vanilla.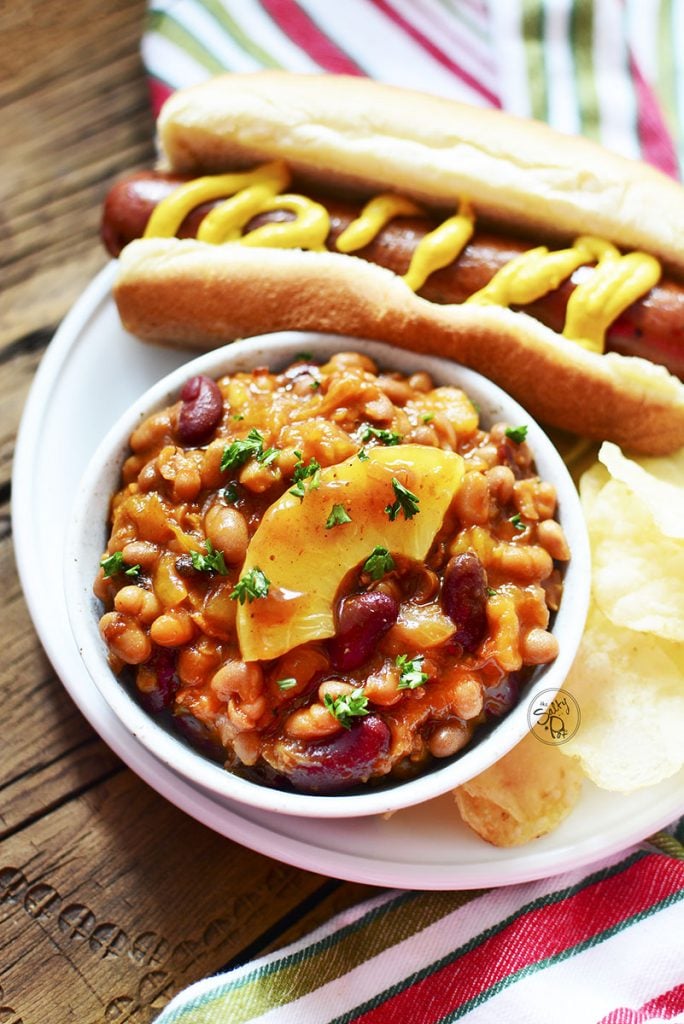 Easy Slow Cooker Pineapple Baked Beans
Total Time:
6 hours
15 minutes
Sweet, tangy and smoky, these slow cooker pineapple baked beans are a hit every time I'm feeding a crowd and they're incredibly easy to make!
Ingredients
4 cans Beans with pork and tomato sauce (see notes), 14oz
1 can Kidney beans, red, rinsed, 14oz
1 package Bacon, cooked and crumbled, approx 10-12 strips
½ Onion, large, diced
2 cans, crushed pineapple, lightly drained, juice reserved, 13oz
1 can, pineapple rings, drained
1 garlic clove, minced
2 teaspoon dry mustard
2 tablespoon Brown sugar
½ c Chili Sauce (see notes)
Optional: ½ teaspoon vanilla (see notes)
Instructions
1. Precook the bacon to a crispy texture. You can also saute the onions before hand, but this is optional.
2. In the slow cooker, add all the ingredients except the pineapple rings and half the crumbled bacon.
3. Mix well and cook on low for 6-8 hours or high for 4-6 hours. During the cooking time, if the beans seem not as saucy as you'd prefer, add some of the reserved pineapple juice.
4. In the last half hour of cooking, sprinkle the remaining bacon over the top of the beans, and add 3-4 rings of pineapple on the top. Replace the lid and let cook for the remaining time.
5. Serve and enjoy!
Notes
1. You can saute the onions beforehand, or add them raw.
2. Add only half the bacon during the cooking time, and then add the remaining later.
3. I used pork and beans in tomato sauce, but you can also use pork and beans in a maple sauce. If you use ones in the maple sauce, omit using vanilla.
4. If you can't find chili sauce, use ketchup instead. You may want to increase the brown sugar after using the ketchup, but please taste the beans before you add more.
5. If you can't find the 14oz cans of crushed pineapple (Dole brand is what I used), feel free to use bigger cans that come to approximately the same amount of ounces. Just drain them more before adding them to the recipe. )