Super Ooey Gooey Italian Quesadilla Sticks!! Everything that is awesome about pizza and quesadillas is IN THIS DISH. For real. No joke. I dare you to go make it and see for yourself… go ahead.. I'll wait. 🙂
Piles of melted pizza flavors in between two tortillas = NUMMY!!
OOEY GOOEY ITALIAN PIZZA QUESADILLA STICKS!!
These are crazy simple to make. So simple really that it seems something that tastes this good should be harder to make. But it's not, and because it's so simple, it will be a "go to" recipe that you make all the time.
Ingredients Needed:
I'm sure you have the ingredients in your pantry now.
Of course, tortillas: You'll want to use the 8-inch tortillas. Whether you use corn or flour tortillas, the choice is yours. If you felt ambitious enough, you could make your own tortillas and freeze them for times like these.
Cheese – Your favorite mozzarella is perfect there. If you wanted to add a bit of freshly grated parm in there, that would be a delicious addition too!
Sweet peppers – again, use your favorite here – green, red, yellow, etc.
Onions – Your standard onion is what you need for this recipe!
Cheese – oh… did I mention cheese already? Ok, well, you can never have enough cheese. lol
Pizza or marinara sauce – Use your favorite and use what you have on hand.
Substitutions and Additions to the Pizza Quesadilla
You can make these awesome little snacks in any you want really. Whatever you like on a pizza – put it in this Italian quesadilla. Let's just take a moment and explore some fillings/toppings, shall we?
pepperoni and green pepper
pepperoni, mushroom, onion
vegetarian
sausage or prosciutto
…the list is endless
You can go with any sort of cheese you prefer if mozzarella isn't your thing. These Italian quesadillas are pizza inspired, and I prefer your typical mozzarella on my pizza, but I know some people enjoy parmesan or even provolone. I suppose it's all according to your preference and that's what makes these so awesome. It's all about YOU 😉
One of the best things about these cheesy pizza quesadilla sticks is that you're not eating the heavy crust that makes you nap for 3 hours after you eat it. Plus, we all know how quick regular quesadillas are to come together, well, this is no different! Easy Peazy!
An added factor is that the tortillas crisp up nicely, so you get the crunch in the bite, and they serve as the perfect vessel to house all the ingredients from the plate to your mouth.
PLUS, these hold up incredibly well to DIPPING. And you know you just have to dip these tasty quesadilla sticks.
Making Cheezy Italian Quesadillas Couldn't Be Easier!
Ok, so if you have a grill pan, ideal!! If not, no biggie, just use your favorite frying pan. The grill pan makes pretty grill marks on the tortilla's but the marks are not integral to the yumminess of the dish.
So you simply take one 6 – 8 round tortillas. Place into a greased/sprayed with non stick spray, grill pan. Place your cheese, pepperoni, and green pepper on the surface of the tortilla. Take another tortilla and place that over the top.
You want the heat to be medium heat so that while it's toasting the tortilla, it's also melting the cheese and making the pepperoni heated through..
When you have some great color on the tortilla, (a couple of minutes), use a large flipper/spatula to CAREFULLY flip the quesadilla over to the other side. This is the trickiest part as you want all the filling to stay between the tortillas and not fall out on that pan. This is why you want a lot of the cheese already melted so that it makes everything stick inside.
Grill the pizza quesadilla on the other side until you again, get some nice toasty grill marks. Remove from the heat and transfer to a plate. Cut the quesadilla into strips and let it cool slightly while you prepare the dipping sauce.
In a small bowl, combine pizza sauce, or marinara sauce, or even spaghetti sauce will do in a pinch. If you'd like, add a bit of garlic powder, hot chili's and/or Italian seasoning to the sauce to spice it up a bit more.
And then that's it! See how easy these Italian quesadilla sticks are to make? I love these because they're such a great, quick dish to put together.
If you like the pizza like vibe and have an outdoor grill, try this Easy Grilled Pepperoni and Cheese Flatbread Pizza. It's equally as awesome as this cheesy pizza quesadilla recipe! Did I mention they're cheesy? lol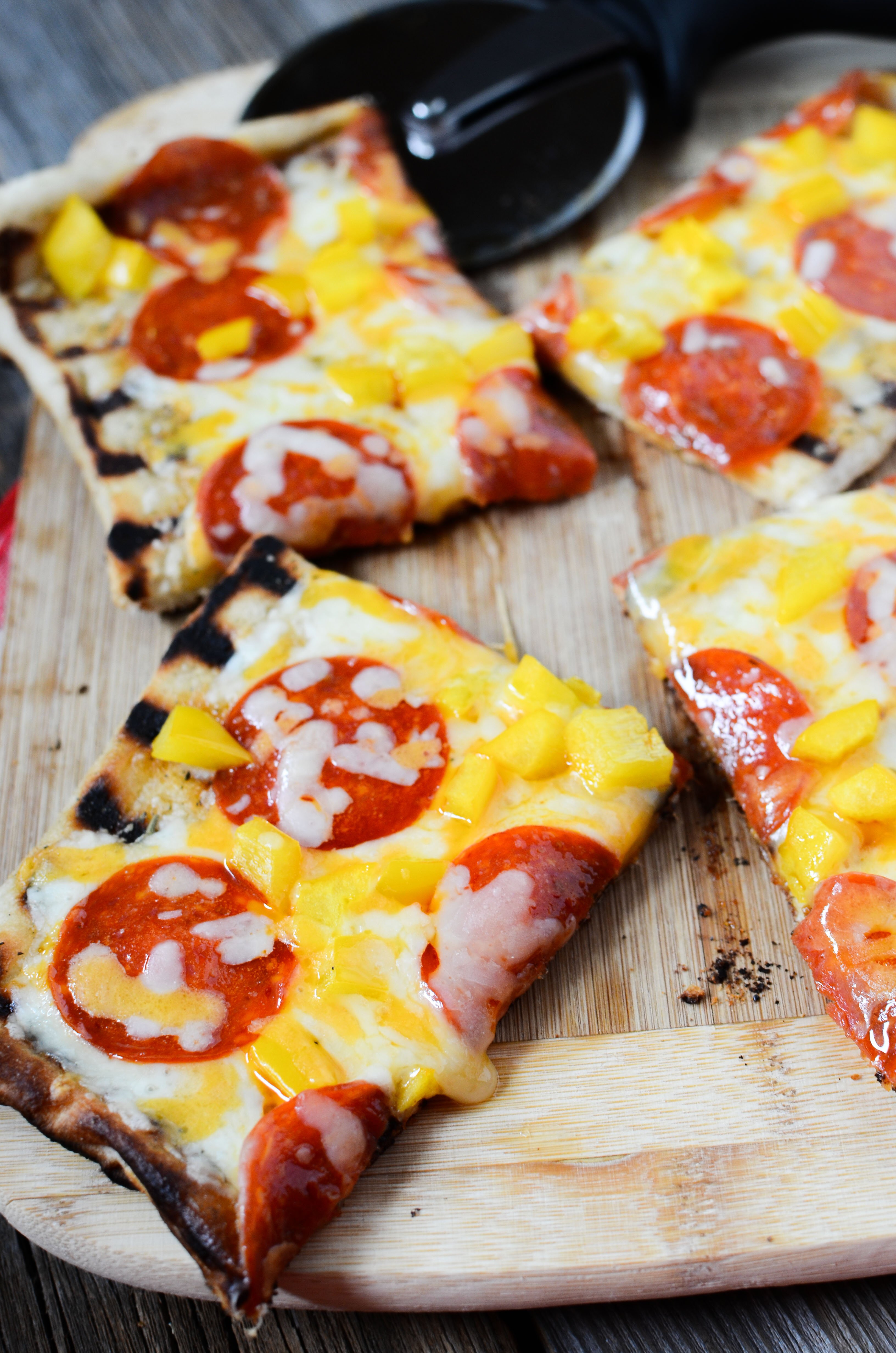 And if you're looking for a little something with even less carbs but with the pizza flavors still, you need to check out my Sausage Stuffed Portobello Mushroom Pizza Recipe!
What are your favorite pizza toppings? Do you like anything out of the ordinary? Let us know down below so we can all read about it, and try them out!
RECIPE TO PRINT:
Super Cheesy Pizza Quesadilla Sticks
Can't decide between a pizza or a quesadilla? No worries, you don't have to! Make this Italian Quesadilla recipe and you can have the best of both worlds. You know, the way it should be.
Ingredients
2 tortillas, 6 - 8"
½ c or more pizza mozzarella
¼ of a sweet pepper, sliced thin
6 - 8 pieces of pizza pepperoni
¼ c marinara dipping sauce
¼ teaspoon garlic powder
¼ teaspoon Italian seasoning
Instructions
Place a grill pan over med heat. Spray with non stick spray
On one tortilla, place half the cheese, the green pepper, the pepperoni, and the remaining cheese.
Transfer the tortilla to the grill pan. Cover the quesadilla with the other tortilla. Press down
Cook for 2 - 4 minutes or until the cheese is beginning to melt and there is color developing on the bottom tortilla.
Carefully turn the tortilla over to cook the other side. Leave it again 2 - 4 minutes or until the cheese is completely melted and there are grill marks on the other tortilla.
Remove from heat, transfer to a plate, and slice into sticks. Let sit for 1 - 2 minutes.
In a small bowl, combine the marinara sauce with the garlic powder and Italian seasoning.
Dip the sticks into the marinara sauce and enjoy!
Notes
Free free to switch up the ingredients in this quesadilla! Use your favorite cheeses, pepperoni, or prosciutto, and choose your favorite dipping sauce as well!
Nutrition Information:
Yield:

1
Serving Size:

1 quesadilla
Amount Per Serving:
Calories:

3319
Total Fat:

133g
Saturated Fat:

56g
Trans Fat:

3g
Unsaturated Fat:

66g
Cholesterol:

268mg
Sodium:

8274mg
Carbohydrates:

394g
Fiber:

30g
Sugar:

44g
Protein:

135g
All nutritional information is based on third party calculations and is only an estimate. Each recipe and nutritional value will vary depending on the brands you use, measuring methods and portion sizes per household.