These slow cooker garlic ranch pretzels are buttery, and garlicky, and seasoned with those savory ranch flavors that keep us coming back for MORE!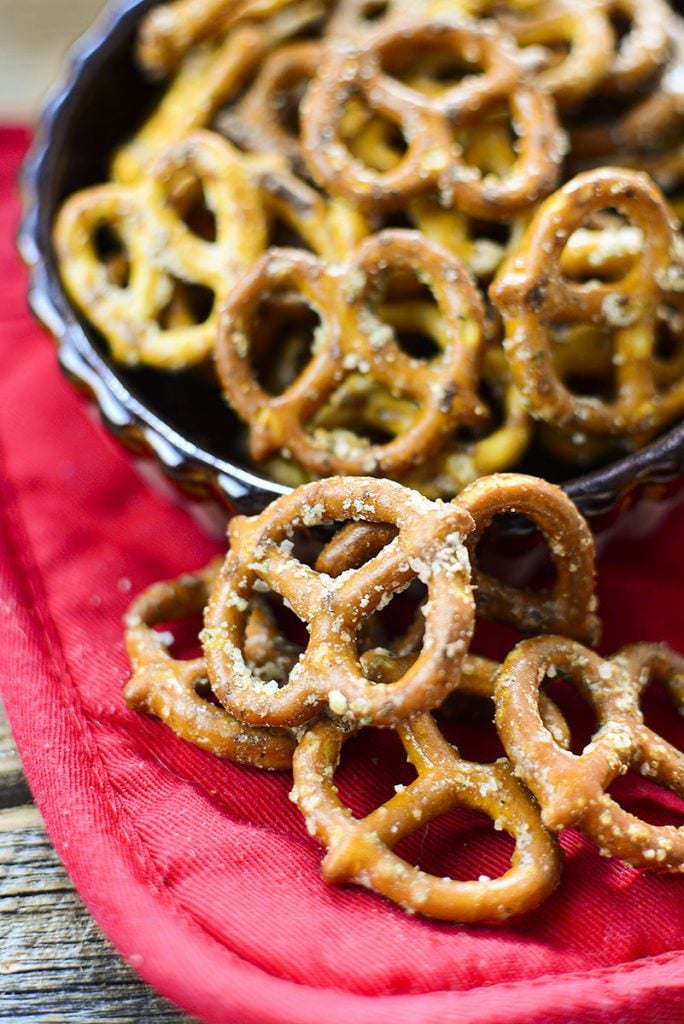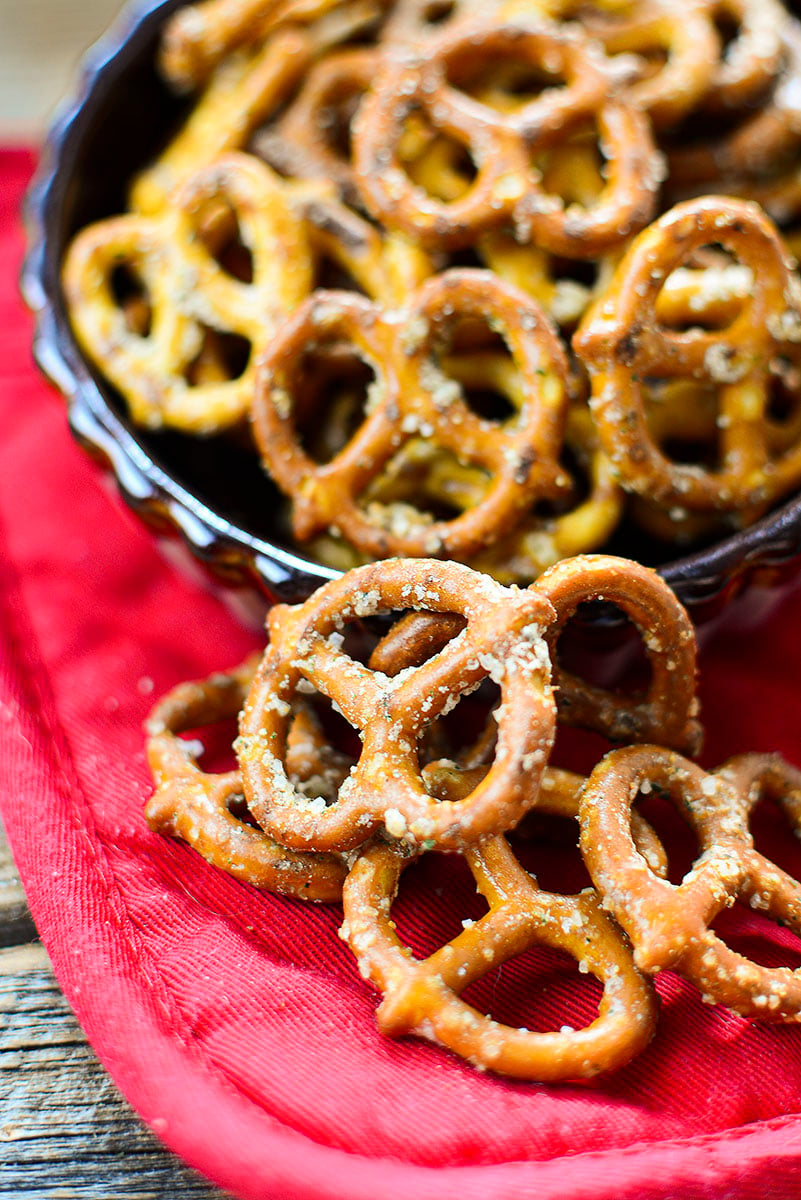 Slow Cooker snacks make life a bit more EASY!
Slow Cooker Garlic Ranch Pretzels
On the hunt for an easy snack recipe for your at-home movie night? Or maybe you love ranch flavors and are looking for something crunchy – whatever it is, here's an easy idea you could try out.
What I love about these seasoned pretzels is the effort level is practically zero, haha! Made in the crockpot, these snacks are PERFECT for the big game as well because you simply set it up, and let it do its thing.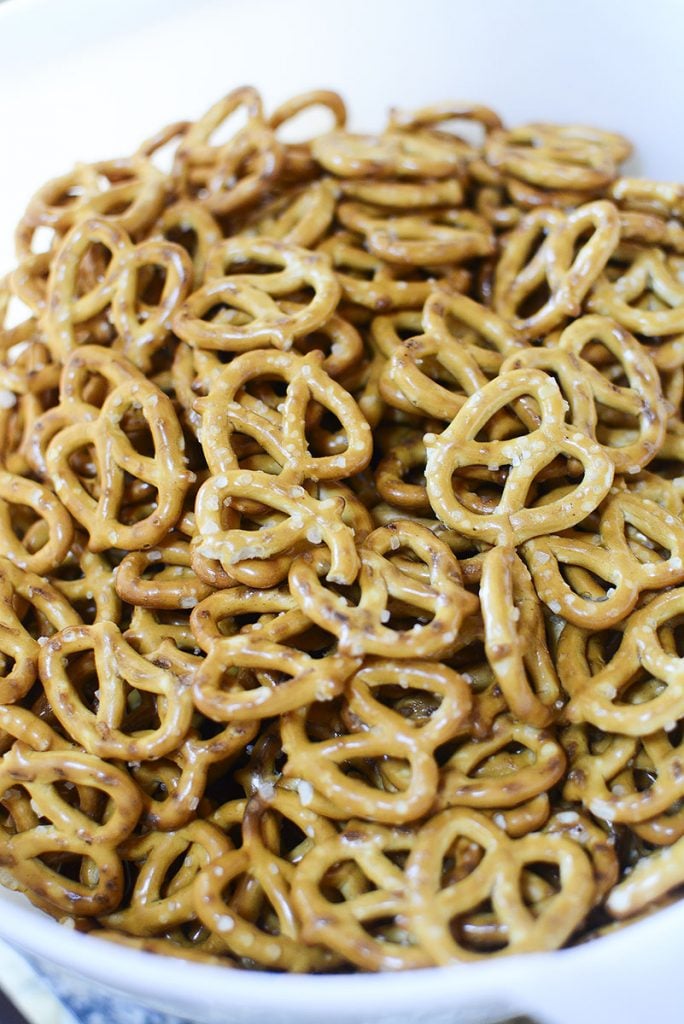 These seriously taste so insanely delicious, I can almost guarantee you'll want to make these for so many other occasions. Backyard cookouts, kid's sports windup parties, holiday table snacks, camping, or even snacks to include in lunches, etc. The list is endless because these pretzels snacks are SO good.
Ingredients Needed For These Ranch Pretzels
This list is pretty short actually.
Pretzels: You can use any shape you prefer here. I also always use salted pretzels because that's one extra seasoning you don't have to add on your own. I think all shapes except pretzels sticks would work fantastic. The sticks wouldn't hang onto the seasoning as well as a different shape.
Dry Ranch Seasoning: I used Hidden Valley Ranch (Not Sponsored) but I also know there are a few other different brands that have their own version of a dry ranch type seasoning. Use your favorite!
Garlic: I used granulated garlic but you can use garlic powder if that's what you have on hand.
Butter: I prefer butter over margarine. I used salted butter in this recipe but feel free to use unsalted if you want to keep the sodium level less.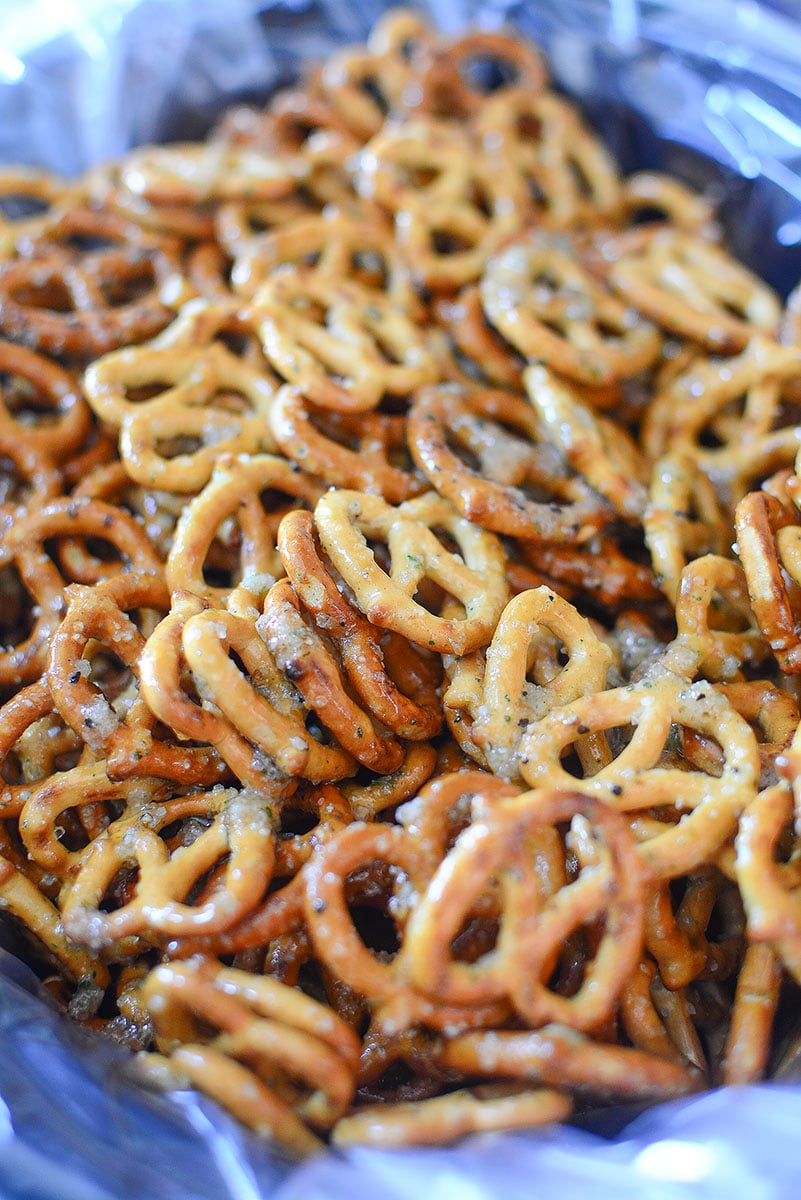 Can I Use Any Other Seasoning Mix?
So this recipe calls for the use of a pack of Hidden Valley Ranch seasoning. If you don't have that on hand, you can whip up your own ranch-type seasoning to try. This Homemade Ranch Seasoning Mix by Mom Saves Money.
Can I Store These For Later?
Okay, so you ended up making more of these than you needed. If that's the case, you can totally store them for later! All you need to do is place them in an airtight container and pop them in the refrigerator. They should stay good there for at least a couple of days, if not up to a week or two.
So of course, they can also be a wonderful make-ahead recipe for a party you're throwing. But yes, they taste best when they're warm, buttery, and fresh out of the crockpot!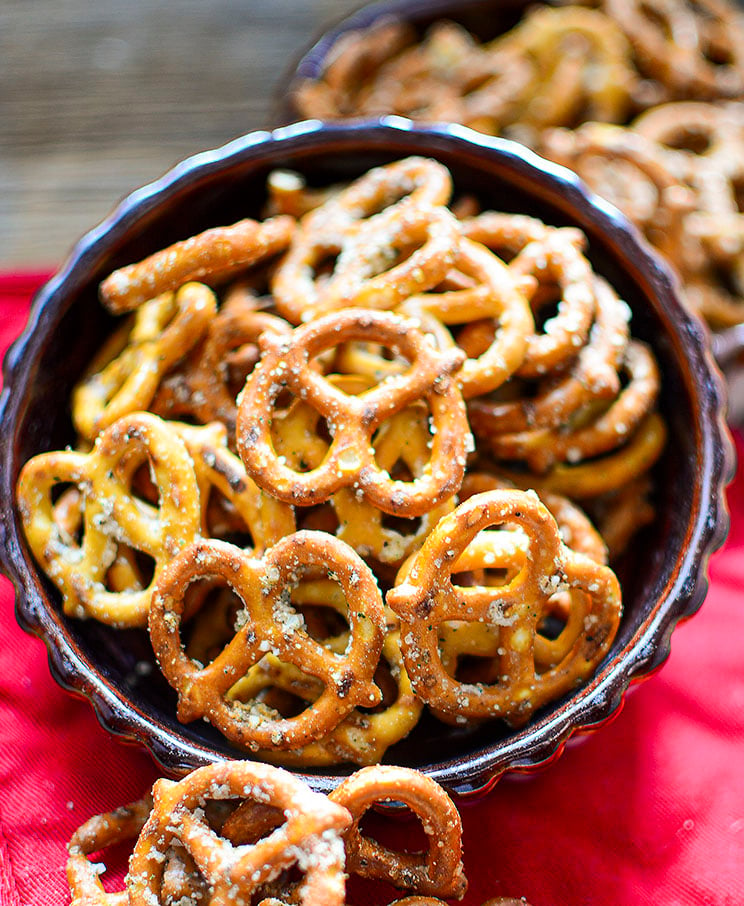 Serving Ideas & Suggestions
These garlic and ranch seasoned pretzels are the perfect snack to munch on when you're watching any sports game or putting on your favorite movie on a weekend, but they can also be a good snack to serve to your family and friends when you have them over, or for a little house party you're throwing.
The pairing of the warm, buttery, bready type snack goes SUPER well with any chilled fizzy drinks you might want to also offer. In addition, they'll fit right at home on the table along with practically any other appetizers you're whipping up.
Just remember to keep stirring the contents in the crockpot every ½ hour or so to ensure that they don't burn.
These are also a perfect addition for serving on the side of a sandwich, wrap, or even sprinkled like croutons over salads!
Don't have pretzels but still want to replicate this recipe with another crunchy snack? I've done that too- with corn chips! They came out so buttery and delicious I just couldn't stop eating them! (No joke!) These Buttery Ranch Corn Chips recipe is just a tiny bit different but equally as delicious as these seasoned pretzels!
The printable recipe for these delicious Slow Cooker Garlic Ranch Pretzels is below!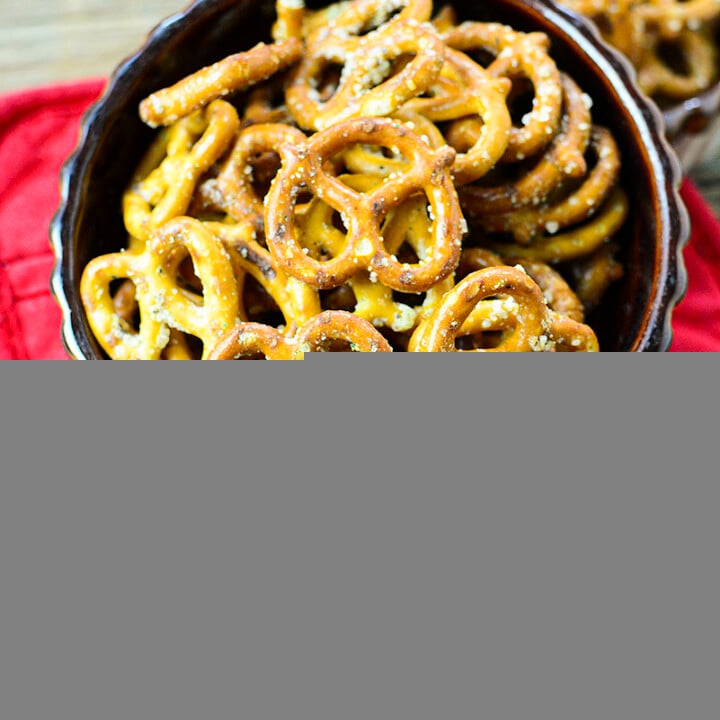 SLOW COOKER GARLIC RANCH PRETZELS
Yield:
20 ounces pretzels
Total Time:
2 hours
5 minutes
A savory seasoned, buttery and delicious pretzel snack is what you'll get with these Slow Cooker Garlic Ranch Pretzels! Serve them warm, and people will ask or them over and over!
Ingredients
20 ounces salted pretzels, any shape. *see notes
1 stick butter, melted
1 packet Ranch dressing powder
1 teaspoon granulated garlic *see notes
Instructions
1. Place all the pretzels into a bowl.
2. In a smaller bowl, combine the melted butter, garlic and the ranch packet. Mix well
3. Drizzle the butter mixture over the pretzels in the bowl, pausing to toss them around and continue drizzling. The key is get a good distribution of the buttery ranch seasoning.
4. Spray the slow cooker insert with non stick cooking spray or use a cooking liner. I used a liner as it's easy peasy cleanup.
5. Transfer the pretzels to the slow cooker and turn on low for two hours, stirring every half hour or so. You want the pretzels to absorb the butter and the seasoning. Be sure to stir from the bottom to prevent burning.
6. Serve warm and enjoy!
Notes
Using pretty much any size/type of pretzel will work here except for stick pretzels. I used a mini pretzel shape and you'll want as many 'nooks and crannies' as possible to hold onto that delicious buttery garlicky seasoning!

I used granulated garlic here because I like the texture, but use a garlic powder if that's what you have on hand. I would recommend not using garlic salt because the pretzels, if salted as well, would be over seasoned.


Nutrition Information:
Yield:

10
Serving Size:

2 ounces
Amount Per Serving:
Calories:

99
Total Fat:

10g
Saturated Fat:

6g
Trans Fat:

0g
Unsaturated Fat:

3g
Cholesterol:

25mg
Sodium:

122mg
Carbohydrates:

3g
Fiber:

0g
Sugar:

0g
Protein:

0g