Whipped shortbread cookies have to be one of my most favorite cookies of all time. Buttery, tender, and LITERALLY melt-in-your-mouth cookies studded with sweet green or red cherries. This whipped shortbread cookie recipe will become a new holiday tradition. They're the best, I tell you!!
Shortbread cookies – it's what Christmas is all about!
Whipped Shortbread Cookies
Holiday season is the best- there's a little magic in the air and everyone around you seems to be in the mood to celebrate and enjoy. And when it comes to food, it is also the time to indulge and let loose for a bit, and dig into some extra calories- right?
I have to say though, Christmas is NOT Christmas to me unless I've had at least one of these delectable cookies.
Whether you've got a sweet tooth or not, I'm pretty sure you're going to absolutely LOVE these whipped shortbread cookies. I've had these my entire life, and while I must admit- they're not originally my own recipe (I modified my mom's recipe, which is from the recipe on the side on the Canada cornstarch box), and I made a few tweaks that end up making these melt in the mouth cookies!
So are they low calorie? No. But are they worth the extra calories? Heck yes! You gotta try it to experience it for sure!
What's the Big Deal About Whipped Shortbread?
These cookies are actually a spin on traditional shortbread cookies, which have a Scottish origin. My recipe is actually from a canadian company that has been around forever.
Canada Cornstarch Company got its start way back in 1858! The history is really interesting and a cool read if you're interested. As the company grew cornstarch found its way into our kitchens in a tall cardboard box and it had the delicious recipe for these shortbread cookies on it.
My mom made the recipe from the box for years and then I started modifying it a bit. I added in a teeny bit more butter (more butter is better, yes? lol), and whipped the mixture, which made it get that perfect LITERAL 'melt in the mouth' texture.
They are somewhat of a fragile cookie made this way until they are completely cool, but the increase in butter and the whipping is why they are so buttery, tender, and melt on your tongue delicious.
I make these only at Christmas, but that doesn't mean you have to too- you can enjoy these literally whenever you want!
So What Goes Into These Luscious Shortbread Cookies?
The ingredients you'll need to whip up these incredible shortbread cookies are super simple- just pantry staples like
cornstarch As I mentioned earlier, I used Canada cornstarch, but feel free to use any kind you prefer.
confectioners sugar – Another word for icing sugar. Don't use regular sugar here – the texture of the cookie will turn out gritty.
and butter (I use the unsalted variety) – if all you have is salted, that's fine. I'm a firm believer in using what you have.
and flour. – All-purpose flour is the one you want here.
That's literally it.
Serving Ideas & Suggestions
If you're in a festive mood, you can top them with some red and green glace cherries. I usually cut the cherries in half and use one half per cookie. – they look and taste amazing- that's literally how I usually serve them.
Another cool idea is to dip a fork in some icing sugar and press it down on the cookie to make a sort of crosshatch design on the top.
I've also seen them with crushed hazelnuts dusted over the top, or even some drizzled chocolate as well.
As far as what to actually serve the shortbread cookies WITH, I'd say a big ole' glass of milk, OR, how about a glass of Homemade Eggnog from 5 Minutes For Mom!!
I lurves me some eggnog, I can tell you!
I love eggnog so much, I actually made some Homemade Eggnog Walnut FUDGE that's incredibly delicious. How about some Overnight Eggnog Bread Pudding that's perfect for Christmas day breaky!?? Or, there's always Eggnog and Cranberry Rice Pudding easily made in the Instant Pot. YUMMM!
Cook's Notes For Whipped Shortbread:
The one aspect of this recipe that you need to be careful about is its baking time. Make sure you do not over bake the cookies. These cookies are made with simple ingredients that can brown easily. You want to take them out JUUUUST before they begin to brown on the bottom.
Ideally, they will have a uniform color on both top and bottom but be baked through. I know..I know.. easier said than done sometimes. I will say, the random perfectionist in me wants them right at that tipping point to browning on the bottom, but I don't always succeed.
And it's ok if you don't either. They're STILL AMAZINGLY DELICIOUS. Trust me.
If you prefer not to use the glace cherries, then I would be tempted to increase the sugar in the dough up to ⅓ of sugar rather than ½. I think because the cherries are so sweet, the lightly sweetened dough is a nice way not to make them too insanely sweet.
But if you're not using the cherries, you might find the plain dough cookie not quite sweet enough.
Is Cornstarch Gluten Free?
Yes is it. The flour, however, is not. I've not made whipped shortbread with gluten-free flour so I can't speak to how it would work in this recipe.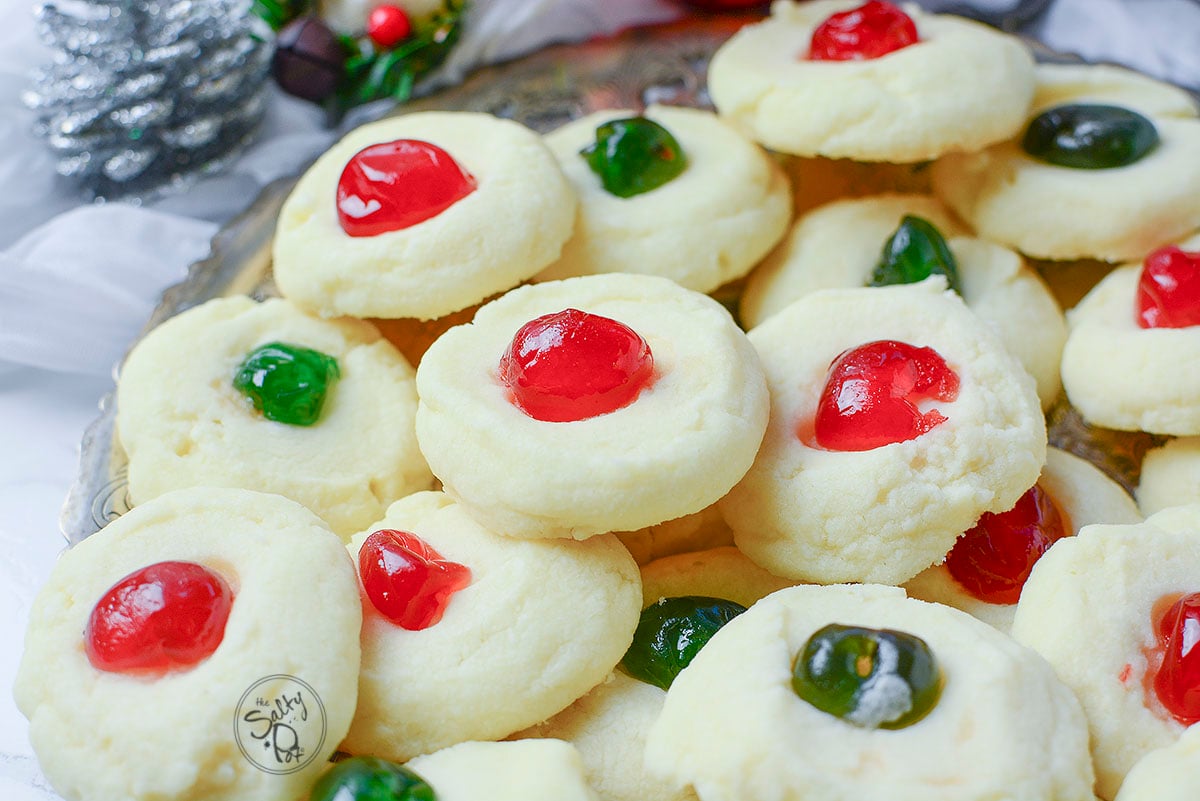 Can I Make & Freeze Shortbread Cookies?
And here comes the best part about these cookies- you can actually make them ahead of time or in a big batch and freeze and store them for later, which is perfect if you're not someone who likes to spend a lot of time in the kitchen.
I usually make them, and store them in an airtight container in the freezer, making sure they're not piled up TOO high on top of each other, with each row/level carefully separated using a parchment paper.
If you're looking for even MORE shortbread cookie recipes, I have a post coming up giving you 15 DECORATED shortbread recipes!! Stay tuned for that!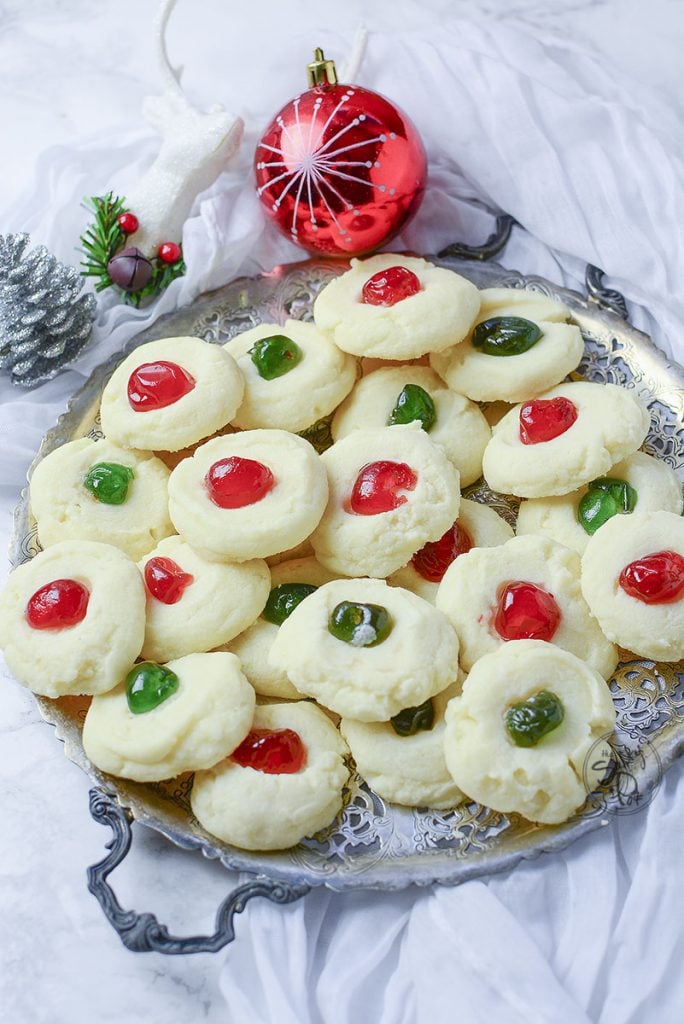 If you love these shortbread coookies you are going to fall in love with my Maraschino Cherry Shortbread Cookies that are packed with fllavor remanicent of chocolate covered cherries that are a true holiday staple. If you havent noticed I love chocoalte covered cherries. In fact I have a few great recipes you dont want to miss if you love them as much as I do:
Slow Cooker Cherry Chocolate Cake
Easy Whipped Shortbread Cookies
Light, buttery and delicate, these whipped shortbread cookies are the epitome of a Christmas Cookie. Bejeweled with sweet glace cherries, these whipped shortbread cookies will be asked for year after year!
Ingredients
1c Butter, room temperature
½c Icing Sugar
1c All purpose flour
½c Cornstarch
Glace cherries (optional)
Instructions
1. Preheat the oven to 300. Begin by creaming the butter and the icing sugar together.

2. When incorporated, add the cornstarch. Continue to mix, as mixing will add more air into the dough, making it fluffy. While you are mixing (if using a stand mixer), cut the glace cherries in half and set aside.

3. Lastly, add the flour and mix only until the flour is completely combined. In this case, you don't want to mix the flour in too long as the flour could make the cookie tough.

4. With a small ice cream scoop or two spoons, scoop the dough onto lined parchment cookie sheets. You don't HAVE to line them because of the butter included in the recipe, but I always like to err on the side of caution and line them anyway.

5. With the back part of a spoon, press down on the cookie, making it slightly concave. Take a half piece of the glace cherry and place it into the center of the cookie, pressing slightly.

**Alternative decorating: If you prefer not to use the glace cherries, simply dip a fork in icing sugar and press down on the cookie to make marks outlining the tines of the fork in the cookie. When they are done baking, you can dust them with icing sugar. See notes below.

6. Bake the cookies for 12 - 15 minutes. Keep an eye on them and take them out just before the bottoms begin to brown.

7. Let the cookies cool slightly before moving them to a cooking rack to finish cooling completely.

8. Enjoy!
Notes
1. Remember to add the flour as the last ingredient to prevent overmixing the flour to make the cookie tough.
2. Cutting the glace cherries in half makes them sit nicer on top of the cookie.
3. If you are going to not use the glace cherries and instead use the fork to decorate the cookies, I suggest increasing the amount of the icing sugar in the cookie by ¼ cup. The glace cherries are quite sweet, but if you're not using them, then you'll want to increase the sweetness of the cookie.


Nutrition Information:
Yield:

24
Serving Size:

1
Amount Per Serving:
Calories:

107
Total Fat:

8g
Saturated Fat:

5g
Trans Fat:

0g
Unsaturated Fat:

2g
Cholesterol:

20mg
Sodium:

61mg
Carbohydrates:

9g
Fiber:

0g
Sugar:

2g
Protein:

1g
All nutritional information is based on third party calculations and is only an estimate. Each recipe and nutritional value will vary depending on the brands you use, measuring methods and portion sizes per household.