You know, I love zippy buffalo chicken wings. You know.. not that spicy crazy hot, just that zippy amount of heat, with that vinegary, spicy, orange pepper sauce – just the smell of it makes my mouth water. Don't get me wrong, I don't enjoy blow-your- -butt-off heat on wings, just slightly peppery flavors. The cool ranch, the crunchy celery side (sometimes with carrots), this is all what makes buffalo chicken wings so amazingly good.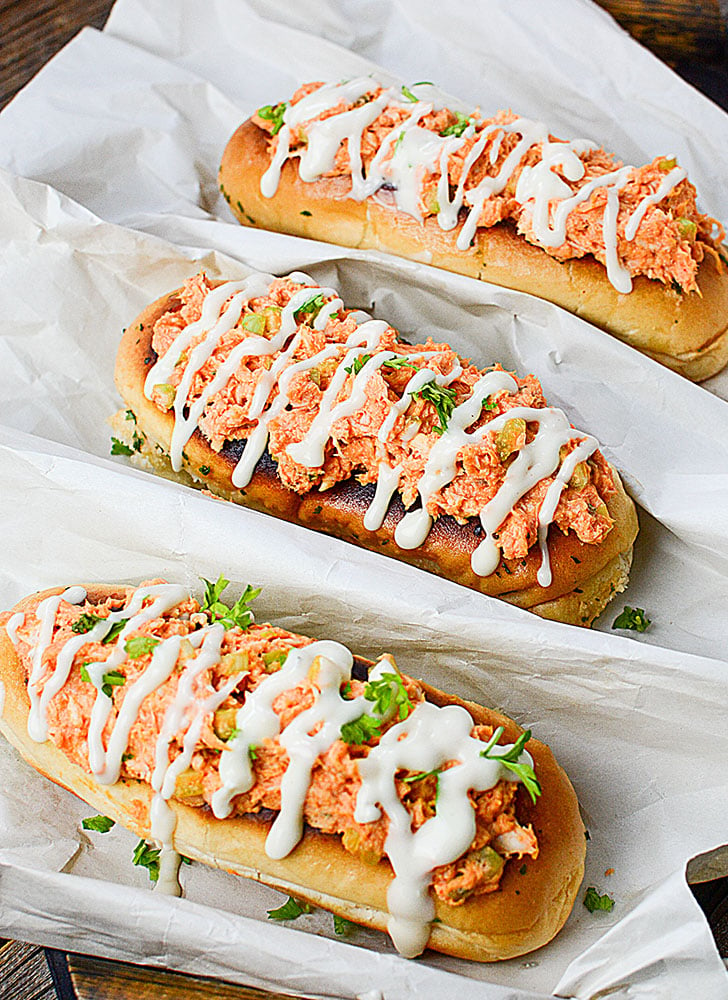 That being said – no way was I going anywhere close to a pub to get my buffalo chicken wing game on… so when that craving hit – I improvised. I didn't have chicken wings… but you know what I DID have?
– Chicken breasts
– Buffalo wing sauce
– Hot dog buns
We were going to create ZIPPY BUFFALO CHICKEN BOATS!!!! Yipppeeeeeeeeee!!!!
This little dish came together so easy, so quick, it was almost a miracle. Ok… ok.. a FOOD MIRACLE.. let's put it that way. How can it not be though? Really – marrying buffalo chicken in a little hot dog boat.. it's genius! You know what else is genius??
RANCH DRESSING DRIZZLE!!!
Yes my friends, I'm serious!! And why not?? I mean, some people dip their buffalo wings in blue cheese dressing OR ranch dressing. It works!! And the best part of this dish besides the taste?? NO MESSY FINGERS!!
Ohhhh I'm telling you.. these were amazing. 🙂
HOW DO I MAKE THESE AMAZINGLY ZIPPY BUFFALO CHICKEN BOATS………………. you ask?
Ok, I'll do this in point form, as it's easier to explain that way, and shows just how simple this recipe is!
Preheat the oven to 350
Take the hot dog bun and with a sharp knife, begin to cut a long oval out of the top. Simply press down the bread within the cut area of the bun.
In a small bowl, melt the butter and add the parsley and garlic powder. Brush this over the inside tops and outside of the buns.
Toast in the oven for approximately 3 – 4 minutes. Watch them closely as they will burn.
Meanwhile, in a bowl, mix together the shredded chicken, celery, buffalo sauce and mayonnaise. mix well.
Remove the buns from the oven when they are toasted. Allow to cool slightly.
Stuff the chicken mixture into the buns and drizzle the ranch dressing over the tops of the buns.
So easy, and SO yummy! You can literally serve these for any occasion! Yeah ok, true, maybe not at half time at the classical recital, but hey, game day, cook outs, birthdays, regular weeknights, Friday night jams, your sister's husband's half brother's cousin's checker tournament, etc!!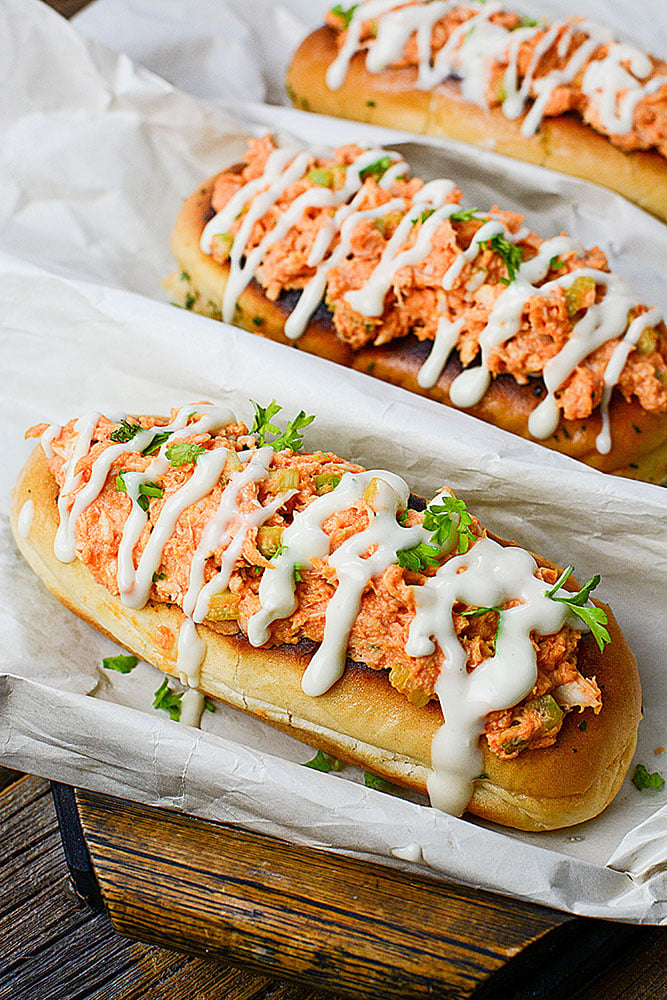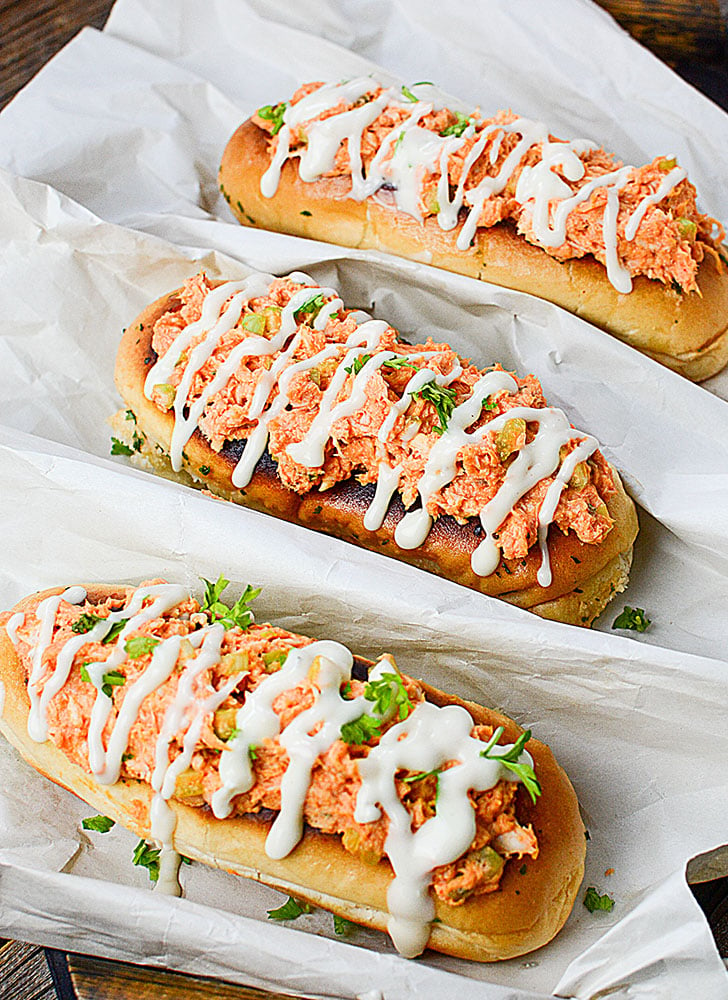 I think you'll really love these Zippy Buffalo Chicken Boats!! Like I said, I don't care for too much heat so that's why this recipe is so awesome, YOU can control the amount of Buffalo Sauce you put in, thus controlling the heat! If you're looking for other fun meals to serve at fun parties for fun people – take a peek at this other Buffalo Chicken Mini Pepper Appetizer I made, or check out this collection of Game Day Appetizers! If you try any of my recipes, please feel free to comment below and tell me what you thought! Thank you again for taking your time to read about some of my recipes and I hope you have a wonderful day!!
Buffalo Chicken Boats
These super delicious Buffalo Chicken Boats are a unique play on the typical Buffalo Chicken Wing. All the flavors are there, spicy, creamy, tangy, and crunchy,... with no messy fingers!
Ingredients
2 c cooked, shredded chicken breast
6 hot dog buns
2 - 3 celery stalks, diced into small chunks
3 tbsp buffalo wing sauce, or more if you desire
1/3 c mayonnaise, ore more if you like it creamier
1/3 c melted butter
1/2 tsp garlic powder
3 tbsp ranch dressing
tablespoon of fresh parsley
Instructions
Preheat oven to 350
Cut the bun with a sharp knife, creating a long oval, following the shape of the hot dog bun. Press the bun down with your fingers, only where you cut out the oval. Do not remove this bread as it is needed for support.
Melt the buttr and the parsley and garlic powder. Brush the mixture all over the buns, both inside and out.
Toast the buns in the oven for approximately 3 -4 minutes or until golden brown. Remove and cool slightly.
In a bowl, mix together the chicken, celery, buffalo sauce and mayonnaise. Mix well.
Fill the cavity of the buns with the chicken mixture and drizzle with the ranch dressing.
Enjoy!