Don't let it intimidate you, it's one of the easiest things in the culinary world to do. ESPECIALLY when you have a pressure cooker to do it in. This post is going to be all about making extremely easy Instant Pot pulled pork, however, I'll throw in a few instructions on how to do it in the slow cooker as well.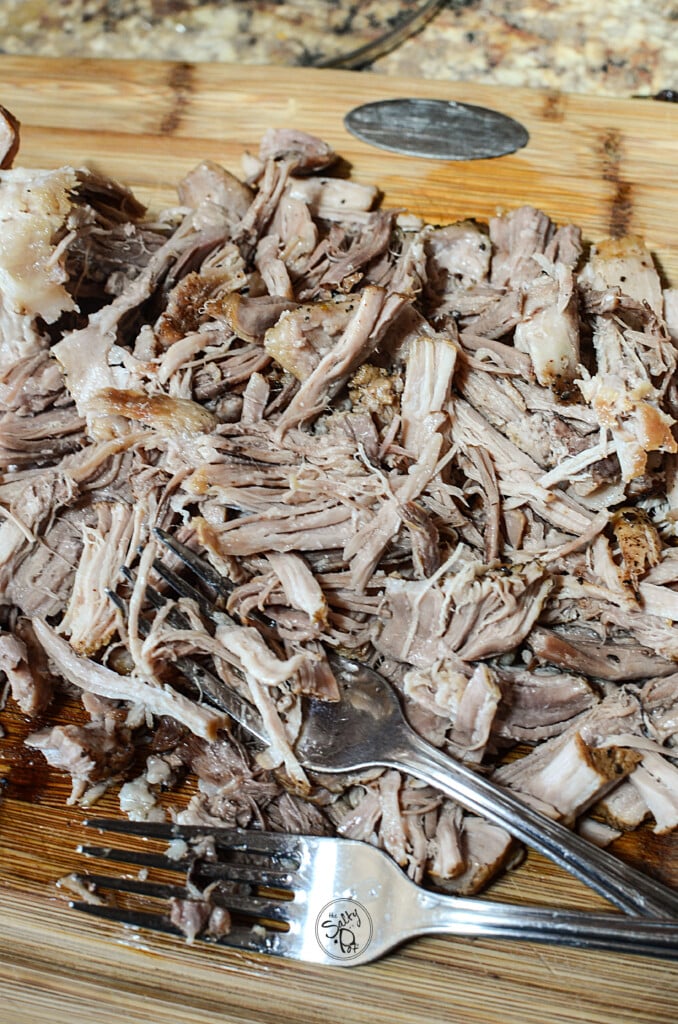 Extremely Easy Instant Pot Pulled Pork
As we all know, seasonings make a dish. No seasonings? No flavor. Dull, bland, yawn. You want that special one you've invited for dinner to think "ohhh wow, not only are you drop dead, blow my head off gorgeous, but you CAN COOK TOO!!"… or.. if you already have the special one, maybe you want a …… special night or sumpthin' *wink* *wink*. I'm not saying you should convince them with pulled pork, I'm saying if you season, season, season your food – regardless of whatever you're making – you might be able to convince anyone of pretty much anything. Remember what I said – season, season, season! I should make a catchy song about it and then have them play it on the radio, and then I'd make a cazillions bushels of dollars and everyone would be seasoning their food like madpeople. It would be epic.
Ok, back at it. So, with pulled pork, we need to use a pork shoulder/butt roast. I know it's confusing calling the same cut of meat a shoulder and then also a butt. It makes no sense to me as well, but on this diagram, you can see where it's located.  The reason being is because that cut of meat usually has the most luscious fat bits intertwined within the muscle and it keeps the meat SUPER DUPER moist. Even if you get distracted (I don't want to know with what), and you accidentally over cook it, it's still pretty forgiving.
You can make pulled pork out of pork loin, but it's very lean, and you have to be careful not to over cook it. Dry pork? *coughdogfoodcough*.  No, of course I'm kidding, and there's plenty of ways to rescue over cooked pork, but we won't have to worry about those methods as I have every confidence in you, my lovely readers, that you're going to kick moist ass with this pulled pork! (Moist ass? I need to work on my wording.)
So we'll start with a 3 – 4 lb pork shoulder roast. Please, if it's frozen, thaw it properly in the fridge as the health people suggest you do. You can do a pulled pork from frozen in the instant pot, but I think it's difficult to cut up the pork while frozen, and when you try to season it? Well, the seasoning just bounces off… so.. yeah. Thaw it first.
Cut up your pork into two or three large chunks. (If using a slow cooker, no need to cut it up. As long as it fits in the slow cooker bowl, and you can put the lid on, we're good to go).
Season with some seasoning. Seeing that we are going basic here, I've chosen to use Salt, Pepper, and Garlic salt. Yes, these are basic seasonings, but it IS a recipe for BASIC PULLED PORK, right? Be liberal with your seasoning please. It's a big piece of meat, so you want it flavoured nicely.  Something you might not know about me, but I have a penchant for all things salty, so I sometimes look around the room when salting my stuff, knowing that I'm PERHAPS putting a bit more on than I SHOULD.  I KNOW.. I KNOW.. my mom's already told me. No need to wag your finger at me. Even if you did, I'd love you anyway for your concern. 🙂
The pork should have a fat cap on it. It's the layer of fat and skin that is still left on the pork so let's leave this on while we cook it. (Remove any butcher twine that might be wrapped around the roast). Again, the fat is for flavour, and not for eating. Flabby fat on a roast is pretty unappealing (to say it nicely) BUT what it does to flavour that pork is OUTSTANDING. Trust me on this.
Place the pork pieces fat cap UP. You want to be staring at the fat part with the meat side down. This might mean that you have to put it on its side, which is quite fine. Most likely, you'd have to put it that way to fit it in the instant pot inner pot anyway to make the whole roast fit. Incidentally, if you are using a slow cooker, just put the roast in as is. You won't have cut it up (but you could if you want, no military rules here).
Ok, for instant pot users, pour in a cup of liquid. Water or broth will do. (we're doing BASIC here. Other recipes call for other things.. but we're doing it basic style today.) For the slow cooker users, same thing, one cup of liquid – water or broth, your choice.
Instant pot users, set the lid on, and set it to seal. Program it on MANUAL for 50 minutes. Let it do its things and do a natural release and open the lid when the silver pin drops. For slow cooker users, you have a choice here – 5 – 6 hours on high or 7 -8 hours on low. This is an approximate and because some slow cookers run hot, you'll just want to keep an eye on it.
When the cooking time is complete, pull that pork outta there. (haha… I said pull when I'm talking about pulled pork. I'm funny. )

So how do you "pull" the pork?
First, when taking it out of the pot, put it on a sturdy surface, preferably a cutting board of sorts or a very, very large platter that won't slip around. (HINT: Sneaking a damp cloth underneath the platter or board will make it stay in place!) Taking two forks and starting from one end of the roast, use one fork to hold the roast in place, and then the other fork to slowly start to pick away at the meat. You'll see it will start to pull apart going along the length of the fibers (grain) of the meat. It pretty much shows you itself where you need to keep going with the forks. Keep pulling the pork apart until you've reached the other end. Some pieces may come off a bit chunkier than desired, but you can use the forks to further pull its strands apart.
At this point, you can throw some bbq sauce in there… or just leave it as is. Serve it on some buns with all sorts of different condiments or you could toast some bread and make up some gravy, and have a hot pulled pork sandwich. Bake some potatoes maybe and serve it with some sauce that you like on top of the potatoes. Make a hot pork dip with it? The possibilities are limited to your own imagination!!!
If you make this instant pot pulled pork, I'd love to hear where your imagination took you with how you served it!! I don't however, want to hear about ANYTHING ELSE regarding your imagination and the … you know…*wink wink* part that we talked about! 🙂
extremely easy instant pot pulled pork
Total Time:
1 hour
5 minutes
An extremely easy pulled pork to make in your instant pot or slow cooker!
Ingredients
1 3 - 4 lb pork shoulder / butt roast
2 tsp garlic powder
as desired salt and pepper
1 cup broth or water
Instructions
Cut pork into chunks (if using the slow cooker, no need to cut as long as it fits the cooking bowl)
Season liberally
Place the pork pieces in the instant pot bowl, fat cap up
Pour in broth or water
Place the lid on, put the toggle switch in the SEAL position
Manual button and adjust to 50 minutes (or slow cooker, high for 5-6 hours or low for 7-8)
Do a natural release and open the lid when the pin drops
Remove the pork from the cooker onto a large surface area and using two forks, begin to shred the meat apart.
Enjoy!