This easy Instant Pot fish bone broth recipe is utterly delicious! Making your own broth saves you money, it's nutritious and you know exactly what went into the broth, which is important nowadays!

How To Make Fish Stock
Making fish stock is actually pretty simple! Once you make it, you are going to love to add it to stews, soups and all kinds of other recipes. You basically need a few ingredients to make a super savory fish bone broth.
You'll want fresh fish heads, collars, bones, and tails. If you don't have enough bones, I've supplemented with some frozen filets I had in the freezer. (Which I did today.)
Honestly though, the more heads, the better. For some reason, that's where a lot of the flavor is, in my opinion.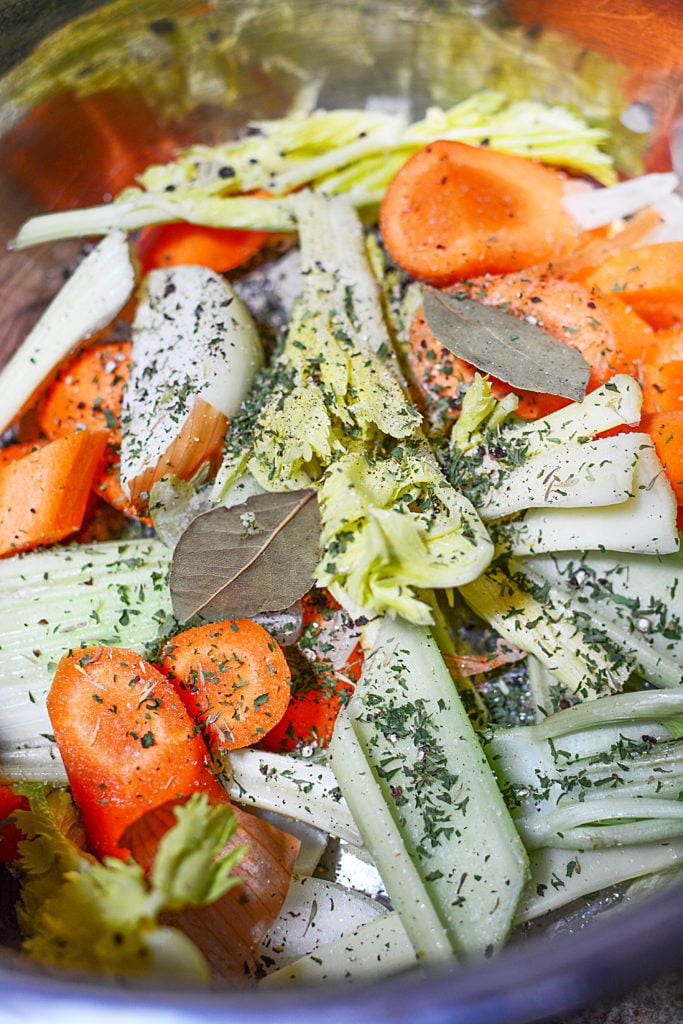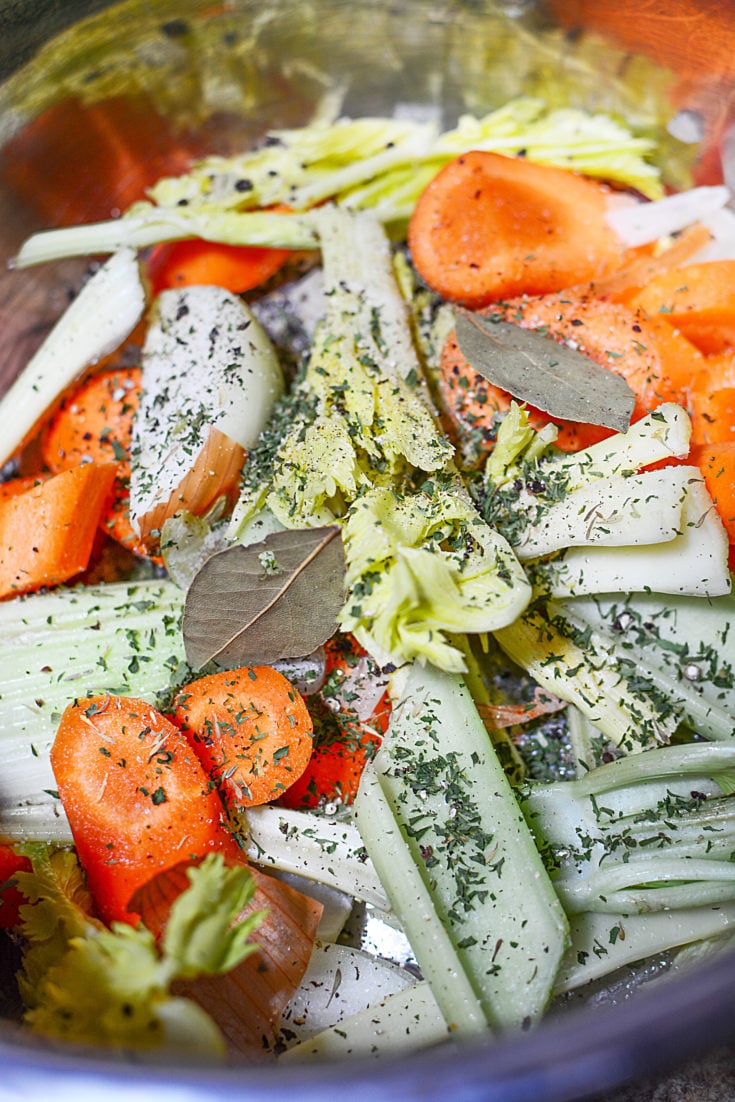 You can add carrots, onions, celery, and other aromatics to your broth. I have the recipe below, but feel free to add or omit what according to your preferences! For the vegetables, there's no need to make sure you use pretty ones.
Heck, throw the veggies in there whole, unpeeled, skins on. It adds more flavor!
When the cooking time is up, simply strain and then store it in a jar with a lid, or in a freezer-safe container to freeze if you're not going to use it right away! Super simple, right?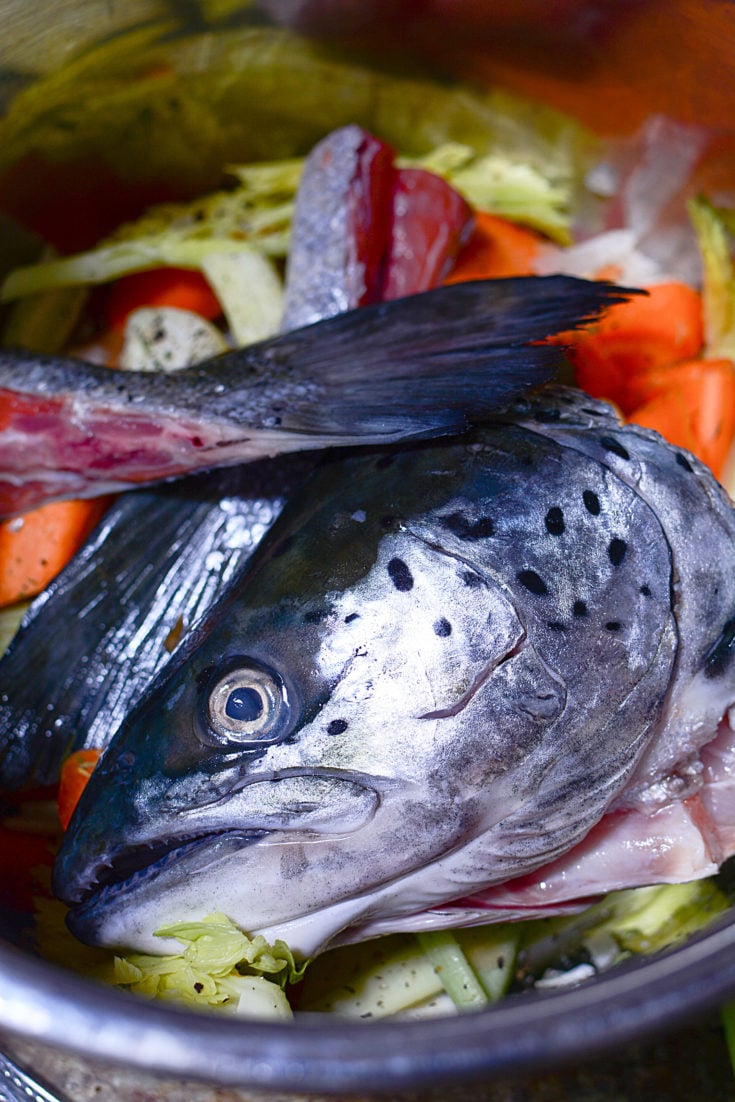 Benefits Of This Fish Broth Recipe
There are so many reasons to add this fish stock recipe to your diet. I wanted to take a minute to go over some of the benefits of eating and drinking the fish broth.
Contains lots of Omega-3 Fatty Acids. Omega-3 has been linked to helping lower blood pressure, potentially helps reduce the risk of depression, and even help with arthritis. Not to mention the fact that it's excellent for your heart too.
It's good for your brain! If you want to improve your memory and help your brain function, drink up!
Great source of calcium. Keep your teeth and bones in tip-top shape from consuming calcium regularly.
Fish stock has lots of minerals that your body needs. Magnesium, iodine, cobalamin, and calcium are just a few.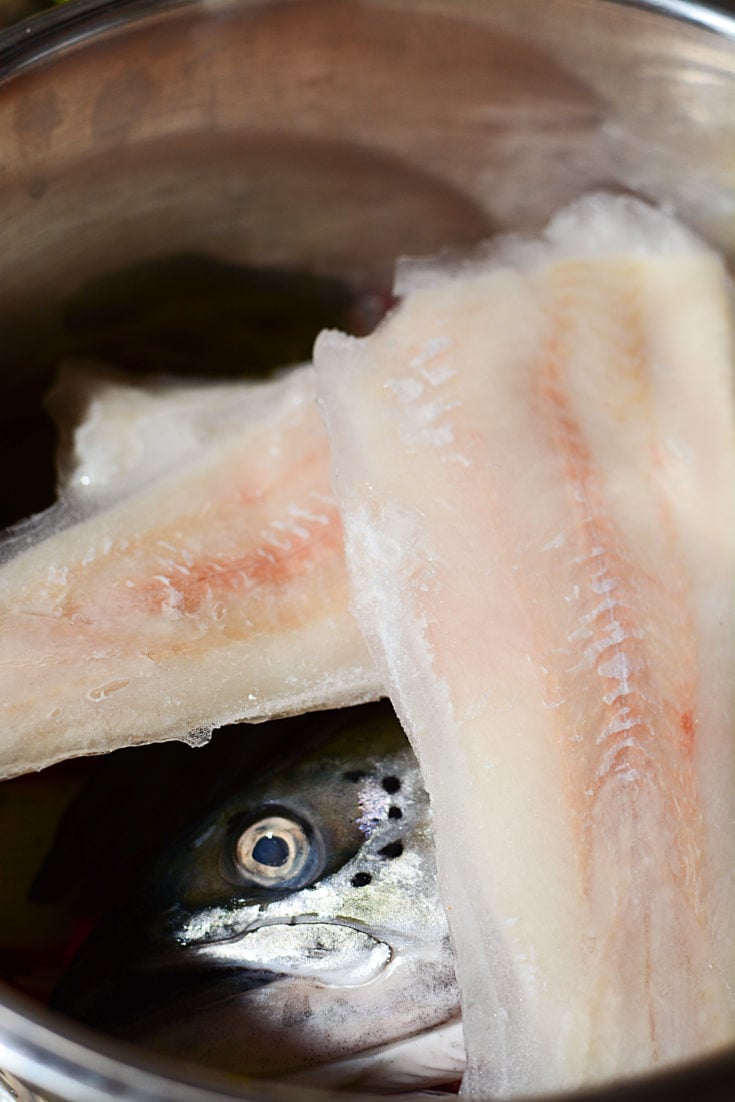 Benefits Of Adding Aromatics
Aromatics are essential when it comes to making broth at home, whether it's fish broth or something else. Naturally, they make the stock smell great, but they also add flavor and nutrients too. Here are some of the benefits are:
Carrots – They are perfect for adding to any broth because they have lots of potassium, vitamin K, beta carotene, fiber, and more.
Celery – Celery has been known to reduce inflammation, has antioxidants, and it's full of nutrients like folate, vitamin C, potassium, and fiber.
Onions – Onions are pretty much a superfood! They don't just add bold flavors to your food; they also have fiber, protein, calcium, iron, and folic acid.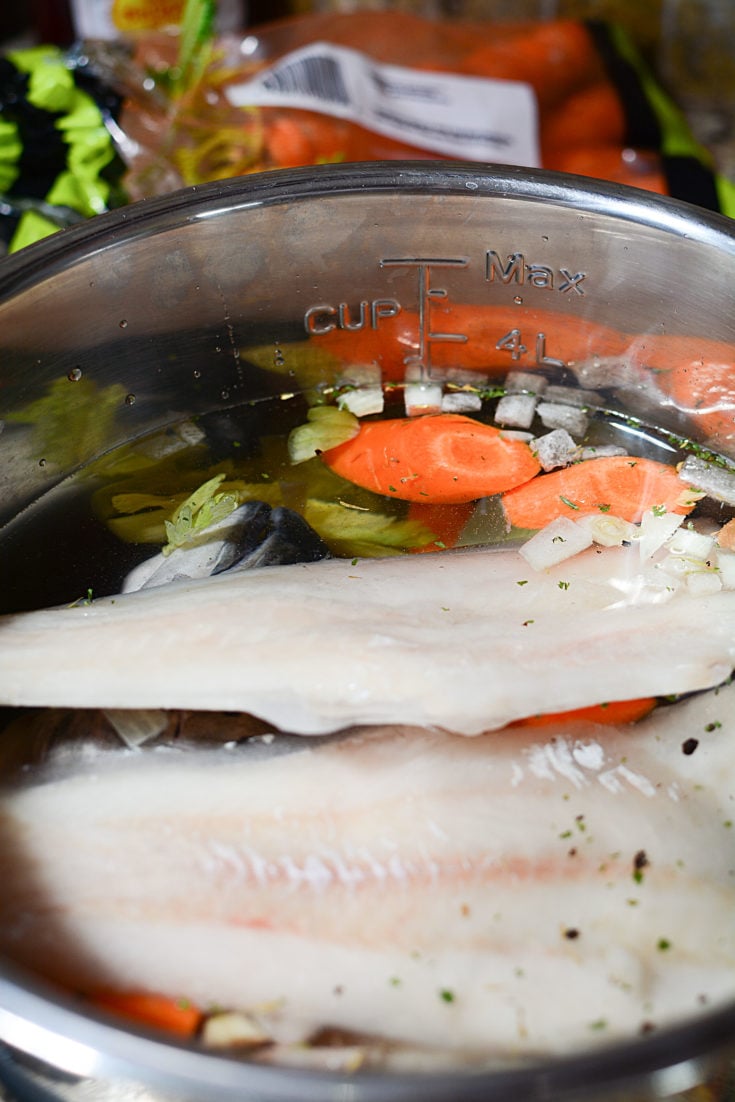 How To Use Fish Broth
There are several ways you can use fish broth to get the benefits and yummy flavors. Try it any of these ways:
Drink it straight. Trust me when I tell you that it is so good. I know if you aren't a fan of fish, it might seem strange, but it's loaded with flavor! If you are feeling a little under the weather, sipping on warm fish broth will help you to feel better.
Add it to soups or chowders. Use it as the base for any of your broth-based soups or chowders. It will give you tons of nutrients and adds character to the dish.
Freeze it into ice cubes. Simply, pour this fish broth recipe into as many ice trays as you wish. Freeze them solid, then pop them out and put them in a freezer bag. Then just grab a cube whenever you need it and use them to help steam or poach fish, saute any shrimp, and you can pretty much add it to any of your favorite seafood recipes.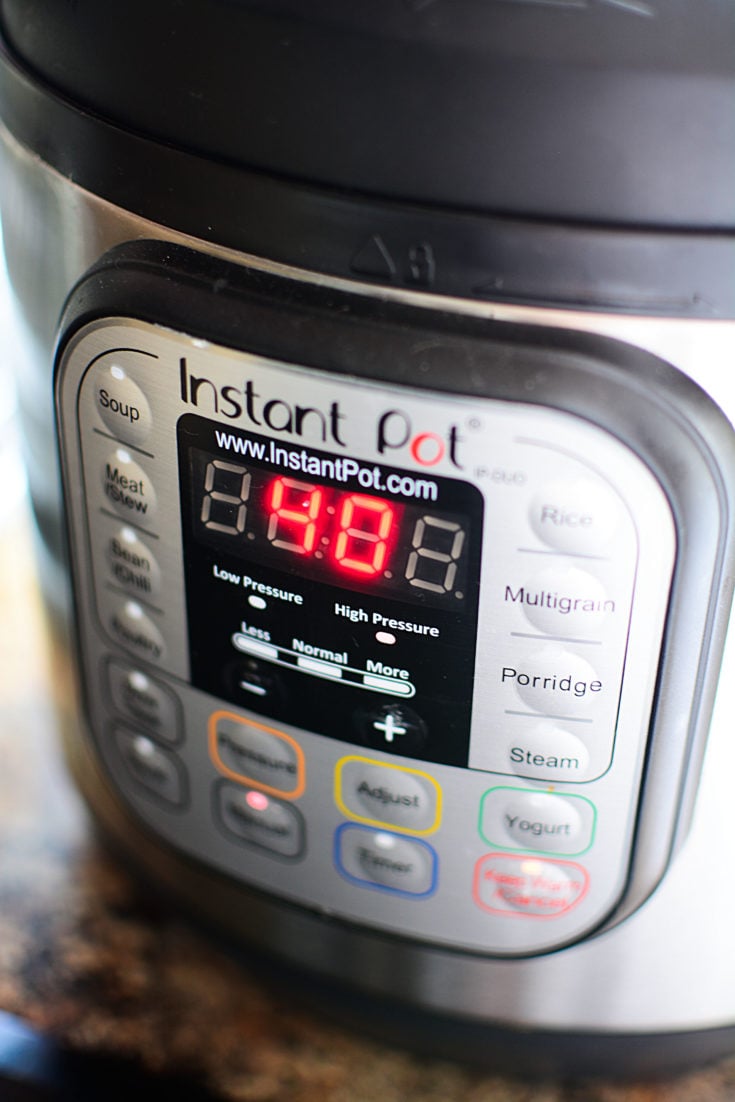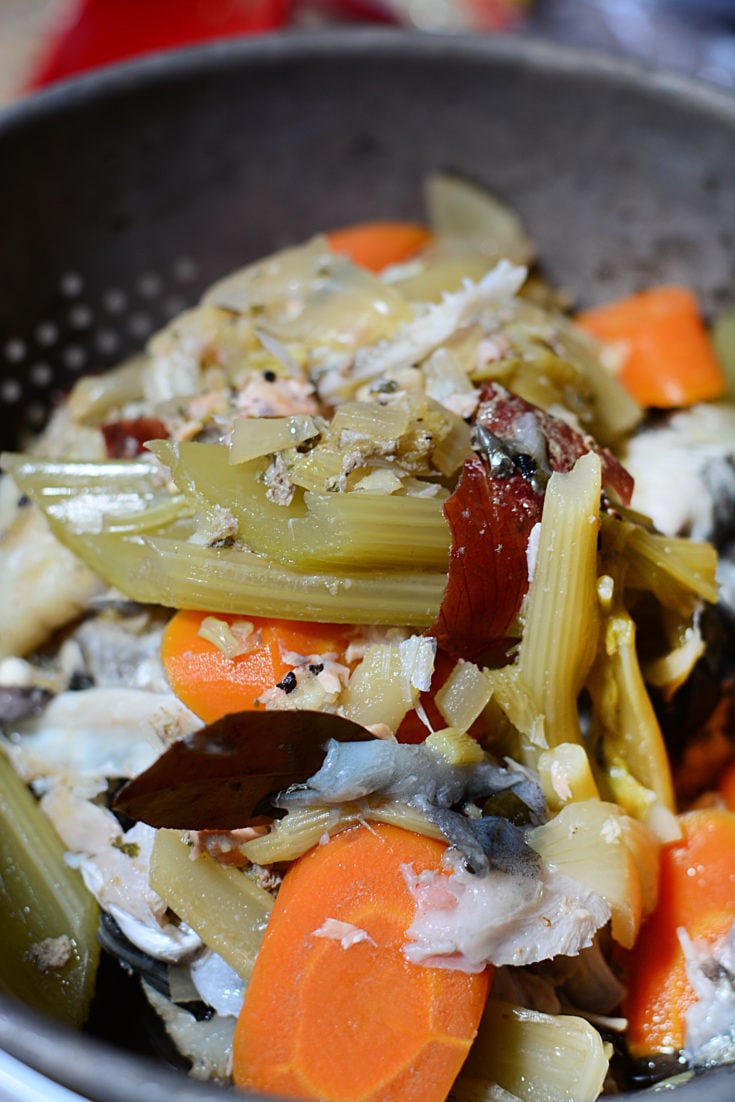 Even More Instant Pot Recipes And Info
If you're new to using your instant pot and you're a little nervous, check out this Guide To The Instant Pot for Beginners. Learn all kinds of valuable information about using your Instant Pot.
Also, if you're looking for more bone broth recipes, I have an Instant Pot Chicken Bone Broth recipe and if you check out this 20 Instant Pot Soups and Stews, it will help you use some of the fishbone broth you make today.
If you're also looking for an interesting recipe to use the fish stock with on the stovetop, check out this Jamaican Fish Tea recipe.
So there you have it! Easy Peasy, lemon squeezy!! This Instant Pot fish broth recipe is so easy, tasty, wholesome, and best of all, you have complete control over what goes into it in terms of ingredients for flavor!
When you make this fish bone broth, I'd love to hear what you use it for!!! Give me a shout below and if you have pics, share them on the facebook page! Thanks so much for stopping by The Salty Pot today, and I hope you have a fantastic day!!
***DON'T FORGET TO PIN THIS INSTANT POT FISH BROTH RECIPE TO YOUR FAVORITE PINTEREST BOARDS TO USE FOR LATER!! ***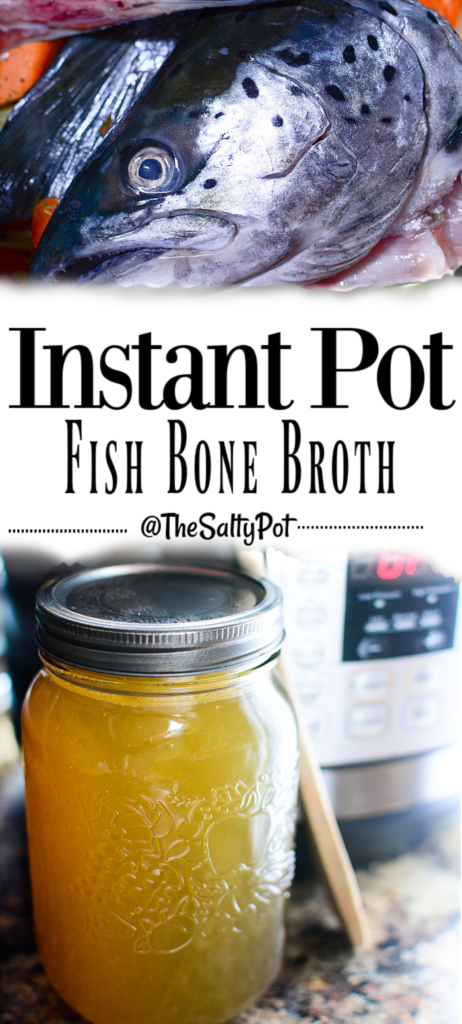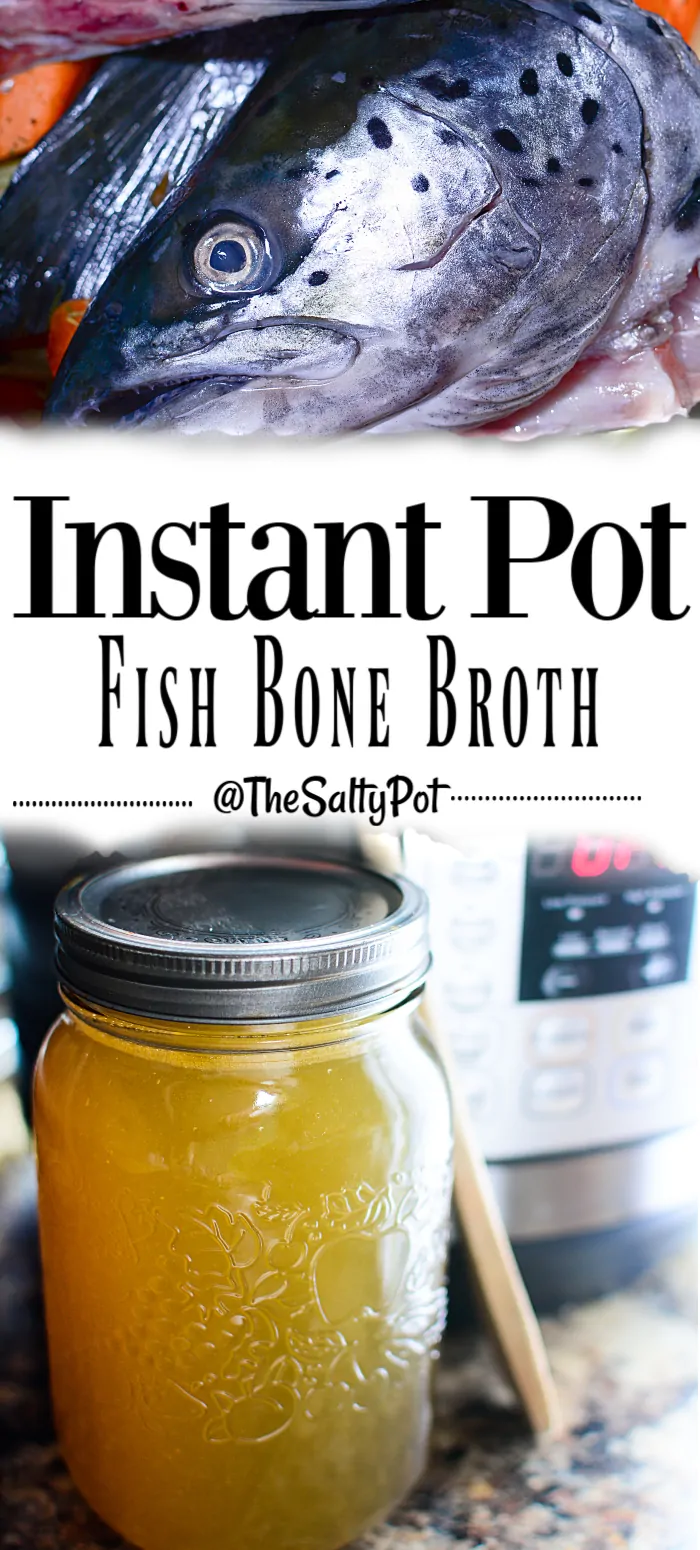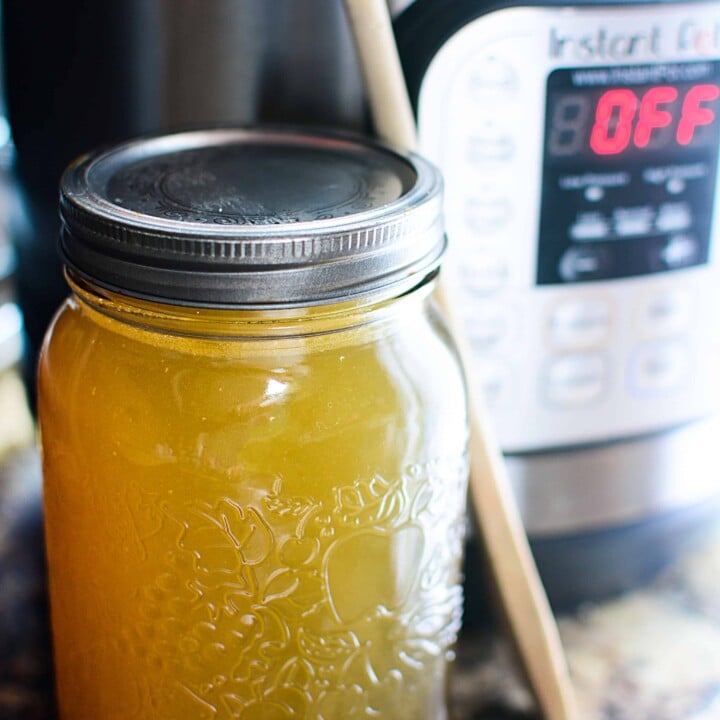 EASY INSTANT POT FISH BROTH RECIPE
Additional Time:
10 minutes
This nourishing instant pot fish broth recipe is so versatile. It can be used in so many dishes to add extra flavor, soup bases, etc, but can also be sipped straight for a hit of healthy immunizing benefits.
Ingredients
1 - 2 fish heads/tails/ collars
1 - 2 fish fillets, any white fish you prefer
2-3 celery ribs
½ onion
1-2 carrots
1 teaspoon thyme
as desired, salt and pepper
1 - 2 bay leaves
Instructions
Add all the ingredients to the instant pot cooking insert
Fill with enough water to cover the ingredients by an inch or two. Do NOT go over the MAX line.
Cover with the lid, move the toggle switch to 'seal'
Press manual, high pressure for 40 minutes
After cook time is complete, do a quick release to expell any steam.
Carefully remove the lid
With a large bowl and a colander sitting inside it, ladle the soup with all the used ingredients into the colander to sieve off the solids from the broth.
Discard the solids. Pour the broth into secure containers and chill or freeze!
Notes
1. Use only FRESH fish for this recipe. There should be no smell and the eyes should be clear, not cloudy.
2. When choosing vegetables, use nice, fresh vegetables, but there is no need to peel them because the peelings add extra nutrition and you are discarding them after they have been pressure cooked.
3 You don't have to use extra fish fillets, I did because I didn't have enough heads and other pieces to make up all that I needed. If you use filets to supplement, make sure the fish is fresh.
Nutrition Information:
Yield:

12
Serving Size:

1 cup
Amount Per Serving:
Calories:

94
Total Fat:

2g
Saturated Fat:

0g
Trans Fat:

0g
Unsaturated Fat:

1g
Cholesterol:

51mg
Sodium:

92mg
Carbohydrates:

1g
Fiber:

0g
Sugar:

1g
Protein:

17g