Wacky Two Ingredient Fudge Recipe!!! I was skeptical like you are now, but when I made it??? Wow.. !!!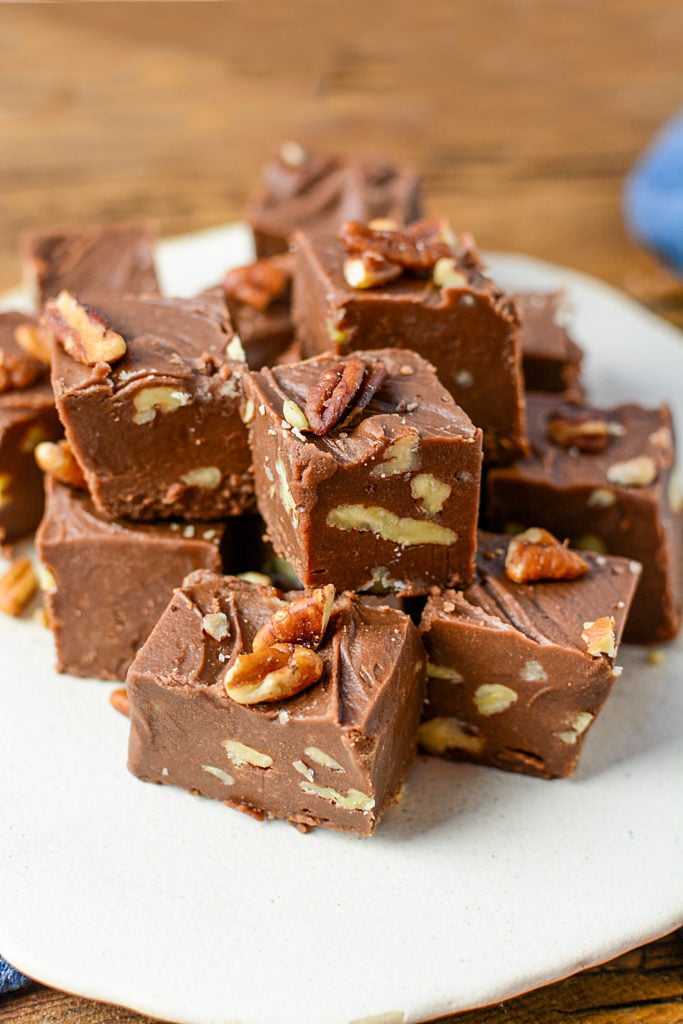 TWO INGREDIENT CHOCOLATE FUDGE (WITH PECANS) RECIPE
This post may contain affiliate links. If you make a purchase after clicking a link, I may earn a small commission AT NO COST TO YOU. As an Amazon Affiliate, I earn from qualifying purchases.
The holidays are just around the corner, and if you're one of those looking to indulge in a little sweet treat, but still want to keep it healthy and homemade, this one's just the right thing for you. Whipped up quickly with just two easily available ingredients, this fudge recipe is absolutely divine and will pretty much make you the hero at any party.
Even if it's a party for one. Haha!
So come on down and make this for your next potluck or make it for the holiday season and include it in all your sugar binging .. you won't be sorry!
Ok.. soooo, What's In This 2 Ingredient Chocolate Fudge I'm Talkin' About??
Now let me explain something really quick. The base of this fudge recipe IS two ingredients. That's it!
You don't have to embellish the ingredient list not one bit of you don't want to.
But.. if you know me, you know I just had to!
I mean, what's fudge with NO nuts, right? So I added some pecans.. so TECHNICALLY this is a 3 ingredient fudge, but well, kinda not really.
Ok, ok, ok… so on to the ingredients that you need to whip up this quick fudge right in your kitchen!
Ready??? Here is the super complicated list! (haha!)
Peanut butter,

Premade Frosting,

And some pecans snuck in there… but are totally optional. That's it!!
Crazy right?? I knowwwwwwwwwwwwww!!!
I was so skeptical!!
If you're still a tad bit confused about how this will turn out, (like I was), don't be. Just give it a shot and you'll be amazed at how wacky, but simply delicious it really is.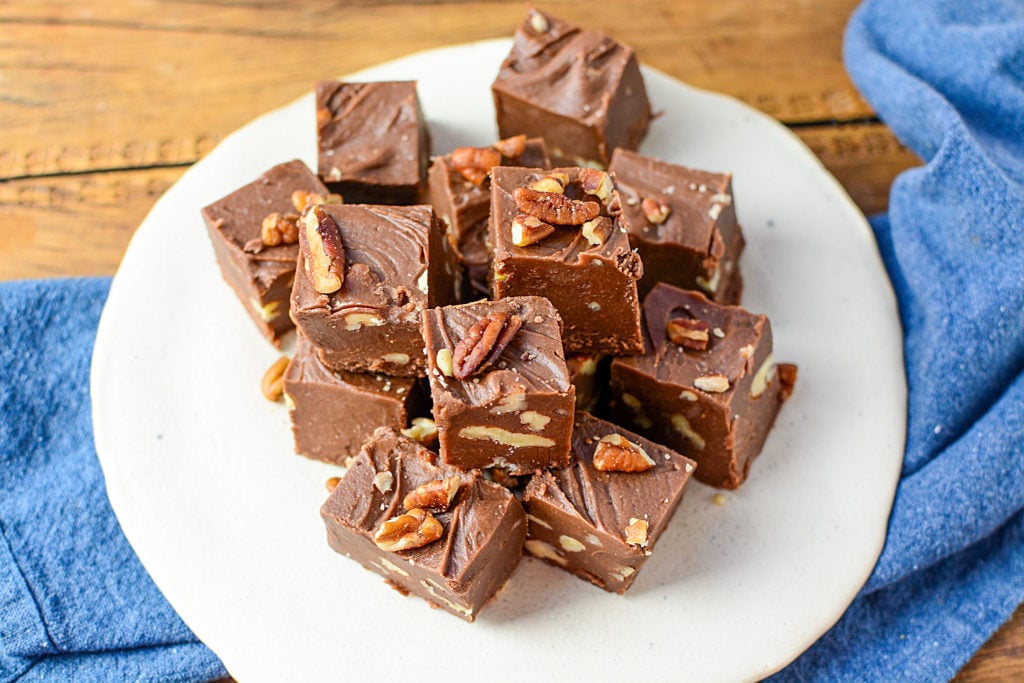 How To Make This Easy 2 Ingredient Fudge!
In contrast with the usual fudge recipes that need a ton of babysitting and attention, and poking around with the thermometer to ensure the gooey goodness achieves the right temp and texture, this one's straightforward and crazy easy.
Start by emptying the entire jar of peanut butter into a microwave (yes…… I know… the microwave) safe bowl.
Add the entire can of frosting.
Heat in the microwave for a bit. Take it out… stir.
Heat it again for a few seconds.. stir.
Quickly pour into the prepared pan and then whisk it off into the fridge for a few hours.
Can it get any easier?? I mean COME ON!! lol
So if you're going to add the nuts, you'll want to do that after all the heating has been done of the other two ingredients. Just fold them in, and you're good to go.
What nuts would be good with this combo of ingredients, you ask?
Well.. how about:
Crushed peanuts (Incidentally, you can just use crunchy peanut butter and not worry about adding extra nuts)
Broken walnut pieces
Pecans (like I used)
Even almonds. Of course, don't use whole almonds, but slivered almonds would be nice!
Also, remember to choose fresh pecans (or any other nuts that you'd rather add). Adding in stale nuts can really destroy the flavor and freshness of the fudge.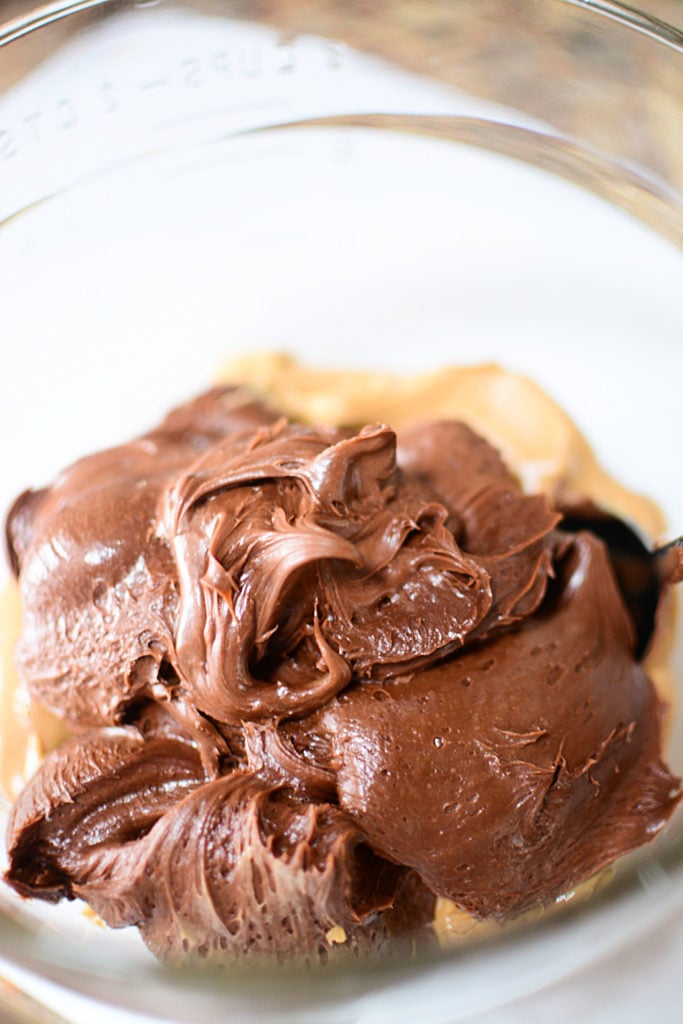 Got a Peanut Allergy?
Ok, well I haven't tried it, BUUUUT.. I've heard you can use alternative nut butters just as well.
So, almond butter, soy nut butter, almond butter or even sunflower butter. I can't guarantee the flavors, but I have heard of people having success with this combination but of course, try it as your own risk!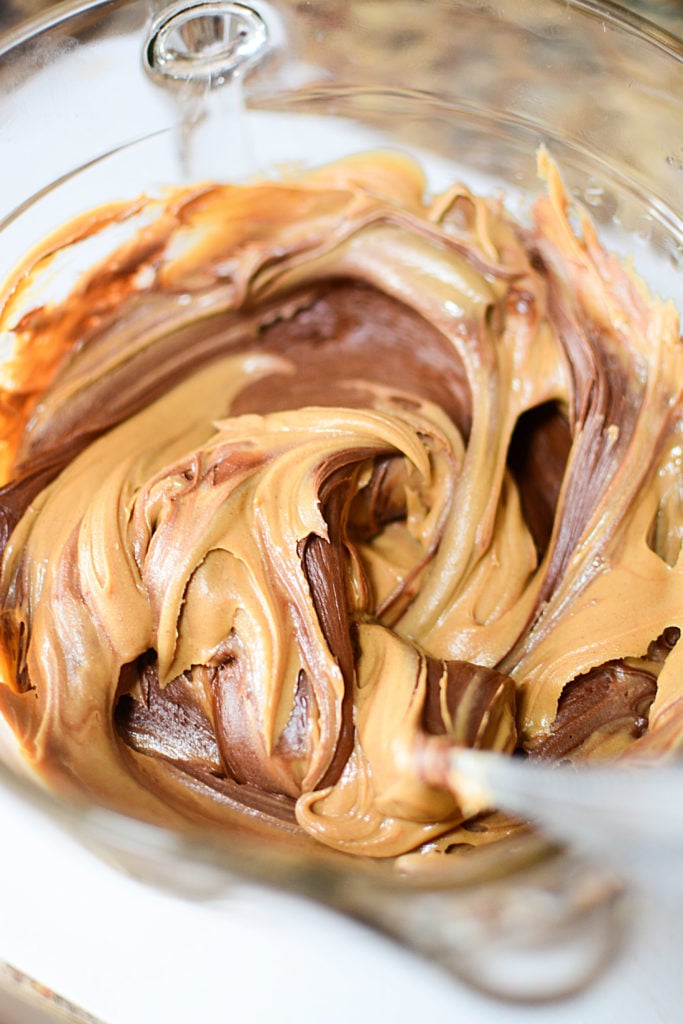 Can I Use Other Frosting Flavors?
Well, yes. But then it wouldn't be 2 ingredient CHOCOLATE fudge. lol!
Feel free to use ANY flavor of frosting that appeals to you. Just be sure it's not the whipped kind, always use the regular, run of the mill frosting type in the plastic container.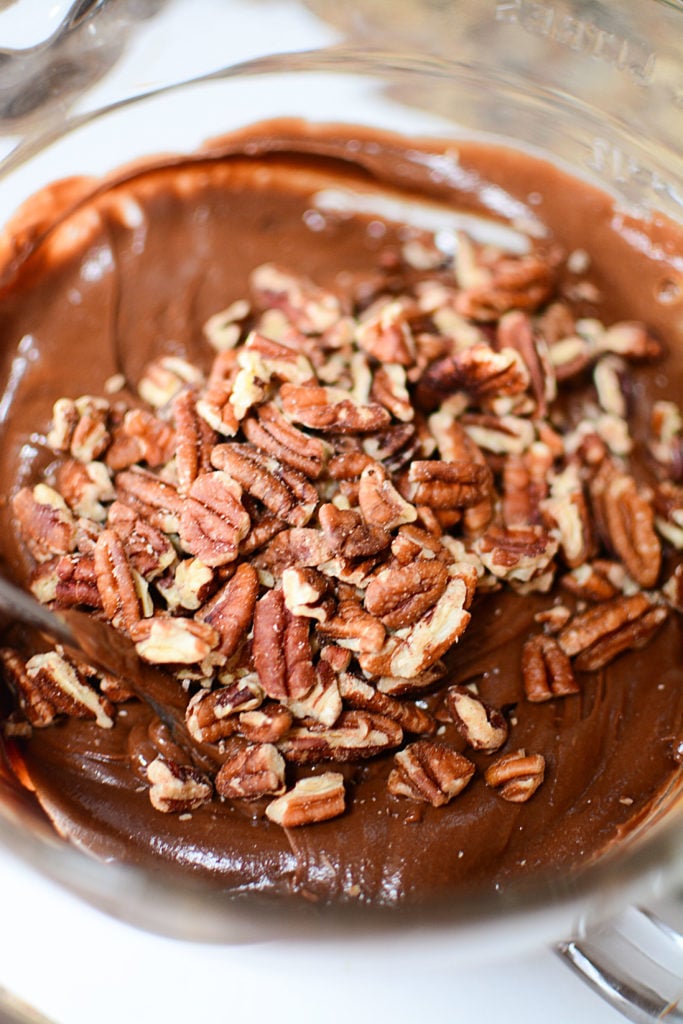 What Does The 2 Ingredient Chocolate Fudge Taste Like?
Happiness. Yes.. it tastes like pure happiness.
Ok.. AND.. it has reminiscent flavors of peanut butter cups (because of the peanut/chocolate profile).
It's creamy.
It's not cloyingly sweet like regular fudge, so you shouldn't expect that.
It doesn't have the same texture as regular fudge, and actually, I much prefer this texture.
When you make it, I strongly suggest adding some sort of nut or using chunky peanut butter only so you have some awesome texture contrast (and flavor as well!).
Is it like a traditional fudge? No.
Is it as delicious as traditional fudge? OH HELL YEAH. Most definitely.
So while it's not your traditional fudge, this easy 2 (or 3) ingredient fudge really hits it out of the ballpark for an easy, simple and delicious 'fudge'. Like I said earlier, I was skeptical about it setting up and becoming firm enough to cut it.. but it did!
Horray for sciency, delicious stuff!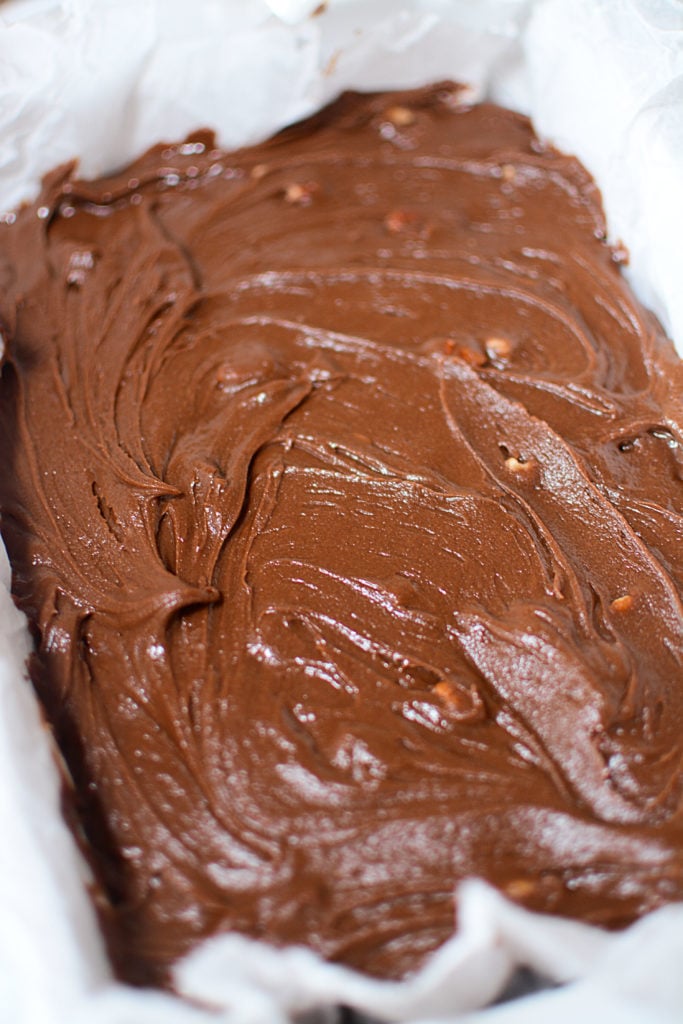 Storage & More
Adding to the easy factor for this fudge, it's super easy to store as well. You can pop this in the refrigerator and it'll stay fresh and edible for up to a month. (as long as your not all wreckless and leave it in there all on its own with no cover or protection from the elements!!) lol
Wrap that fudge up tight!… or , at least really well.
The best way to have the fudge is when it is refrigerated and slightly cold. You can also have it at room temperature if you prefer a gooey and soft texture to your fudge.
Can You Only Eat This Fudge On Holidays?
My gorgeous reader, you can eat this fudge ANY TIME you darn well feel like it!!
At Christmas time,
around a campfire,
in the bathtub,
on a mountain top,
or huddled in your broom closet – hiding from the kids who have their noses in the air like dogs, sniffin' out that fudgy fudge treat you got goin on! Enjoy!
ALSO…… if you're looking for another EASY PEASY dessert.. check out this 3 INGREDIENT CHEESECAKE RECIPE!!!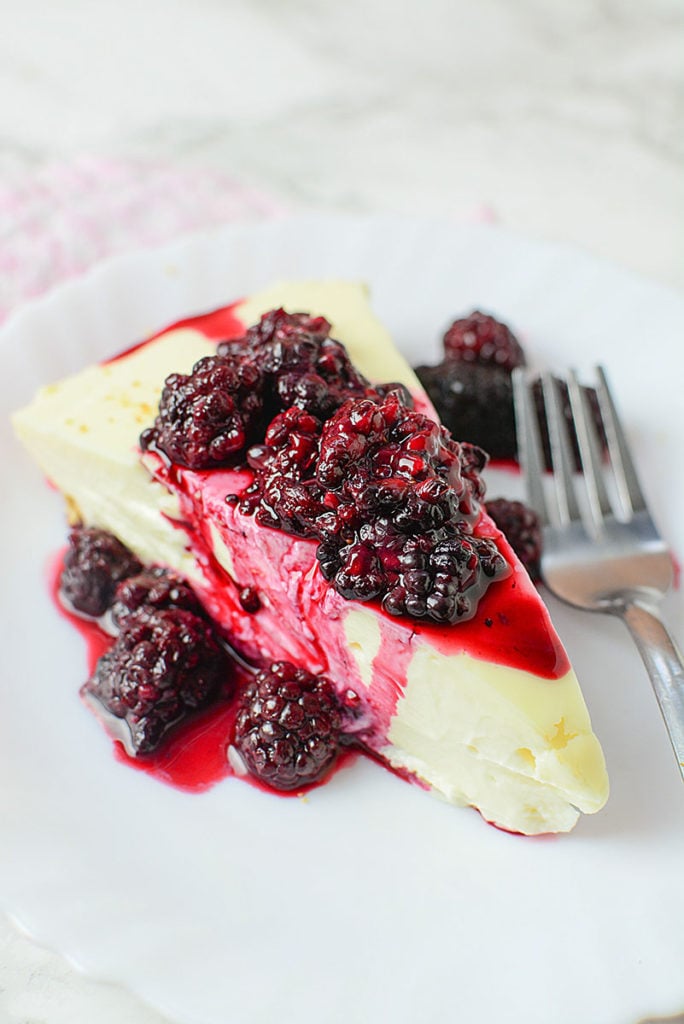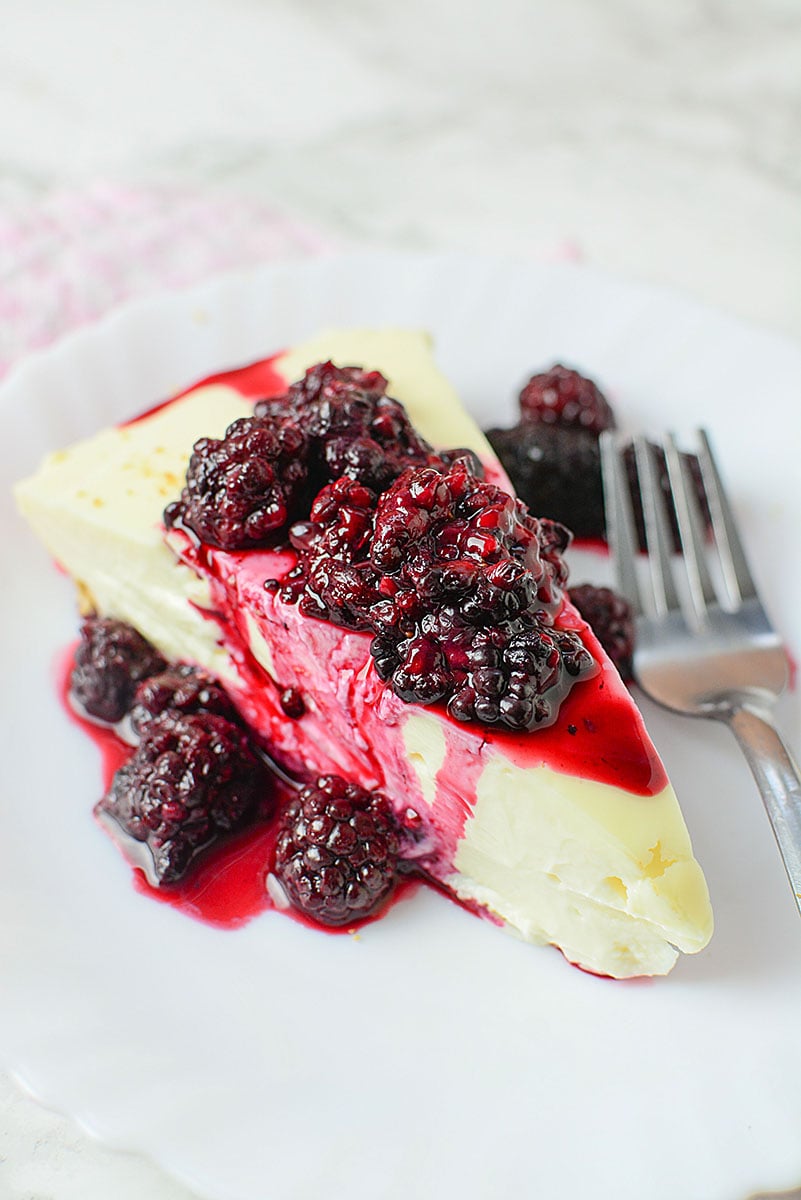 Or… how about these 3 Ingredient Banana Pecan Muffins??? Sound good? Check them out!!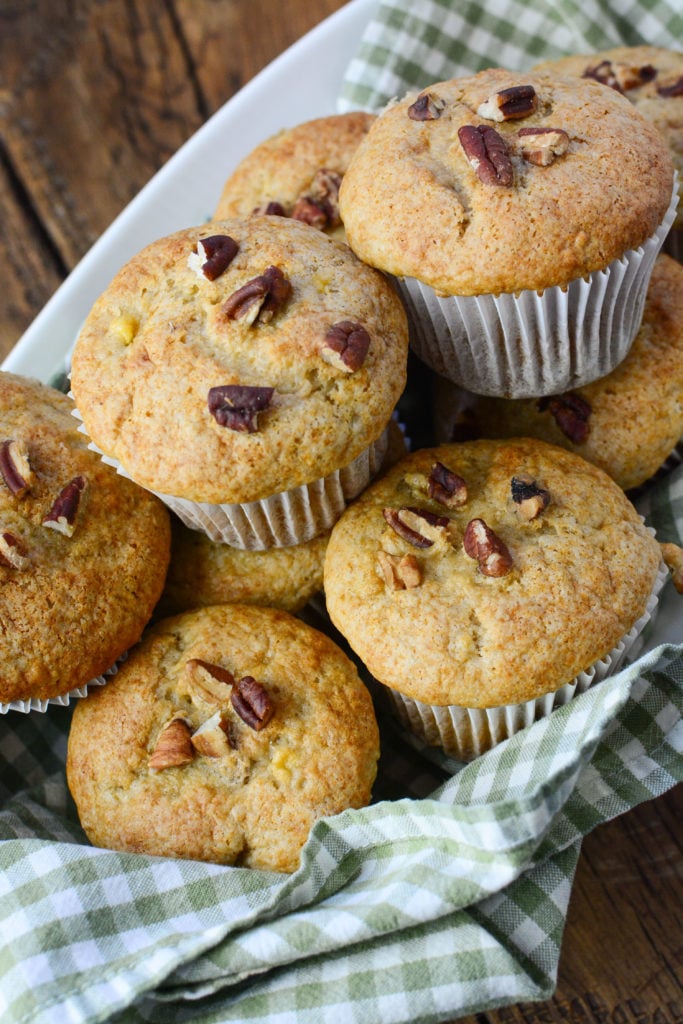 And, as always, thanks so much for stopping by The Salty Pot today! Reach out and send me some pics or tell me how you made this fudge exactly how YOU wanted to! Until next time, have a fantastic day!
~Joanne
Wacky 2 Ingredient Chocolate Fudge Recipe
Yield:
1 fudgy fudge dessert
Total Time:
1 hour
4 minutes
Creamy chocolatey and SO. CRAZY. EASY to make! You seriously won't believe it. I didn't..... until I made it.
Ingredients
2 cups peanut butter
2 cups prepared chocolate frosting
1/2 cup pecans, chopped (optional)
Instructions
Empty the peanut butter and chocolate frosting into a microwave-safe bowl.
Heat the contents for 1 minute and then give it a good stir
Heat again for 1 minute, stir, and fold in the nuts if you are using them.
Pour into a well-greased or parchment paper-lined 8x8 baking dish. *see notes
Refrigerate for at least one hour, or ideally 3+ hours.
Cut into 1" pieces.
Notes
PRO TIPS:

1. If you decide ot use nuts, please make sure they are the freshest you can get. There is nothing good about making a super yummy dessert and then all of a sudden the nuts are rancid... ugh.
2. Be sure to line the pan with the parchment paper or grease it. The paper makes it easy to lift the entire dessert out of the pan to cut into pieces. Make your life so much easier to get those tasty morsels outta there!
3. DO NOT use whipped frosting.. ONLY use the regular, normal frosting in the can. The whipped frosting makes the fudge too soft.
4. Hide it from the littles as this fudge will be gone in a FLASH! 🙂
Nutrition Information:
Yield:

20
Serving Size:

1
Amount Per Serving:
Calories:

300
Total Fat:

20g
Saturated Fat:

4g
Trans Fat:

0g
Unsaturated Fat:

14g
Cholesterol:

0mg
Sodium:

183mg
Carbohydrates:

27g
Fiber:

2g
Sugar:

21g
Protein:

6g
****HEY! DON'T FORGET TO PIN THIS WACKY 2 INGREDIENT CHOCOLATE FUDGE RECIPE TO YOUR FAVORITE PINTEREST BOARD TO USE FOR LATER!!****