Asparagus and shrimp tarts are a deliciously creamy, slightly briny bite with a fresh asparagus flavor that shines through. Add the buttery, crispy tart that holds the filling – well, this yummy appetizer is a hit at so many events. It's one of the most perfect ways I know to stretch luxurious ingredients while not breaking the bank.
Seafood and vegetable tarts don't get much better than this!
ASPARAGUS AND SHRIMP TARTS
I love these shrimp and asparagus tarts because they kind of remind me of spring. Maybe it's because asparagus is one of the first vegetables to show up in the spring garden, but I think also because they're light and don't sit heavy after eating them. Especially if you serve them with a salad, you can make a super cute, and deliciously amazing lunch.
They're perfect for any occasion actually, and while this recipe makes 6, the amounts are easily adjusted to make 12 or 24, etc!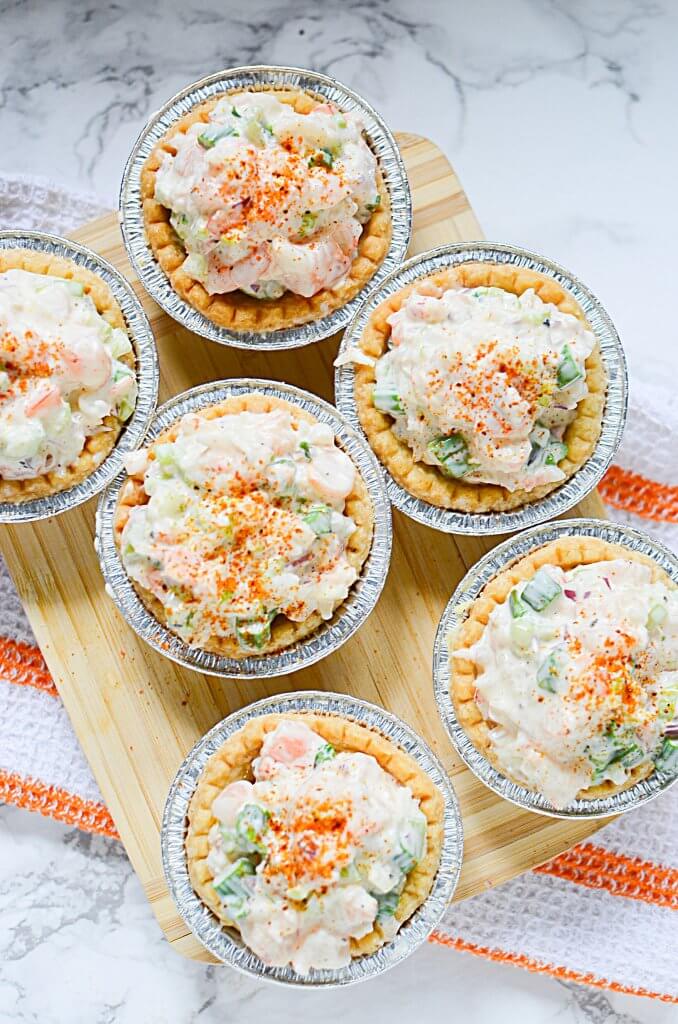 What Ingredients are needed for these Shrimp Tarts?
Shrimp: Shrimp is graded in different sizes. You can use almost any sized shrimp here but stay away from the canned, small "cocktail" shrimp. I used a pre-cooked, deveined, and tail-removed shrimp. See the recipe card below for more notes on shrimp.
Asparagus: Only use fresh asparagus. Canned would be too soft and would not add that textural crunch that's so beautiful for this recipe.
Celery
Red Onion: Red onion is nice for this shrimp salad because it adds extra color, and is not as strong as regular white or yellow onion. If you have none on hand, shallots would be a great alternative or even scallions would do.
Mayo
Sour Cream
Spices
Tart Shells: If you're super ambitious, you can make your own pastry using this great tartlet shell recipe from A Baking Journey, but I like to make it easy on myself and purchase them store-bought. I like how they are thinner than what I could make and they come with the aluminum foil serving tray that they come in for easy handling.
Making the tarts right
You'll want to chop up your cooked shrimp (tails off, of course), into a pretty fine dice. What's awesome about these Asparagus and Shrimp Salad Tarts is that you don't have to use a lot of shrimp, so you get a good bang for your buck here.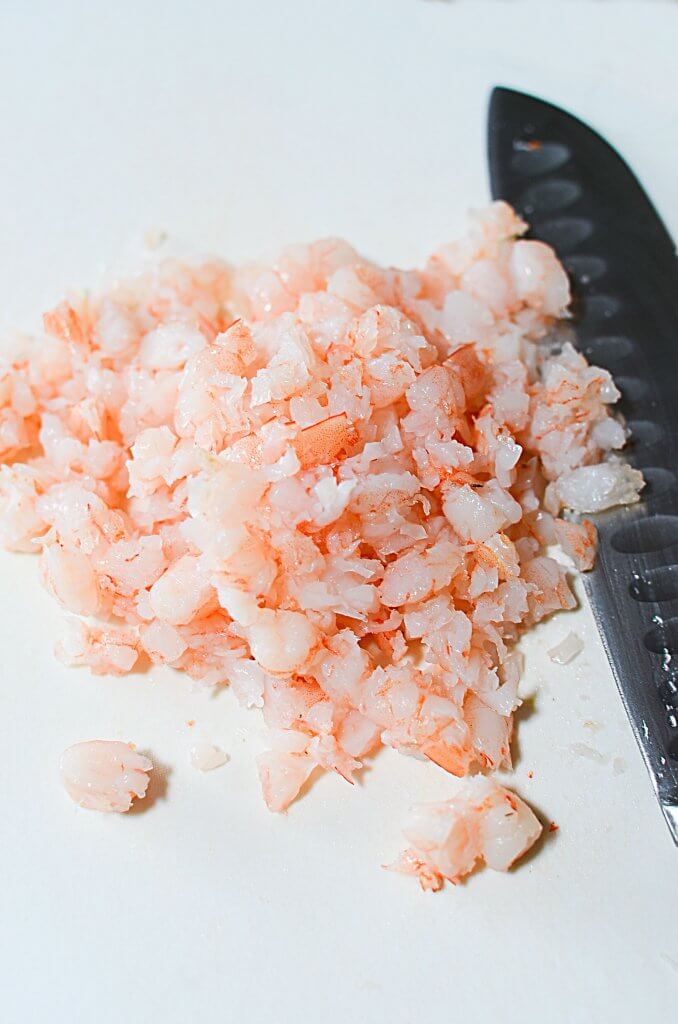 The same goes for the asparagus. You don't need a lot to begin with because as you dice it up and add it to the mixture, the flavors infuse throughout and so a little goes a long way.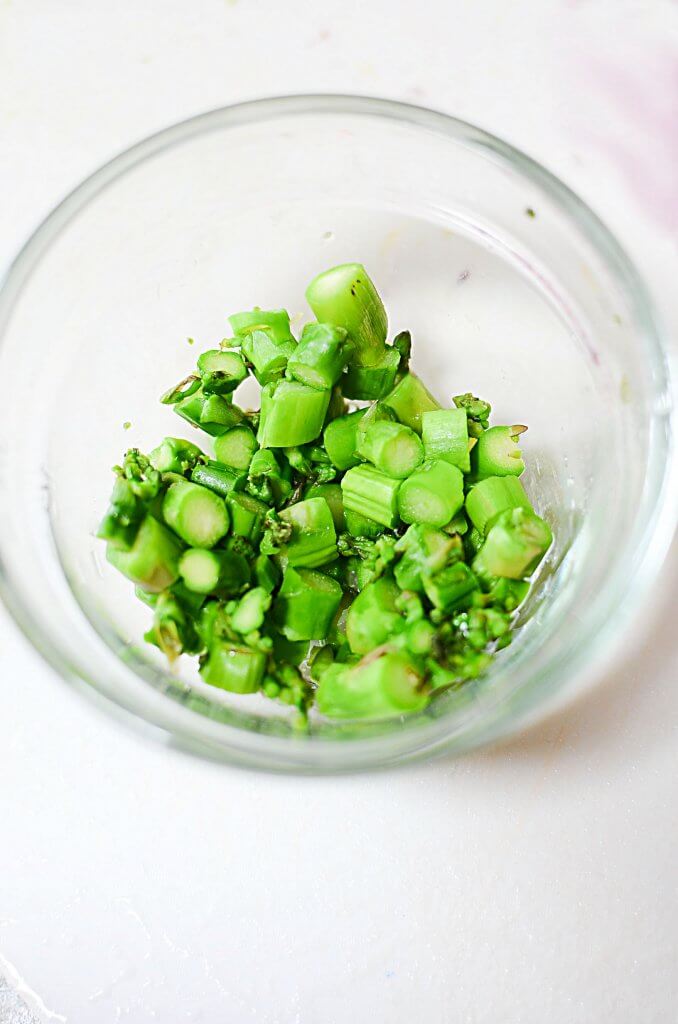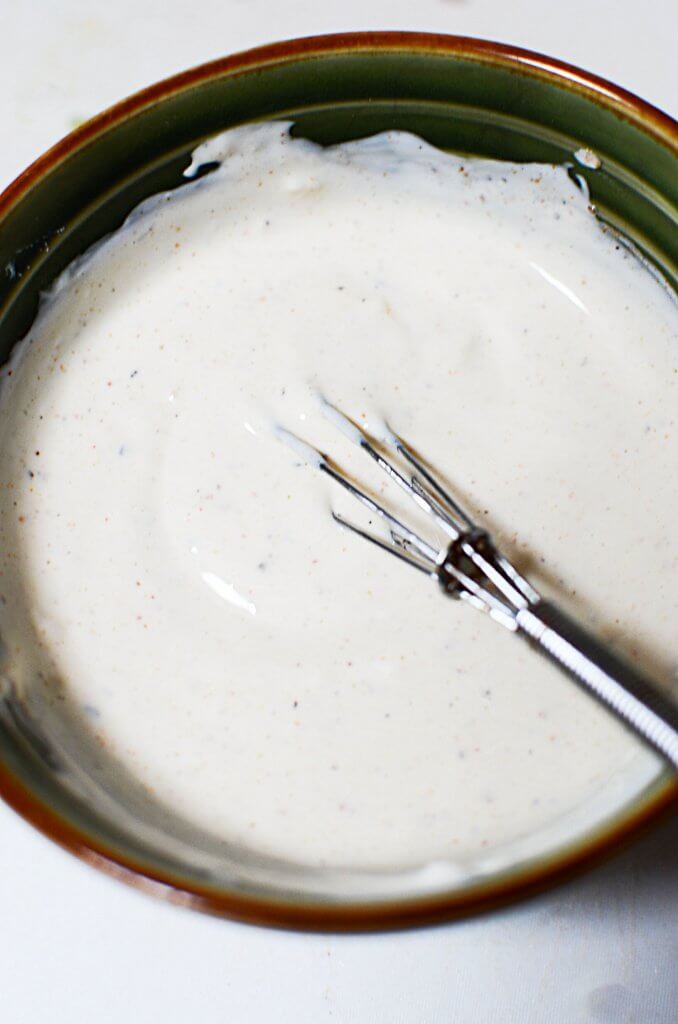 Makin' the dressing 🙂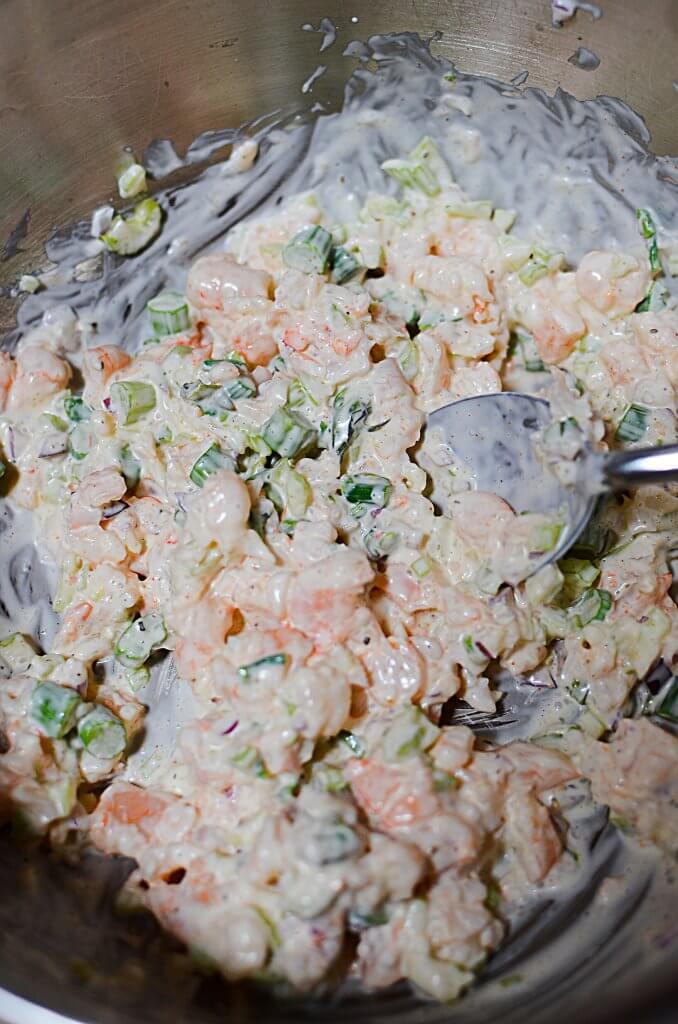 Mix it all together into this incredibly delicious mixture!!
And then just stuff (or fill, whatever term you'd like to use..lol), the tart shells!! Easy!
The flavors of the shrimp, the freshness from the asparagus along with the texture crunch of the celery and a small onion bite from the scallions – the creaminess of the mayo… ohhhh I'm drooling just thinking about them again. For real. Wow, I loved these tarts! I think I need to make them AGAIN!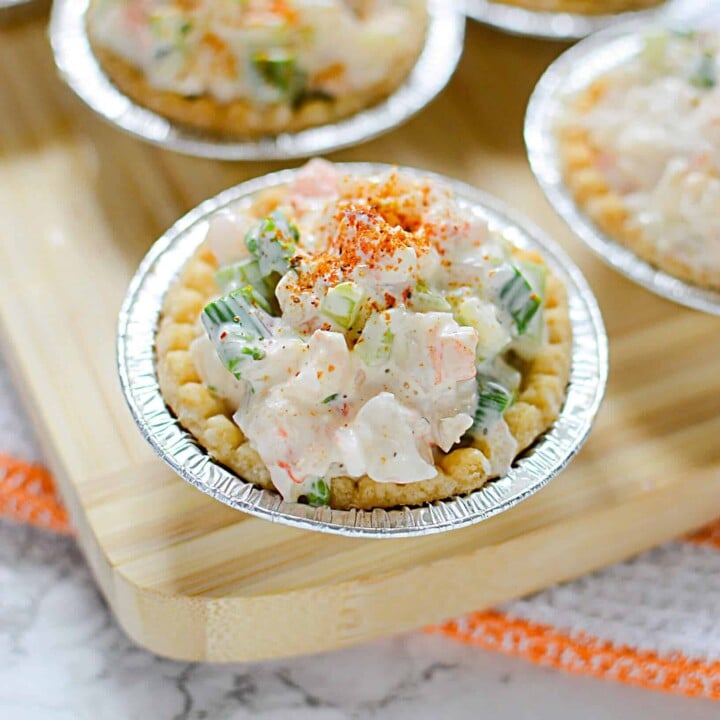 ASPARAGUS AND SHRIMP TARTS
This amazingly delicious shrimp and asparagus tart recipe is perfect for so many occasions! Use them as appetizers or a light lunch, they will be perfect on any buffet table and add just that bit of 'special' to any event. 
Ingredients
6 oz shrimp, (cooked, tails removed)
3-4 pieces asparagus, (woody ends removed, diced)
1 rib celery, (diced)
1 tbsp red onion, (finely diced)
1/4 cup mayonnaise
1/4 cup sour cream
A sprinkle of old bay seasoning
as desired salt and pepper
6 tart shells, (fully baked and cooled )
Instructions
Bake the tart shells according to the directions on the box. Cool completely.
Place the asparagus in a small bowl and quickly heat them in the microwave to cook, 2 - 3 minutes. You want them still be firm but not raw. Cool completely.
Dice the cooked shrimp up (remove any tails) and place in a bowl.
Add the diced celery, cooled asparagus, red onion, sour cream and mayonnaise, salt (easy on the salt as shrimp is slightly salty itself, so taste as you go) and pepper.
Chill the mixture for at least 30 minutes.
Divide and fill the tarts evenly. Sprinkle with the old bay seasoning as you wish.
Serve immediately and enjoy!
Nutrition Information:
Yield:

6 Tarts
Serving Size:

1 Tart
Amount Per Serving:
Calories:

559
Total Fat:

27g
Saturated Fat:

13g
Trans Fat:

1g
Unsaturated Fat:

12g
Cholesterol:

115mg
Sodium:

550mg
Carbohydrates:

69g
Fiber:

3g
Sugar:

38g
Protein:

11g
All nutritional information is based on third-party calculations and is only an estimate. Each recipe and nutritional value will vary depending on the brands you use, measuring methods, and portion sizes per household.
****DON'T FORGET TO PIN THIS SHRIMP AND ASPARAGUS TART RECIPE TO YOUR FAVORITE PINTEREST BOARD TO SAVE FOR LATER!! *******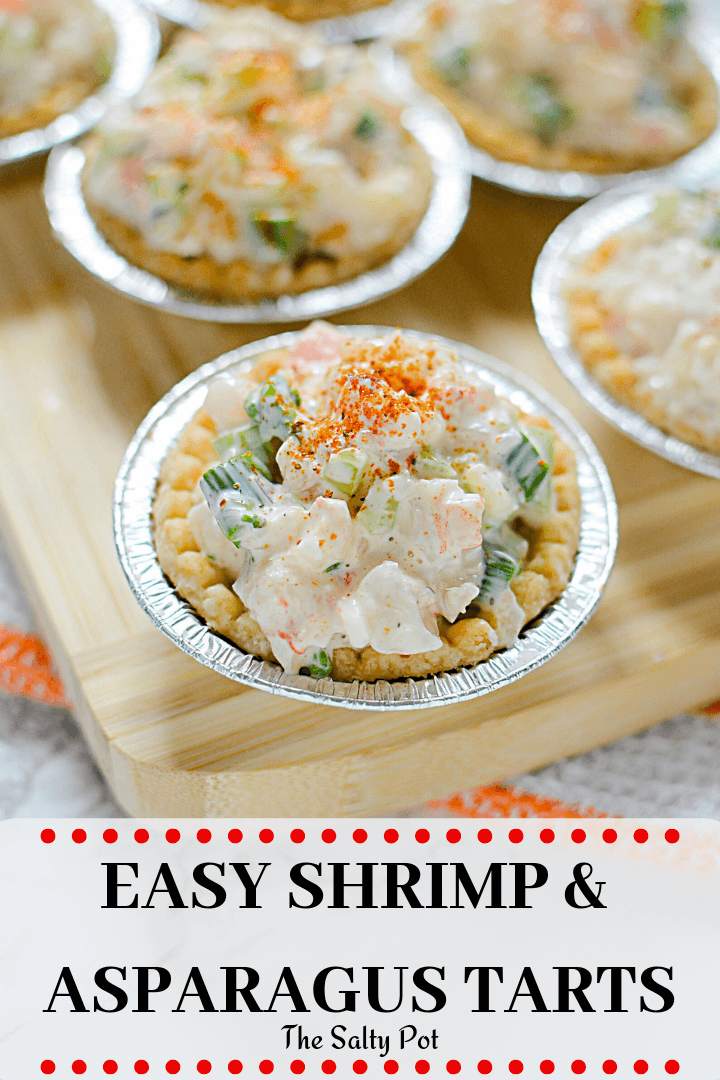 If you're looking for other amazing appetizer recipes especially this coming new year, check out this collection of some of the best appetizers for New Year's eve: