OMGOSH!!! Last minute plans to have a party, and you need to come up with an appetizer. What do you do?? Here ya go my friend! Easy peasy, super flavorful and all of the peoples will think you're all fancy and stuff when you present it to them! So I present to you, your solution:  " Shrimp and Asparagus Tarts". … not sure why I used the quotation marks… just seemed more fancy.
SHRIMP AND ASPARAGUS TARTS
So really, you don't need a special occasion to make these. If you have the ingredients in the fridge, hey, whip up a few of these and have them for lunch. No tart shells? Hey no problem! – use crackers! No crackers? No problem! Use spoons….. or, you know, your fingers if no one is around. Lol.. no, don't do that.  😉
I love these shrimp and asparagus tarts because they're kinda remind me of spring. Not sure why, but they do. They're nice and light, and if you serve them with a salad, you can make a super cute, and deliciously amazing lunch. I did it, so I know. LOL
What do you need to make these Shrimp and Asparagus Tarts you ask?
Well, you need::
Shrimp would be one of the first ingredients, obv'z 🙂
Asparagus would be second in line
Celery
Red Onion (or shallots, or a bit of finely diced white onion would do too)
Mayo
Sour Cream
Spices
And of course, tart shells (or crackers, or spoons, or fingers…lolThe directions are super basic. It's pretty much mixing everything together, chilling, and then putting the mixture in the tart shells that are baked, and then serving. See what I mean? Super easy, super delicious!
MAKIN' THE SHRIMP AND ASPARAGUS TARTS!!  (check out how easy this is guys!!)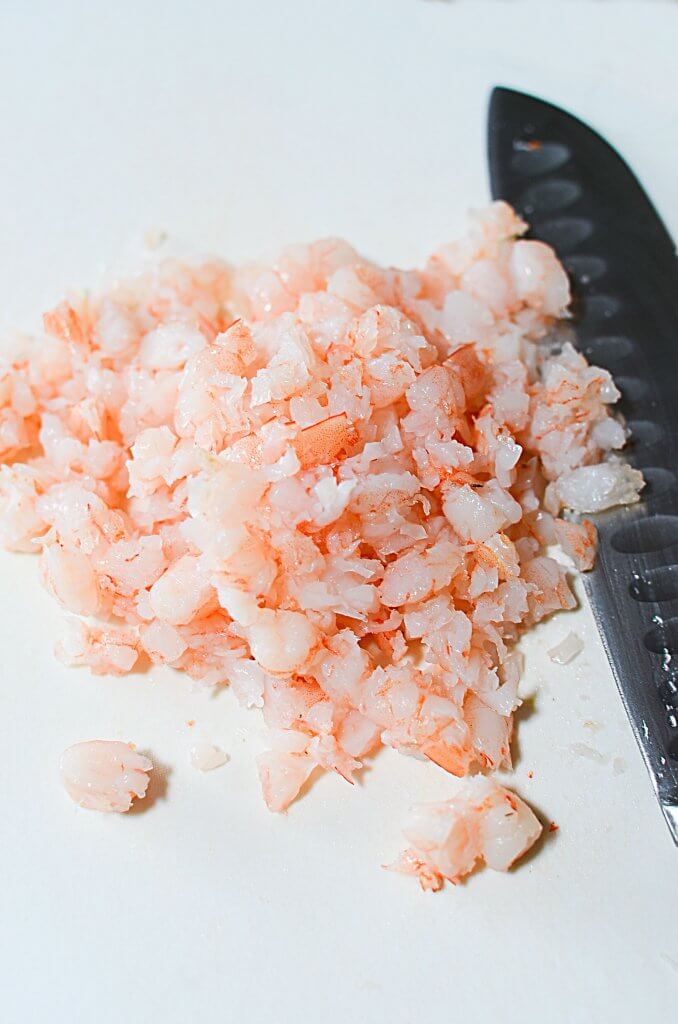 You'll want to chop up your cooked shrimp (tails off, of course), into a pretty fine dice. What's awesome about these Asparagus and Shrimp Salad Tart recipe is that you don't have to use a lot of shrimp, so you get a good bang for your buck here.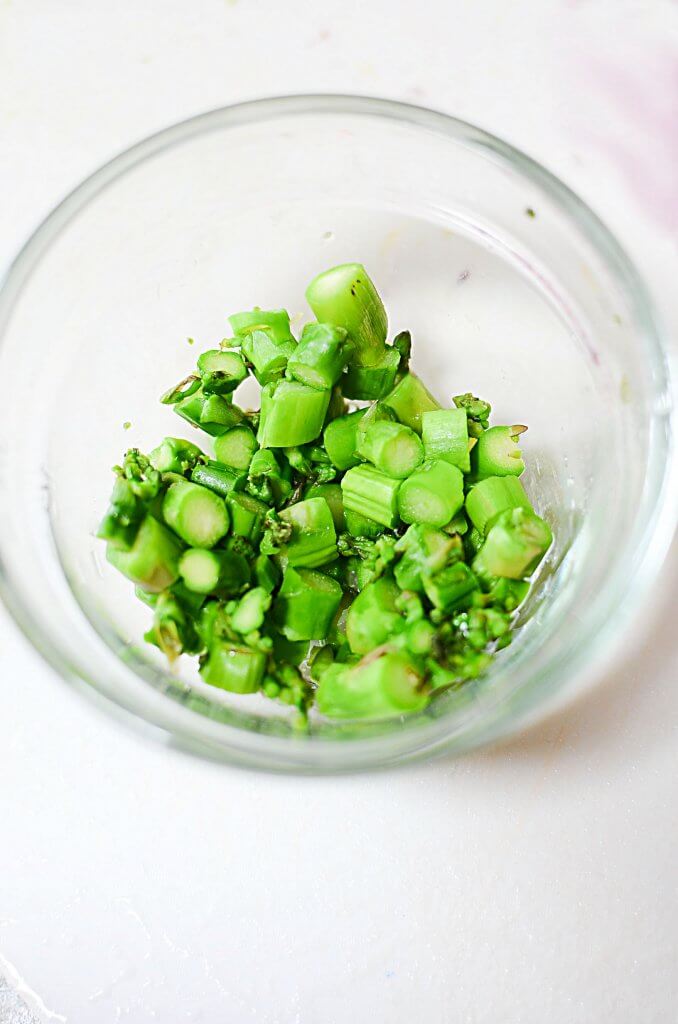 The same goes for the asparagus. You don't need a lot to begin with because as you dice it up and add it to the mixture, the flavors infuse throughout and so a little goes a long way.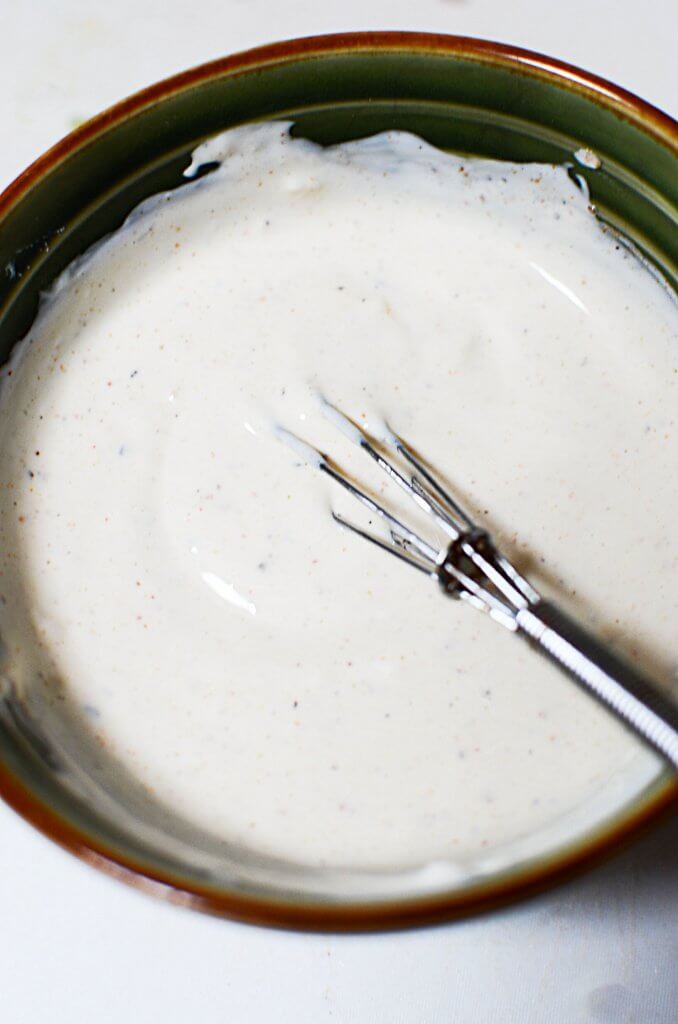 Makin' the dressing 🙂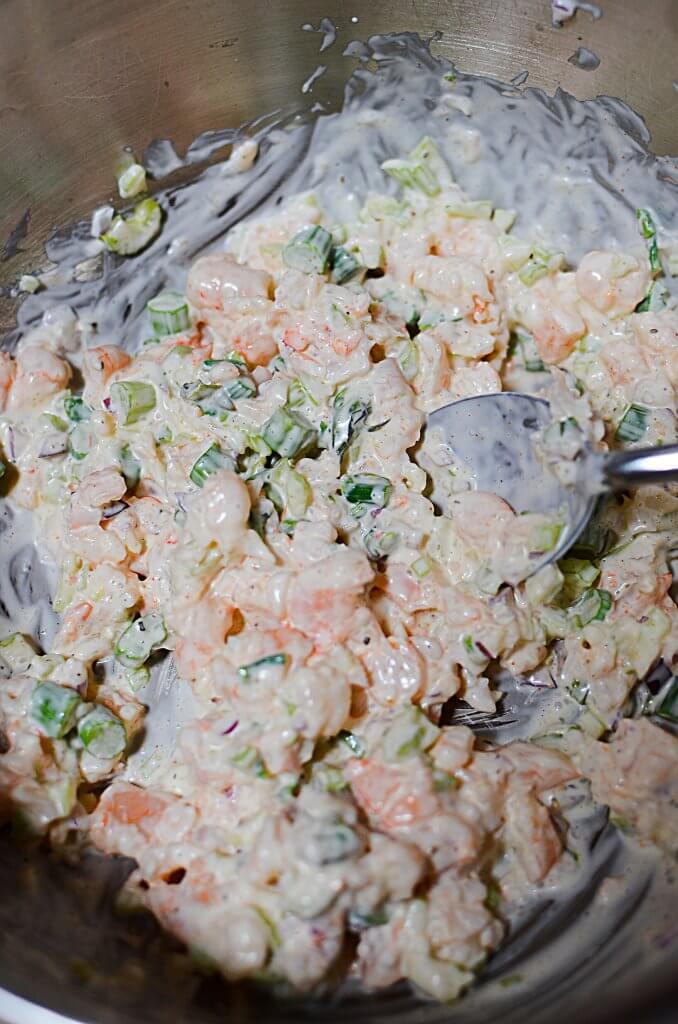 Mix it all together into this incredibly delicious mixture!!
And then just stuff (or fill, whatever term you'd like to use..lol), the tart shells!! Easy!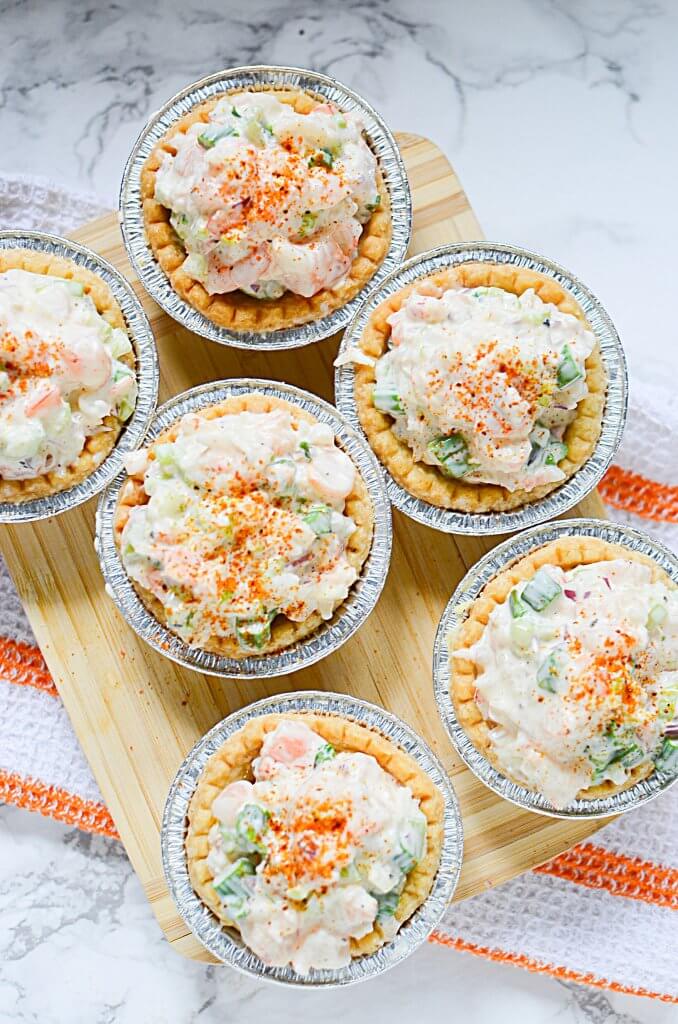 Yummmmmaayyyyy!!!!
The flavors of the shrimp, the freshness from the asparagus along with the texture crunch of the celery and a small onion bite from the scallions – the creaminess of the mayo… ohhhh I'm drooling just thinking about them again. For real. Wow, I loved these tarts! I think I need to make them AGAIN!
I hope you consider making these tarts some time soon. They're perfect for any occasion actually, and while this recipe makes 6, the amounts are easily adjusted to make 12 or 24, etc! I hope you enjoyed this Shrimp and Asparagus Tart recipe and thanks so much for stopping by The Salty Pot today!
****DONT FORGET TO PIN THIS SHRIMP AND ASPARAGUS TART RECIPE TO YOUR FAVORITE PINTEREST BOARD TO SAVE FOR LATER!! *******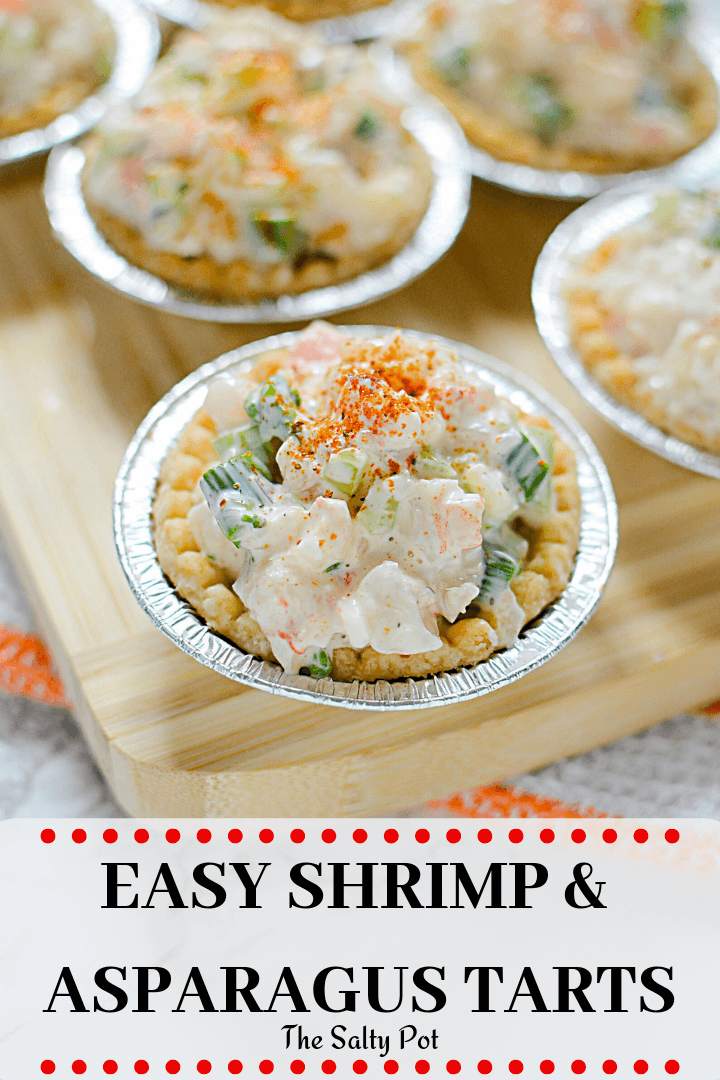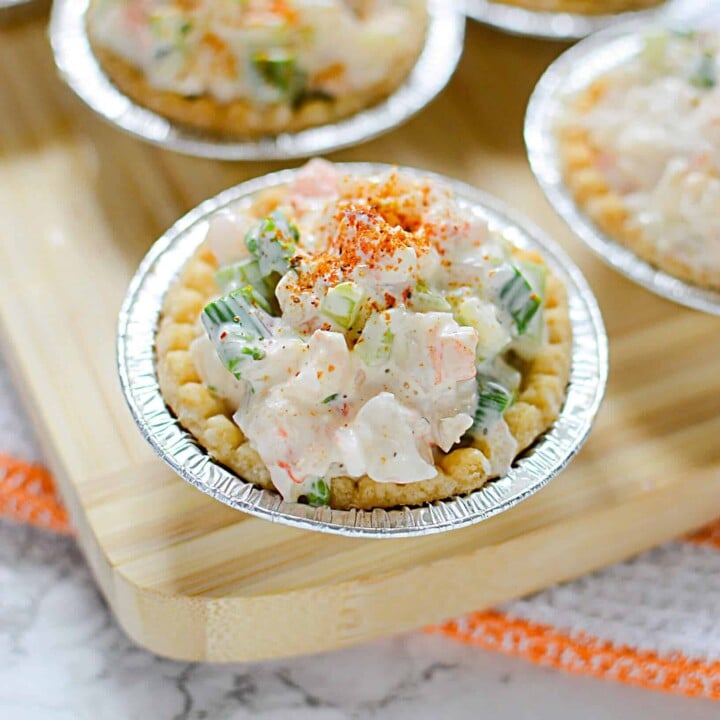 SHRIMP AND ASPARAGUS TART RECIPE
This amazingly delicious shrimp and asparagus tart recipe is perfect for so many occasions! Use them as appetizers or a light lunch, they will be perfect on any buffet table and add just that bit of 'special' to any event. 
Ingredients
6 oz shrimp, (cooked, tails removed)
3-4 pieces asparagus, (woody ends removed, diced)
1 rib celery, (diced)
1 tbsp red onion, (finely diced)
1/2 cup mayonnaise
1/2 cup sour cream, (not light, full fat)
as desired old bay seasoning
as desired salt and pepper
6 tart shells, (fully baked and cooled )
Instructions
Bake the tart shells according to the directions on the box. Cool completely.
Place the asparagus in a small bowl and quickly heat them in the microwave to cook, 2 - 3 minutes. You want them still be firm but not raw. Cool completely.
Dice the cooked shrimp up (remove any tails) and place in a bowl.
Add the diced celery, cooled asparagus, red onion, sour cream and mayonnaise, salt (easy on the salt as shrimp is slightly salty itself, so taste as you go) and pepper.
chill the mixture for at least 30 minutes.
Divide and fill the tarts evenly. Sprinkle with the old bay seasoning as you wish.
Serve immediately and enjoy!
If you're looking for other amazing appetizer recipes especially this coming new year, check out this collection of some of the best appetizers for New Year's eve: