You guys, I am so excited to tell you how to make this basic chicken noodle soup while keeping it inexpensive! Saving money while creating something that tastes savory and comforting is a huge win in my book! This is a 'from scratch' way to make a basic chicken noodle soup, but I will also tell you all the ways you can adjust the chicken noodle soup recipe to fit your needs and tastes.
EASY AND BASIC CHICKEN NOODLE SOUP
What I love about this chicken soup (besides the scrumptious flavor!) is that it uses pieces of chicken that most people might normally waste. I hate to waste food and sometimes I don't want want to have leftovers. I had made this BBQ Sheet Pan Chicken the other day and used a whole chicken, to begin with. I cut down the chicken into pieces and used the whole thing except for the backbone (and a piece of the neck) of the chicken. So waste not, want not, right?
I used that chicken bone and bits of meat on that bone to make this super delicious basic chicken noodle soup! With the nutritious and delicious broth it makes, paired with the chicken, a small amount of noodles, and a bit of spice, this meal is practically FREE!! It's perfect before this recipe makes enough for two servings which is ideal for a lunch or a light dinner. Plus, if you want more you can always double the recipe using other chicken pieces! Easy peasy!!
Can I Make This Chicken Noodle Soup With Chicken Breasts Instead?
Technically, you could make this with all chicken breasts, for sure. However, the result will not be as rich a flavor without the bones. The reason you cook with the chicken bones is to create your own savory chicken broth. That homemade chicken broth tastes phenomenal and adds lots of nutrients to the soup. Also, using chicken breasts can get very expensive. I love to be frugal and to use the bones adds so much flavor and saves me tons of money because we're not wasting anything. Win-win if you ask me.
The Best Vegetables To Add To Chicken Soup
This basic chicken soup is excellent as it is, but sometimes it is nice to add some extra flavors. Add veggies when you put everything in the pot to simmer and before you add in pasta. Pasta will get bloated and mushy if you cook it too long and the vegetables will need a little bit to cook. To make the chicken noodle soup heartier, here are some ideas to try:
Potatoes – Add in cubed potatoes, and the soup will be heavenly.

Carrots – The natural sweetness of carrots always makes everything taste better! Plus, they add beautiful color. Add some diced carrots to try it out!

Celery – I love the flavor that celery adds to any soup, and it is especially good with this one.

Mushrooms – Can you ever have too many mushrooms? I didn't think so! Toss a few in and see what you think

Onions – Slice and dice some yellow onions to add flavor. Yummy!

Corn – This is another way to add an element of sweetness to the dish.
The more vegetables you add to the soup, the farther it will stretch, and the fuller you'll feel! Gotta like those banana's right?… well.. not banana's but you get what I'm sayin'. 😉
How Do I Store Leftover Chicken Noodle Soup?
You may not have any leftovers because it tastes so amazing you are going to want to gobble it up! (gobble.. see what I did there?? haha). But in the case that you might have a bit of leftovers, you should store leftover chicken noodle soup in the fridge. Simply put it in an airtight container. You can use glass or plastic depending on what you have on hand.
You can freeze the soup as well. This is an excellent option if you want to make extra and save for another time. The texture of the noodles may not be as good when you heat it back up, but it will still taste great. I prefer to store soup in freezer bags because they save lots of space. Pour the soup in a thick freezer bag, store it on its side in the freezer, and then you can tuck it away like a book, upright so that it takes up very little freezer real estate! Thaw overnight in the fridge and you can reheat on the stove with low heat or in the microwave.
Types Of Pasta For This Chicken Soup:
Okay, let's talk pasta for a minute. Realistically, kids are always going to eat soup better if there is pasta, right?!?!?! They just love it, and I don't blame them a bit. Here are a few different types I have tried and had good luck:
Ditalini –Doesn't everyone love this tiny pasta! Add it for a tasty surprise.

Egg Noodles – These are a classic flavor and texture that you are probably already used to. Yum!

Homemade – If you make your own pasta then you should for sure try it in this soup recipe.

Macaroni – Kids will always go crazy over macaroni, so why not give it a try?
How To Make Basic Chicken Noodle Soup
Okay, this is the part that makes me happy! You are going to be thrilled with how easy and delicious it is too! Remember, you can adjust this soup to meet your needs so don't hesitate to toss in some extra vegetables, pasta or seasonings here and there.
Simmer the chicken and bones for 2-3 hours in salt water. I like to just toss in the entire chicken and let it simmer. The longer you slower you cook it, the better the results will be. Low and slow is the best answer here.

After you are done simmering, remove the pot, strain the broth through a sieve that is sitting in a bowl to allow the broth to filter through. Then, place the strainer full of chicken bones, cartiliage and such in the fridge along with the chicken broth to cool for a bit. This way you can touch everything and not get burned!

Remove all the meat from the bones. Save chicken and toss out the cartilage and bones.

Add the broth back on the fire, and bring to a simmer. Add the chicken and any extra veggies you're adding. Simmer for a few minutes until veggies are fork tender.

Add in seasonings and pasta. Cook 7-10 minutes then it is ready to gobble up!
What Should I Serve With Chicken Noodle Soup?
You can serve almost anything with this chicken noodle soup recipe. I prefer warm bread or dinner rolls with melted butter. You can also have a lovely vegetable or caesar salad as an appetizer. Speaking of appetizers, instead of making this soup, you could also make this super delicious recipe for Buffalo Chicken Mini Peppers! But the soup is super delicious as well, and no matter what you decide to serve it with, one thing is for sure; it is going to taste terrific! Grab a spoon and eat up!
Thanks so much for stopping by The Salty Pot today, and I hope that you enjoyed this Basic Chicken Noodle soup recipe! Have a wonderful day!

***DON'T FORGET TO PIN THIS BASIC CHICKEN NOODLE SOUP RECIPE TO YOUR FAVORITE PINTEREST BOARD TO SAVE FOR LATER!!***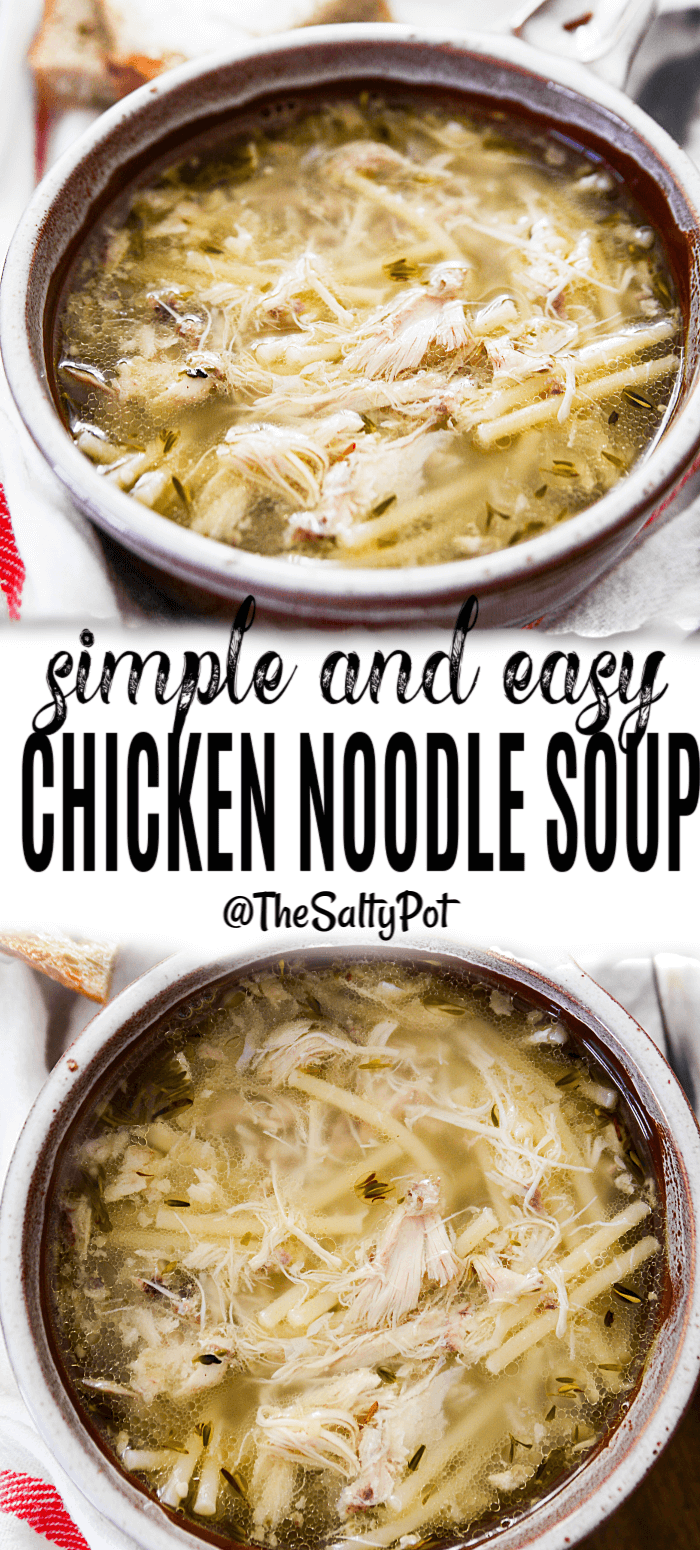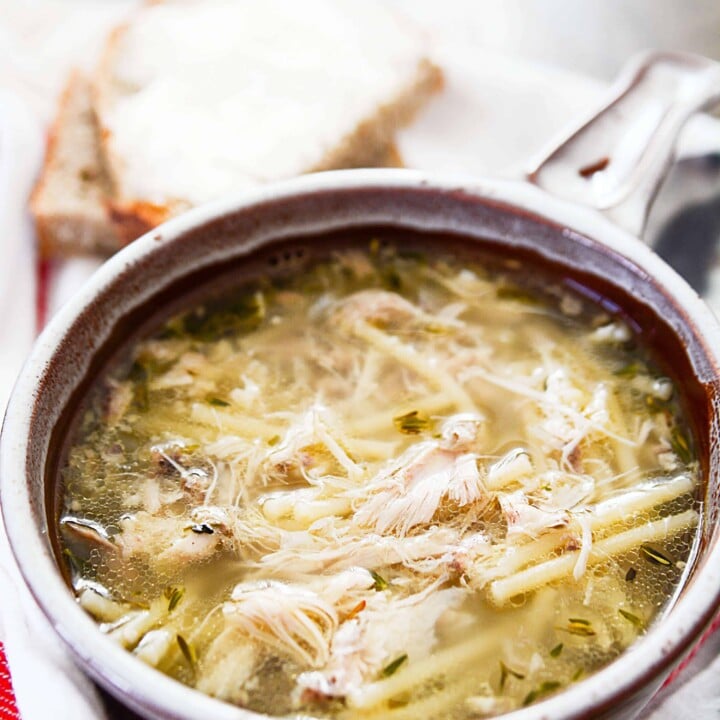 Basic Chicken Noodle Soup
Additional Time:
10 minutes
Wholly mackerel this soup is SO amazingly delicious! It's a basic chicken noodle soup that you can eat as is, or dress up a bit to add more flavors or to just to go with what you have in the pantry on hand! It's nutritious, delicious, and frugal!
Ingredients
1 chicken back bone (and neck bone if possible) *see notes
3 oz spagettini *see notes
pinch of thyme, dried
salt and pepper to taste
4c water
Instructions
Fill a pot with the water. Lightly salt it. Place the raw chicken pieces into the water and bring to a boil. Boil for a few minutes and then turn down to a low simmer.
Simmer the bones for as long as possible (minimum 1 hour). The longer you simmer the chicken, the more flavor you will extract. Remember to watch the liquid levels so that not a lot of evaporation occurs
After simmering, remove the pot from the fire and let cool slightly. Pour the contents through a sieve that is sitting in a bowl to catch the broth.
Pour the broth back into the pot. When the bones in the strainer have cooled enough to touch, (see notes), then begin to remove the meat from the bones and cartilage. Discard the bones and cartilage.
Place the broth back on the fire and add the chicken meat. Bring to a strong simmer.
Add the thyme and the pasta. Cook for 6 - 7 minutes or according to the package directions.
Season with salt and pepper to your liking.
Serve and enjoy!
Notes
If no backbone and neck are available, then use a chicken thigh or breast, or even a few wings and drumbsticks will do as well.
I used spaggetini because that's all I had, but you can use any type of pasta you prefer, but I would keep it to smaller sizes.
To cool the bones quicker, just pop the strainer into a bowl and into the fridge for a few minutes to cool down enough to the touch.
Nutrition Information:
Yield:

2
Serving Size:

1
Amount Per Serving:
Calories:

139
Total Fat:

8g
Saturated Fat:

2g
Trans Fat:

0g
Unsaturated Fat:

4g
Cholesterol:

59mg
Sodium:

208mg
Carbohydrates:

0g
Fiber:

0g
Sugar:

0g
Protein:

16g