Chicken Bacon Ranch Potato Bake is a saucy, delicious dish that is made of soft potatoes, juicy chicken, crispy bacon, and best of all? It's all made in ONE DISH. It's a perfect, easy meal!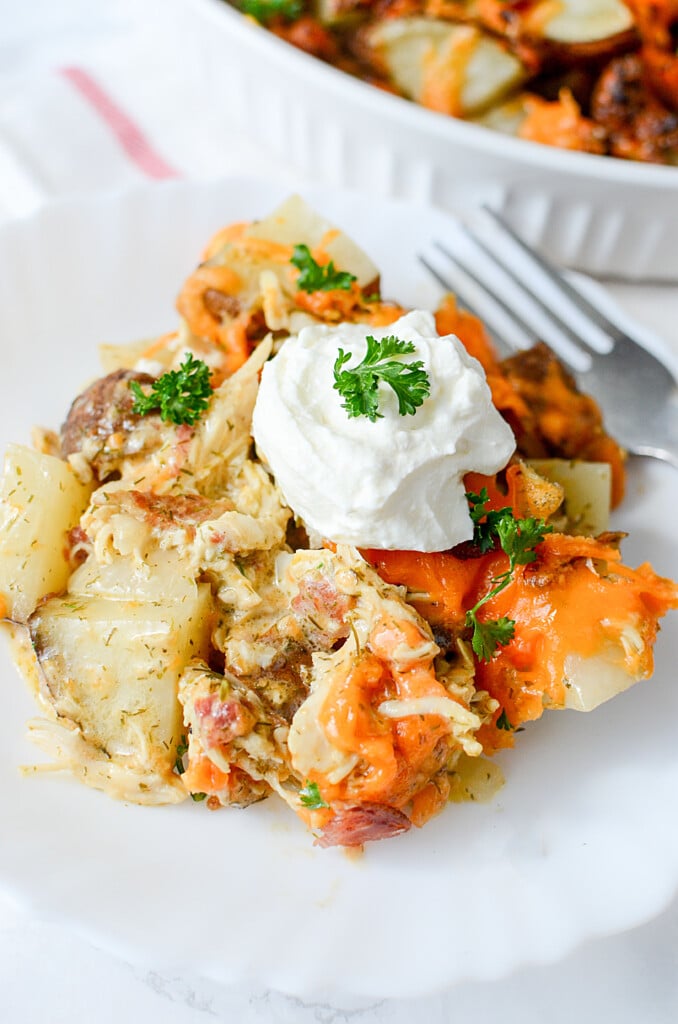 This One Pan Dinner will be a regular rotation because it's so delicious!!
Simple to make Chicken Bacon Ranch Potato Bake
Last week, I came across a SUPER great deal on a 20lb bag of potatoes. 99 cents!!! Yesssssss, you read that right. (Where I live, that's a screaming deal!). So, of course, I HAD to pick up a bag (cough*ormaybetwo*cough).
Now, guess who has a boatload of potatoes that need to be used!?!?! So my lovelies, out of desperation, this is one of the many recipes I came up with. I'm sure there will be plenty more to follow!
What's needed for this one pan dish
The most excellent thing about this Chicken Bacon Potato recipe is that it has everything that comfort food lovers fantasize about.
Chicken: You want leftover or rotisserie chicken. As long as it's cooked, you're good to go!
Potatoes: I used Russets because I like the starch factor with these ones. But use what you have on hand.
Bacon: A nice smoked bacon is perfect. I wouldn't use a maple-flavored, as it might clash with the other flavors. You also want it cooked to your texture preference.
Ranch Dressing: Use the regular Ranch Salad Dressing. The liquid kind, not the powdered packets.
Sour cream: Just plain old sour cream.
Onion
Cheddar (or your favorite cheese): I think cheddar goes the best with these ingredients, but that's my jam. If you love a different cheese that melts really nicely, use that one!
Seasonings
How Do I Make This Chicken Ranch Dish?
Just start by washing the potatoes, dry them slightly, and dice them up. No need for peeling or perfectionism.
Throw them in a bowl.
Add the rest of the ingredients, reserving some of the cheese and bacon for garnish at the end.
Put it in the oven, covered it, and let it do its thing!
Easy peasy right???
IF you have leftover chicken (or even turkey), cut that into bite-size pieces as well. If you don't have any leftover chicken, then the packaged chicken strips (no breading) that you can buy at the store will do just as well.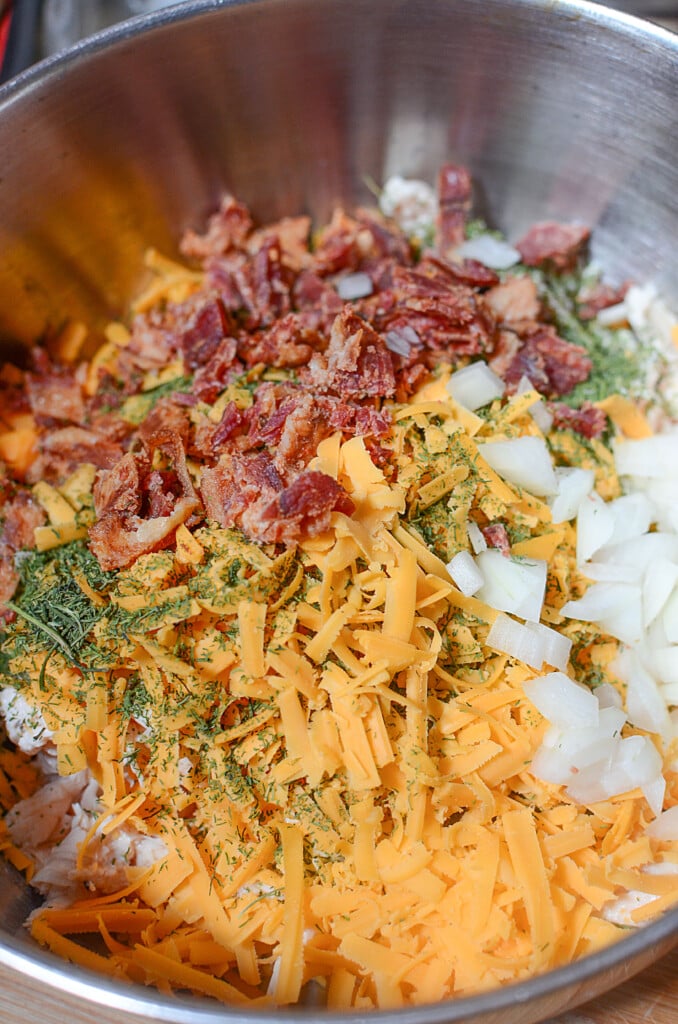 Cooks Tips and Substitutions
I usually have a lot of chicken on hand that leads to leftovers, so that's what I use for this dish. If you don't have leftover chicken, you can certainly substitute cooked turkey as well.
A rotisserie chicken would be awesome for this dish. If you end up with some chicken left on it after making this dish, make sure you save the bones from the bird so you can make Homemade Chicken Soup/broth in the future! (Gotta save those pennies right??)
Pre-cooked bacon is easy to come by, you can purchase it at most grocery stores in the deli department. However, if you have some thawed and ready to go, it's super easy just to microwave a few strips to cook them through. If you have none of those on hand and you have REAL bacon bits hanging around, those will do for a sub-in.
However, don't use fake bacon bits. For the love of all things pure and good and chemical free, just don't. lol
This dish isn't fancy but it's a super-easy one-pan dish sort of thing. So what it lacks in plate staging prettiness, it makes up in convenience, wholesomeness, and FLAVOR. I love one-pan dishes because their easy to make in no time, like my Sausage Boursin Pasta and Sausage and Mushroom Pie.
Can I Double This Recipe?
Yes!! You can double this recipe to feed more people – just use a bigger baking dish of course, and maybe increase the baking time.
You'll be able to tell when things are ready – try piercing a chunk of potato with a fork. If it goes in easily, you're ready to serve!
See? SUPER easy! By the way, if you end up with leftovers from this Chicken Bacon Ranch Potato Bake, storing it is simple. It will stay in the refrigerator for up to 4 days, covered in an air-tight container.
Did you make this Chicken Ranch Potato Bake recipe? Did you switch it up with different ingredients? I'd love to hear about it in the comments below! Thanks so much for stopping by The Salty Pot today, and I hope you enjoy this super yummy recipe!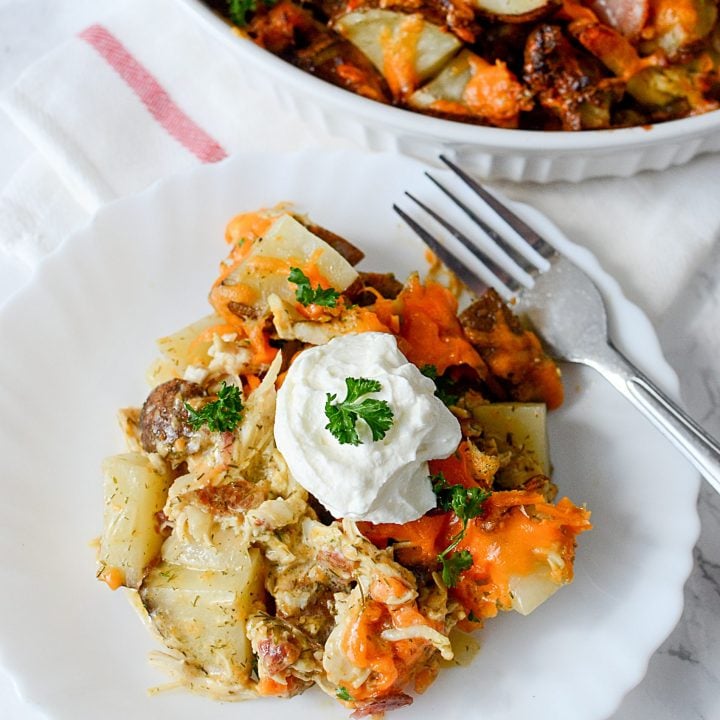 Chicken Bacon Ranch Potato Bake
This Chicken Bacon Ranch Potato Bake is an incredibly easy and super tasty one pan dish using leftovers and pantry items!
Ingredients
2 lbs potatoes, cut into a 1/2" dice
2 c chicken, cooked, diced/shredded
½ c ranch dressing
½ c sour cream
¼ c onion
1 c cheddar, shredded
5 slices crumbled bacon
1 tsp garlic, minced
1 tbsp dill, dried
as desired salt and pepper
Instructions
Preheat oven to 350
In a bowl, combine all the ingredients, reserving half the cheddar and bacon for garnish.
Transfer to a greased 11x7 or 9" round casserole dish with high sides.
Cover with foil and bake for 45-50 minutes or until the potatoes are cooked through and soft.
Remove the foil and sprinkle the remaining bacon and cheddar over the top and bake until the cheese is melted.
Let cook for approximately 5 minutes and then serve!
Enjoy!
Nutrition Information:
Yield:

6
Serving Size:

1 cup
Amount Per Serving:
Calories:

489
Total Fat:

28g
Saturated Fat:

10g
Trans Fat:

0g
Unsaturated Fat:

16g
Cholesterol:

86mg
Sodium:

519mg
Carbohydrates:

37g
Fiber:

4g
Sugar:

4g
Protein:

23g
***DON'T FORGET TO SAVE THIS CHICKEN RANCH POTATO BAKE PIN TO YOUR FAVORITE PINTEREST BOARD TO SAVE FOR LATER!!***