This, my dear readers, is the Chicken ranch Potato Bake. It was made because of a crazy potato situation.
SIMPLE TO MAKE CHICKEN RANCH POTATO BAKE RECIPE
Last week, I came across a SUPER great deal on a 20lb bag of potatoes. 99 cents!!! Yesssssss, you read that right. (Where I live, that's a screaming deal!). So, of course, my cheap butt had to pick up a bag (cough*ormaybetwo*cough).
Now, guess who has a boatload of potatoes that need to be used!?!?! So my lovelies, out of desperation, this is one of the many recipes I came up with. I'm sure there will be plenty more to follow!
The most excellent thing about this recipe though, is that it has everything that comfort food lovers fantasize about. It has bacon, cheese, ranch, sour cream and basically everything that is right about life. Plus… it's simple.
And I gotta love simple.
How Do I Make This Chicken Ranch Dish?
Just start by washing the potatoes, dry them slightly, and dice them up. No need for peeling or perfectionism… just get them big enough to fit in your mouth and cook in a decent amount of time.
Throw them in a bowl.
IF you have left over chicken (or even turkey), cut that in to bite-size pieces as well. If you don't have any leftover chicken, then the packaged chicken strips (no breading) that you can buy at the store will do just as well.
If you have a rotisserie chicken with some meat left on it – use that! OH, and make sure you save the bones from the bird so you can make homemade chicken soup/broth in the future! (Gotta save those pennies right??)
What About The Bacon?
Throw the chicken in with the potatoes, some onion, and some cooked bacon. You can microwave a few strips to cook them through and then add them to the dish.. or, if you have REAL bacon bits hanging around, those will do for the sub-in.
However, don't use fake bacon bits. For the love of all things pure and good and chemical free, just don't.
When the words imitation and bacon are put together, just run away.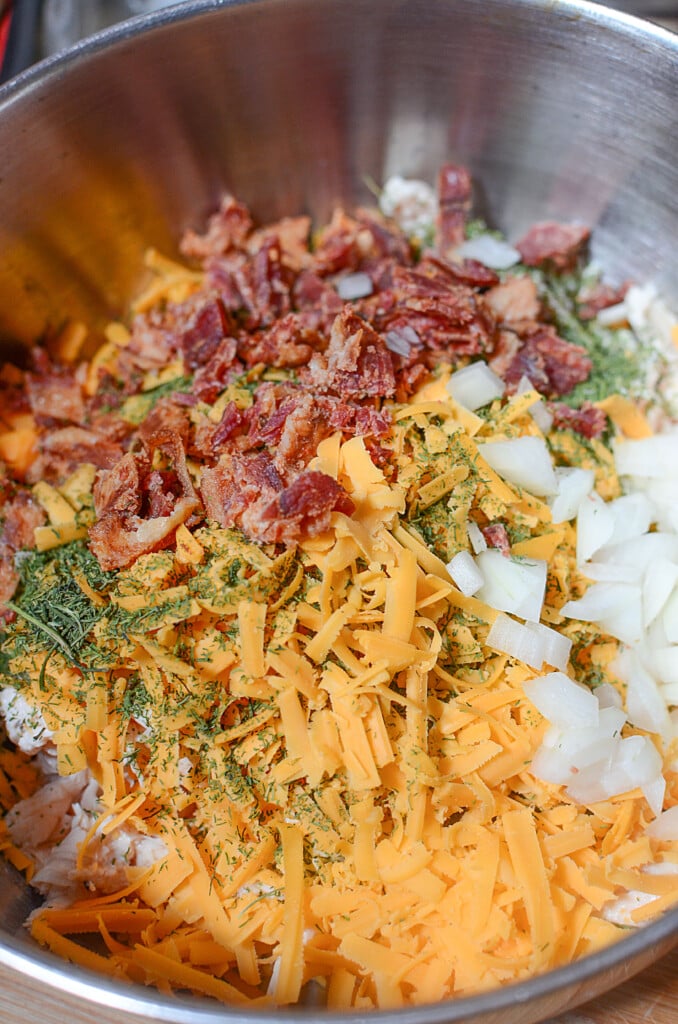 The ranch used here is the actual dressing – not the powder. It helps make the dish creamy and kinda saucy – along with the sour cream.
This dish is not for the diet club, that's for sure, however, it's IS a one pan dish sort of thing, so what it lacks in slimming characteristics, it makes up in convenience, wholesomeness and TASTE.
There'll be no crying in our plates because the food sucks on this dish!
So it's as easy as mixing all the ingredients together, transferring them onto a baking dish, and throw them in the oven!
Can I Double This Recipe?
Yes!! You can double this recipe to feed more people – just use a bigger baking dish of course, and maybe increase the baking time a bit.
You'll be able to tell when things are ready – try piercing a chunk of spud with a fork. If it goes in easily, you're ready to serve!
See? SUPER easy!
In all honesty, this dish is so good, I think I'll be making it again in the next two weeks.
My mom stopped by the day I made it and I gave her some to try.
She thought it was fantastic – and if my MOM thinks it's fantastic, you KNOW it is.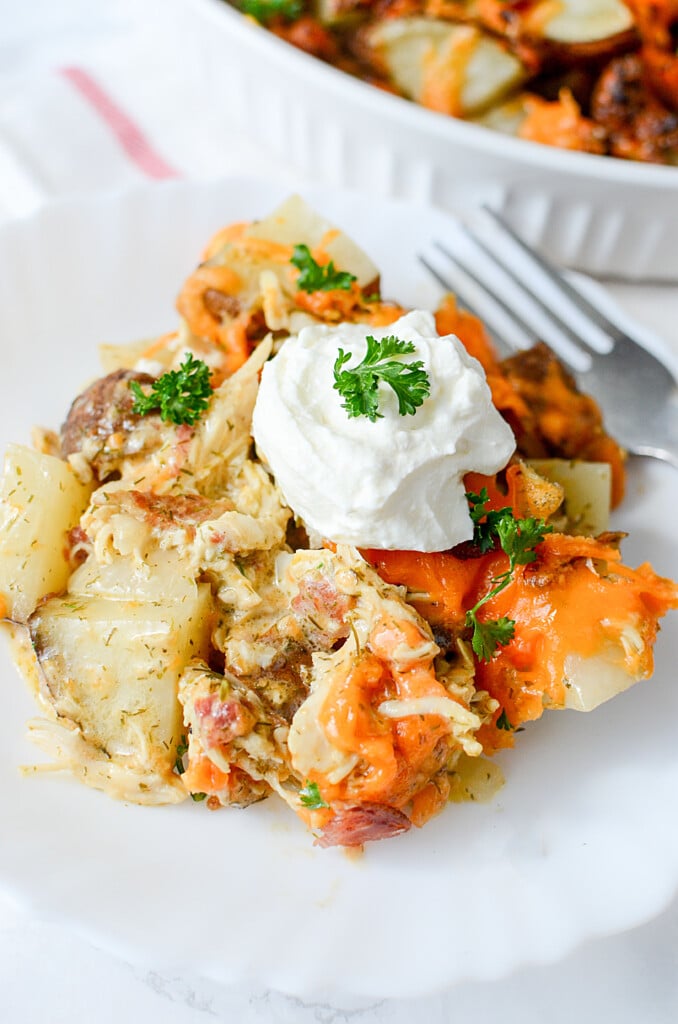 Did you make this Chicken Ranch Potato Bake recipe? Did you switch it up with different ingredients? I'd love to hear about it in the comments below! Thanks so much for stopping by The Salty Pot today, and I hope you enjoy this super yummy recipe!
***DON'T FORGET TO SAVE THIS CHICKEN RANCH POTATO BAKE PIN TO YOUR FAVORITE PINTEREST BOARD TO SAVE FOR LATER!!***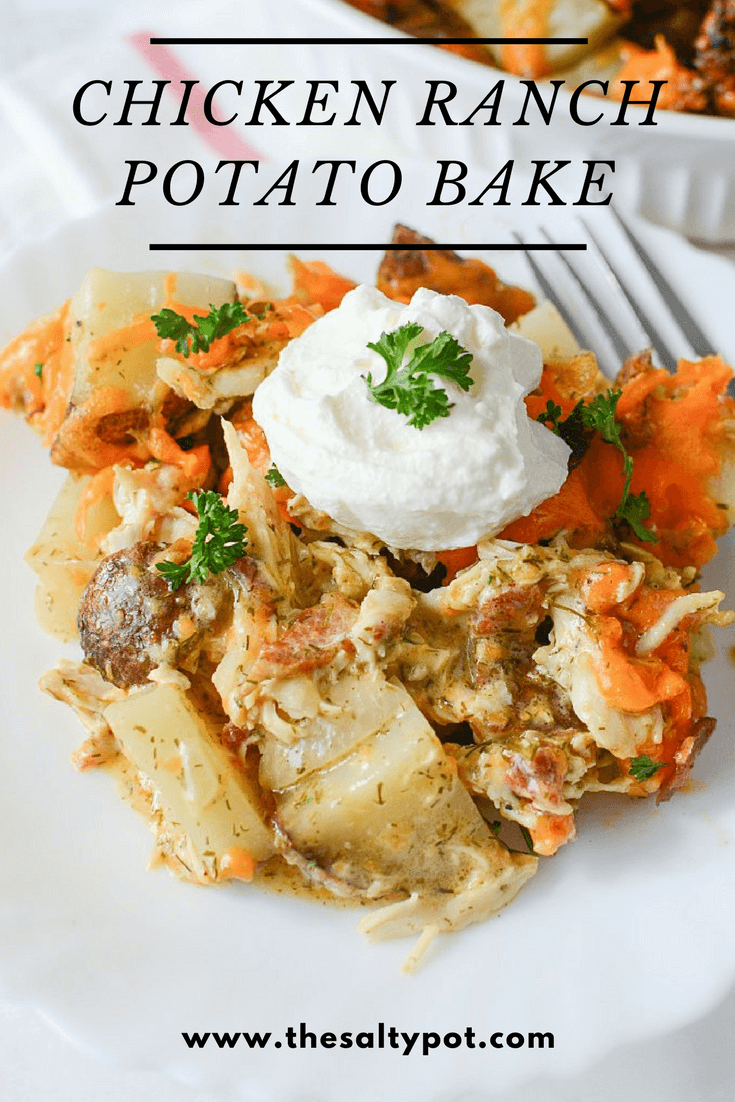 Chicken Ranch Potato Bake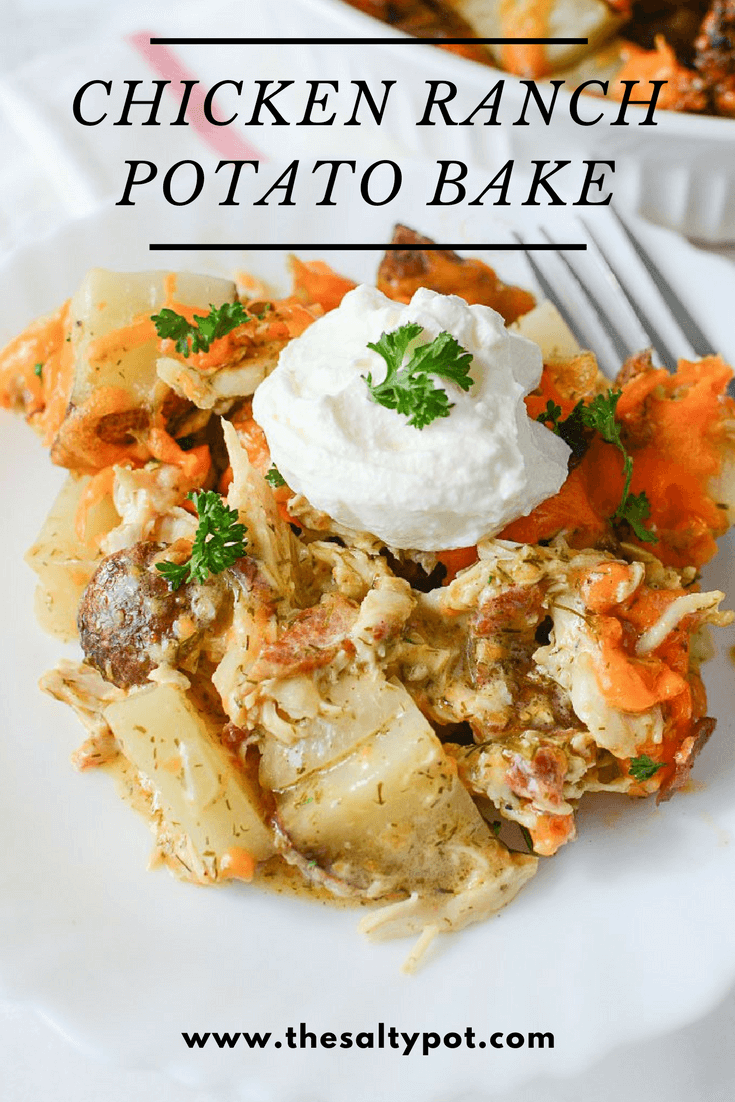 This Chicken Ranch Potato Bake is an incredibly easy and incredibly tasty one pan dish using leftovers and pantry items!
Ingredients
2 lbs potatoes, diced
2 c chicken, cooked, diced/shredded
½ c ranch dressing
½ c sour cream
¼ c onion
1 c cheddar, shredded
5 slices crumbled bacon
1 tsp garlic, minced
1 tbsp dill, dried
as desired pepper
as desired scallions, diced
Instructions
preheat oven to 350
In a bowl, combine the all the ingredients except for only use HALF the bacon, and HALF the shredded cheddar.
Bake for 40 – 45 minutes or until the potatoes are cooked through and soft.
In the last 5 minutes of baking, sprinkle the remaining bacon and cheddar over the top and bake until the cheese is melted.
Let cook for approximately 5 minutes and then serve!
Enjoy!
Nutrition Information:
Yield:
6
Serving Size:
1 cup
Amount Per Serving:
Calories:

489
Total Fat:

28g
Saturated Fat:

10g
Trans Fat:

0g
Unsaturated Fat:

16g
Cholesterol:

86mg
Sodium:

519mg
Carbohydrates:

37g
Fiber:

4g
Sugar:

4g
Protein:

23g