Went a little too overboard while grabbing donuts? Got some left over and want to put them to use? Use up those leftover glazed donuts by turning them into a delicious Banana Pecan Donut French Toast!!!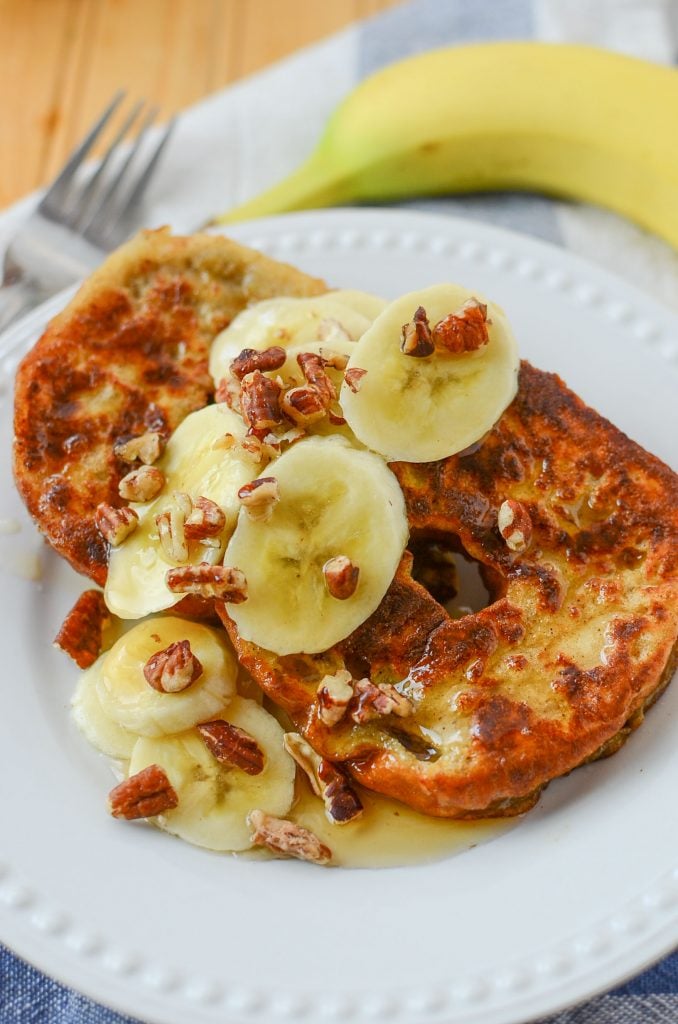 Incredible Banana Pecan Donut French Toast
Drooling already? Ready to give it a shot? It's super easy too! Read on to discover exactly how to do that, and some genius topping options to go along with it. Time to treat yourself to a kickass breakfast girl!…(or guy!)
French Toast Made From Donuts?? Really??

Yes my friend, yes. And it's the most delicious bite of leftover donut you've ever had, I'll bet!
The Right Donut To Use
Please use day old glazed yeast donuts! They'll work much better than if you were to buy fresh ones.
The second question that probably popped up in your mind is whether you could work this out with other types of donuts too- like maybe cake donuts.
Honestly, in my opinion, nothing works as great as regular yeast donuts do. With cake donuts, there's always a risk of the donut getting all mushy because of soaking all the egg, and it might all fall apart.
And of course, with a cake donut, it won't really be French toast then- right?

So How Do I Make This Amazing Donut French Toast?
Well, it's actually pretty easy.
Start off by breaking a couple of eggs in a large bowl, sprinkle the seasonings and a little fresh cream in and whisk it up nicely.
BTW, it's best if they are a day or two old since fresh donuts tend to be too much on the softer side and harder to slice.
Now, cut your glazed donuts in half horizontally (like a bagel) and dip each section into the egg mixture. (Both sides!)
Heat a medium sized pan and grease it with a bit of butter. Now place the donut onto the pan and fry it on both sides till the eggs set or until it is nice and brown- however you like it.
That's it. It is literally that easy.
French Toast Topping Ideas
So of course, if your French toast is ready this quick, you shouldn't mind putting in a teeny bit of extra effort right? I quickly sliced up some ripe bananas and layered them on top of my prepared Donut French Toast, and then sprinkled it with some pecans.
If you don't have pecans, you can also try other nuts like:
– almonds
– cashews
– walnuts
– or even crushed peanuts!
I find that these nuts provide a nice crunch factor, and of course, they're healthy too. (Gotta have SOME sort of healthy thing in the mix, right?? lol)
Plus, a generous helping of some maple syrup over the top really set it all perfectly. If you're looking for a sweeter taste to your French toast, you can always add the maple syrup or brown sugar into the egg mixture as well as pouring some over the top.
Another excellent topping option for these delish breakfast delights is a little raspberry compote on the top, along with some whipped cream. And if you've got some strawberries, you can slice them up or mash them, and drizzle a bit of Nutella over the top!!
I also love to have any french toast with a nice blueberry compote and some crunchy almonds sprinkled over the top!
Can I Make & Freeze This French Toast?
Okay, so if you're on the hunt for convenient and quick breakfast options, you might be wondering if it is possible to prepare these beforehand and freeze them?
Well, honestly, I think that isn't a good idea, and that's simply because donuts are much more fragile than regular bread, and they might crumble or fall apart if you freeze, thaw and then try to reheat them.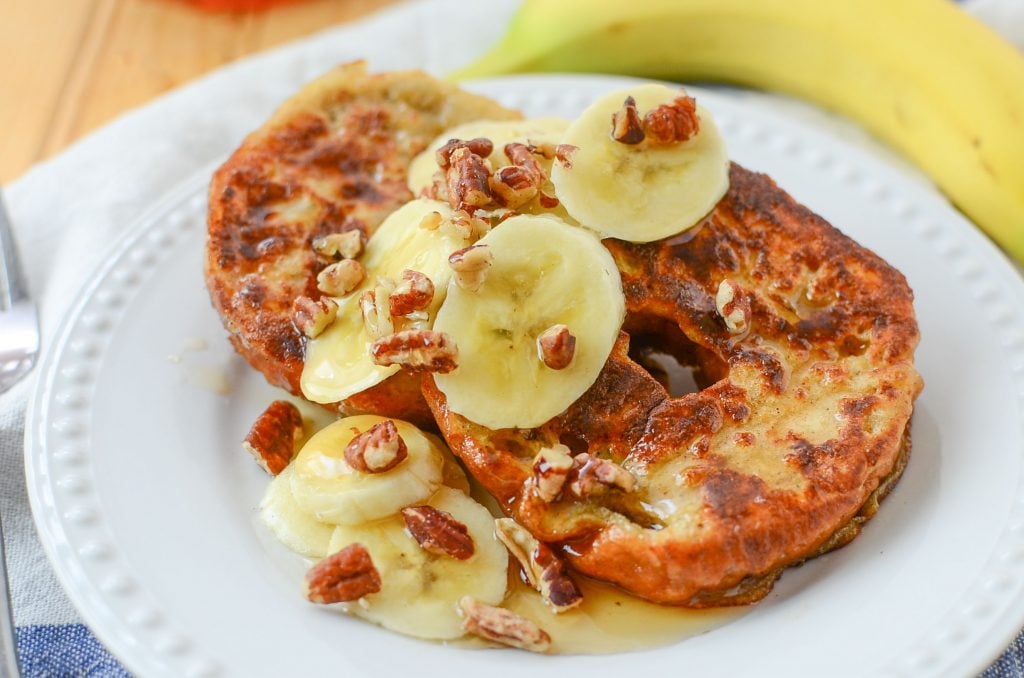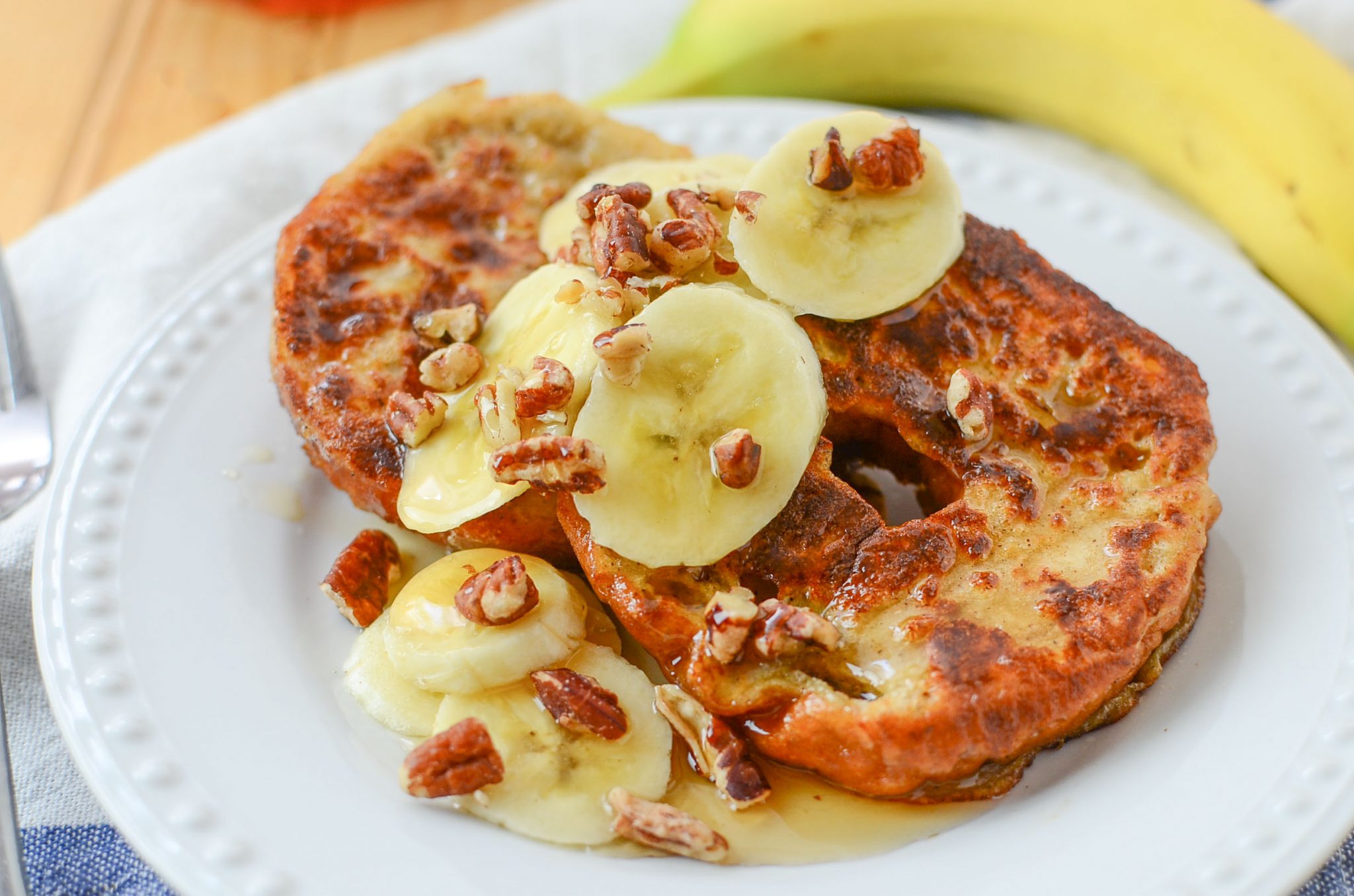 Give these easy donut French toasts a try for your breakfast (they taste great when teamed up with your cup of coffee or tea) or have them as an evening snack with some fresh fruits- they're versatile that way!
Btw, if you're looking for other recipes that using Bananas, check out this super unique and delicious Instant Pot Maple Banana Pecan Butter!
Orrrrr.. how about these 3 Ingredient Banana Pecan Muffins!!! Easy Peasy!
As usual, thank you SO much for stopping by The Salty Pot today! I hope this Banana Pecan Donut French Toast is a recipe that goes into your rotation. You might find yourself buying day old donuts on purpose!!
**DON'T FORGET TO PIN THIS BANANA PECAN DONUT FRENCH TOAST RECIPE TO YOUR FAVORITE PINTEREST BOARD TO USE FOR LATER!!**
Banana Pecan Doughnut French Toast
A perfect solution to leftover glazed donuts! Light and yet custardy in the middle, crispy on the outside - these donut french toast recipe is so delicious that you might find yourself buying extra donuts so you can make this for breakfast!!
Ingredients
2 Old fashioned doughnuts, two days old
2 Eggs
dash of cinnamon
1 tablespoon maple syrup (optional)
1 tablespoon cream (or milk)
1 teaspoon vanilla
1 Banana, sliced thin
¼ c Pecan Pieces
More maple syrup for topping
Butter for frying
Instructions
1. Cut the donuts in half, horizontally. Set aside.
2. In a bowl, combine the eggs, milk, maple syrup (if using), cream, cinnamon, and vanilla. Mix well to break up the eggs.
3. Begin heating up a frying pan over medium-low heat and melting the butter.
4. Dip each half of the donut into the egg mixture, being sure that the egg covers the entire surface of the donut. Dip both sides of each half.
5. Place into the frypan and begin to brown. Fry each side for approximately 3-5 minutes, checking the underside. When it turns golden brown, flip the donut halves over to fry the other sides to brown.
6. Remove the donut french toast from the pan. Now you can add your sliced bananas and pecan peices.
7. Drizzle a little bit of syrup on top and you have a fantastic breakfast!
Notes
1. Do not use cake donuts. They won't turn out as well (if at all).
2. Using day old donuts work better than fresh donuts, as fresh donuts are softer and may fall apart easier.
3. Adding a bit of maple syrup (or even brown/white sugar) to the eggs will sweeten up the toast a bit more if you prefer.
Nutrition Information:
Yield:

2
Serving Size:

1 donut
Amount Per Serving:
Calories:

657
Total Fat:

41g
Saturated Fat:

16g
Trans Fat:

0g
Unsaturated Fat:

22g
Cholesterol:

217mg
Sodium:

461mg
Carbohydrates:

63g
Fiber:

4g
Sugar:

33g
Protein:

12g