Do you like gnocchi? What about bacon? What about bacon gnocchi??  (crazy question to ask, I know…. orrrrrr is it?) Well, I feel like I should just say "I'll just leave this here" because honestly, this dish speaks for itself. I mean, come on, who doesn't like cheese, bacon, and more cheese? Just those two ingredients make life worth living.  Ok, well this dish came about by a "what's in my pantry" kind of thing and as we all know, a lot of times they make THE BEST recipes ever!!!  There's not much to say about it except that it's absolutely AMAZING. It's no diet food, that's for sure, so don't even try to "lighten'" it up. It won't be the same. It's easy, it's tasty, every bite is like a huge hug, and it's called Cheesy Bacon Gnocchi. And you're welcome 🙂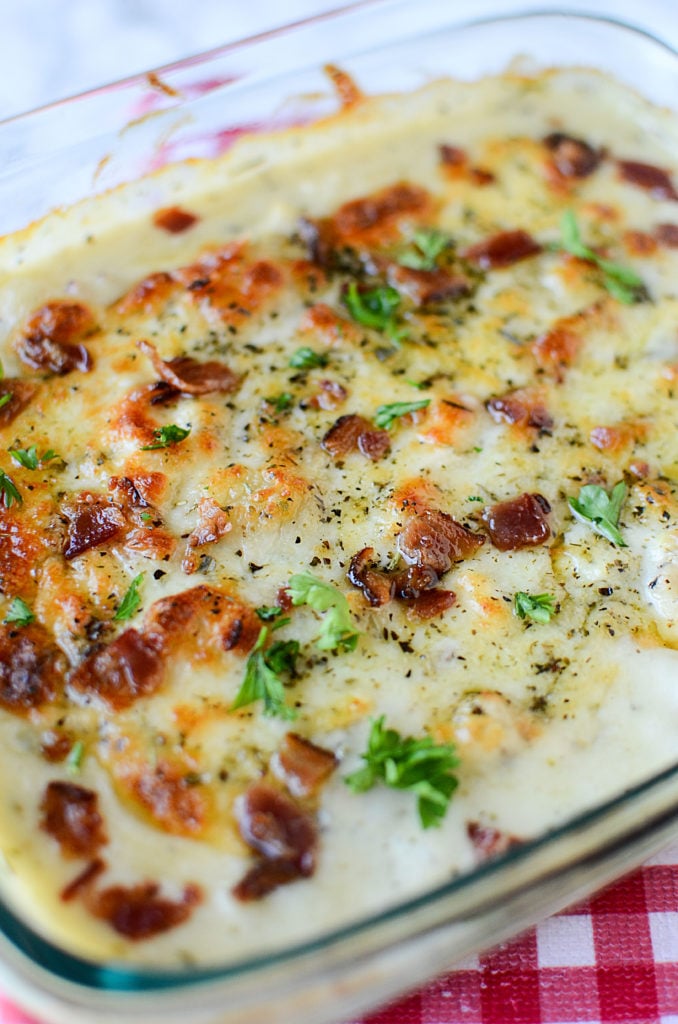 Start with making a cheese sauce. Super easy.. super quick.  Flour and butter in a pan. Add milk. Add cheese. Stir, stir, stir. Wait for it to thicken and you pretty much have the cheese sauce it needs.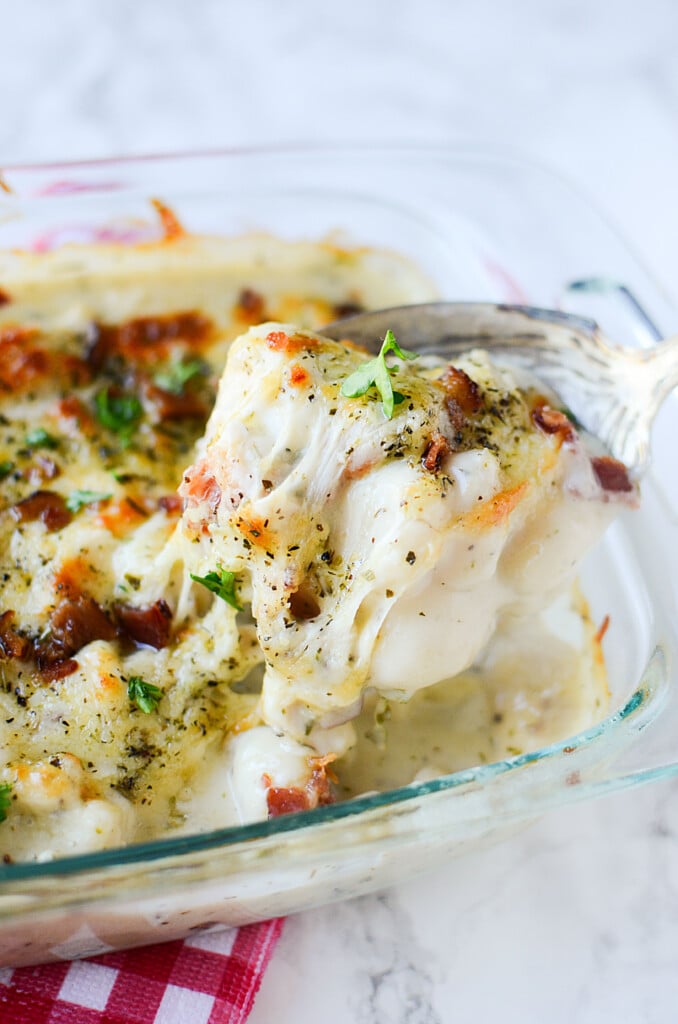 I used left over chicken from a rotisserie chicken we bought but you could use chicken breasts and simply pan fry them. Actually, you can use any sort of chicken, even canned. Ok, well.. no, don't use canned. Actually.. yes.. if canned is that's all you have, use what you have, girl! LOL. As for bacon – no one, and I mean NOOO ONE… wants flippy floppy bacon in this recipe. You need cooked nicely bacon.. so the crispier the bacon is, the better ok?! It adds a bit of crunch within all that blankety goodness 🙂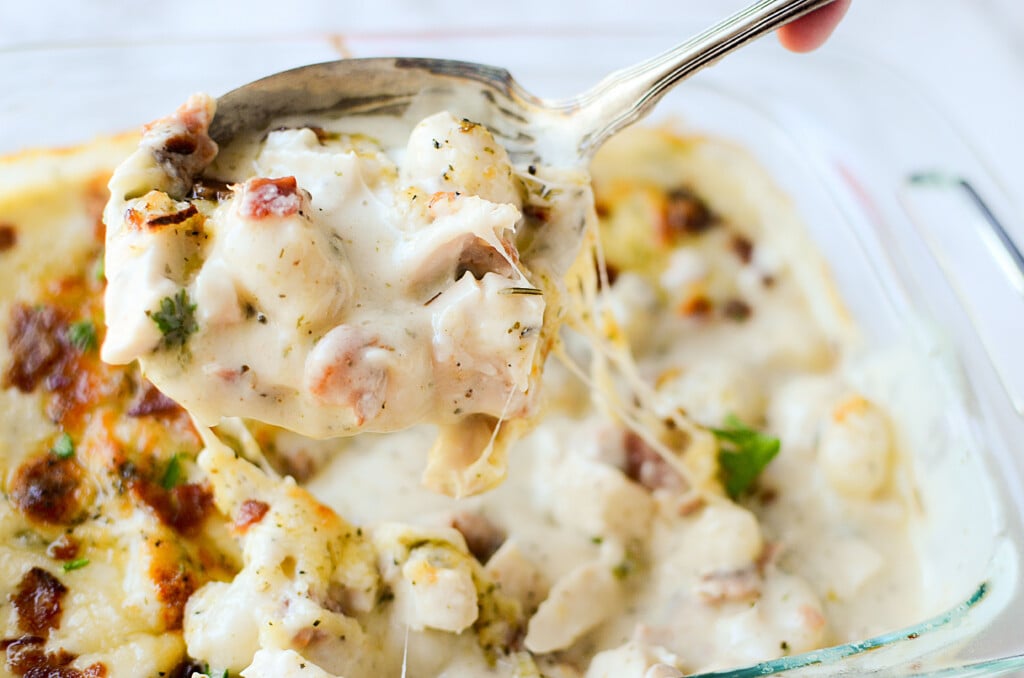 Now, this bacon and chicken gnocchi dish is best eaten for dinner. Not lunch. ESPECIALLY if you think you have other stuff to do for the rest of the day.  Ohhhh hell no.  No. See, this dish is going wrap its soft cuddly arms around you and rock you like a baby…. Lulling you into a sweet comfort trance, the kind that leaves you with your eyes half closed, mouth wide open, drooling into your lap…. or the kind of comfort that makes you want to do nothing but lay on the couch and rub your tummy like a kitten. I know kittens don't rub their tummy, but I'm trying to paint a picture here, while giving you a fair warning. 🙂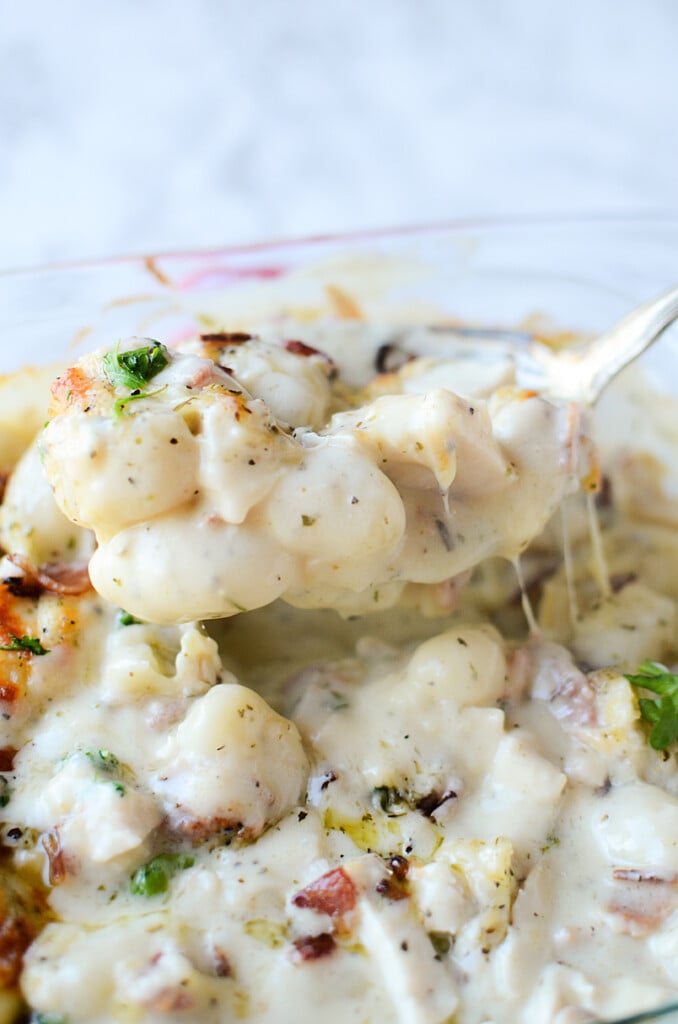 Bacon, chicken, cheese, and the best of all, gnocchi. Gnocchi – little pillows of heaven is what I like to call it. But seriously, this dish has it all. If you haven't tried gnocchi, you should. It's sooo amazing. It's easy to find, as most grocery stores carry it now. Maybe one of these days I'll get brave enough to actually try to make my own gnocchi!!
Well.. maybe.
cheesy bacon gnocchi hugs
A super cheesy, bacon and gnochhi dish with added chicken, to make your comfort food dreams come true.
Ingredients
4 c ready made gnocchi
5 slices of bacon, crumbled
2 c chicken, cooked, cubed
1 1/2 Tbsp. flour
4 tbsp. butter
2 cups of chicken stock
1 cup of milk
2 cups mozzarella cheese
1 cup parmesan cheese
2 tsp italian seasoning
as desired salt and pepper
Instructions
Preheat oven to 350
In a sauce pan, mix together butter and flour. Cook until butter is melted and mixed with the flour
Slowly add the stock, stirring and letting mixture come to a boil. Keep stirring as it thickens.
Add the milk, stir as it thickens.
Begin adding the mozza cheese, in 1 cup increments. Stir while it melts and thickens the sauce.
If you find the sauce too thick, add more milk or broth.
Add the gnocchi, chicken, and seasoning
Transfer into a 9 x 13 baking pan
Sprinkle the parmesan cheese on top and a tiny bit more italian seasoning
Bake for 25 minutes or until golden brown
Let the dish sit for 5 minutes before serving.
Enjoy!