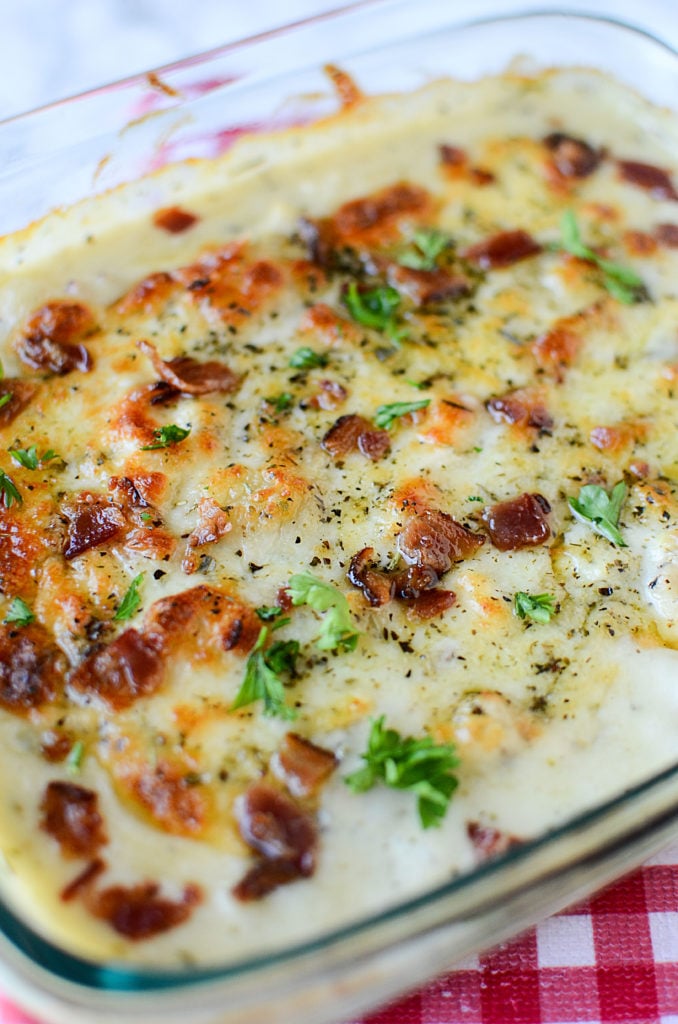 Do you like gnocchi? What about bacon? What about bacon AND gnocchi together? (crazy question to ask, I know…. orrrrrrrrrrrrrrrrrrrrrr is it??????
What Is A Cheesy Chicken Gnocchi Bake?
Well, I feel like I should just say "I'll just leave this here" because honestly, this dish speaks for itself. I mean, come on, who doesn't like cheese, bacon, and more cheese?
Just those two ingredients make life worth living.
Ok, if you aren't really sure what on what this gnocchi bake is all about, this dish came about by a "what's in my pantry" kind of thing and as we all know, a lot of times they make THE BEST recipes ever!!! There's not much to say about it except that it's absolutely AMAZING.
It's no diet food, that's for sure, so don't even try to "lighten'" it up. It won't be the same. It's easy, it's tasty, every bite is like a huge hug, and it's called Cheesy Chicken Gnocchi Bake.
And you're welcome 🙂
First, What Is Gnocchi Exactly?
Gnocchi is a pasta that's made with cooked potatoes, flour, eggs, salt, and a few other ingredients. They are usually very light tasting and often have little indented lines in the pasta, in order to hold sauces that they may be paired with.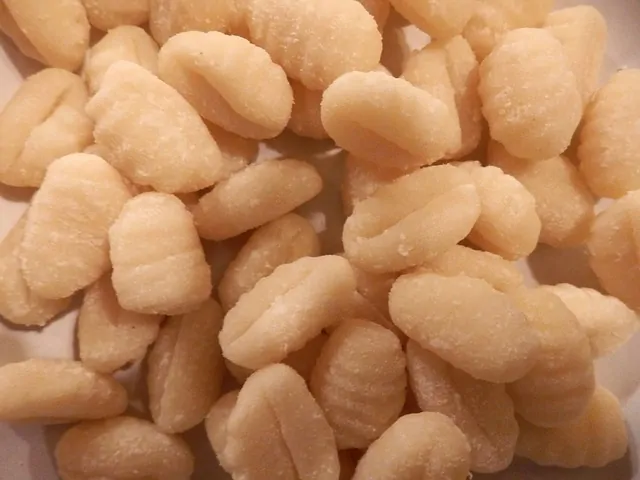 Can You Make Your Own Gnocchi?
Yes, you can. It takes a little bit of practice first, but after a while, it's very simple to make. Often though, most people buy the gnocchi at the grocer's because it's just a lot easier and less time-consuming. If you wanted to learn how to make your own, check out this video that goes over the process of making gnocchi.
There's other pasta shapes that you could use for this dish. You could use:
A plain linguini type pasta that I used in this Slow Cooker Individual Spaghetti meals, or
The ditalini pasta shape that I used in this Slow Cooker Taco Stew Dish, or
If you wanted to keep things low carb, you could use a shiritaki type noodle that I used in this Instant Pot Low Carb Spaghetti dish,
and finally, you could even use pre-made Ravioli, as I used in this Ravioli Soup Recipe!
How Do You Pronounce GNOCCHI?
I know, it's a weird spelling to 'sound out'. I actually looked it up. So, to pronounce it, I will spell it phonetically.
If you're American, the pronunciation is " NYOH – KEY" – So you're saying the word "know" with a 'y' sound thrown in there after the N, and then say 'key'. "nyohh-key'
But if you're British, the pronunciation is a bit different. You would say "KNOCK – KEY" – pronounced just as you read it. Simple, right!?!!
How Do You Make This Gnocchi Bake?
Let's start with making a cheese sauce. Super easy.. super quick.
You want to make a sort of "white sauce". Flour and butter in a pan. Add milk. Add cheese.
Stir, stir, stir. Wait for it to thicken and you pretty much have the cheese sauce it needs.
Add the chicken and bacon to the sauce, add the cheese on top, and bake! It's a pretty simple recipe to follow!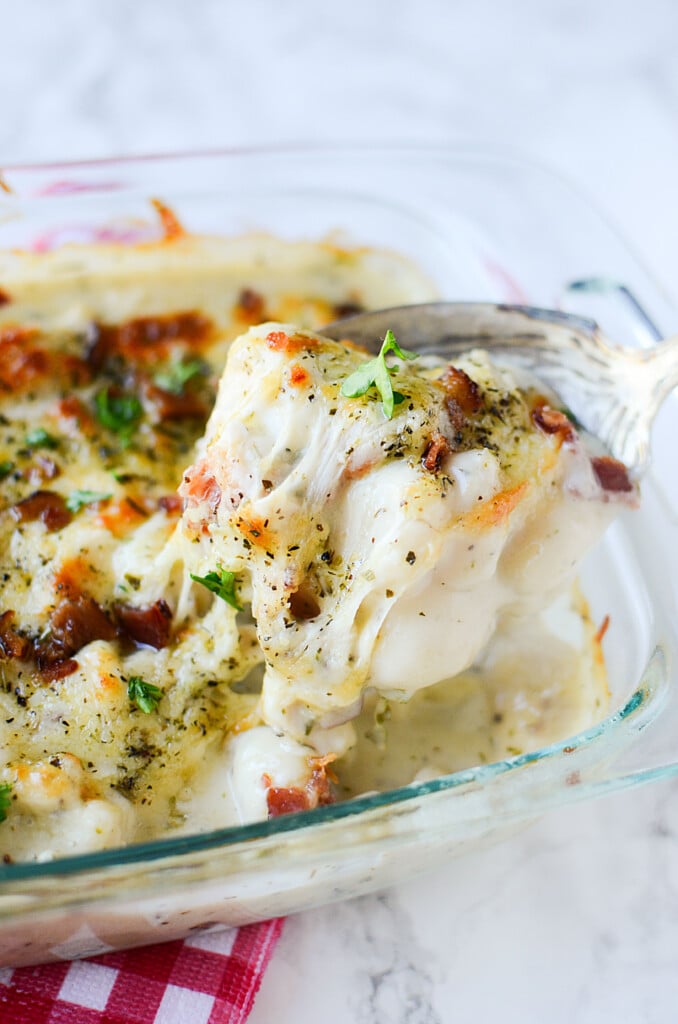 Top Tips To Make This Gnocchi Bake Perfect:
I used leftover chicken from a rotisserie chicken we bought previously, but you could use chicken breasts and cook them any way you prefer.
Actually, you can use any sort of chicken, even canned. Using canned chicken isn't ideal, but if canned is that's all you have, use what you have, you rockstar!
Next, the bacon. We allllll know the rule around bacon – no one, and I mean NOOO ONE… wants flippy floppy bacon in this recipe.
You need nicely cooked bacon.. so the crispier the bacon is, the better ok?! (not burnt, tho.. lol) It adds a bit of crunch within all that cheesy, gnocchi blankety goodness 🙂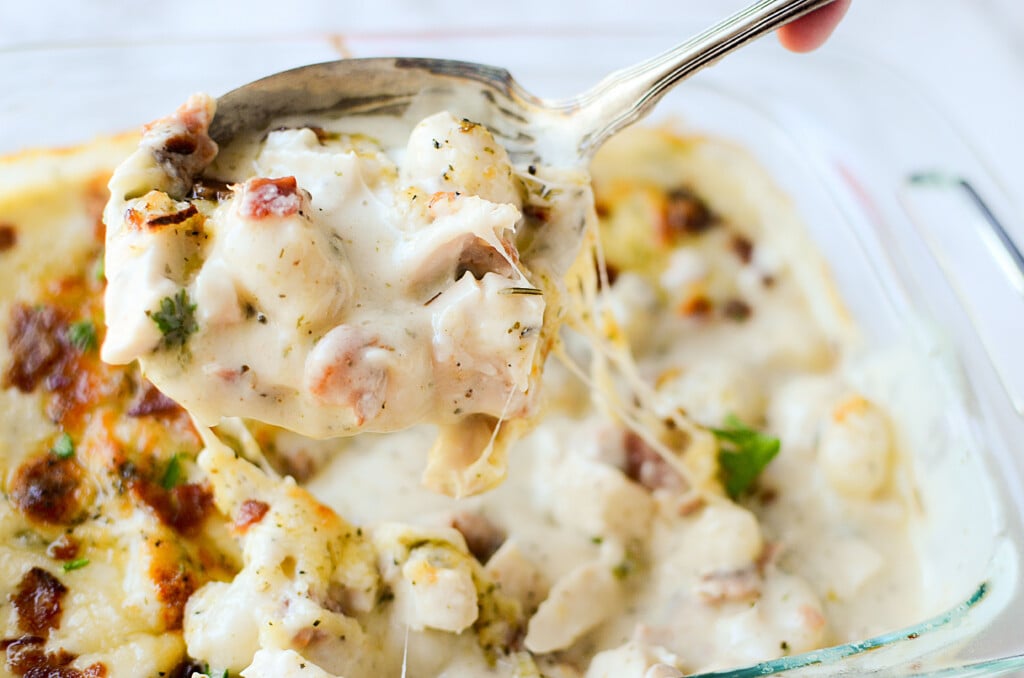 What Can I Serve With This Gnocchi Pasta Bake?
Really, the possibilities are endless. You could try:
A side salad. Personally, this would be my favorite. A salad would lighten up the dish and give those extra greens we all need!
Broccoli
Carrots
Cauliflower (You could serve this in a pinch. It would be a tasty addition, but because cauliflower is white as well, it would be nice to use a different veggie even just for color contrast!)
Honestly, any veggie would do. However, I would not serve rice or potatoes as a side as the pasta bake has enough starch as it is.
Also, as a little side note, this bacon and chicken gnocchi dish is best eaten for dinner. Not lunch. ESPECIALLY if you think you have other stuff to do for the rest of the day.
Ohhhh heck no. No.
See, this dish is going wrap its soft cuddly arms around you and rock you like a baby…. Lulling you into a sweet comfort trance, the kind that leaves you with your eyes half closed, mouth wide open, dreaming off somewhere in your head…. you know, the kind of comfort that makes you want to do nothing but lay on the couch and rub your tummy like a puppy.
I know puppies don't rub their tummy, but I'm trying to paint a picture here while giving you a fair warning. 🙂 It's not that this dish is heavy, it's just the epitome of comfort food.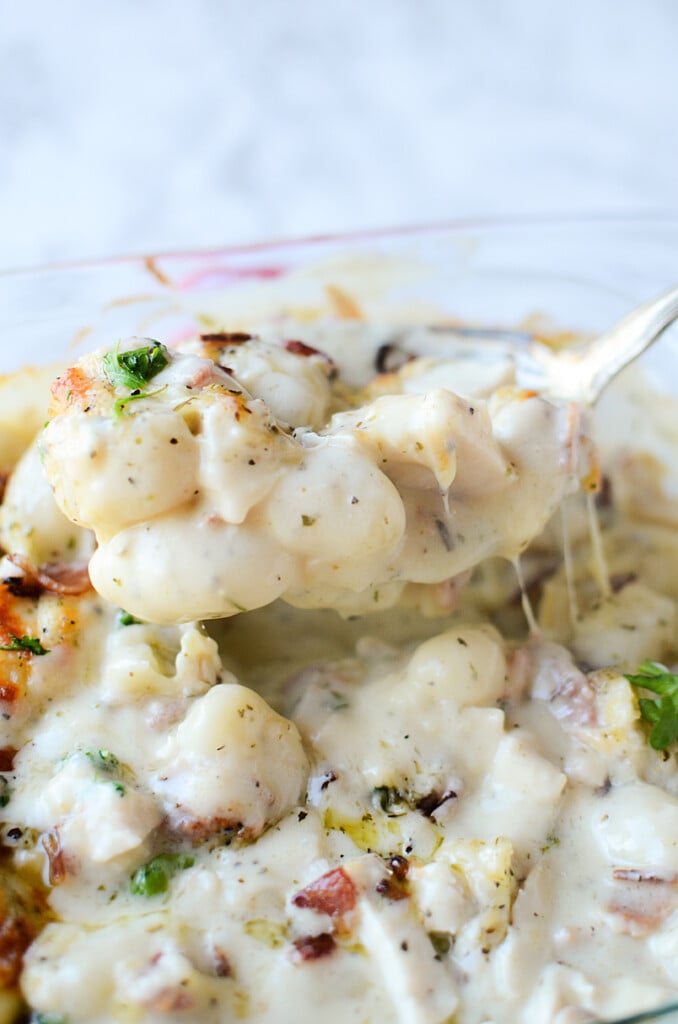 Bacon, chicken, cheese, and the best of all, gnocchi. Gnocchi – little pillows of heaven is what I like to call it. But seriously, this dish has it all.
If you haven't tried gnocchi, you should. It's sooo amazing. It's easy to find, as most grocery stores carry it now. Maybe one of these days I'll get brave enough to actually try to make my own gnocchi!!
Well.. maybe.
Thanks so much for stopping by The Salty Pot and checking out this Cheesy Chicken Gnocchi Bake today! When you make this dish, I would LOVE to hear what you thought of it, and if you changed up the dish at all and how you did it!! Have a fantastic day!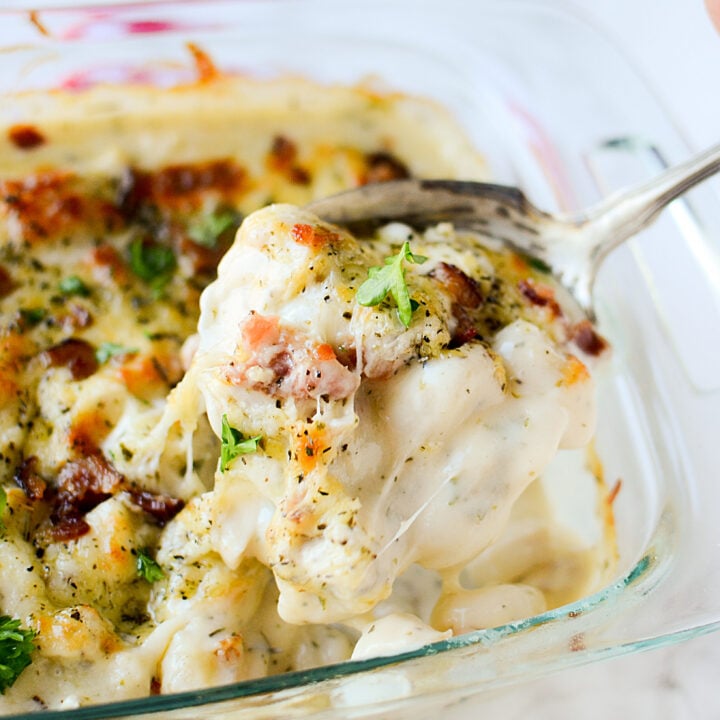 Cheesy Chicken Gnocchi Bake
A super cheesy chicken gnocchi bake with added chicken and bacon, to make your comfort food dreams come true.
Ingredients
4 c ready made gnocchi
5 slices of bacon, crumbled
2 c chicken, cooked, cubed
1 ½ Tbsp. flour
4 tbsp. butter
2 cups of chicken stock
1 cup of milk
2 cups mozzarella cheese
1 cup parmesan cheese
1 teaspoon italian seasoning
as desired salt and pepper
Instructions
Preheat oven to 350
In a sauce pan, mix together butter and flour. Cook until butter is melted and mixed with the flour
Slowly add the stock, stirring and letting mixture come to a boil. Keep stirring as it thickens.
Add the milk, stir as it thickens.
Begin adding the mozza cheese, in 1 cup increments. Stir while it melts and thickens the sauce.
If you find the sauce too thick, add more milk or broth.
Add the gnocchi, chicken, half the bacon, and seasoning
Transfer into a 9 x 13 baking pan
Sprinkle the remaining bacon and parmesan cheese on top with a tiny bit more Italian seasoning
Bake for 25 minutes or until golden brown
Let the dish sit for 5 minutes before serving.
Enjoy!
Notes
I used leftover chicken from a rotisserie chicken we bought previously, but you could use chicken breasts and cook them any way you prefer. 
Next, the bacon. Be sure to precook the bacon to a crispy state. Not burnt, but you don't want flabby, soft bacon. The bacon in this recipe helps to add texture to an otherwise all soft texture.

For the parmesan cheese, please use a shredded/grated cheese that you shredded yourself. In the very least, do not use the stuff that comes in the green cardboard container on the shelf. Buy yourself some quality parmesan cheese in a wedge and grate it yourself, or buy it grated from your deli.

You can also use other Italian cheeses in addition or in place of, the parmesan.
Nutrition Information:
Yield:

8
Serving Size:

1 cup
Amount Per Serving:
Calories:

466
Total Fat:

25g
Saturated Fat:

12g
Trans Fat:

0g
Unsaturated Fat:

10g
Cholesterol:

110mg
Sodium:

739mg
Carbohydrates:

33g
Fiber:

1g
Sugar:

2g
Protein:

27g
***DON'T FORGET TO PIN THIS CHICKEN GNOCCHI BAKE TO YOUR FAVORITE PINTEREST BOARD TO USE FOR LATER!!!***