Learning how to air fry hot dogs couldn't be easier. When fully cooked and sitting in the toasted bun with all your favorite condiments, the crispy hot dog sitting inside a toasted bun with your favorite condiments makes for an easy weeknight or weekend dinner.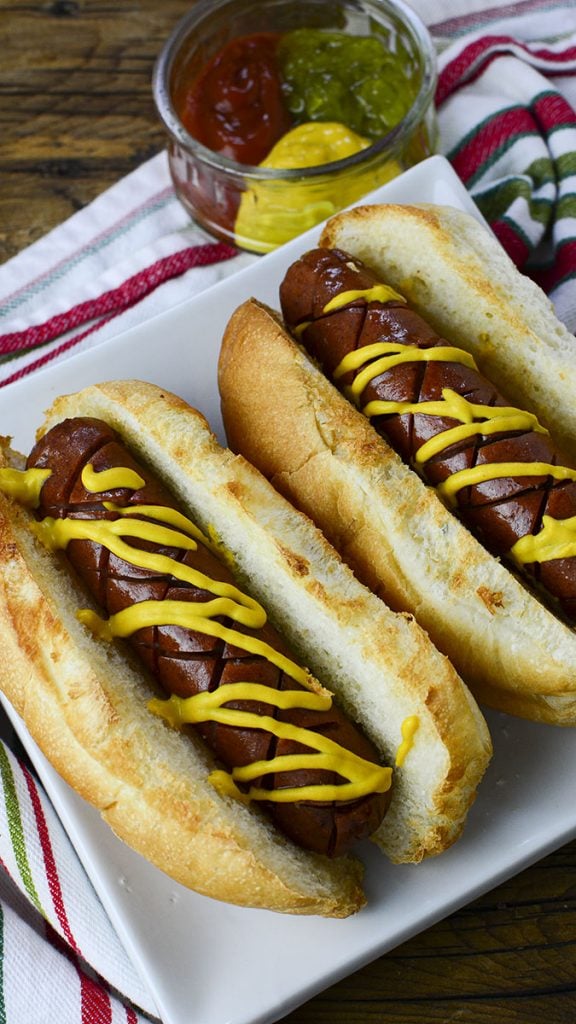 AIR FRYER HOTDOGS – EASY WEEKNIGHT DINNER
HOW TO AIR FRY HOT DOGS       
I can't wait to share this recipe with you as it's amazingly cheap and easy to make, and hands down a really easy and delicious, simple dinner. They're also great to make for family gatherings because you can make a few all at the same time.
It's super tasty and you can never go wrong with the meaty flavor that goes perfectly with any side.
What else is great about air-fried hot dogs? You don't have to deal with greasy cleaning after cooking! These handy dandy parchment liners make clean up a breeze, plus they help protect the bowl liner from the basket feet if you're air frying in the Ninja Foodi, like me.
I love the texture contrast of the toasted bun with the hotdog, plus the condiments take the air fryer hot dog experience to a new level. Pair these hot dogs with my Tropical Mermaid cocktail or my non-alcoholic Hibiscus Iced Tea and you have a combo that's PERFECT eating!
INGREDIENTS NEEDED FOR CRISPY DOGS
What I love about this recipe is that the ingredients are always within my budget. It's cheap and you can always have some change for additional toppings that you like.
Hot dogs – I used turkey hot dogs, but you can use any type you like. A blend of pork and beef, or your classic all-beef ballpark franks work great as well.
Hot Dog Buns – Fresh is best, I always say. Purchase the freshest hot dog buns you can. It makes all the difference in the world, and when you toast them up, oh my goodness – they're divine!
Melted butter – This is for basting the wiener as it's air frying. It adds a little extra yummy flavor, especially with the additional seasonings.
Garlic Powder – Mixed into the melted butter, the flavor takes the hot dog to a whole new level. You can use diced garlic if you prefer, just watch as you air fry so the garlic doesn't burn.
Desired Condiments – I prefer just mustard on my hot dogs, but the sky is the limit here. Some ideas could be the classic ketchup and relish. Or you can add sauerkraut, cheese, pickled jalapenos, or even chili and make an air fryer chili dog! yum!!
HOW TO AIR FRY HOTDOGS
So, here's how to make them:
Preheat the air fryer for five minutes before cooking.
Make diagonal cuts, about a ¼ way into the hotdog.
Turn and make more cuts going the opposite diagonal way down into the hot dog, forming a diamon patter. This helps air fry faster and makes a pretty pattern that gives more surface area for the condiments to flavor.
Brush seasoned, melted butter over the hotdog as it air fries to add extra flavor and crispiness.
When done, take out hot dogs and put them in cut buns.
Air fry for a few minutes to toast the buns. Make sure to keep watch so it won't burn.
And that's it! Check out the full recipe below.
CAN I AIR FRY MORE HOT DOGS THAN TWO AT A TIME?
Yes, absolutely. You can lay as many as will fit in the air fryer basket. Ideally, you want to spread them out on a single layer, or as a double layer.
If you have them double layered you will want to stop and shake the air fryer basket to move the dogs around or manually flip them so they are all getting air fried equally.
WHAT CAN I PUT ON THE FRIED HOT DOG?
You can level your serving game with toppings and condiments. This delicious snack can go with diced onion, sauerkraut, and chili. In fact, it meshes perfectly with my Instant Pot Campfire Chili recipe. You can also serve it with American cheese slices, jarred nacho cheese sauce, (or make your own DIY CHEESE SAUCE!) or even sprinkle crushed potato chips on top.
WHAT CAN I SERVE AS A SIDE?
What is your favorite side dish? Chances are, these air fryer hotdogs will go with them. If you're looking for ideas, try pairing them with my Slow Cooker Pineapple Baked Beans, Air Fryer Zucchini Sticks, and Zesty Cheese Dorito Mac and Cheese, which is just as delicious.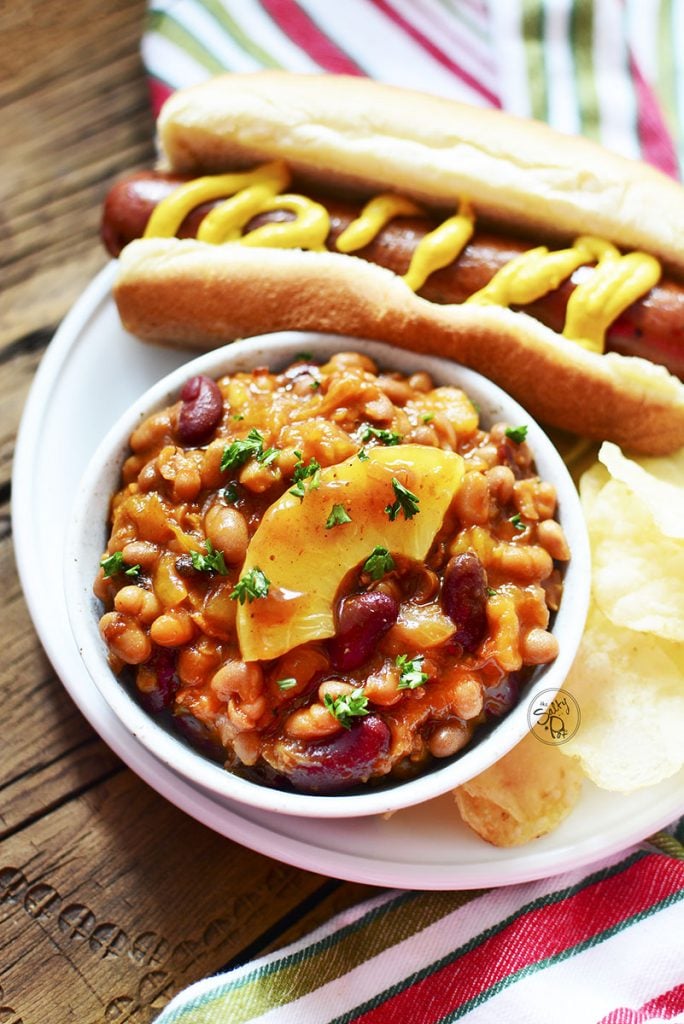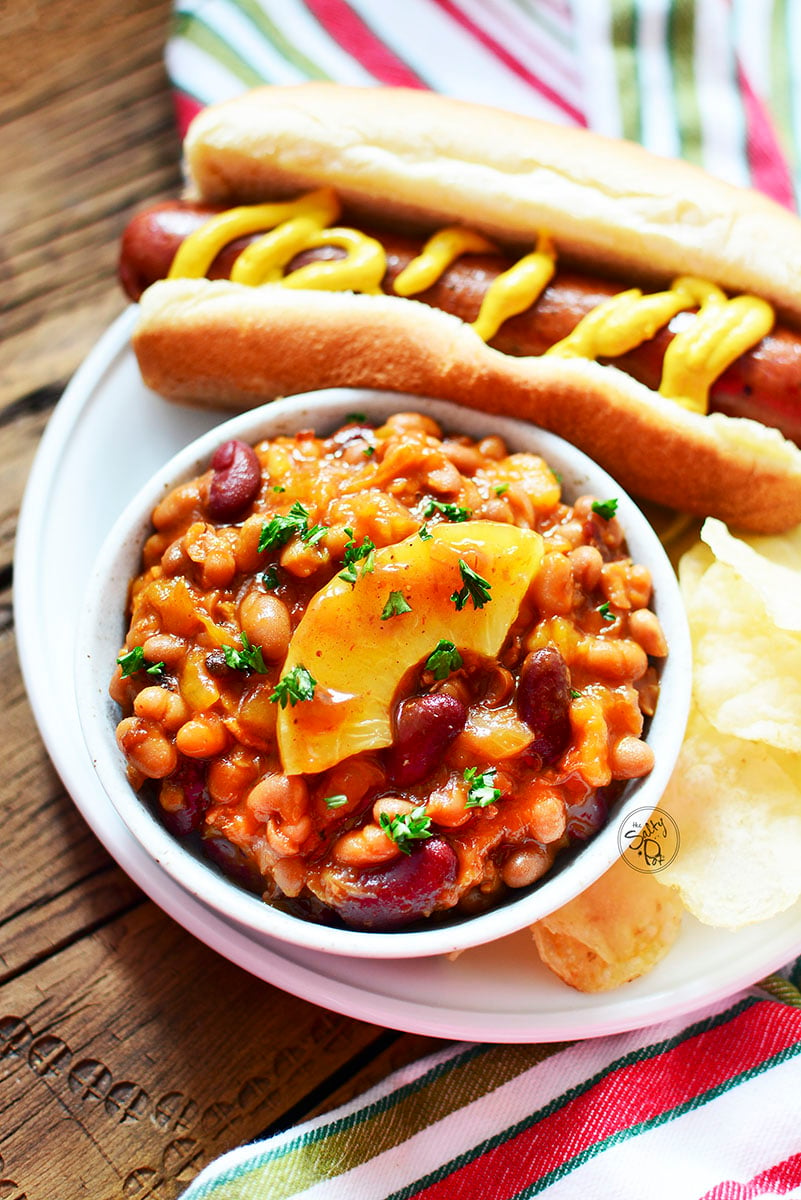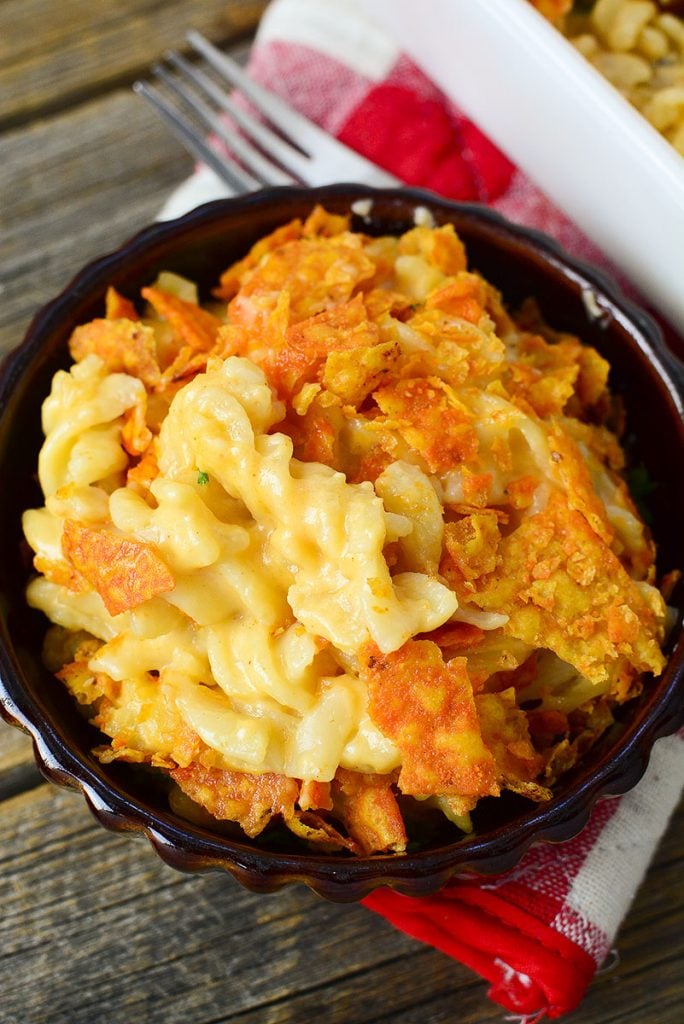 CAN I AIR FRY HOT DOGS FROM FROZEN?
Yes, you can. You will probably have to forgo scorring the dogs because they're frozen and it's too difficult.
Also, they should be cooked at a lower temperature for a slightly longer time. Directions for cooking hot dogs from frozen will be in the recipe card below.
STORING AND REHEATING
Refrigerator: You can put this on the fridge for up to 5 days but keep the buns and air fryer hot dogs separate.
Reheating: You can reheat these hot dogs in the microwave for a few minutes or back in the air fryer. Just make sure not to put the buns back in the air fryer to reheat as they may burn.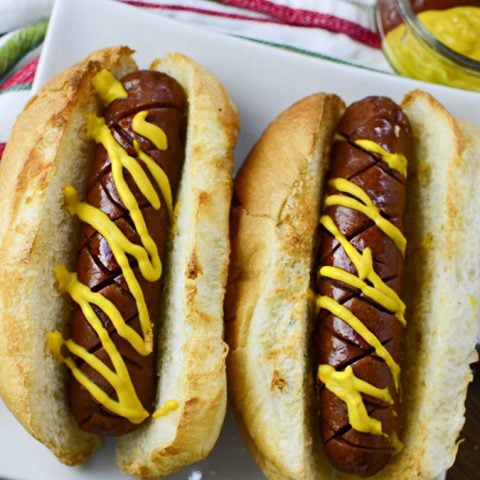 Learning How to Air Fry Hotdogs
Additional Time:
5 minutes
Learning how to air fry hot dogs couldn't be easier. Once you learn how to make them crispy and delicious, along with a toasted bun, they'll be one of your GO TO quick dinners, or recipes to feed a crowd with!
Ingredients
2 hot dogs
2 buns, fresh
¼c butter
½ teaspoon garlic powder
Instructions
1. Preheat the air fryer AT 350F for five minutes before cooking.
2. Carefully with a sharp knife, make diagonal cuts, about a ¼ way into the hot dog, going down the length. Turn and make more cuts going the opposite diagonal way down into the hot dog, forming a diamond pattern.
3. Place the wieners into the air fryer basket and close the lid. Air crisp/ Air fry for 5 minutes.
4. Half way through the cook time, open the lid and brush the melted, seasoned butter over the tops of the hotdogs.
5. When the crisping time is up, (or when they've reached the desired crispiness on top), take out hot dogs and cover with tin foil. Note: The hotdogs should have an internal temperature of 140F or warmer.
6. Place the hot dog buns in the air fryer and begin to air fry for 2 minutes. Keep an eye on them as they burn easily. They should be golden brown and crispy on top.
7. Plate the hot dogs by adding one hot dog to one bun, and then garnish with condiments.
8. Enjoy!
Notes
1. Hot dogs are technically cooked when you purchase them however, for safe eating it is recommended they are heated to steaming hot or to an internal temperature of 140F or warmer.
2. Use the freshest buns you can find. They toast up nicer and the contrast of the toasty bun with a tender inside is delicious.
3. Prepare your toppings and have them ready to go before you start air crisping. Hot dogs can cool down quickly, so the objective would be to dress the hot dogs while they're hot and enjoy!

Nutrition Information:
Yield:

2 hot dogs
Serving Size:

1 hot dog
Amount Per Serving:
Calories:

483
Total Fat:

39g
Saturated Fat:

21g
Trans Fat:

1g
Unsaturated Fat:

14g
Cholesterol:

89mg
Sodium:

809mg
Carbohydrates:

24g
Fiber:

1g
Sugar:

4g
Protein:

10g
All nutritional information is based on third-party calculations and is only an estimate. Each recipe and nutritional value will vary depending on the brands you use, measuring methods, and portion sizes per household.