Yippeee!! It's National Grapefruit Month!!! Ok, you might not get THAT excited about grapefruits, but you have to admit – if you like them, you pretty much love them! I grew up eating grapefruits and I still really enjoy them today. But honestly, what else can you do with them except just cut in half and eat them? Take a look at this pink grapefruit recipe I have for you today. I'm really happy with how it turned out. It's like eating sunshine in a bottle! (By the way, I'm working on a collection of all kinds of citrus recipes coming up, so stay tuned for that!!!)
Pink Grapefruit Syrup
My mom had a house in Arizona a few years ago, and being snowbirds, we were always amazed at all the fruit that grows in people's back yards. Grapefruits, oranges, lemons, etc. I was in awe! Those little trees were powerhouse production plants and in the height of production, people would box up the fruits and leave them with a sign "free" for anyone who wanted them. I was in my glory!!!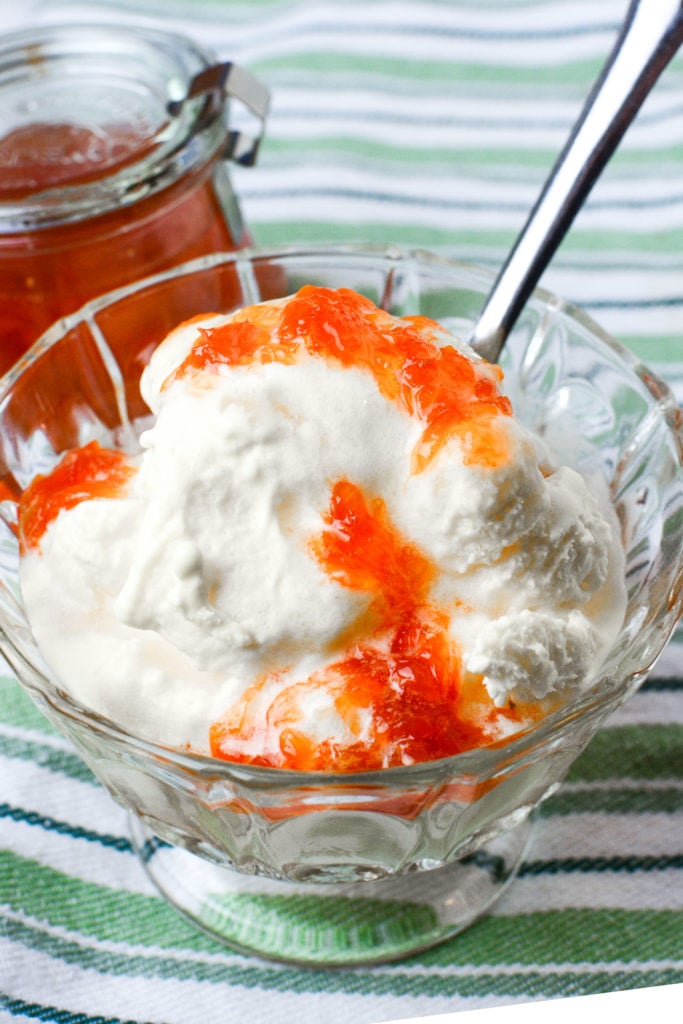 I suppose though, after a while, you get a bit tired of eating them the same old way. So I was thinking about a bag of grapefruit I had on hand. I wanted to find a really nice way to use them and make their flavors last after their season is done. I came up with this grapefruit syrup. I was so impressed! It's sweet, and yet a tiny bit tart and all the flavors that make grapefruit amazing comes out in this syrup.
Grapefruit Syrup: It's crazy easy to make
I had about 6 large pink grapefruit to use up. I peeled them, being sure to get as much as the white pith off as possible. Section them with a sharp knife. Holding the fruit in one hand, make clean cuts on either side of the sections where you see the membranes.
Follow along the natural curves of the grapefruit section and slice the pieces into a bowl. When you're done slicing the fruit, give the leftover membranes a really good squeeze over the fruit. You don't want to lose any of that great flavor!
Heat the fruit in a heavy pot, over medium heat. When it comes to a boil, add the sugar and being stirring to dissolve.
If there is any foam that begins to form on the top, simply skim it off with a spoon. Boil the syrup for about 5 – 8 minutes or so, or until it becomes a bit thicker consistency.
Spoon into containers and let cool. If you don't like the pulp in the syrup (which I do, I love that texture!) – simply strain the syrup through a sieve once it's cooled.
What can I do with this sunshine citrus syrup??
You could use this syrup on all sorts of things! As you can see, I used it to top vanilla ice cream , which was simply divine! The sweetness, the tartness, creaminess from the cream, oh… I could go on and on. Simply divine I tell you! Here are some other ideas:
topping for pancakes
add to some plain seltzer for a refreshing drink
add some vodka, seltzer and the syrup for a yummy summer cocktail
Cheesecake topping
drizzle a bit on top of a savory fried pork chop!
add a few tablespoons to a stir fry for a citrus sweet hint when combined with soy sauce!
Of course, you could use regular grapefruits as well for this recipe, but I highly recommend using pink grapefruit. It's a bit sweeter so you need to use less sugar. Give this unique pink grapefruit syrup a try and let me know what you think. I'd love to hear how you use it!!! Oh, and if you're looking for some other "Make your own" or "how to make".. check out a few of these incredible ideas! How to make your own butter, or how to make your own ketchup , and lastly, one of my most favorites .. this —> How to make the easiest caramel sauce ever!
how to make pink grapefruit syrup
Pink Grapefruit Syrup - sweet and tart, the perfect balance. So many great uses for this syrup and it tastes like sunshine!
Ingredients
6 - 7 pink grapefruit, large (about 4 cups of juice and pulp together)
2 ½ c white sugar
2 teaspoon ginger powder
Instructions
Peel the grapefruit being sure to remove all the white pith as well
Carefully, with a sharp knife, section the fruit from the membrane. Squeeze the membrane over a bowl to get extra juice.
Add the ginger powder
Over a medium heat, heat the fruit and juice until it boils. Add the sugar. Bring back to a boil and continue stirring to dissolve the sugar.
If foam starts to form on the top, skim it off and discard.
Boil the liquid until it begins to get a thick consistency (like, syrup. lol)
Remove from the heat and let cool. Strain the mixture if you don't like the pulp.
Put into containers and use within 2 weeks or freeze up to 3 months.
Nutrition Information:
Yield:

48
Serving Size:

1 tablespoon
Amount Per Serving:
Calories:

56
Total Fat:

0g
Saturated Fat:

0g
Trans Fat:

0g
Unsaturated Fat:

0g
Cholesterol:

0mg
Sodium:

0mg
Carbohydrates:

14g
Fiber:

1g
Sugar:

13g
Protein:

0g
All nutritional information is based on third-party calculations and is only an estimate. Each recipe and nutritional value will vary depending on the brands you use, measuring methods, and portion sizes per household.