These Chili Lime Shrimp Appetizers will go like hotcakes at your next get-together. Creaminess from the avocado, savory flavors from the salsa, sweetness from the corn, the crunch from the tortilla – all these factors combine with the brininess of the shrimp to make these seafood appetizers a HUGE hit!
These adorable seafood appetizers remind me of mini shrimp tacos! One is never enough and I get asked how to make these every time I bring them to a party.
This post may contain affiliate links. If you make a purchase after clicking a link, I may earn a small commission AT NO COST TO YOU. As an Amazon Affiliate, I earn from qualifying purchases.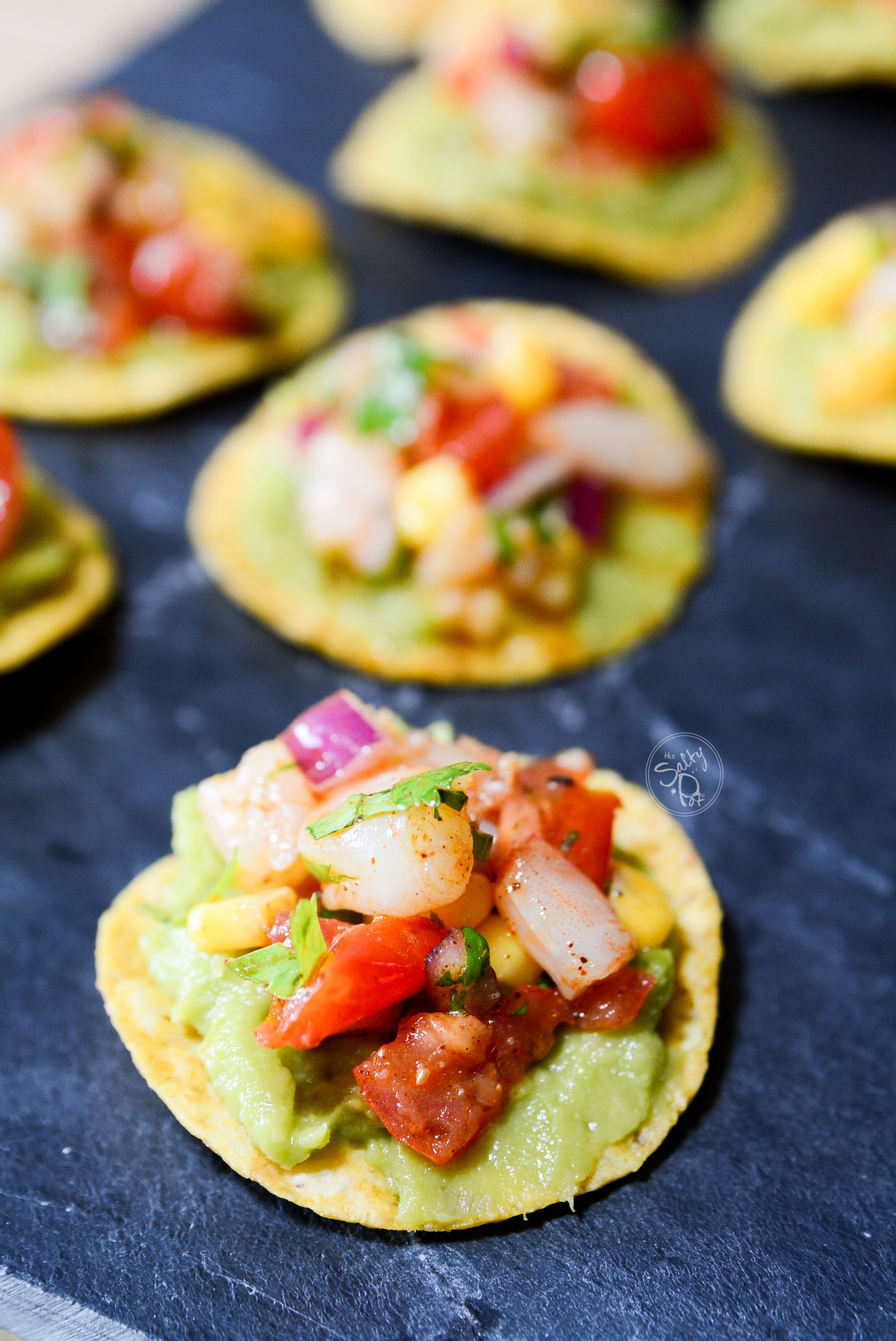 CHILI LIME SHRIMP APPETIZERS
There are so many great appetizers out there with shrimp aren't there? This one is no exception and these little cuties are incredibly easy to make. There aren't any wild and crazy ingredients that you need to go to special stores for, everything you need will be found at your local grocers!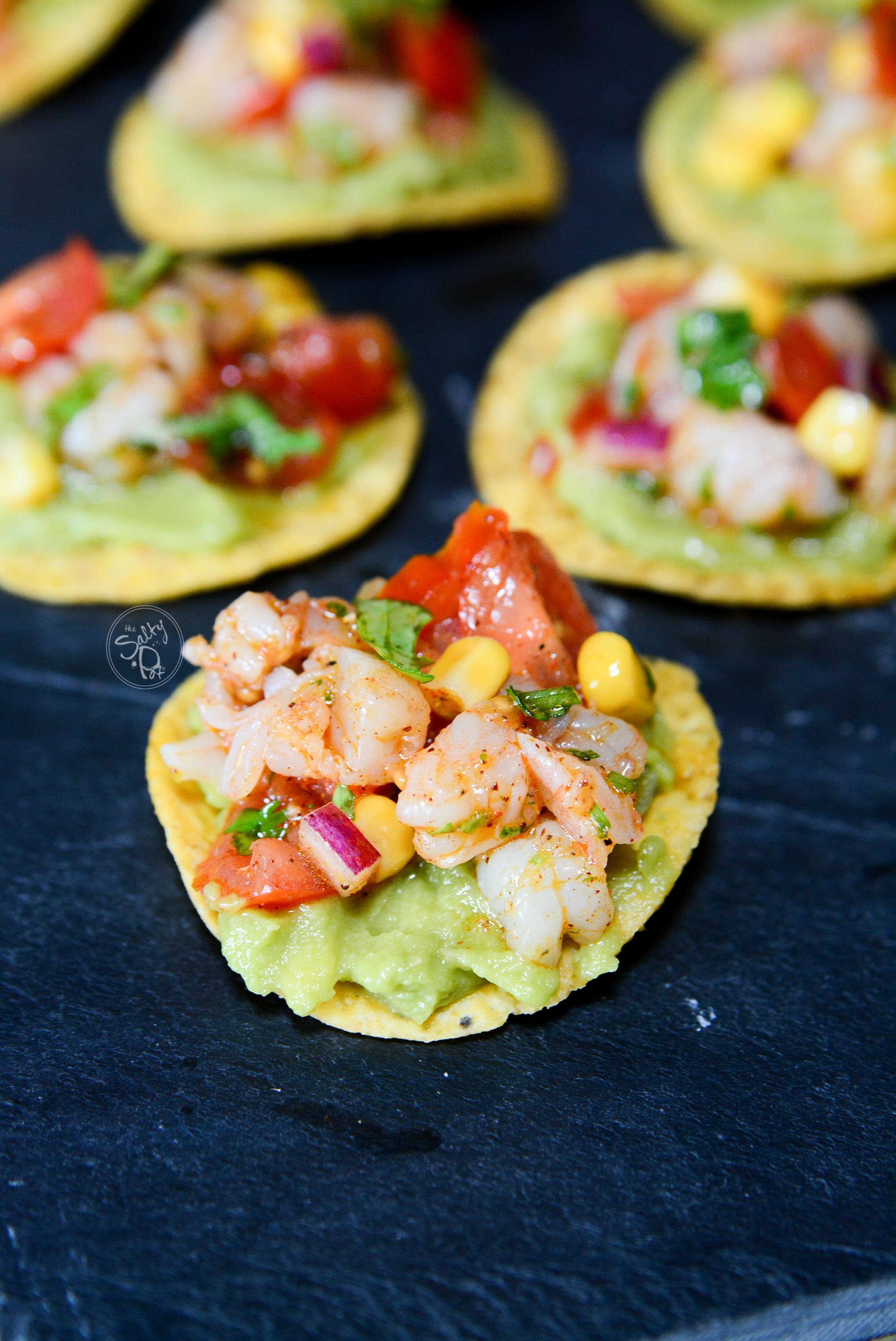 Ingredients Needed For These Cold Shrimp Appetizers
You can use any vegetables that you prefer really, as long as they paired well with shrimp. I wouldn't mix brussels sprouts with shrimp for instance, but again, it's your appetizer so you do you, girl! 🙂
So, you'll need:
Shrimp (of course) – you'll want the shrimp cooked, peeled, and deveined.
Corn – try and use fresh corn here but if you can't, frozen would be the next choice, thawed. After that, then use canned. Never use creamed corn in this recipe 🙂
Cherry tomatoes
Red (or Purple) Onion
Cilantro
Guacamole – You can use packaged (which I did here) or feel free to make your own spectacular guacamole if you have a great recipe on hand!
And then, for the dressing:
Avocado oil: Olive oil is fine if that's what you have on hand.
Lime juice: Use fresh so you can use the lime zest as well.
Chili powder
Garlic powder: Using minced garlic is great as well.
Onion powder
Salt and Pepper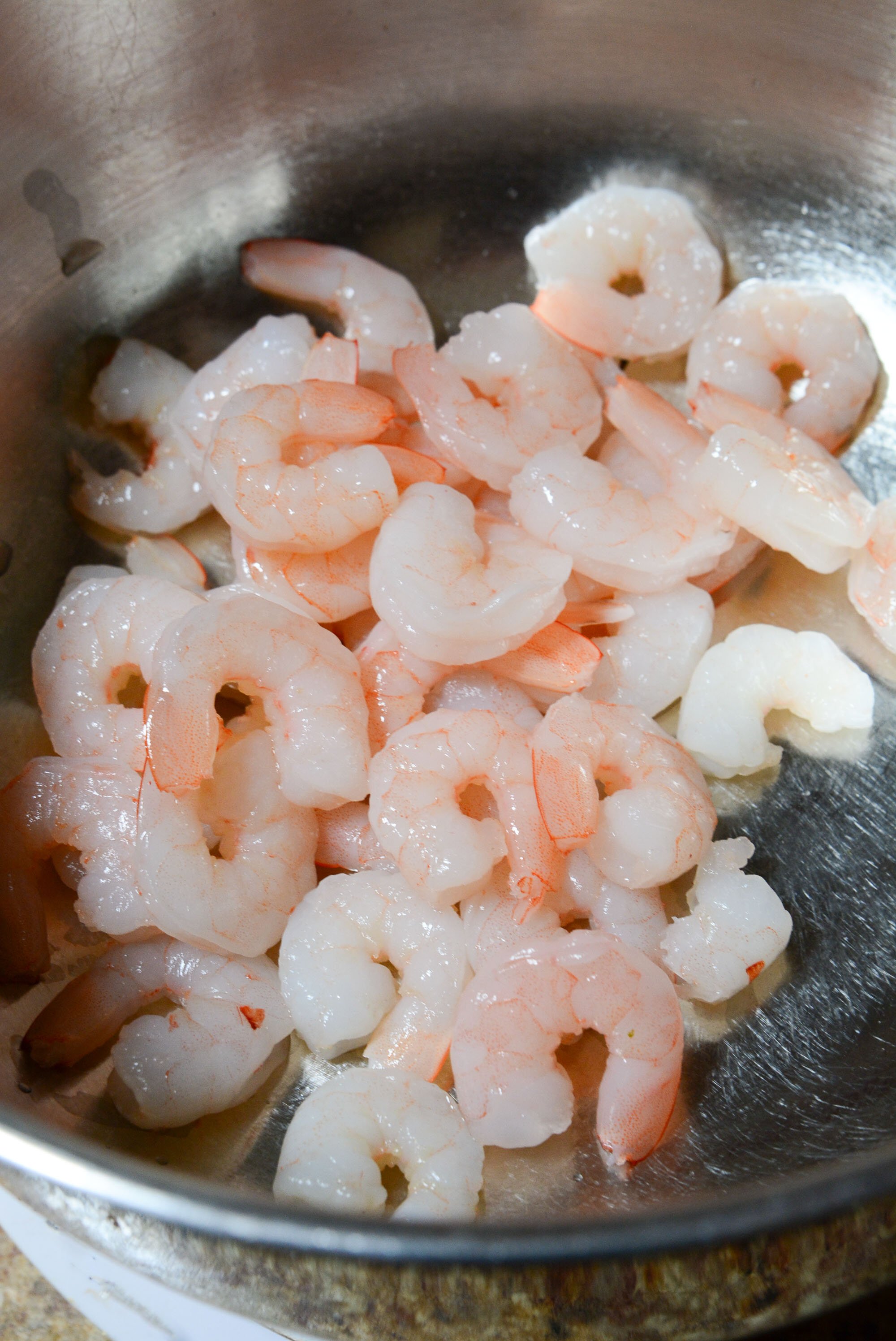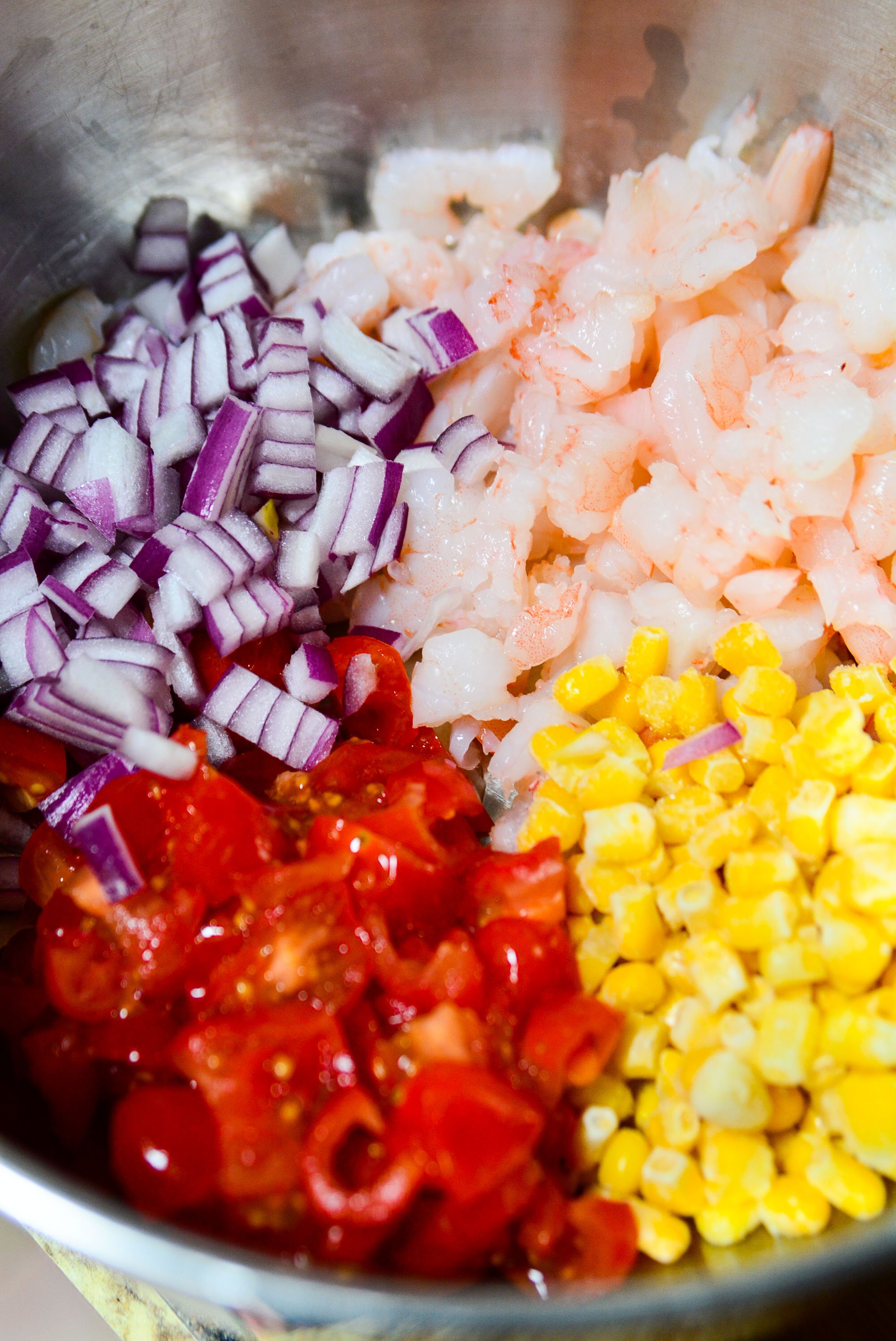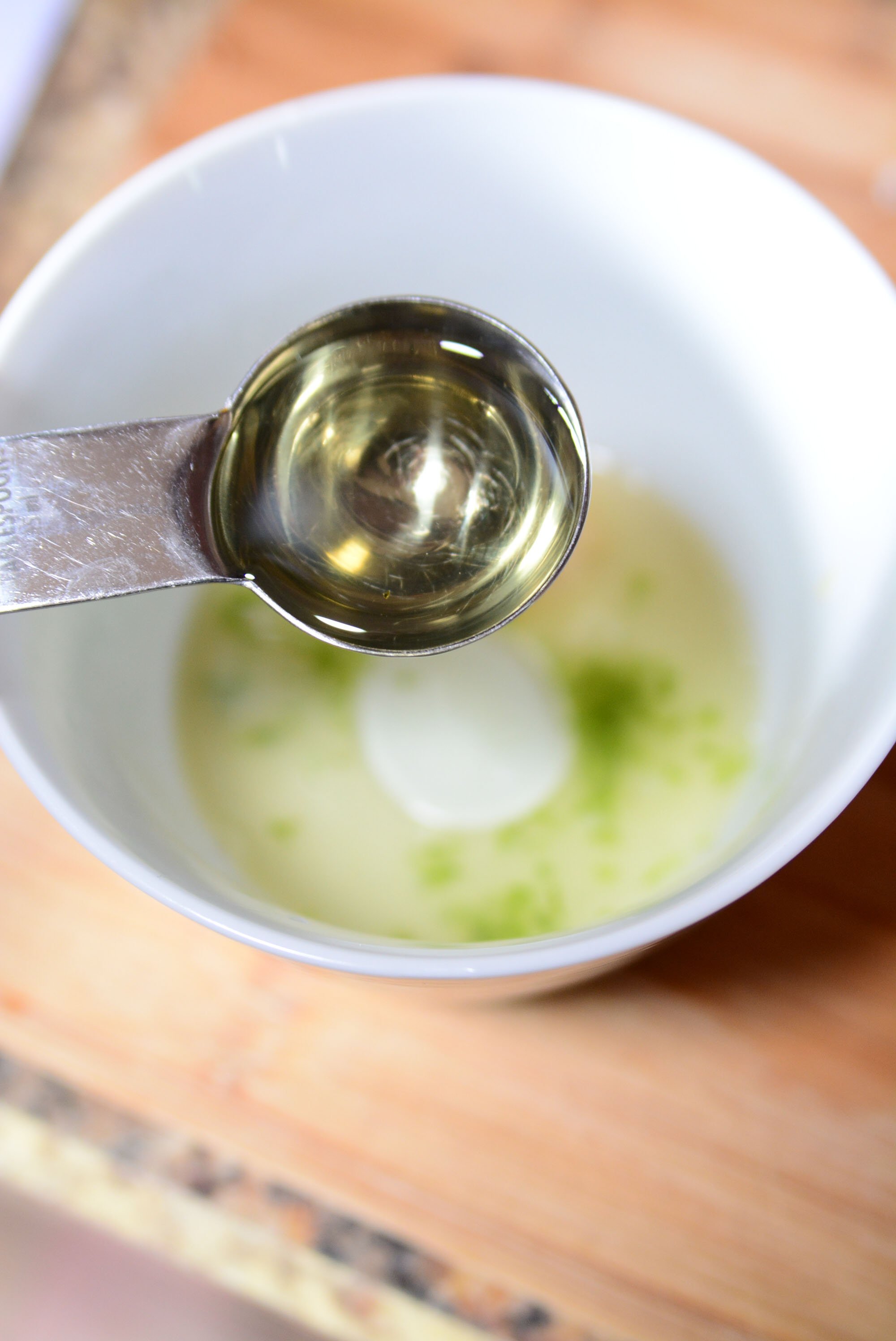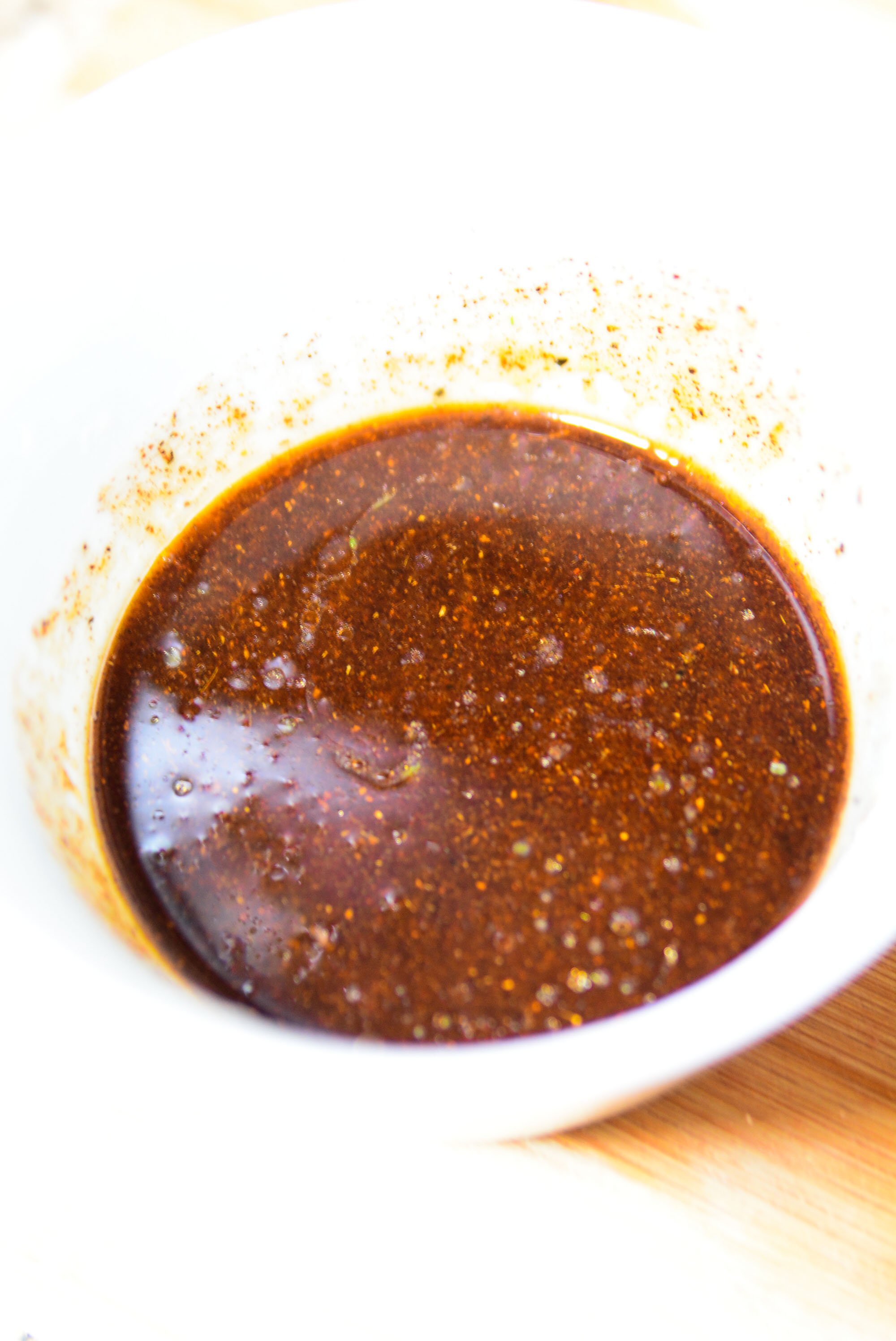 What Can I Serve These Chili Lime Shrimp Appies on?
Well, again, pretty much anything you prefer. Choosing a crunchy base is the perfect contrast for this filling.
Tortilla chips– Chips that are lime flavored go super well with these appetizers.
Tortilla scoops – When filled, these make the perfect mini chili lime shrimp cup!
Veggie or Toppable crackers – Excellent choices but be sure the cracker isn't fragile so that excess moisture will make it soggy.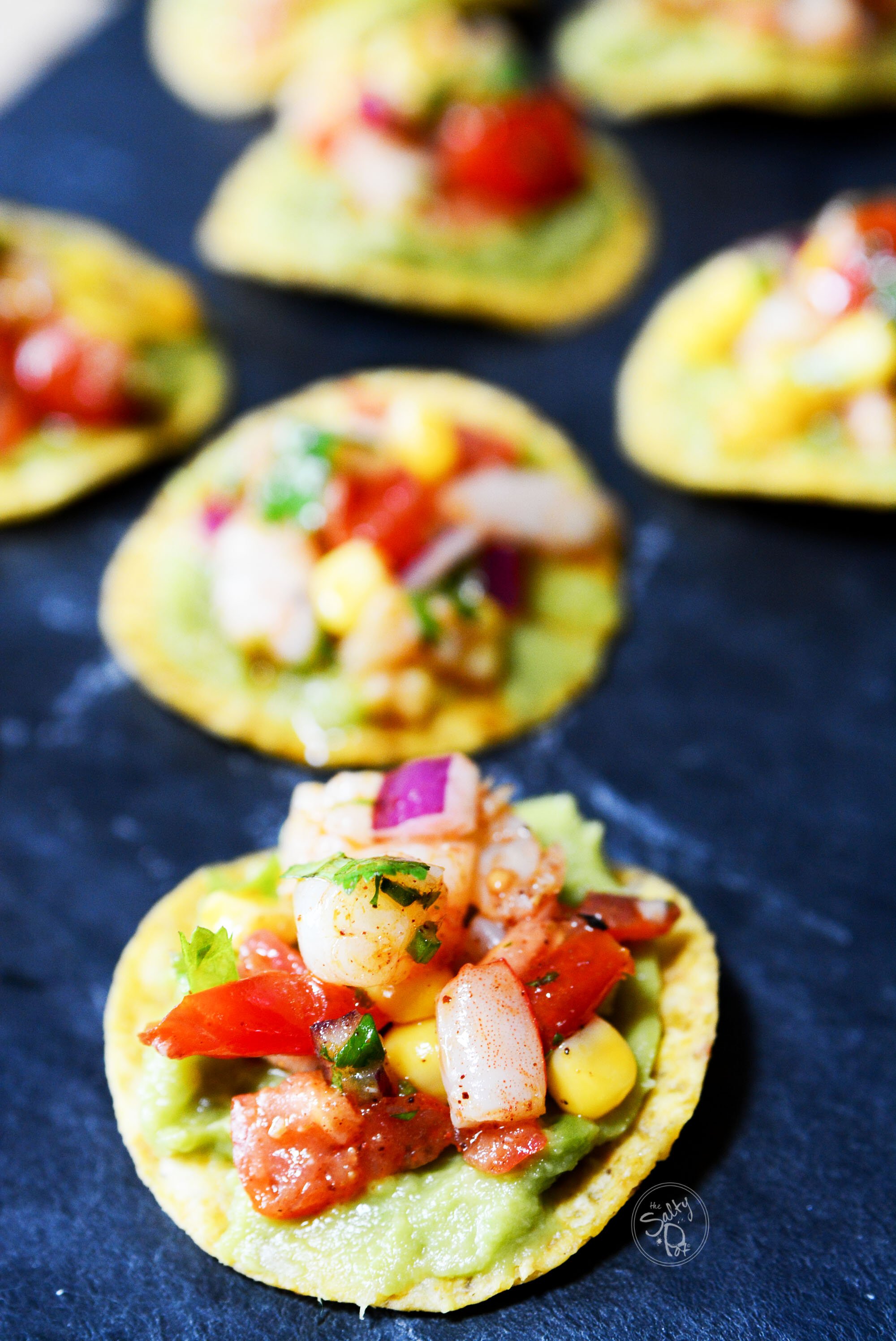 Can I Make This Appetizer with Shrimp Ahead Of Time?
Yes! Absolutely. However, I wouldn't do them THAT far ahead. If you wanted to prep the day ahead, I would do that, but only mix the veggies and shrimp together, and then keep that filling ice cold in the refrigerator.
Don't put the filling on the crackers as they could get too soggy if made too far ahead of time. You can prep all the elements the day before if you wish, but keep them separate before assembly to serve. Be sure to add some lime juice to the avocado/guacamole so it doesn't oxidize and change color.
I usually assemble this chili lime shrimp recipe about an hour ahead of serving time.
Can I Use Crab Instead Of Shrimp?
Sure, why not? Crab has a slightly sweeter flavor than shrimp but I think it would still pair nicely with the rest of the ingredients.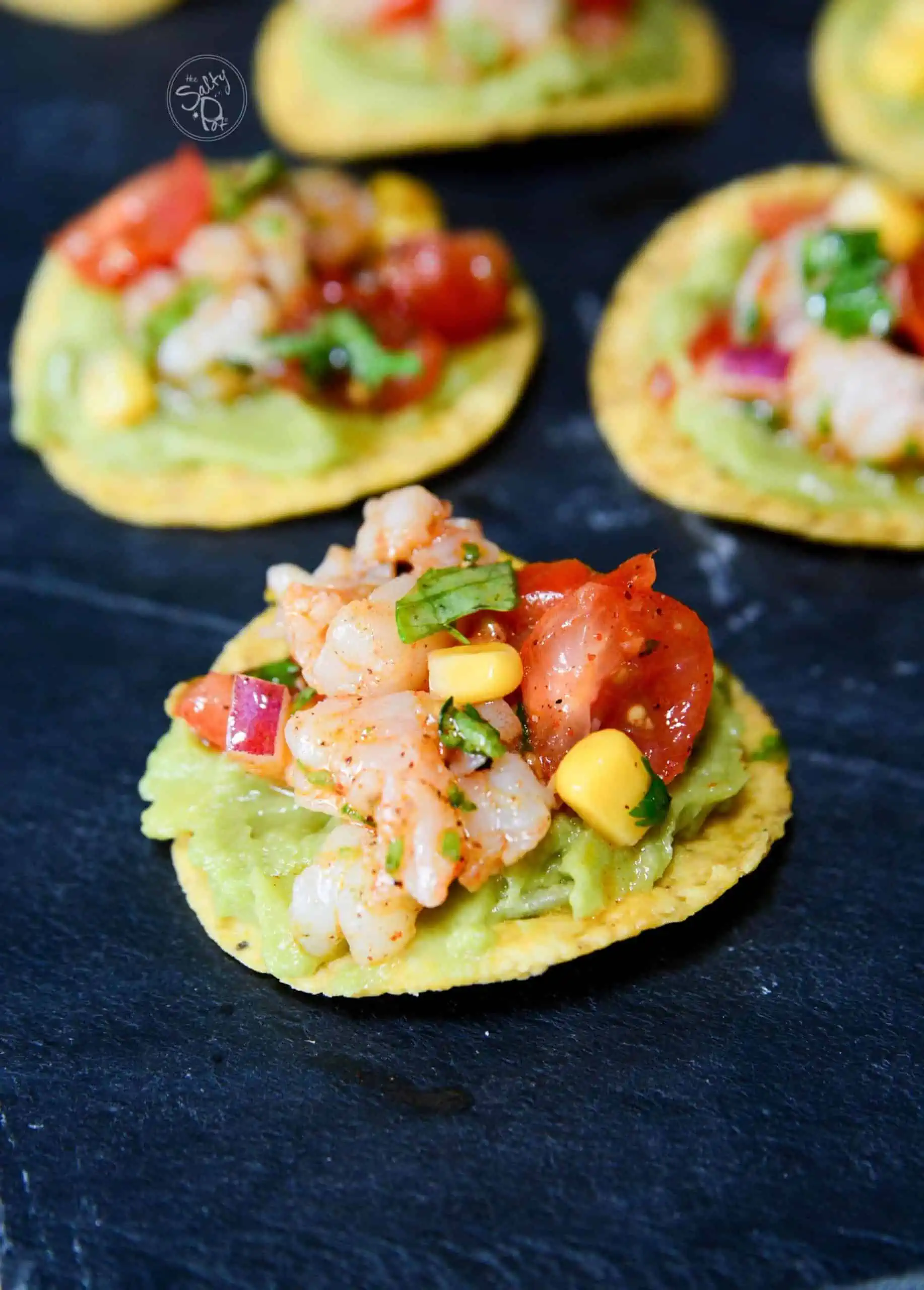 Can I Make Them Spicy?
YES!! If you're a pepper head, then absolutely, make them as spicy as you'd like. Add a bit of hot sauce or your favorite dried chili maybe? Or some other fresh hot peppers like jalapeno's or even, if you dare, scotch bonnet!
Keep in mind though, if you're sharing with others their spice tolerance might not be as bold as yours. Also, keep in mind, the longer the mixture 'marinates' in the fridge, the longer the flavors get to mingle and get spicier!
By the way – if you're looking for other yummy appetizers to serve that would compliment these appies, take a peek at this Crab Rangoon Dip by Blue Jean Chef!! Other ideas like this Creamy Black Olive Hummus and these Caprese Chicken Toasties would be ideal.
However you decide to make them, these gorgeous Chili Lime Shrimp Appetizers are sure to please anyone who loves these sorts of nibblies or appetizers. The brininess of the shrimp, the tartness from the lime, the crunch from the tortilla chip, and the sweetness from the tomatoes (along with all the luscious and delicious spices), these adorable little bites come together into a blissful bite!!
When you make these delicious appetizers, let me know if and how you switched them up down in the comments below! I'd love to hear how you did them! Thanks so much for stopping by The Salty Pot today, and I hope you have a wonderful day!!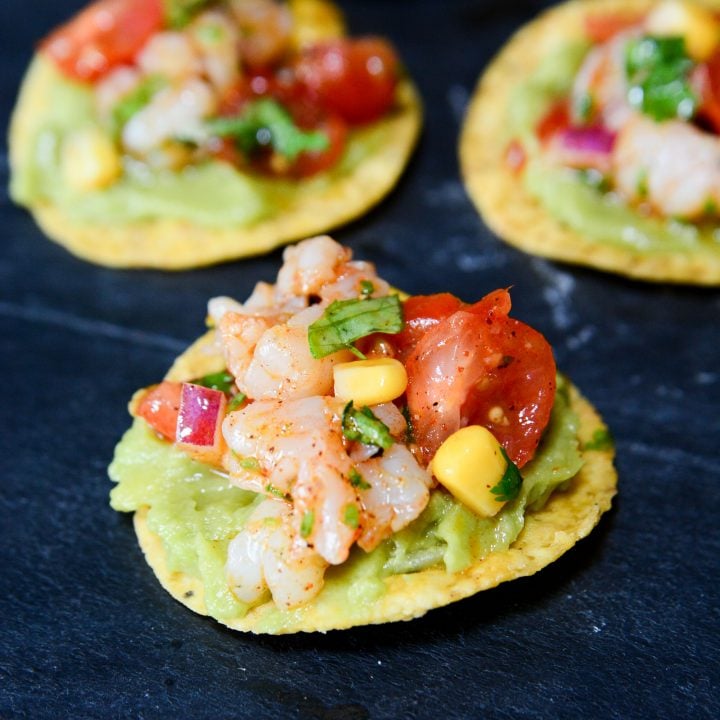 Chili Lime Shrimp Appetizers
Additional Time:
15 minutes
This Chili Lime Shrimp Appetizer recipe is a perfect little cold seafood appetizer for any party or get-together. The shrimp with the chili and lime seasoning pairs so well and the added veggies with the guacamole make this snack the ultimate appetizer to serve!
Ingredients
1c shrimp, cooked
½ c corn, frozen, thawed
1c cherry tomatoes, diced
¼ c red onion, diced
½ c guacamole
as desired cilantro (garnish)
Dressing:
3Tbsp lime juice
2Tbsp oil (avocado or olive)
3 tsp. chili powder
1 tsp garlic powder
1 tsp onion powder
½ teaspoon salt
1 large bag of tortilla chips (rounds)
Instructions
In a bowl, combine the first 4 ingredients. Mix well.
Combine all the ingredients for the dressing. Blend well
Pour the dressing ingredients over the shrimp mixture and mix.
Dollop ½ teaspoon amounts of guacamole onto some tortilla rounds
Top with the shrimp salad mixture
Garnish with cilantro
Enjoy!!
Notes
** See post for recipe notes. Thank you so much!
Nutrition Information:
Yield:

30
Serving Size:

1
Amount Per Serving:
Calories:

26
Total Fat:

2g
Saturated Fat:

0g
Trans Fat:

0g
Unsaturated Fat:

1g
Cholesterol:

10mg
Sodium:

110mg
Carbohydrates:

2g
Fiber:

1g
Sugar:

0g
Protein:

1g