So for my very first post, I thought I'd tell you about my Christmas Love Affair….
I fall in love….
all.the.time.
With who you ask?
Not so much with who, but more with what.
With BUTTERSCOTCH CONFETTI SQUARES!!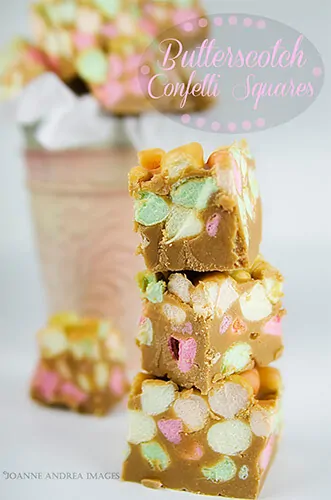 And it happens every.damn.year around this time.
I'm in love for about a month.. month and half… and then we breakup. It's the same old thing over and over. You'd think I'd get tired of those messy shenanigans right?
Nope.
Butterscotch Confetti Squares
Around the middle of November, my mind starts to flash intermittently on images of years past with the great times we had. The smiles I smiled, the happiness I expressed, (sometimes even with a little dance), the loving looks that always linger longer than they should. I get weak. I forget the previous year's ugliness with the breakup. By December, I'm full into it. I long.. I pine. I cannot stand it any longer. I fall in love, all over again for another year.
Am I Joking?….. well….
Obviously you know I'm over exaggerating. (ok.. KINDA over exaggerating.) Anyway – Truth is, is that the lowly confetti square treat is probably my most favorite Christmas "baking" / holiday treat to make and of course, eat. They're easy to make as fluttering your eyelashes, but let me give you a heads up, people. When you take your first bite.. omygosh……. peanut buttery, butterscotchy devine-ness… sweet,… smooth, …it melts in your mouth with the sweet whisper of "hello again, Lover".
Add the pillowy texture of fruity mini marshmallows and you pretty much have the reason why love was invented.
I LOVE this dessert. But we always have to breakup after Christmas because well, with any good relationship, you don't want to burn out on each other, and well… the scandal of it all.!! OMG, the calories! If I didn't stop eating it, I'd be like some 800lb strung out dessert addict shoving a bag of mini marshmallows in my pants at Safeway so I could go home and make my next hit.
So, we have our little love affair for the season, and in the new year, with a tear or two, we say goodbye.
I just don't want to think about that part right now.
But are these Butterscotch Confetti Squares REALLY that easy to make??
Yes. Yes, they SOO are. That's what makes them so handy, and yet so dangerously amazing.
BUTTERSCOTCH CONFETTI SQUARES RECIPE
Ok. Here we go:
1. In a super cute pot like mine, melt 1 stick of butter (1/2 cup)

2. Add 1 cup of Peanut Butter, and 1 bag of butterscotch chips
3. Mix till melted and let cool a bit. DO NOT DRINK. It is NOT a beverage!
4. Add 1 bag fruity mini marshmallows. Do you like the action shot?
5. Mix together till well coated and put into greased dish
Chill dessert for at least an hour to set up.
Keep in mind, not only are these squares great for your belly and your mood,
they also would be awesome as a gift exchange or to bring to a holiday potluck!
As a result, I beg you, take heed. Your love affair will begin after the first bite of these amazing butterscotch confetti squares.
But don't come crying to me when you can't stop. I warned you, lol!
Enjoy!
****** DON'T FORGET TO PIN THIS BUTTERSCOTCH CONFETTI SQUARE PIN TO YOUR FAVORITE DESSERT BOARD IN PINTEREST FOR SAFEKEEPING!!*****
Butterscotch Confetti Squares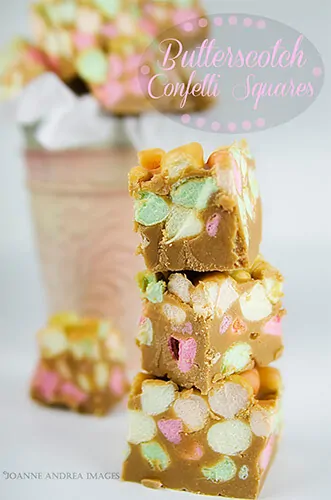 These Butterscotch Confetti Squares are made with butterscotch chips, peanut butter and marshmallows. They are my FAVORITE square! Perfect for any party dessert buffet, gift exchange, or even birthdays! Easy to make and best of all, A NO BAKE DESSERT!
Total Time
1 hour
20 minutes
Ingredients
10 ounce bag fruity marshmallows
8 ounce bag Butterscotch chips
1 C Peanut Butter
1/2 C Butter
Instructions
Melt butter
Add peanut butter and butterscotch chips to butter and melt together till smooth
Add marshmallows and stir until well coated
Put into a greased 9 x 13 and chill until set.
Cut into squares to serve
Follow my blog with Bloglovin