Strawberry chia seed granola is so delicious it's hard to believe that it's actually good for you. It's slightly sweet, has the flavors of strawberries, dried cranberries, and toasted nuts. Best of all, there are no grains so it's safe for gluten-free and auto-immune ways of eating.
Seedy Granola is delicious and incredibly good for our bodies!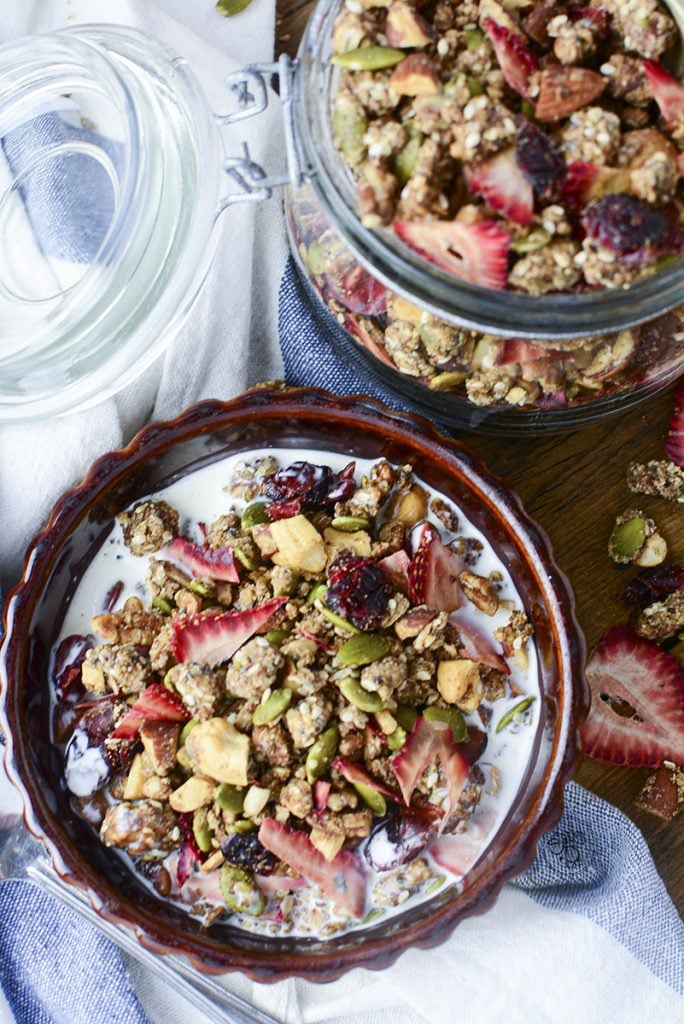 Strawberry Chia Seed Granola
What I love the most about some breakfast foods is their versatility, and this strawberry chia granola is an excellent example. Packed with dried fruits and other healthy ingredients, it is super healthy food to make a staple in your diet.
If you're on the hunt for the perfect, grain-free granola for your gluten-free or autoimmune diet, this is it! There's no added white sugar and it's packed with a ton of flavor. It is literally so versatile, you just can't go wrong with it.
Ingredients For the Strawberry Chia Granola
Dehydrated strawberries: You can obviously pick up the ones available in the supermarket, but if you're a fan of making things from scratch, you'll be surprised at how easy it is to make them yourself. I've actually jotted down a detailed post on how to dehydrate strawberries that you can try out.
Sweeteners: You can use any sweetener of your choice for this recipe. I would suggest maple syrup since it blends in really well, but you can also choose honey, date syrup, molasses, or agave as per your preference.
Nuts: I used a ton of different nuts for this recipe. Walnuts, cashews, coconut, pepitas, pecans, walnuts, and even some sunflower seeds and sesame seeds. Use your favorites.
Other ingredients: You can also add in other dried berries- just remember that they'll add a bit of extra sweetness to the granola. Dried dates (minced), raisins, cranberries, dried pineapple or papaya, and goji berries also make for excellent additions to this granola.
I also added some hemp hearts, chia seeds of course, flax meal, and almond flour base into the mix to increase its nutritive value. Chia seeds, in particular, are an excellent source of healthy fats, omega 3 fatty acids and are full of fiber too!
How Do I Make Seedy Granola?
Well, this is one of the easiest granola recipes out there. If you're wanting to make your own dried strawberries, you'll make those first. Then, it's as easy as putting all the ingredients together in a large mixing bowl, add your sweetener, and roast the mix in the oven.
It's important to add the strawberries (or any other dried fruit) after you've roasted the granola so that the fruit doesn't harden further (or so that the strawberries don't burn).
Toasting (roasting in the oven) the mixture isn't necessary, but it really helps the granola have that clumpy, stick-together clusters and a deeper, nuttier flavor.
How Do I Store The Granola After it's Made?
This strawberry chia seed granola can easily stay fresh for up to 1 month if you store it right. Just place it in an airtight container and in a cool, dry corner. I've placed it in a glass mason jar with a tight-fitting lid and it's been great in my cupboard.
For longer storage, you can freeze it too! Put it into a freezer-friendly container and pop it in the freezer. It can stay fresh for about 3 months.
Serving Ideas
And here comes the fun part- there's actually a ton of ways to use this granola.
Simply in a bowl with milk
In a bowl of yogurt with some fresh fruits (you might want to try this awesome strawberry granola bowl recipe)
In a parfait like the one I made for Cherry Chia Seed Pudding
As a trail mix with some other nuts and some M&Ms added in as an on-the-go treat.
A pancake or waffle topper
Strawberry Chia Seed Granola
Strawberry chia seed granola is slightly sweet, has the flavors of strawberries, dried cranberries, and toasted nuts. Best of all, there are no grains so it's safe for gluten free and auto immune ways of eating.
Ingredients
1c Almond flour
2 tablespoon Coconut, shredded
2 tablespoon Flax meal
2 tablespoon Chia seeds
1 tablespoon Hemp hearts
1 tablespoon Sunflower seeds
1c Almonds, crushed (peices)
½c Cranberries (dried)
½c Pepitas
¾c Pecan peices
½c Sesame seeds
½c Cashews
1c dried Strawberries
½ teaspoon salt
Instructions
Preheat the oven to 300
Add all the dry ingredients to a bowl leaving out the strawberries, cranberries and any other dried fruit you want to add.
Add the maple syrup or the sweetener of your choice.
Add the melted coconut oil.
Mix well, incorporating all the ingredients together.
Transfer onto a parchment-lined baking sheet. Level out the mixture so that it's spread thin.
Roast in the oven for 20 minutes or until the mixture if golden brown. Check at the 15 minute mark just to watch for no burning.
Remove and let cool. Do not stir it or move the mixture around.
After the mixture is cooled, break up the granola into clusters.
Fold in the strawberries and cranberries and any other dried fruit you're using.
Notes
Use the freshest ingredients you can find.
If you are using salted nuts, omit using additional salt in the granola.
The key to getting the clusters is to let the mixture cool after it comes out of the oven. Do not disturb the pan until the mixture is completely cooled off and the coconut oil has hardened to stick together in clusters.
You can use any color of chia seed you prefer. Black or white chia seeds taste the same.
Nutrition Information:
Yield:

10
Serving Size:

½ cup
Amount Per Serving:
Calories:

352
Total Fat:

30g
Saturated Fat:

4g
Trans Fat:

0g
Unsaturated Fat:

25g
Cholesterol:

0mg
Sodium:

283mg
Carbohydrates:

15g
Fiber:

7g
Sugar:

3g
Protein:

11g
All nutritional information is based on third-party calculations and is only an estimate. Each recipe and nutritional value will vary depending on the brands you use, measuring methods, and portion sizes per household.