10 ways to use pumpkin is here, are you ready? So, squash season is officially here and if you're a lover of the bright orange, halloweeny veggie to the core, you're probably hunting for some creative and delicious ways to create using it.
#1. Sneak it Into your Soup
One of the simplest ways to use pumpkin in your meals is to add it to your soup. If you're making a veggie-loaded soup, throw some chunks as well. If you're making a creamy, pureed soup, remember to add it in there as well along with the other veggies.
Check out this Roasted Pumpkin Apple Soup by Flavor The Moments!
#2. Add it to your Pancakes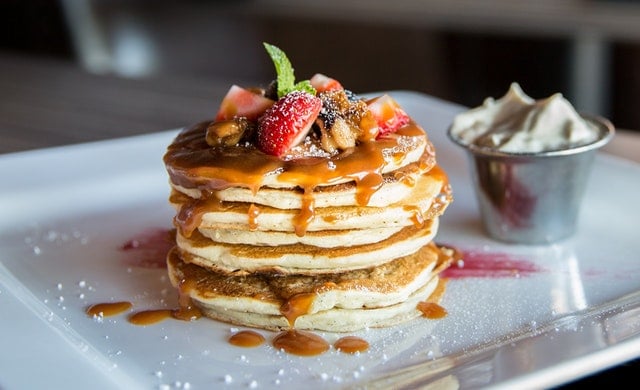 Believe it or not, you can actually add a kick of nutrition to a lot of your breakfasts with pumpkin. Grate, mash or puree some of it and add it to your pancake or waffle batter!
This can also turn out to be a great way to introduce some more veggies into your kid's meals, especially if he's a fussy eater and doesn't really like to experiment or try out new foods.
See how it's used in these adorable pancakes: Pumpkin Pancakes from Two Peas And Their Pod – they look amazing!!
#3. Baked Goodies For the Win!
One of the coolest ways to add more veggies to your meals is to add them to your baked creations and desserts. You'll be shocked at how many different ways there are to utilize different squashes in your sweet treats- from cookies and cakes to bread and pies- the list is actually endless.
How about a TWO INGREDIENT PUMPKIN BROWNIE?? Yes, my loves.. who knew you could use it in a two-ingredient dessert! Easy Peasy!
I love these Pumpkin Muffins from Once Upon A Chef because she puts a Pecan Streusel topping on the top giving them fantastic flavor and texture!
#4. Curry it Up!
If you've got a spice fan in you, you might also want to add some puree in your curries and stews, and other savory food creations. The best part is that pumpkin is pretty versatile, so there's a lot you can do with it!
This Pumpkin Coconut Chicken Curry from The Wicked Noodle looks absolutely amazing. Those warm spices with a comforting combo of pumpkin and coconut? Yes, please!
#5. Whip Up a Pasta Sauce
Another cool idea is to lend your basic kinds of pasta an interesting new flavor by using that velvety orange puree in it. You can also lookup recipes to create a nice pumpkin-based sauce for your pasta and even store it in the refrigerator for later.
Check out this incredibly decadent recipe for Pumpkin Pasta from The Hidden Veggies – Rich, filling, and delicious! Sign me up!
#6. For Stuffings & Fillings
Pumpkin (and other squashes, for that matter) can also be used as an excellent stuffing or filling for many dishes- your casseroles or pies and even in your pasta shells (for a pasta bake) or in your grilled and baked meats.
Not sure what to whip up for a quick dinner you're hosting? Pumpkin Ravioli can be an ultimate crowd pleaser!
#7. Make A Snack
Use those pumpkin seeds! When cleaning out the pumpkin, set aside the seeds to salt and roast so you have your own movie snacks that didn't cost you a thing!
#8. Make A Butter
Ok.. so this is idea is near and dear to my heart. I LOVE butters of any kind. Apple butter, peach butter, and especially this Pumpkin Butter Recipe from Reuse Grow Enjoy. They are just so versatile!
And, if you want to get even a bit fancy with your pumpkin butter, check out this awesome recipe for Whipped Pumpkin Butter from Turn Back The Clock Back – how amazing does it look to spread on your toast, muffins, apples, etc, etc!
#9. Make Fries!
Tired of traditional potato fries? Try Pumpkin fries! Super easy to make – follow the recipe for these fries over at 12 Tomatoes!
#10. Chili
How amazing does this chili look? Did you ever think about putting pumpkin into a chili recipe? This Pumpkin Quinoa Chili from Lemons + Zest is full of protein and a perfect cozy meal for fall!
Well my lovelies, I hope I've shown you a few different easy and delicious ways to utilize leftover pumpkin that you'll enjoy! It's easy and versatile to work with, low cost, nutritious, and perfect for fall!!