BBQ sheet pan chicken with butternut squash is one of my all-time favorite meals! Why? Because it is easy, frugal, and tastes scrumptious! If you haven't started making sheet pan meals yet, what are you waiting for? You are going to be thrilled with the ease of prep and flavors! So, time to whip out the vegetables, chicken, and seasonings because we are going to get crazy in here! lol
How To Make BBQ Sheet Pan Chicken With Butternut Squash
Get ready for a tasty meal that won't break the bank because this sheet pan chicken is awesome! In my opinion, chicken and garden vegetables marry beautifully in this dish! Another beautiful thing is that you can adjust the ingredients based on what you already have in your pantry or garden.
The first step is to clean and dry the chicken. I rinse it and wipe it with a paper towel, but you can use whatever method you prefer.
Add all the seasonings and don't be afraid of adding too much! The more you add, the more flavorful it is going to be. Okay, don't go too crazy but you get the idea!
Place the chicken on a baking sheet. I always use a parchment lined baking sheet to make cleanup a snap! You could also use aluminum foil if that is what you have. Do not use wax paper though, it isn't oven safe and could catch on fire if you aren't careful.
Next, get those veggies ready by adding seasoning to them and spreading them around the chicken.
Even though it hasn't baked yet, it is already looking beautiful, right?! Roast the chicken and vegetables for around 35 – 40 minutes until the squash and carrots are tender. The internal temperature of the chicken should be 165 degrees F. then it is done. Top with barbecue sauce and chow down!
Optional Tip:
I love the caramelized flavor and texture on chicken. If you like that too, you will need to remove the cooked veggies and place them in a covered bowl to keep them warm. Add sauce to the chicken and place under the broiler for 3-4 minutes until it is the caramelized texture that you like.
Tip: You can use any kind of sauce that you like. It doesn't matter if it is sweet, spicy, or savory because it is going to taste fabulous!
Vegetables That Pair Well With Sheet Pan Chicken
You can use any vegetables that you like for this recipe. The important part is making sure that they cook at the same speed as one another and the chicken. If you want to add a veggie that cooks fast, wait to put it on the pan until it everything else is almost done. Here are some ideas:
Sweet Potatoes

Parsnips

Brussels Sprouts

Radishes

Zucchini

Bell Peppers

Onions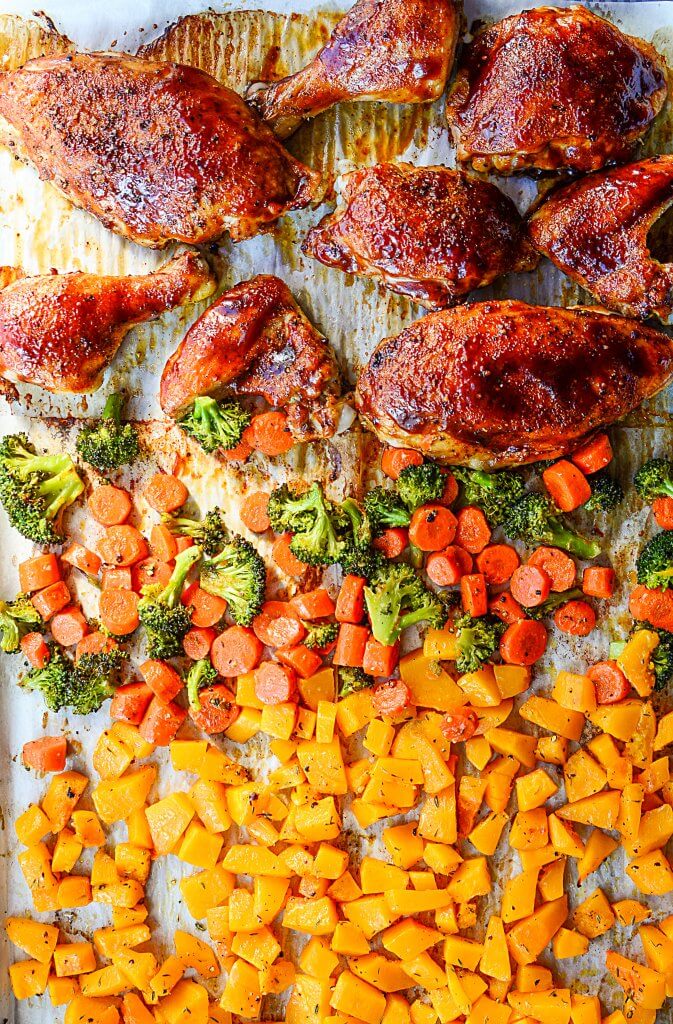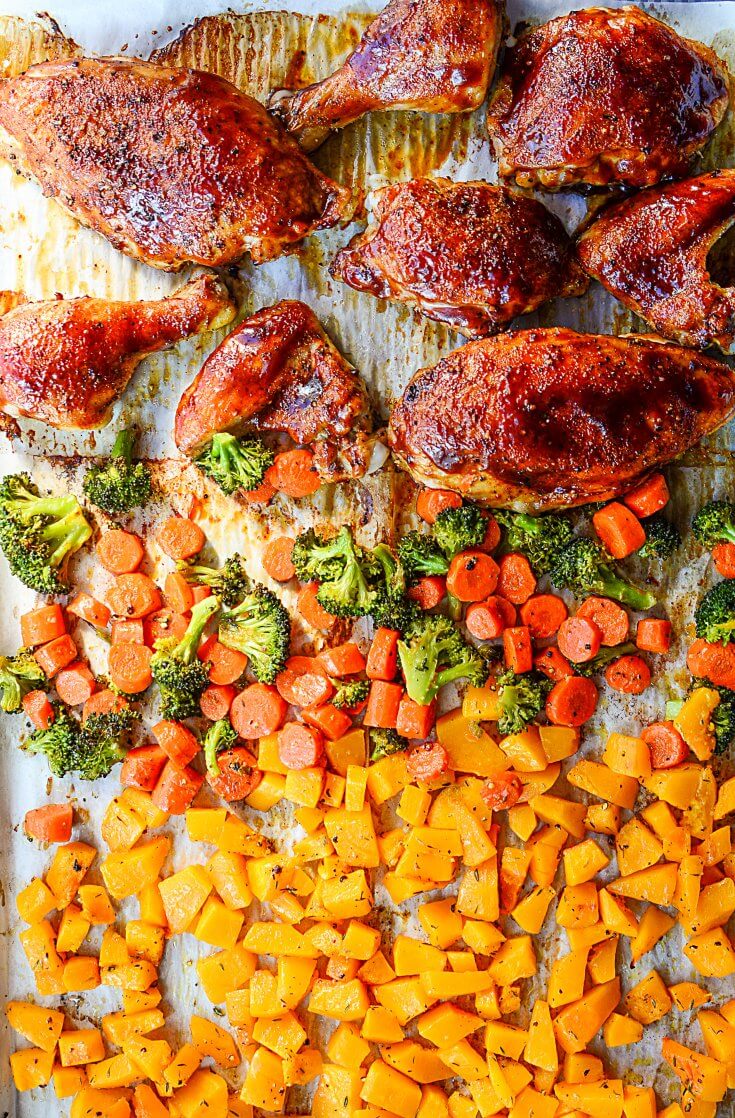 Do I Have To Use A Whole Chicken For This Sheet Pan Dinner?
No, you don't have to use a whole chicken. If you decide not to use an entire chicken, then you can use precut pieces purchased at your butcher or grocers. The reason I use a whole chicken is so I can save money by using every part of the chicken. I like to stretch every dollar I can when it comes to food because it can be so expensive if you don't.
Plus, if you save the backbone from the chicken you can make a delicious bone broth and a super-easy chicken noodle soup recipe.
To make a broth, just place the spine in a pot with 3-4 cups of water, salt, and let simmer. Homemade bone broth is healthy and tastes incredible. Check out the recipe I made for the soup, it's so delicious! Also, if you have leftover cooked chicken from tonight's dinner, here's a really fun buffalo mini chicken pepper recipe to use up those extras!
Can I Remove The Skin Of The Chicken?
Yes, you can remove the skin, but I don't recommend it. This barbecue sheet pan chicken is going to be much more juicy, tender, and flavorful with the skin. You might be wondering why it matters if the chicken has skin or not. Well, the skin helps hold in moisture while it is roasting and keeps the meat from drying out. You are going to enjoy the chicken much more when it isn't dry. If you decide not to eat the skin, that is totally fine, but always leave it on for cooking when possible, and near the end of cooking, remove the skin and sauce it up!
If you are looking for other delicious one-pan chicken recipes, check out this tzatziki chicken and baby potatoes!
I hope that I've shown you how easy it is to make a really delicious and yet still nutritious dinner meal in one pan. This BBQ sheet pan chicken dinner is so versatile, you can switch it up a million different ways and never have the same meal twice! When you make this meal, I'd LOVE to hear if you made the meal just like I did, or if you switched it up!! Thanks so much for stopping by The Salty Pot today, and I hope you have a wonderful day!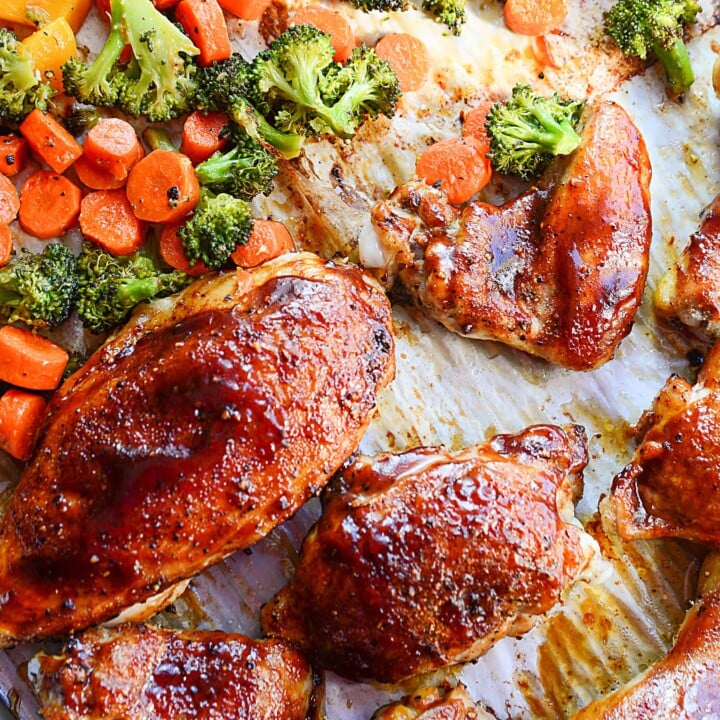 BBQ Sheet Pan Chicken with Veggies
A perfect meal for those busy weekday nights when you want something nutritious and healthy, tasty and delicious, yet quick and super easy! BBQ Sheet Pan Chicken with veggies comes together in a snap!
Ingredients
1 whole 3-4 lb chicken **see notes
1 butternut squash
2-3 carrots
2c broccoli florets
1c BBQ sauce
1 tablespoon olive oil
as desired, garlic powder, onion powder, salt and pepper
1 teaspoon thyme, dried
Instructions
Preheat the oven to 400
Rinse and pat dry the chicken. Season with seasonings. Place onto a parchment-lined sheet pan.
Peel and de-seed the butternut squash. Cut into bite-sized pieces, place in a bowl and add ½ tablespoon oil, salt and pepper, and thyme.
Season the carrots and broccoli with salt and pepper and the remaining oil
Arrange all the vegetables around the chicken
Roast in the oven for 40 - 45 minutes or until the chicken is cooked through (165F), periodically basting the chicken a few times with the bbq sauce and the vegetables are tender and caramelized.
If you like to serve the chicken with a crispy caramelization on top, remove the vegetables to a bowl to keep warm and place the chicken back under the broiler for 3 - 4 minutes till crispy.
Enjoy!

Notes
I used a whole chicken because it's generally cheaper, and then separated the chicken into parts. (I also kept the backbone to make a basic chicken bone broth and noodle soup!)
You can buy any pieces you prefer if you don't want to break down the whole chicken yourself. Simply purchase enough pieces to feed the people you are serving.
Nutrition Information:
Yield:

6
Serving Size:

2 cups
Amount Per Serving:
Calories:

2138
Total Fat:

121g
Saturated Fat:

34g
Trans Fat:

0g
Unsaturated Fat:

75g
Cholesterol:

853mg
Sodium:

1205mg
Carbohydrates:

29g
Fiber:

4g
Sugar:

18g
Protein:

220g
All nutritional information is based on third-party calculations and is only an estimate. Each recipe and nutritional value will vary depending on the brands you use, measuring methods, and portion sizes per household.
***DON'T FORGET TO PIN THIS BBQ SHEET PAN CHICKEN RECIPE TO YOUR FAVORITE PINTEREST BOARD FOR SAFEKEEPING!!***