Growing up, my auntie Chris would always make Harvard Beets.  I didn't know why they were called that, I just knew they were pretty kick ass good. I thank her for introducing a kid in the very best way (sweet and sour beets) to ensure a lifetime of loving this ruby red vegetable!
HARVARD BEETS
Now, as an adult, I know why she made the beets using a harvard beets recipe – because regular beets on a 10 year old's palate doesn't always go over well. Beets have a flavor that sometimes can only be appreciated as an adult, however, even at that, some people just can't take them.
I personally, LOVE beets. Harvard beets, pickled beets, boiled & fried beets, beet salad, etc etc, it's all good in my book. But as a kid, sometimes the taste buds go kicking and screaming away from those earthy, somewhat sweet sort of flavors that natural beets have. But let me tell you, preparing them in a harvard beets recipe – I'm willing to be ANY kid will like them. If they like a sweet and sour anything… they'll like these this beet recipe!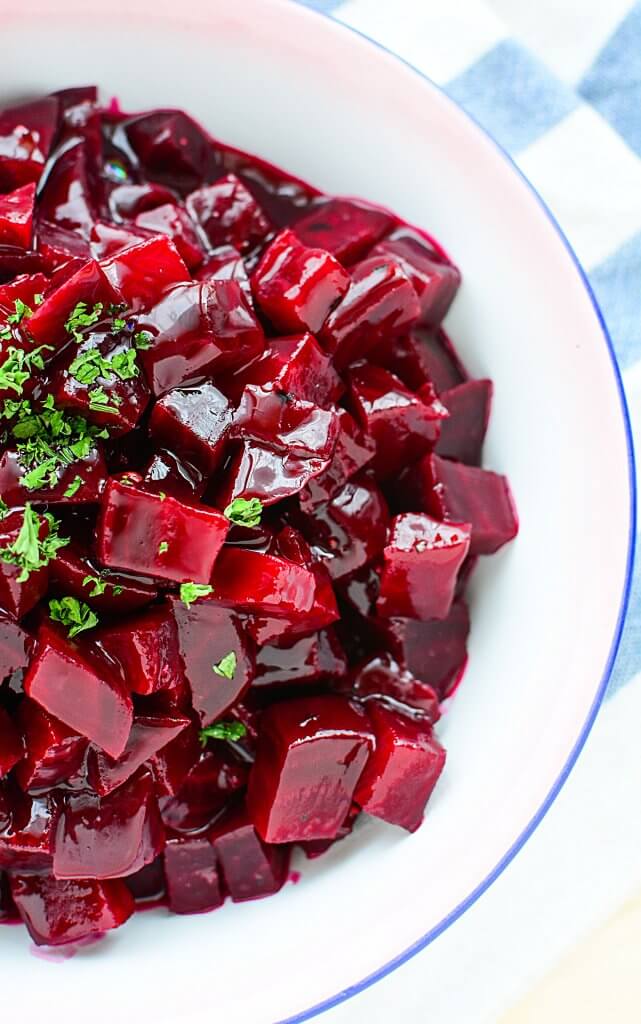 Why do they call them HARVARD beets?
While beets are pretty nutritious themselves, sometimes the flavors are a hit and miss with people. Someone along the way decided to make them more palatable by adding sugar and vinegar, so a sort of sweet and sour idea, and apparently the recipe came from England somewhere  and made it's way to the eastern part of the U.S. Then, someone noticed that the beet dish was the same hue as the Harvard Football Jerseys, and hence, the dish was called Harvard Beets.
Now, I'm not 100% sure if that's actually true, and honestly, who cares. I just know these beets are amazing in flavor and at the end of the day, that's all I really care about! 🙂
Making Harvard Beets:
First, we have to deal with the beets themselves. We need them cooked and ready to eat. The ways to cook them are:
boiling
roasting
steaming
… and you could fry them, but meh.. not the best way to do them. (unless you have a completely different recipe for them,.. but that's another story!!)
Also, as a side note – if you buy beets with the greens still attached, DO NOT THROW OUT THE GREENS!! Give them a good wash, cut them in half or thirds, and steam them in a pot with a small amount of water. They're just like spinach, swiss chard or kale, but SO MUCH TASTIER! After steaming, sprinkle a bit of vinegar and melt some butter on top, and they're PERFECTION!! Trust me on this one!
Ok, so when I made this harvard beets recipe, I opted to roast the beets. I find them a lot more flavorful when roasted verses boiling or steaming. So wash up the beets, cut off any of the spindly weird looking tops, cut off the root on the bottom if it's still attached, and then get out your tin foil.
If they're fairly big beets, then roast them singularly, but if they're on the smaller size (around the size of an egg), then roast a few together. Wrap them in enough tin foil to cover them well, and place them on a baking sheet.
Roast them at 350 for about an hour or so. A fork should go into them easily. Remove them from the oven and let them cool completely.
Take out of the foil and with your hands, just start brushing the skin off the beet. It should slide off super easy if they are cooked enough. You might want to wear gloves because beets can stain and then you look all bloody and stuff.  Personally, I don't care too much about it, so I just use my hands.
Ok, so when all the skins are off, cut them up into small squares about the size of a die.  Set them aside for now.
In a pot, add the sugar, vinegar, orange juice, and spices.
Heat to boiling, and then add the slurry. Once it's thickened, turn the heat to low and add the beets. Mix the beets in until they're heated through and nice and shiny.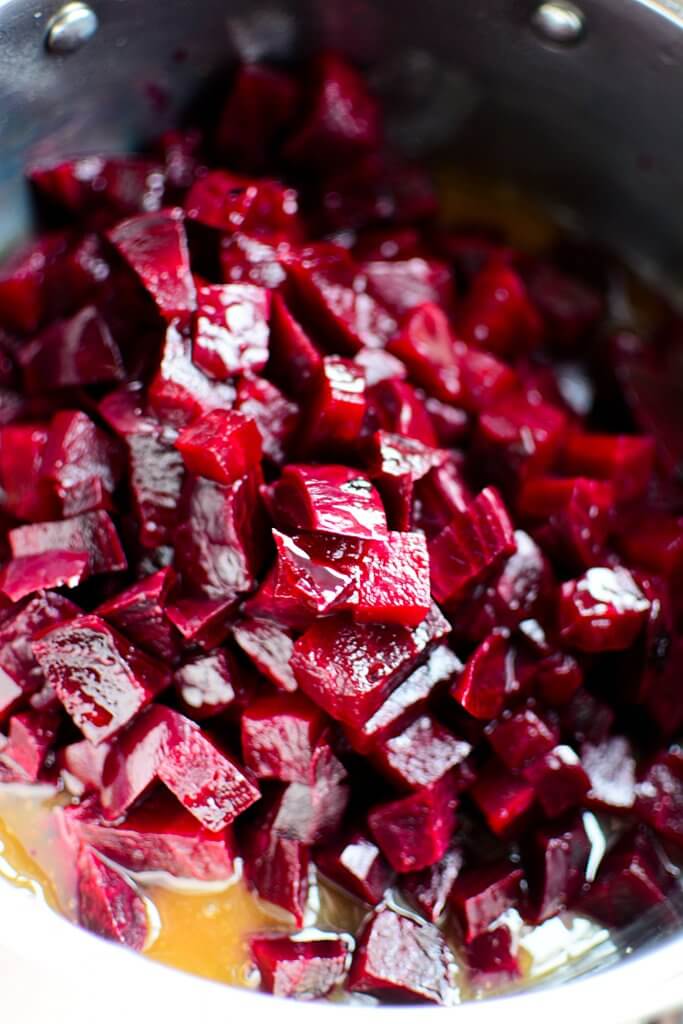 That's pretty much it! They're ready to serve and they'll go nicely with most proteins except fish. I think the beets are too strong and will over take the subtle flavors of fish. But hey.. if you want fish with your harvard beets, do your thing my gorgeous reader!
If you're totally digging the flavors of beets, I have another couple recipes you might want to check out. I have a kickass Beet  Avocado and Feta Salad recipe :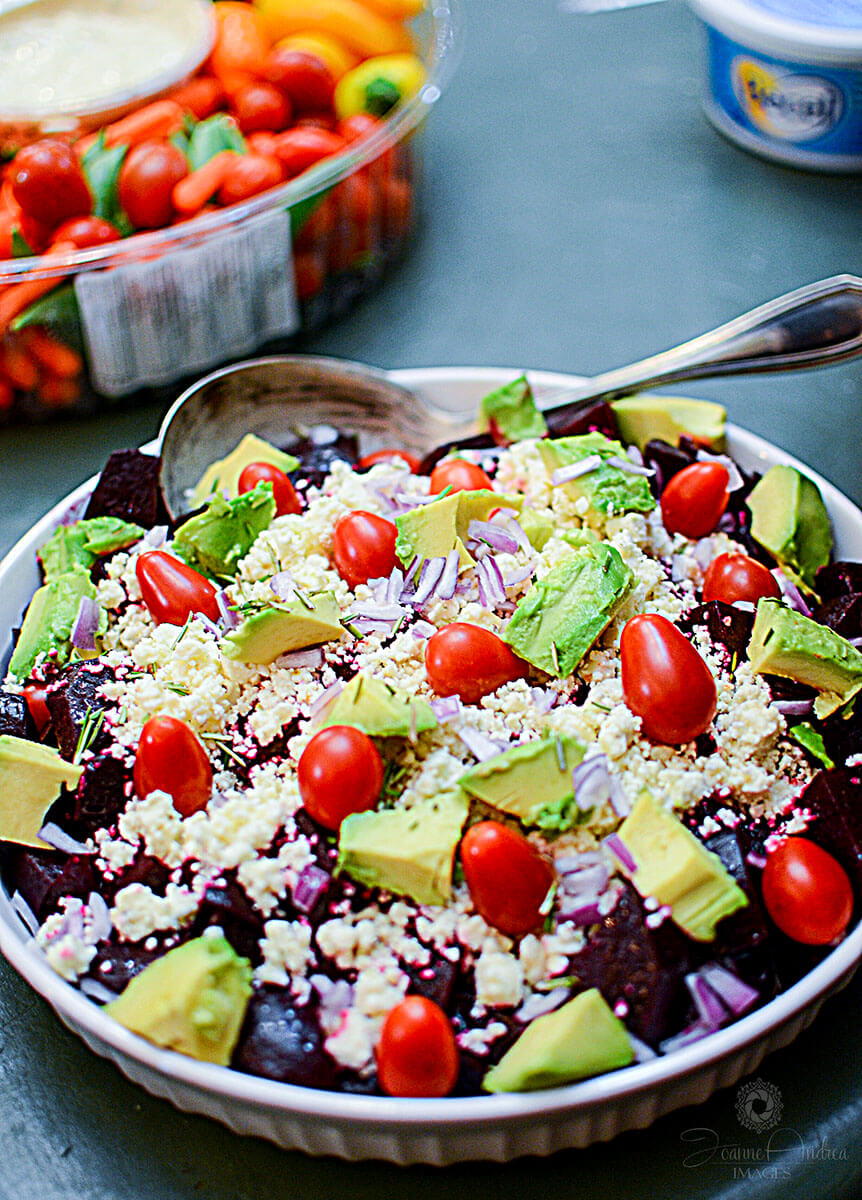 and a Crock Pot Cranberry & Candy Cane Beets recipe (yes, candy cane!):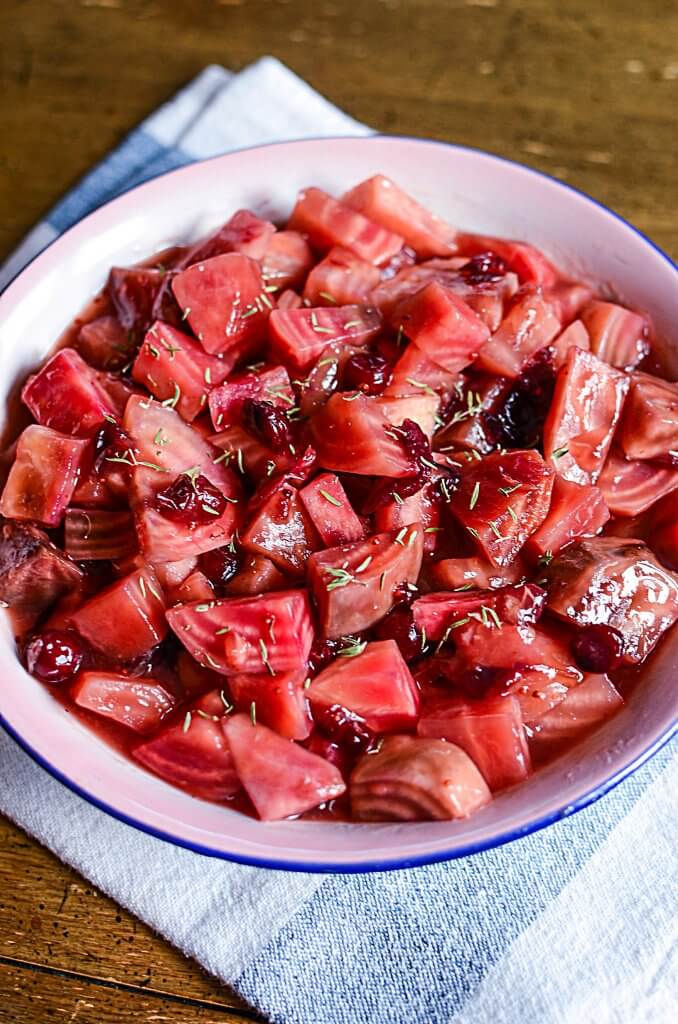 I hope that with this Harvard Beets recipe you can introduce picky eaters to a world of loving beets. They're so tasty and nutritious and versatile! You can even make beet chips with them! (hmm.. probably something I should try soon hey?? ) Please let me know below in the comments if you try any of these recipes and what you think of them!! Thanks so much for stopping by The Salty Pot today!
** DON'T FORGET TO PIN THIS HARVARD BEETS RECIPE TO YOUR FAVORITE PINTEREST BOARD FOR LATER!! **
HARVARD BEETS
Cook Time:
1 hour
25 minutes
Additional Time:
20 minutes
Total Time:
1 hour
55 minutes
This harvard beets recipe is the BEST way to get your littles into eating beets! Heck, not just the littles, even the older members of the family will love this sweet and sour beets recipe! My aunt made it for us when we were kids - and it's just amazingly delicious!!
Ingredients
4 c beets, (cooked, cooled, and cubed)
1/3 c brown sugar
1/4 c vinegar
1/3 c orange juice
2 tbsp butter
as desired salt & pepper
1 tbsp cornstarch, (heaping tbsp)
2-3 tbsp water
Instructions
Roast the beets in tin foil after washing and trimming up the beets. Roast them for approximately 1 hour on a baking sheet and then let cool completely.
Remove the skins of the beets and then cube into bite size pieces.
In a saucepan, add the sugar, vinegar, orange juice, salt and pepper. Mix to boiling and then turn down the heat.
Add the cornstarch and water together to make a slurry. Add to the sauce to thicken.
Once the sauce thickens, add the beets and continue to mix together for about 5 minutes so the beets can heat through.
Once heated through, add the butter and mix in.
Serve and enjoy!