Thought when you went low carb spaghetti, and meat sauce was off the menu?? Not today my friend, not today – May I introduce you to Instant Pot Low Carb Spaghetti!!
Instant Pot Low Carb Spaghetti and Meat Sauce – SO easy to make!
What Is The Keto Diet?
The Keto or ketogenic diet is a high-fat diet that restricts carbs. You replace the carb intake you would typically have with foods that are rich in fat like avocados, eggs, cheese, coconut oil, and others. Here is a fantastic tutorial on everything you need to know about eating keto and what foods are considered low carb. 
Saute the beef, onions and add the spices!
Can You Eat Pasta On Keto Diet?
No, not regular pasta. It's nothing but carbs. You can make pasta with different foods like zucchini or Konjac noodles as your pasta base. So, I guess the answer is yes and no. You can't eat what you are accustomed to, but you can find foods to replace it. You can still enjoy your favorite comfort food dishes, but you just have to try it a few different ways.
Add the chicken broth
Pour in the tomato sauce and mushrooms.
What Are Konjac Noodles?
Konjac is a root that is perfect for turning into foods like noodles or ground into flour. If you are eating a low-carb diet, you will love having Konjac noodles in your life. Who am I kidding? These tasty noodles are a great ingredient even if you aren't eating low-carb!
They are super filling and are loaded with fiber. It's nice to find foods that are healthy for you, and keep you full. No one likes to be hungry all the time.
They are a nice change from zucchini noodles (which are awesome too, by the way), but Konjac noodles are so much easier. You can buy them prepackaged, and they can save you time in the kitchen. Win-win!
Add the Parmesan cheese! YUM!
There are several Konjac noodles that you can find. Here are some of my favorite brands to try out:
Add the low carb spaghetti and pressure cook!
When Should I Serve Instant Pot Low Carb Spaghetti?
You can serve this pressure-cooked spaghetti at pretty much any and all occasions. The best part is that no one is even going to realize this isn't the typical spaghetti they are used to. If you are serving it to a crowd, they will gobble up every bite and have no idea. Here are some events that I have found that it goes over well:
Birthday Parties – Make a huge batch and serve it to everyone at the birthday party. They will love you for it, and you can feel good knowing you fed everyone healthy food.
Fundraisers – If you are hosting a fundraiser in your community, you can make a batch for the ones that eat low-carb. They would GREATLY appreciate the opportunity to enjoy this meal without worrying they are messing up their diet.
Community Functions – Another way to show the low carb dieters you are thinking of them too. Make some, and their eyes will light up!
Dinner Party – Your guests are going to go crazy for the amazing flavor and texture of Instant Pot spaghetti.
I love how saucy it is!
Instant Pot Spaghetti Variations
Well, I hope with this recipe you can see that low carb spaghetti can be back on the menu for you! This recipe is really adaptable, if you don't like mushrooms, don't add them. If you love cheese, add more cheese! With a meal like this, you don't feel like you're missing anything! Here are some other yummy ideas to try out:
Olives – If you love olives, you should chop up a few to add into this tasty Instant Pot spaghetti recipe. So good!
Garlic – Add in a teaspoon or two of freshly minced garlic. Enhances the flavor and goes perfectly with this easy Instant Pot spaghetti.
Sausage – Use some sausage instead of ground beef! Or you could go crazy and use half and half. Either way, it's delicious!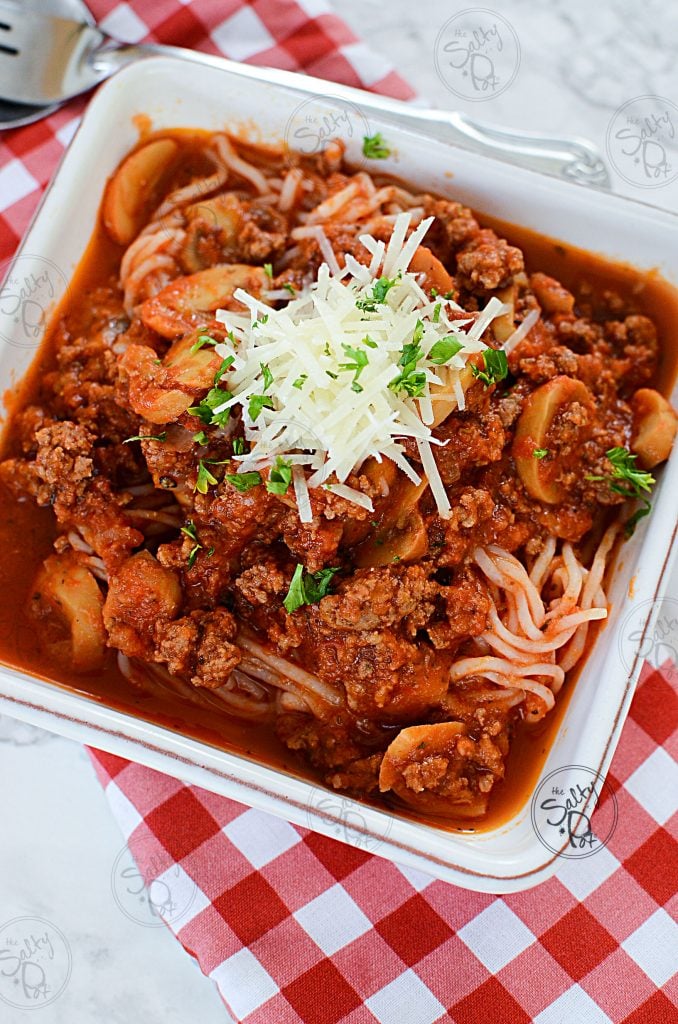 If you love this flavorful Instant Pot Spaghetti, try out some of my other fabulous recipes:
When you give this low carb pasta dish a try, let me know what you thought of it below! I'd love to hear your opinion and how did you switch it up? See, you CAN have pasta on a low carb diet! I'm so happy it's on the menu again! Thanks so much for stopping by The Salty Pot today!
***DON'T FORGET TO PIN THIS INSTANT POT LOW CARB SPAGHETTI RECIPE TO YOUR FAVORITE PINTEREST BOARD TO USE FOR LATER!!***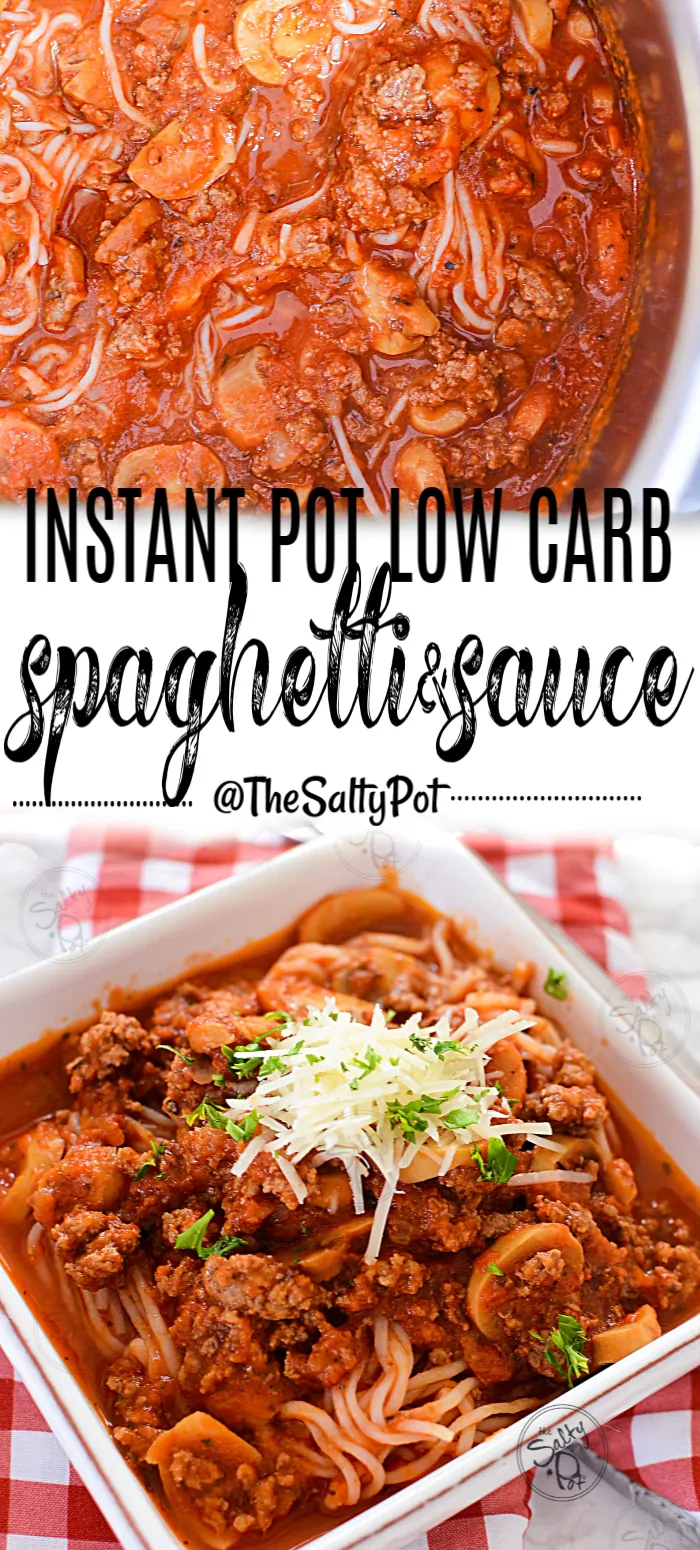 INSTANT POT LOW CARB SPAGHETTI
A delicious and savory low carb spaghetti made tender and saucy in the Instant Pot!
Ingredients
1 lb hamburger meat
Tomato sauce, 26 oz
1 can mushrooms, drained
½ onion, diced
1 ½ teaspoon italian seasoning
1 teaspoon garlic powder
1 cup parmesan cheese
2 packages of Nupasta (or any other konjac spaghetti (shiritaki noodles, miracle noodles, ect, you prefer)
½ c chicken broth
Instructions
Set the Instant Pot to saute
Add the oil to the pot and add the hamburger and onions. Saute until brown and the onions are translucent.
Add the Italian seasoning and garlic powder. Mix.
Add the chicken broth and tomato sauce., Mix.
Add the parmesan cheese and the drained konjac noodles
Place the lid on the Pot and push the toggle switch into the sealing position.
Press manual for 5 minutes.
Do a quick release and remove the lid. Stir.
Press saute and saute the sauce to remove some of the liquid if you find it too saucy (optional step).
Serve and garnish with more parmesan cheese
Nutrition Information:
Yield:

10
Serving Size:

1 cup
Amount Per Serving:
Calories:

214
Total Fat:

11g
Saturated Fat:

5g
Trans Fat:

0g
Unsaturated Fat:

5g
Cholesterol:

49mg
Sodium:

692mg
Carbohydrates:

11g
Fiber:

2g
Sugar:

3g
Protein:

17g