How adorable are these candy cane beets??? Their stripey, candy cane appearance makes them perfect for the holiday season! Pairing them with some fresh cranberries takes them up a notch and best of all…..
They're made in the SLOW COOKER!!
SLOW COOKER CRANBERRY AND CANDY CANE BEETS
Ok, so technically, these beets are a special type of beet. They're not your typical burgandy wine tinted garden beet. By all the garden-y people, these beets are actually known as CHIOGGA beets. They're originally from Venice and I can tell you – I'm pretty happy that they came over to this part of the world.
They're not as "earthy" flavored as your typical garden variety beet, so they're perfect for beet virgins. They're so pretty to look at, but unfortunately, when they're cooked, they lose the vibrancy of the stripes. They're still apparent, but just not AS vibrant, ya know? Still, it doesn't affect the flavor, – they're a bit sweeter than the darker beets but so much more fun to eat!
How do I make these candy cane beets??
You'll want to peel them first. Use a sharp paring knife, and peel them much like a potato if you can. These pretty candy cane beets won't be as easy to peel as a potato, but they're worth every swipe of that paring knife.
After peeling them, chop them into cubes – bite size, please!
Throw them in the slow cooker with the cranberries, orange juice and pulp, and the sweetener of your choice. I used honey because I prefer the softer sweetness that honey provides over your typical white sugar. The candy cane beets are sweeter than regular beets, but I feel still need a bit of help keeping up to their candy cane reputation.
Pop on the lid, and let them roast in the slow cooker for a few hours. When they're done, they have a nicely sweetened, orangey cranberry sweet-tart type flavor – and not as a pronounced earthy flavor than the other type of beets have.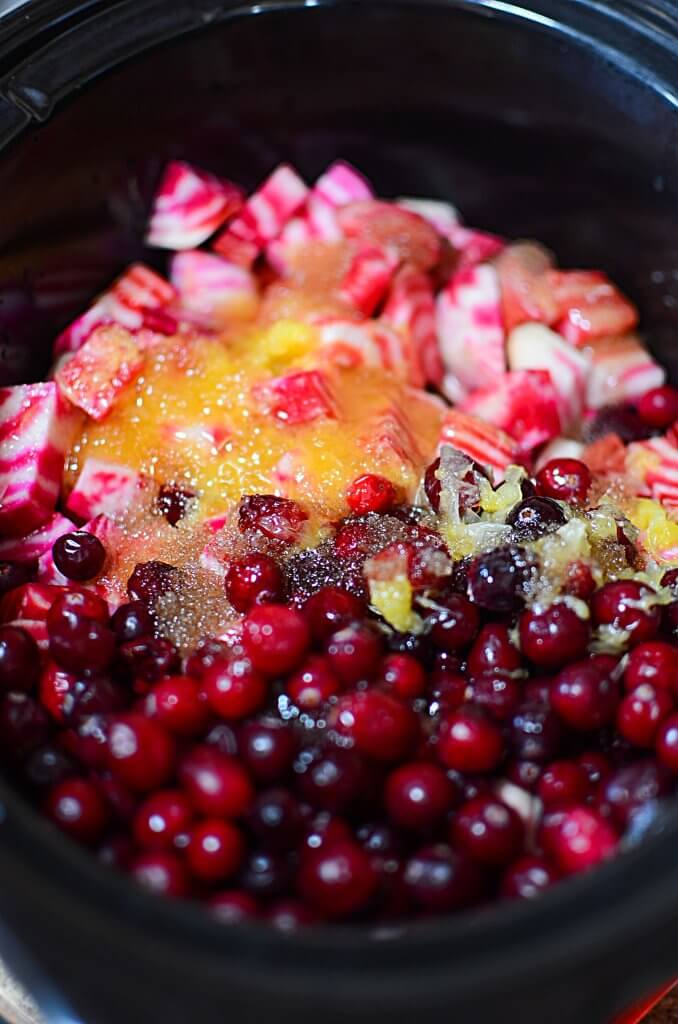 They're a great beet to start newbies with for this reason. Also, here's a tip: If you want, use dried cranberries instead of fresh. I would simply plump them up in some boiling water first, and then add them to the slow cooker bowl. They would make the beets even sweeter and more "child friendly".. haha!
What goes well to serve with Candy Cane beets with?
They're so versatile! You could serve them with:
– ham
– turkey
– roast chicken
– roast duck
– pork roast
– even some beef roasts as well
By the way. If you're looking for another side dish recipe, I have a nice collection of side dishes to make in the crock pot. There's over 20 slow cooker side dish recipes to check out!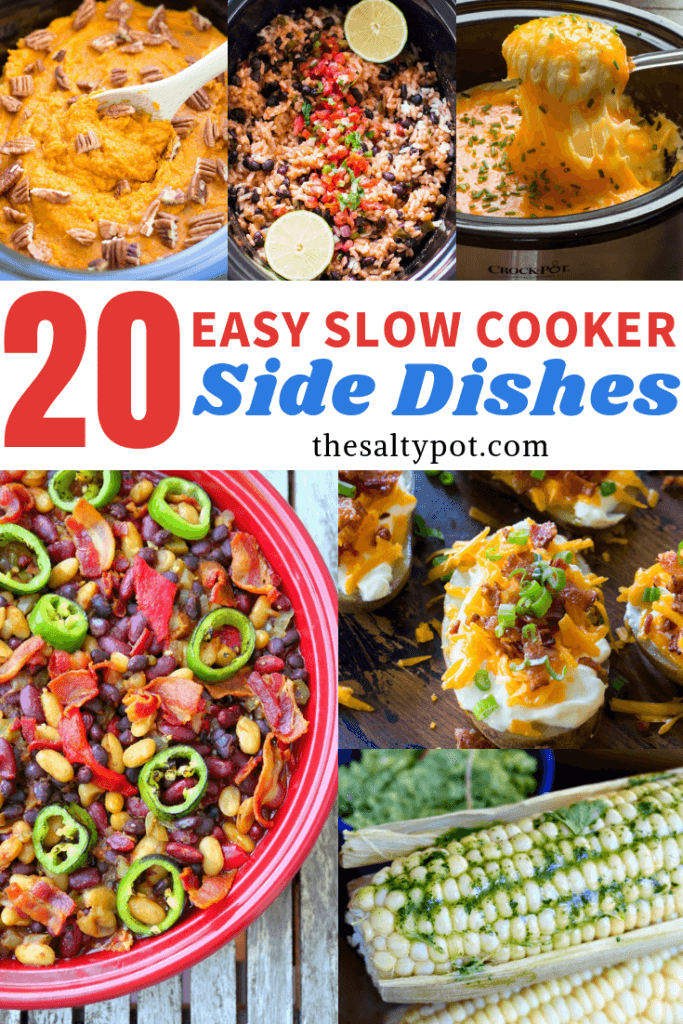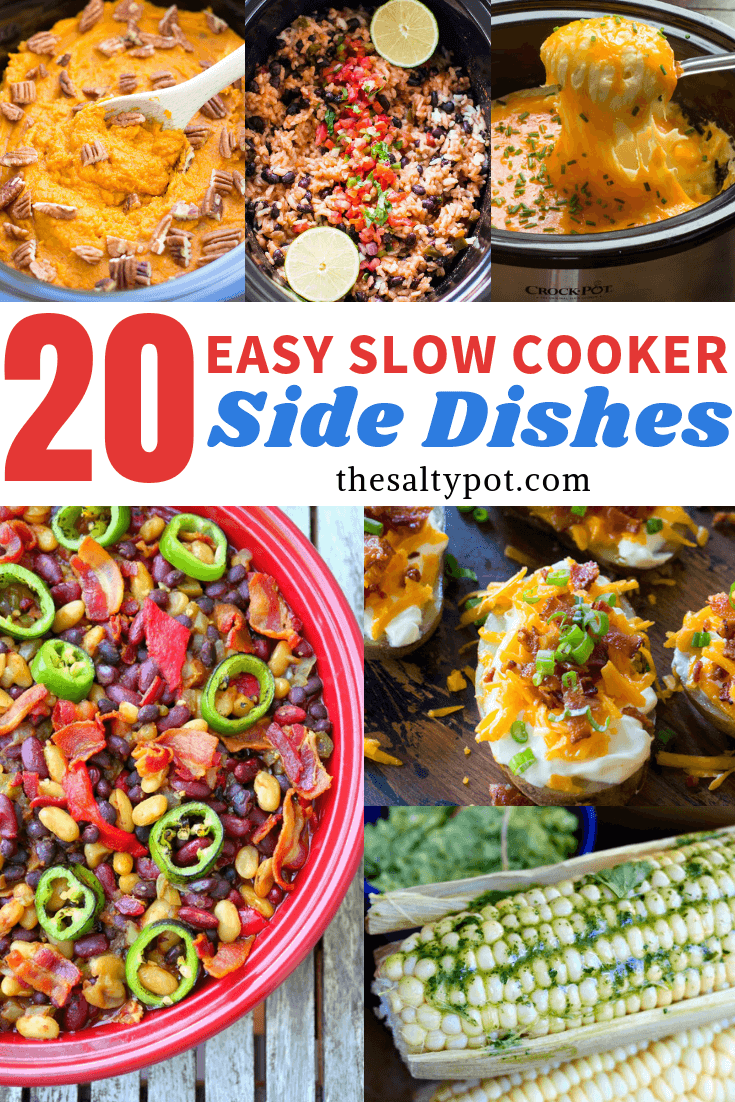 Or, if you're looking for a ham recipe to serve with these beets, check out this Brown Sugar Maple Pecan Ham that I have on the blog. It's SOOO tasty and totally unique!
Regardless of what you serve these slow cooker beets with, they're look super pretty on any buffet table!! They'll hold their heat pretty well so no worries about getting too cold as they sit out. However, having said that.. even if they DO sit out for a bit, they're still super delicious. They'd actually be great as a cold salad as well! (See how cool these candy cane beets are?? lol)
So with just a bit of prep and the magic of the slow cooker, these super tasty beets can be a really easy side dish to serve with so many different mains. I hope you give them a try and if you do, please let me know what you think of them! Thanks for stopping by The Salty Pot!
Slow Cooker Cranberries and Candy Cane Beets
Total Time:
6 hours
15 minutes
Pretty candy cane beets jeweled with ruby cranberries, sweetened with honey and orange! This recipe is perfect for children and new beet eaters! Sweet and tart, it pleases the palate PLUS it's super easy to make because it's all done in the crock pot!
Ingredients
2 lbs candy cane beets (chioggia beets)
1 cup cranberries, fresh, (can use dried sweetened cranberries, just plump them in 1 cup of boiling water before cooking)
1 orange, zested and juiced
1 pinch thyme, dried
3 tablespoon honey
1 tablespoon cornstarch
2 tablespoon water
Instructions
Peel and cut the beets into bite sized pieces
Place into the slow cooker bowl and add the cranberries
Zest and Juice the orange, add all (and any pulp) that comes from the orange.
Add the honey. Give the mixture a good mix.
Cook on low for 5 - 6 hours or high for 3 - 4 or until a fork can go easily into the beets. The beets will lose some of their vibrancy during cooking - this is normal. It doesn't affect the taste.
With a half hour of cooking left to go, mix the slurry of cornstarch and water together. Pour over the beets and mix. Let it cook another ½ hour to thicken the juices from the cooking process.
On serving, lightly sprinkle the thyme over the top of the dish.
Enjoy!
Nutrition Information:
Yield:

8
Serving Size:

1 cup
Amount Per Serving:
Calories:

483
Total Fat:

0g
Saturated Fat:

0g
Trans Fat:

0g
Unsaturated Fat:

0g
Cholesterol:

0mg
Sodium:

49mg
Carbohydrates:

121g
Fiber:

1g
Sugar:

79g
Protein:

0g
All nutritional information is based on third-party calculations and is only an estimate. Each recipe and nutritional value will vary depending on the brands you use, measuring methods, and portion sizes per household.
******* DON'T FORGET TO PIN THIS SLOW COOKER CANDY CANE BEET RECIPE TO YOUR FAVORITE PINTEREST BOARD SO YOU DON'T LOSE IT!! *******