Got a bunch of peaches from the farmstand and you want to can them. Not a problem, but now you need to know to prepare them. I gotcha covered my friend. Here's what you need to know about an easy way to peel peaches!
Discovering An Easy Way To Peel Peaches!
So you want fresh-tasting peaches when the season's cold and dreary. I totally get you. I LOOOVE peaches any time of the year!
I'll even have the odd commercially prepared can of peaches when I'm out of my own home-canned peaches. But sadly, it's not quite the same.
If you're like me, you love everything about this delicious fruit! They're super versatile too- you can add them to both of your sweet and savory food recipes!
They pair beautifully with so many fresh herbs and spices – seriously, peaches are SO AMAZING!
Some of those peach recipes call for peeling the peaches. Not sure how to peel a peach though?
I'm here to get it done, along with some really cool tips to utilize the leftovers, and some fun facts to digest while you're at it!
Ok, so first, get a big pot of water on the stove and start getting it up to a boil. In the meantime, here are some really fun and useful facts about peaches!
Information About Peaches:
1. Are you making a baked fruit dessert that includes peaches? Do not peel the peaches! I know it's crazy for me to say, based on this article, but for baking fruit desserts, the process usually softens the skin, and you won't even know the difference.
Bonus added point is that you still retain the fiber and nutrition of the fruit's skin!
2. Got too much and not sure how to put it all to use? Once de-skinned, you can actually preserve the peaches in jars that will make them shelf-stable for up to a year!
Or even better, turn them into a delicious peach freezer jam- we've got the recipe for that one too!
3. If you've got a dehydrator, you can also use them to dehydrate the peaches and save them to use for dried fruit snacks or even adding to granola and trail mixes. They stay good for weeks, even months if you do it the right way!
4. Ever wondered why peaches have that fuzz on them? Well, that's because peach skin is usually very fragile, and therefore, more susceptible to damage due to environmental conditions.
The fuzz helps lessen that damage, collects the water droplets on itself and keeps the actual peach skin safe, helping preserve the fruit for a longer period of time.
5. There are three types of peaches according to this article at Homeguides.
Clingstone: Good for snacking, high sugar content and juicy, and has the flesh that 'clings' to the pit.
Freestone: Sugar content is not as high, the flesh is a bit firmer making them great for baked goods, and the flesh separates from the pit very easily.
Semi-freestone: Best of both worlds, higher sugar, firmer in texture, and pretty easy to come off the pit.
Ok, so carrying on to discovering the easy way to peel peaches…
Sometimes we love the fruit but hate the fuzzy peel. Or, maybe you're experimenting with a fancy recipe that calls for peeled peaches. Whatever the case, here is my step by step take on how to peel a peach- or rather, peaches, in a super-easy way!
Now that your water is probably boiling, get a big bowl of cold water and add some ice.
● Using a sharp knife, carefully mark an 'X' on the bottom of each peach. Don't apply deep pressure and carve right into the fruit- just a little bit into it.
● Slowly and carefully, drop the peaches into the boiling water using a spider spoon, a ladle, or whatever you have to make the process gentle. Let them blanch in the water for 30 seconds up to a minute. Don't put too many in there at once. I recommend 2-3 peaches at a time.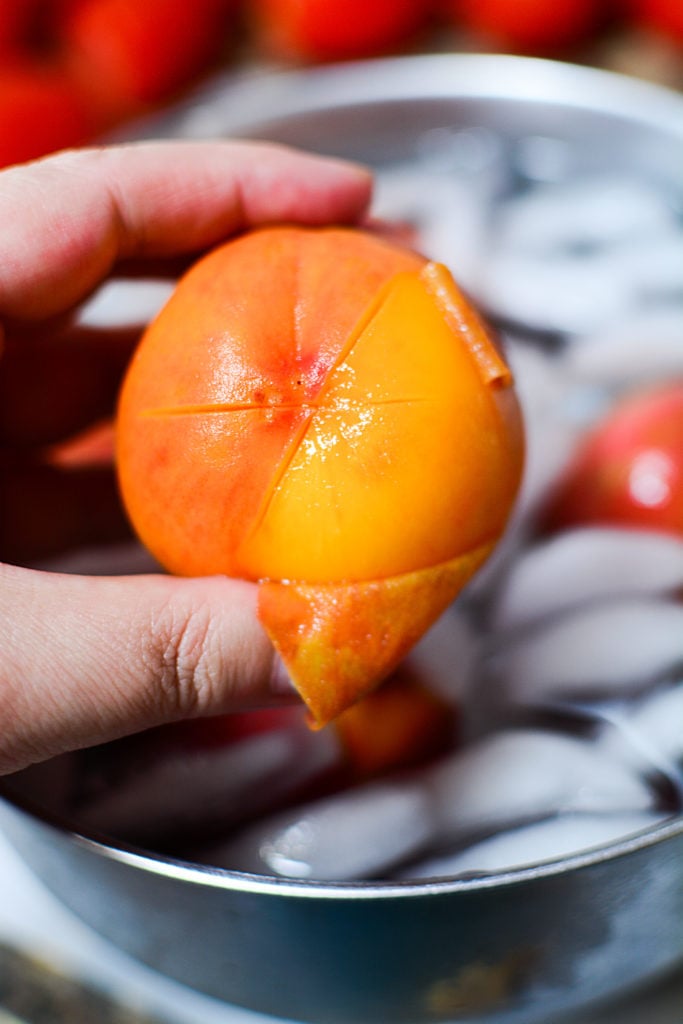 ● Then, transfer the hot peaches into the bowl of cold water and let them sit again for a couple of minutes to shock them and stop the cooking process.
● When you can handle them, begin from the bottom of the peach- where you marked the 'X' with your knife, and slowly peel the skin off of the peach. It should glide away from the surface of the fruit slowly and effortlessly.
That's it! You're done. And before you go ahead and discard the peels, read on below to discover some really delicious ways to put them to use!
Incidentally, if you have extra peaches to use up after you're done canning and/or preserving them. Why not make them into some baked fruit desserts?
I have a few for you to check out if you'd like. Desserts like this:
Super Delicious Peach and Blueberry Crisp
Or how about some Coconut Peach Slow Cooker Steel Cut Oats for a nourishing breakfast?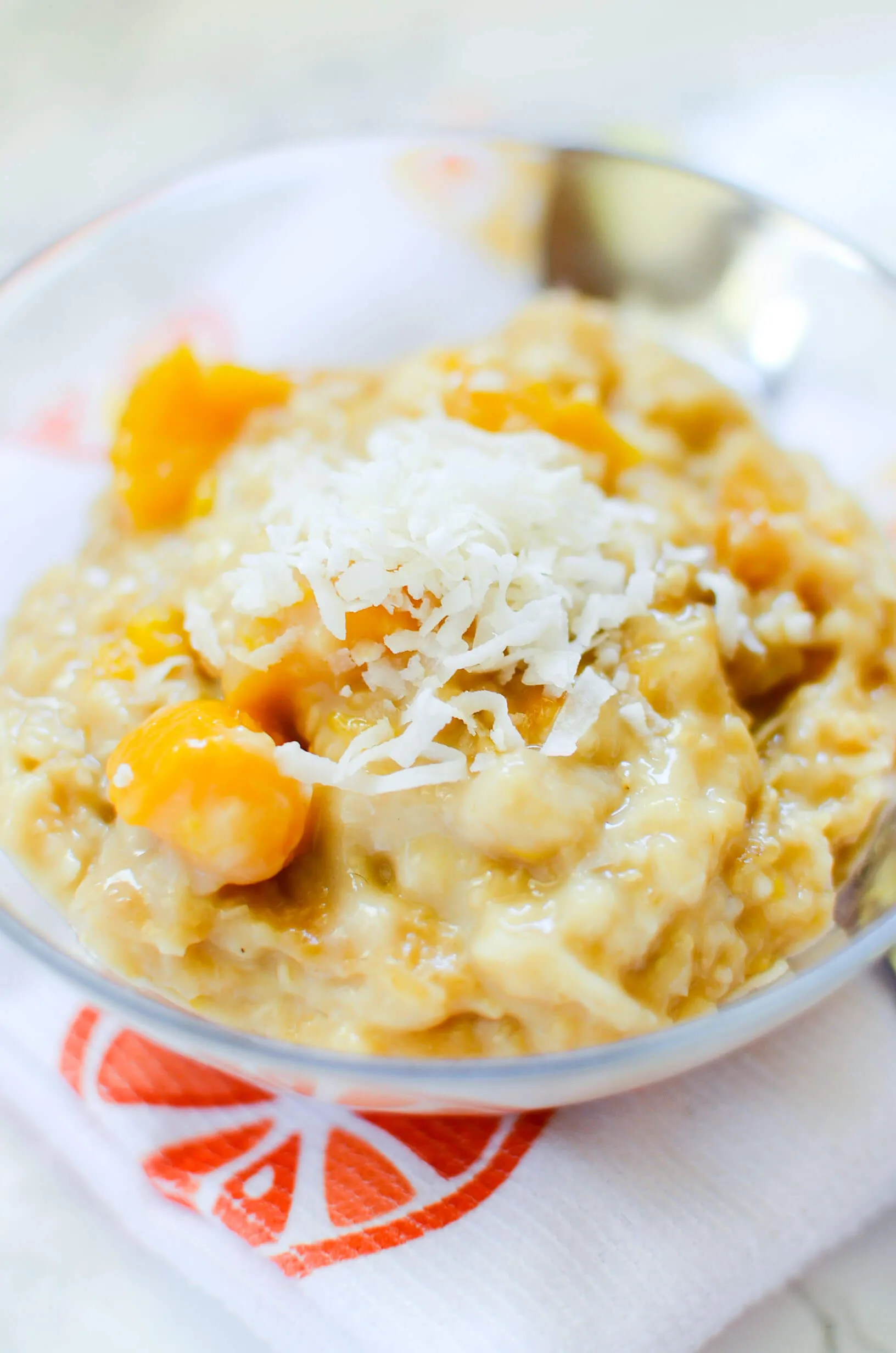 I also have this awesome collection of Lucious Ripe Peach Recipes to use your peaches with!


Wait- Don't Throw Away the Peels!
Done peeling the peaches? Don't throw those peels away just yet. Here's what you could do with them:
● You can utilize those peach peels and pits to whip up a peach concentrate/simply syrup (by boiling them all together with some sugar and water), that you can use in so many different ways.
● Another cool idea is to fry (or bake) the peach peels until crisp and then dip them in honey or whipped cream for an easy dessert option.
I hope that all this information on the easy way to peel peaches, along with all the other peach information will help you make all those fantastic dishes involving that awesome summertime fruit!
***DON'T FORGET TO PIN THIS INFORMATION ON THE EASY WAY TO PEEL PEACHES TO YOUR FAVORITE PINTEREST BOARD FOR LATER!!!***