Whether you're making peach pie, peach puree or sauce, or peach jam, you'll want to make sure you prepare those fresh peaches properly. Peeling peaches is one of the important methods of prepping those gorgeous juicy fruits.
Read on to discover my favorite way to remove those fuzzy peels!
Discovering An Easy Way To Peel Peaches!
So you want fresh-tasting peaches when the season's cold and dreary. I totally get you. I LOOOVE peaches any time of the year!
I'll even have the odd commercially prepared can of peaches when I'm out of my own home-canned peaches. But sadly, it's not quite the same.
If you're like me, you love everything about this delicious fruit! They're super versatile too- you can add them to both of your sweet and savory food recipes!
They pair beautifully with so many fresh herbs and spices – seriously, peaches are SO AMAZING!
Some of those peach recipes call for peeling the peaches. Not sure how to peel a peach though?
I'm here to get it done, along with some really cool tips to utilize the leftovers, and some fun facts to digest while you're at it!
Ok, so first, get a big pot of water on the stove and start getting it up to a boil. In the meantime, here are some really fun and useful facts about peaches!
What kind of Peaches should I use?
1. There are a few peach varieties out there, but the three main types according to Homeguides are:
Clingstone Peaches: Good for snacking, high sugar content and juicy, and has the flesh that 'clings' to the pit.
Freestone Peaches: Sugar content is not as high, the flesh is a bit firmer making them great for baked goods, and the flesh separates from the pit very easily.
Semi-freestone Peaches: Best of both worlds, higher sugar, firmer in texture, and pretty easy to come off the pit.
All three types of peaches will easily peel their peels using this method talked about today. The only thing that will determine the timing will be how ripe the peaches are that you're using.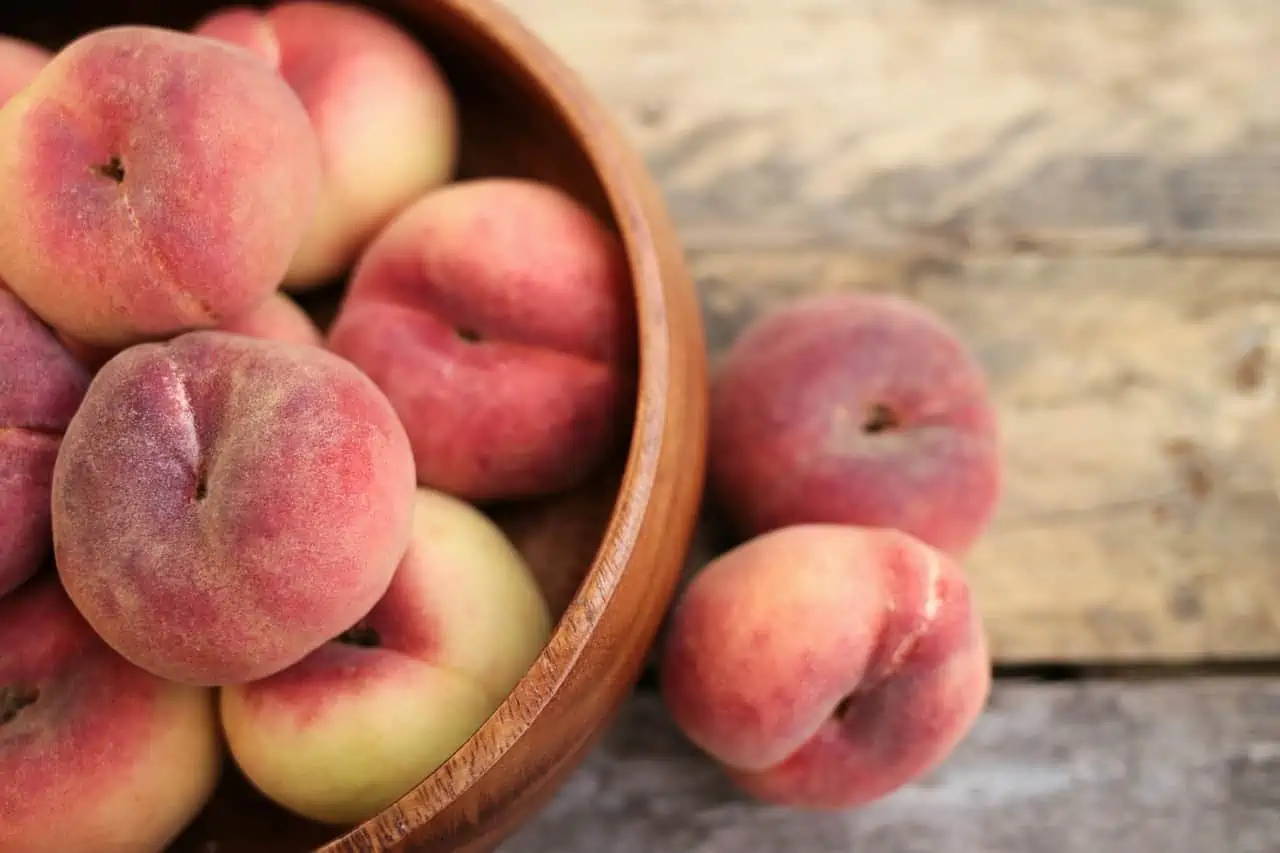 Removing the Peach Skin off Peaches
Sometimes we love the fruit but hate the fuzzy peel. ( Incidentally, the fuzzy peel on peaches is to protect rain droplets from falling on and damaging the fragile skin of peaches!) Or, maybe you're experimenting with a recipe that calls for peeled peaches. Whatever the case, here is my step-by-step take on how to peel a peach- or rather, peaches, in a super-easy way!
To begin, you'll want to want to get a large pot of water on the stove. The pot should hold approximately 8 – 12 cups of water. Bring the water to a rolling boil.
While you're waiting for the water to boil, prepare your peaches to go for their dip. Remove any stems or leaves that might be attached to the peaches.
Also, it's important to have a large bowl of very cold water with ice set close to the boiling pot of water.
Have a slotted spoon on hand.
Using a sharp paring knife, carefully mark an 'X' on the bottom of a single peach. Don't apply deep pressure and carve deeply into the fruit; just a light hand is needed.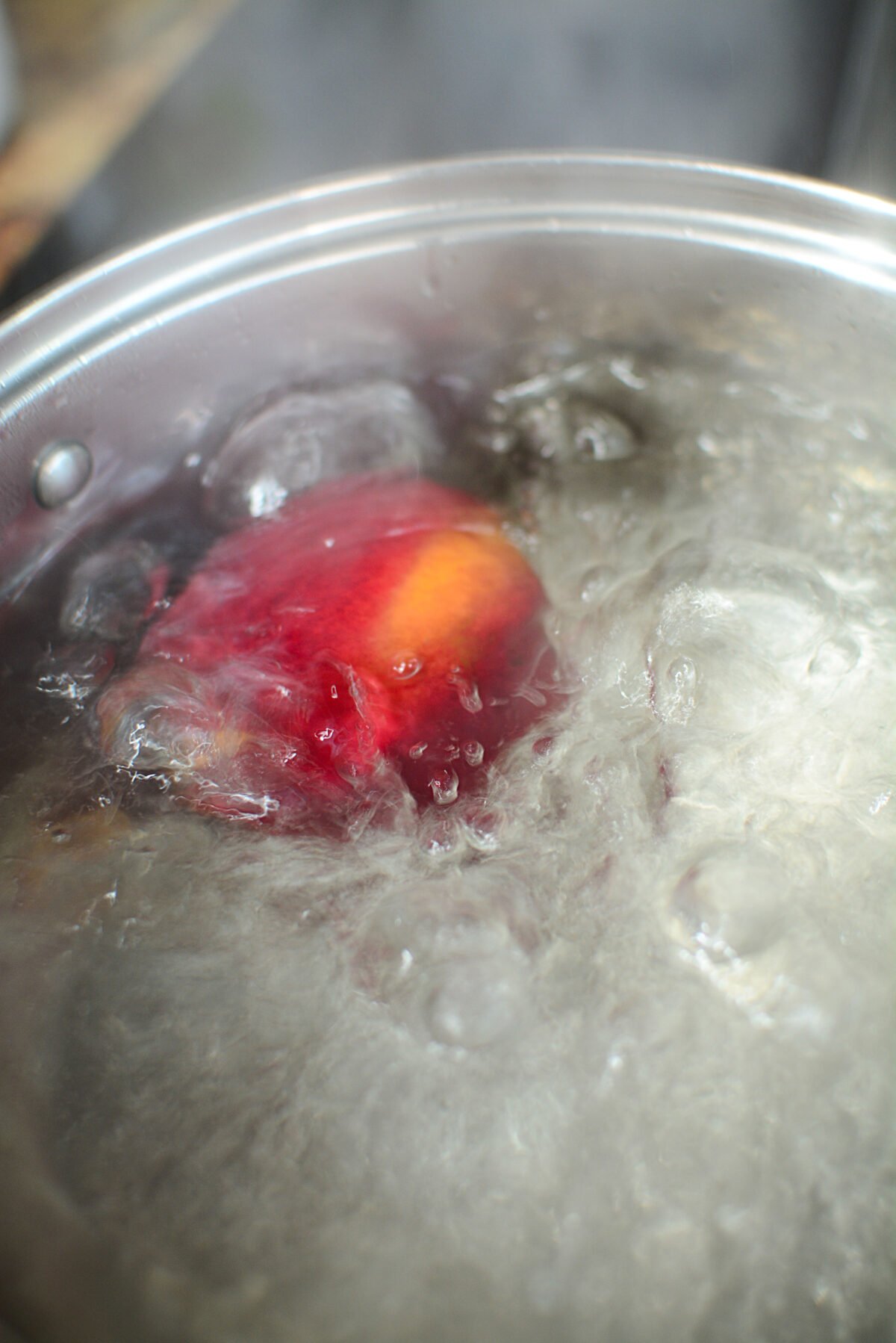 Slowly and carefully, drop a single peach into the boiling water. Using a timer, let it blanch in the water for 30 seconds up to a minute. This is your test peach.
Immediately transfer the peach into the ice water for about a minute to shock the peach and stop the cooking. (or, until it's cooled enough for you to handle).
(The reason for the test peach is to see how long it takes for the boiling water to begin loosening the peach skin. This way, you'll know exactly how long to keep all the peaches in the boiling water to be effective).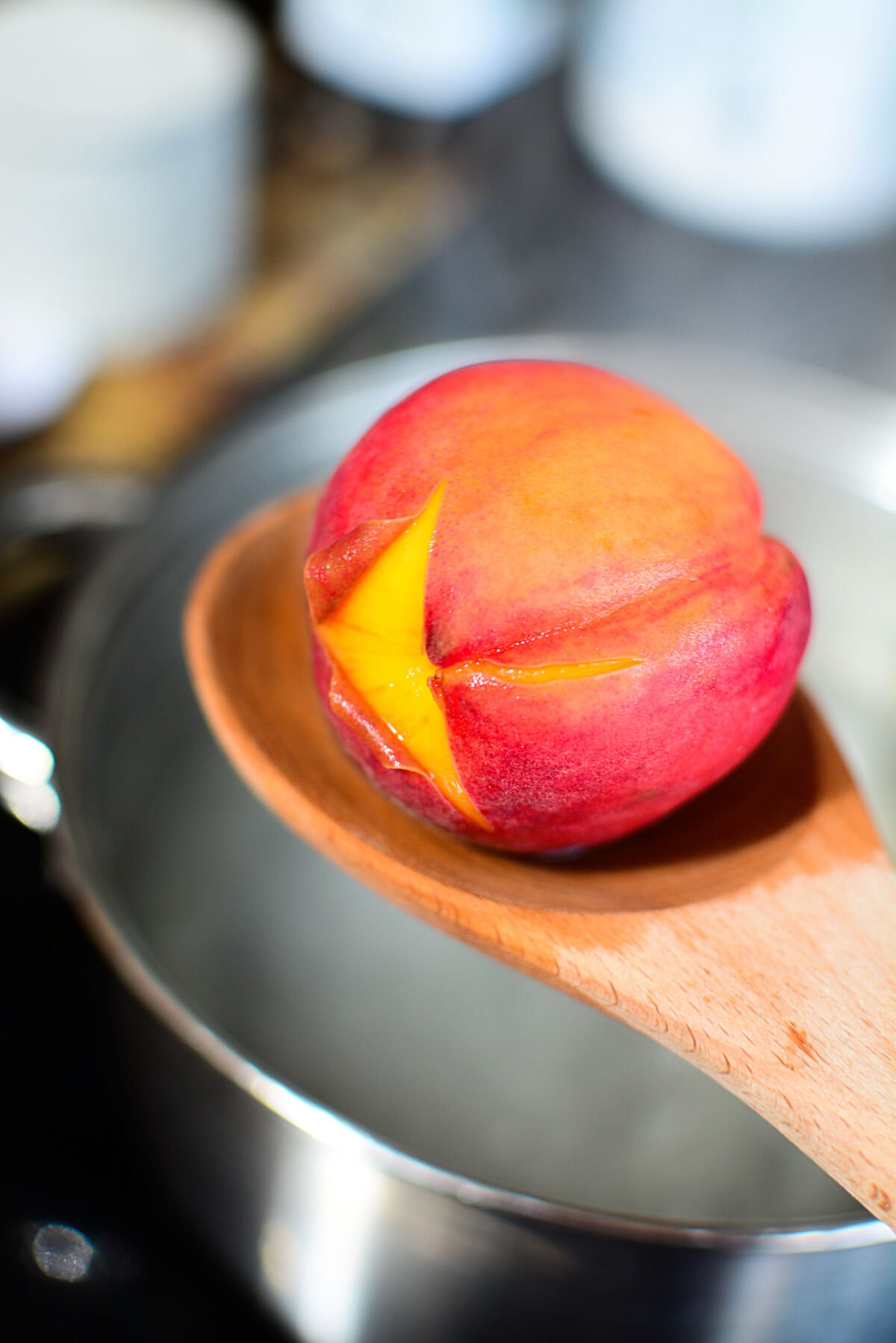 When you can handle it, begin from the bottom of the peach- where you marked the 'X' with your knife, and slowly peel the skin of the peach. It should glide away from the surface of the fruit slowly and effortlessly.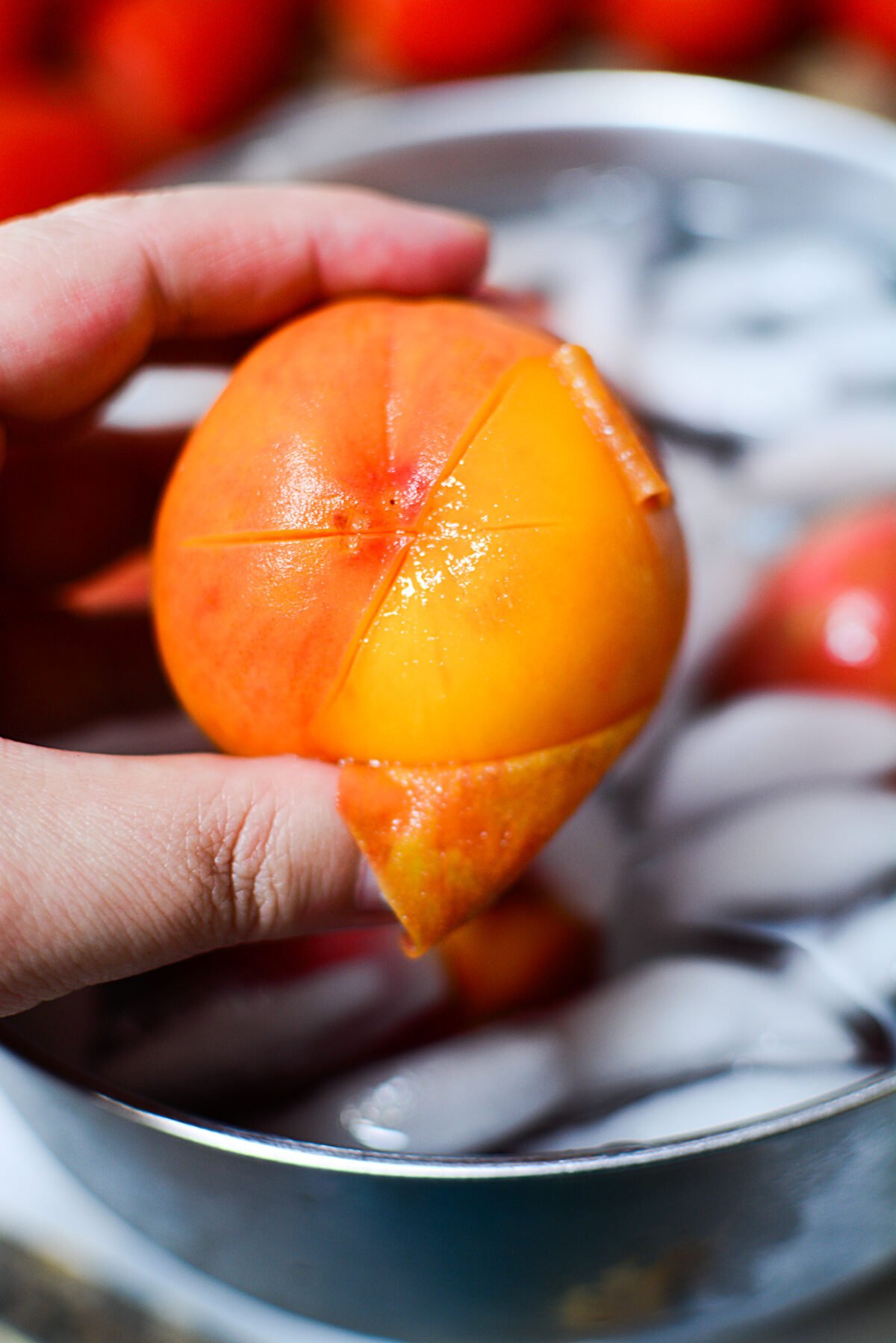 From this point, slice the fruit into peach slices and continue on with the rest of your peaches, only peeling them in small batches.
I recommend 3-4 maximum at one time so it's easily manageable and you don't end up cooking your peaches too long and they get mushy.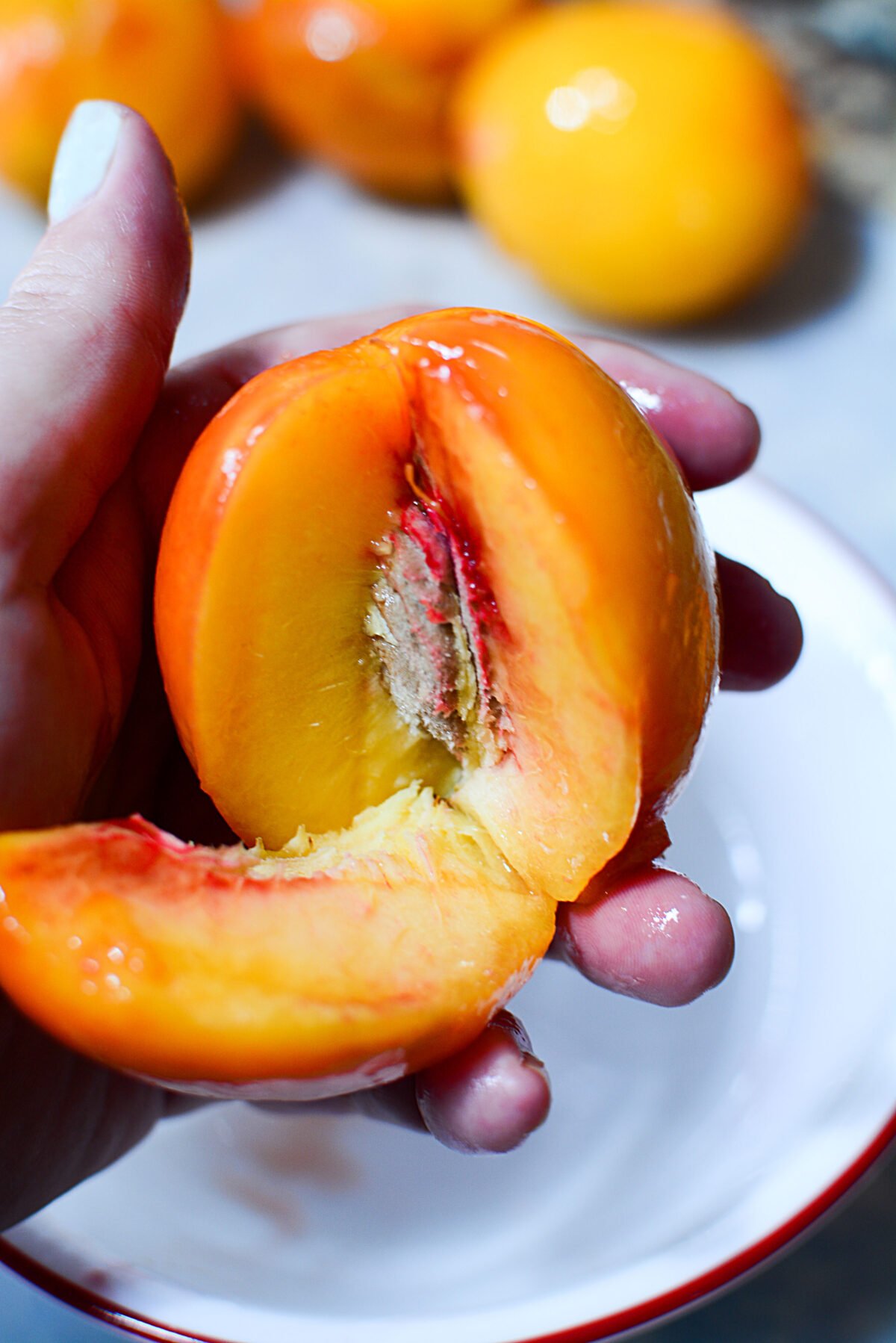 That's it! You're done. And before you go ahead and discard the peels, read on below to discover some really delicious ways to put them to use!
Wait- Don't Throw Away the Peels!
Done peeling the peaches? Don't throw those peels away just yet. Here's what you could do with them:
● You can utilize those peach peels and pits to whip up a peach concentrate/simple syrup (by boiling them all together with some sugar and water), which you can use in so many different ways.
● Another cool idea is to fry (or bake) the peach peels until crisp and then dip them in honey or whipped cream for an easy dessert option. (Or try drying them and crushing them into a powder. The powder can be sprinkled on anything to bring that peach flavor!)
Try making Peach Peel Jelly, using just the peels!
How about a healthy Peach Vinegar Tonic? Easy peasy to make and would make an excellent addition to those healthy natural probiotics.
Why Not Just Use A Knife To Peel Peaches?
Using a knife can easily remove too much of the actual fruit along with the skin. Especially if the peaches are very ripe, it's very easy to remove too much flesh with the paring knife. I believe that this is the easiest way that will give that juicy fruit the best results.
How Do I Store Peeled Peaches If I Don't Use Them All?
Storing peeled peaches isn't a problem. I prefer to squeeze some lemon juice over the cut-sliced peaches. Give them a gentle toss. Line a baking sheet with parchment paper and lay the peaches in a single layer (not touching) and freeze them.
Once frozen, gather them off the parchment and store them in a freezer-friendly freezer bag for up to 6 months, to use later. Know that freezing them will change the texture of the peaches slightly but they are still perfectly useable for many different peach desserts.
What Peach Desserts Can I Make With These Peeled Peaches?
Seriously, the options are endless for some great recipes. Before you begin to make any of these fruit desserts, you'll want to thaw the peaches to remove any liquid that's come off the peaches in the thawing process.
Try making:
Peach Pie
Peach Gallet
Preserved (canned) Peaches
Where Can I Buy Fresh Peaches?
Peach season is usually in the latter part of summer, going into the fall depending on the type of peaches you're looking for. You'll find fresh peaches for purchase at:
Grocery Stores
Farmers Markets
U-Pick Fruit Markets
Farmstands
I hope that all this information on the easy way to peel peaches, along with all the other peach information will help you make all those fantastic dishes involving that awesome summertime fruit!