If you know me at all, you know I'm all about being cheap …frugal, right? So this Creamy Crockpot Chicken and Rice Soup fits right in line with my comfort zone. Well, my wallet's comfort zone too, actually.
Creamy Crockpot Chicken and Rice Soup
Ohhh what to do with left over rotisserie chicken that's quick and almost effortless? THIS. Running around at noon and trying to think ahead for dinner? Nevamind aboudit'!! Rest your pretty (or handsome) head, I got you covered.
Pull out the crockpot. Take the left over chicken and take all the meat off it. Yes.. doesn't matter if it's left over breast, legs, and thighs, whatever. If it looks edible to you, and not those grisly gross parts, keep it. You want AT LEAST a cup or two of leftover chicken. Chunk it up, dice it small, it's all up to you.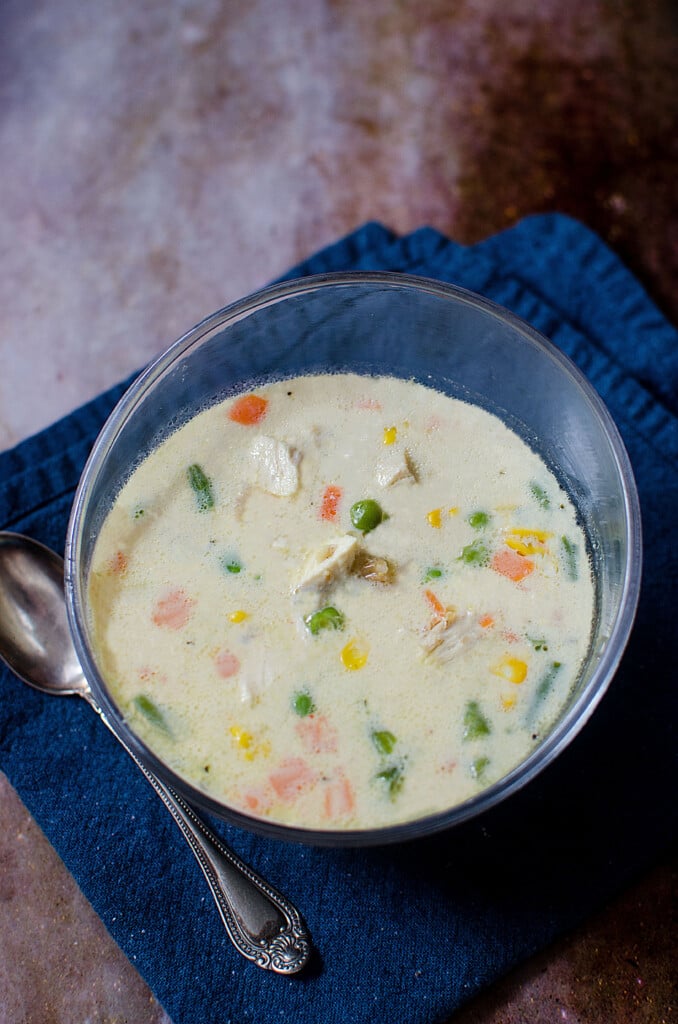 Throw it in the crockpot. Do you have onion? Cut up a bit of onion and sauté it super quick with a teaspoon of oil, butter, or even coconut oil, and then add some garlic. Breath deep………. Ahhh.. onions and garlic – intoxicating, isn't it? Well…. maybe not REALLY intoxicating.. but SUPER good and I dare say, extremely yummy when eaten combined with other stuff! When the onions are soft, throw everything in the pan in the crockpot.
Add a few cups of frozen mixed vegetables in the crockpot as well. Wow, so easy right?? You've just about got everything ready for this delicious soup.
Add about 3-4 cups of chicken broth. No broth? Add water and some bouillon – easy peasy. Season with a bit of salt and pepper. Let your soup simmer in the crockpot on low for 3 hours.
After two hours, in a separate bowl, measure out 3 tablespoon of cornstarch. Add 1 cup of heavy whipping cream or Half and Half. Don't skimp in this department. This is what takes it from "soup"… to "WHOLY MACKERAL THIS IS AMAZING". Seriously. Mix the two together really well and pour it into the crockpot bowl. Add the cup of rice. Use regular plain old rice – nothing fancy if you don't have it. If you're a fancy pants and have some exotic left over rice, then by all means, USE IT! Replace the lid and let it cook another half hour.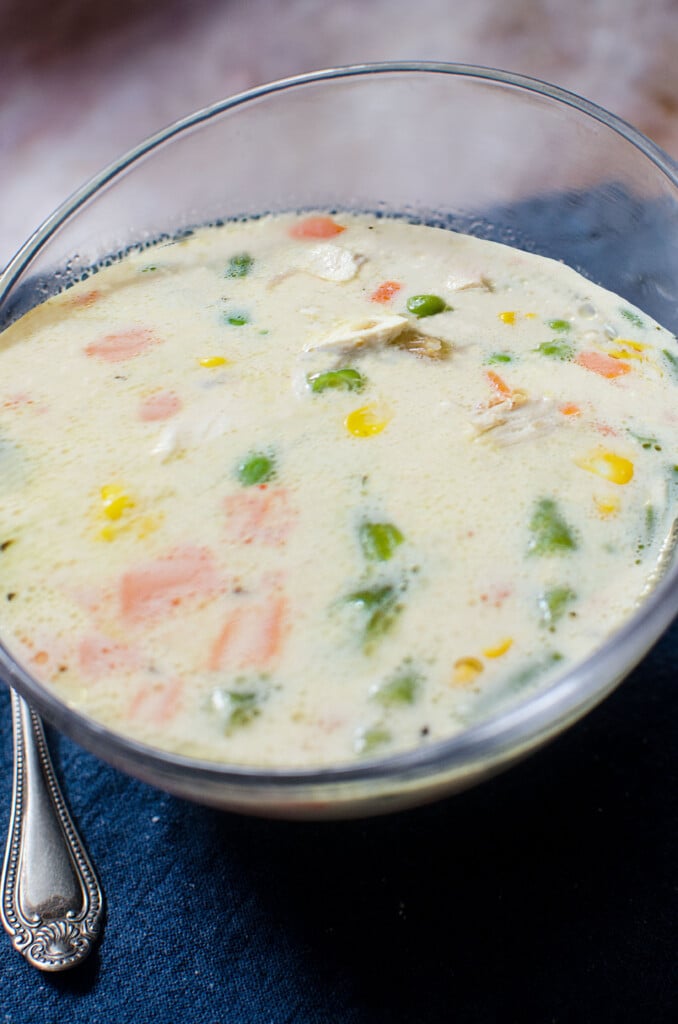 When cooking time is up, have a taste. Does it need more salt? More pepper? Add them. Maybe you'd like a bit of a kick to this awesome creamy soup? Add some dried chili flakes!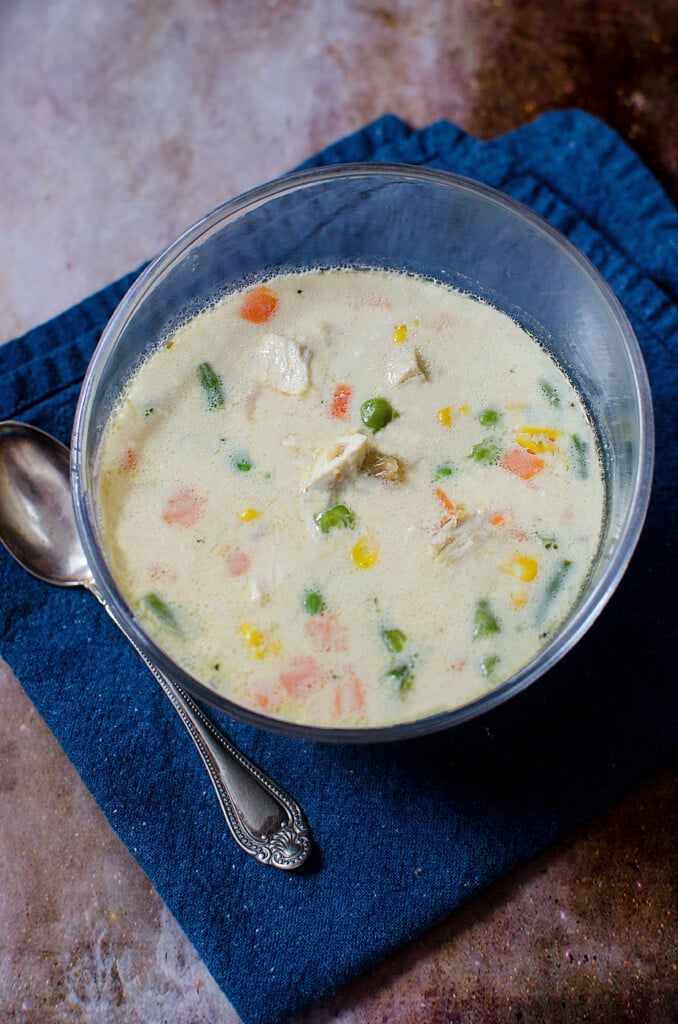 When you want to serve this delicious super easy Crockpot Chicken and Rice Soup – add a big chunk of crusty bread with butter on the side. No crusty bread?.. no problem. Use regular bread. No regular bread? No problem. Use crackers. The point here is to get some dunking/dipping action happening. This soup's broth is AMAZING and you'll want to use something to sop up every drop. Trust me on this.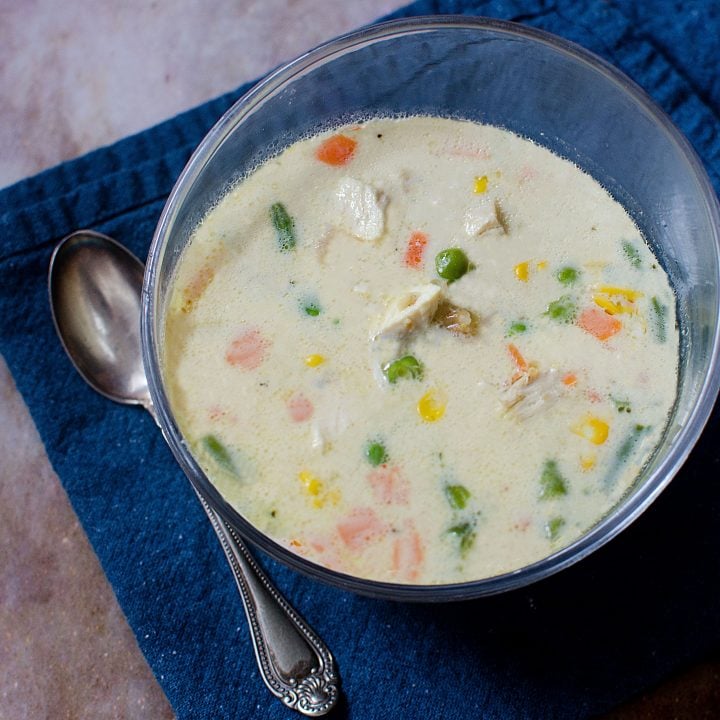 Creamy Crockpot Chicken and Rice Soup
Total Time:
4 hours
15 minutes
Hands down, this is one of the quickest, most convenient pots of soup you can make. Creamy and savory with the hearty goodness of chicken, rice, and vegetables.
Ingredients
1 cup or more chicken, cooked
1 cup or more rice, COOKED,
2 cups frozen vegetables
3-4 c chicken broth
¼ c onions, sliced
2 teaspoon garlic, minced
1 teaspoon butter, oil or coconut oil
1 c heavy whipping cream
3 tablespoon cornstarch
1 teaspoon dried chili flakes, optional
as desired salt and pepper
Instructions
Put diced chicken into the crockpot bowl
Saute the onions and garlic until soft. Add them to the crockpot bowl
Add the frozen vegetables
Add the broth
Cook on low for 3 – 4 hours
Mix the whipping cream and cornstarch together until smooth and add it, along with the rice, to the crockpot bowl
Let it cook another ½ hour.
Enjoy with crusty bread or crackers!
Nutrition Information:
Yield:

8
Serving Size:

1 cup
Amount Per Serving:
Calories:

268
Total Fat:

18g
Saturated Fat:

9g
Trans Fat:

0g
Unsaturated Fat:

7g
Cholesterol:

58mg
Sodium:

1463mg
Carbohydrates:

18g
Fiber:

2g
Sugar:

4g
Protein:

9g
All nutritional information is based on third-party calculations and is only an estimate. Each recipe and nutritional value will vary depending on the brands you use, measuring methods, and portion sizes per household.
******* DON'T FORGET TO PIN THIS CREAMY CROCKPOT CHICKEN AND RICE SOUP RECIPE TO YOU FAVORITE PINTEREST BOARD FOR SAFE KEEPING!!*****