Mmmmmmmmmm – coffeeeee. MMMMMMmmm coffee creamer. MMMMMMMMM INSTANT POT COPYCAT CINNABON™ COFFEE CREAMER!!!! 'nuff said!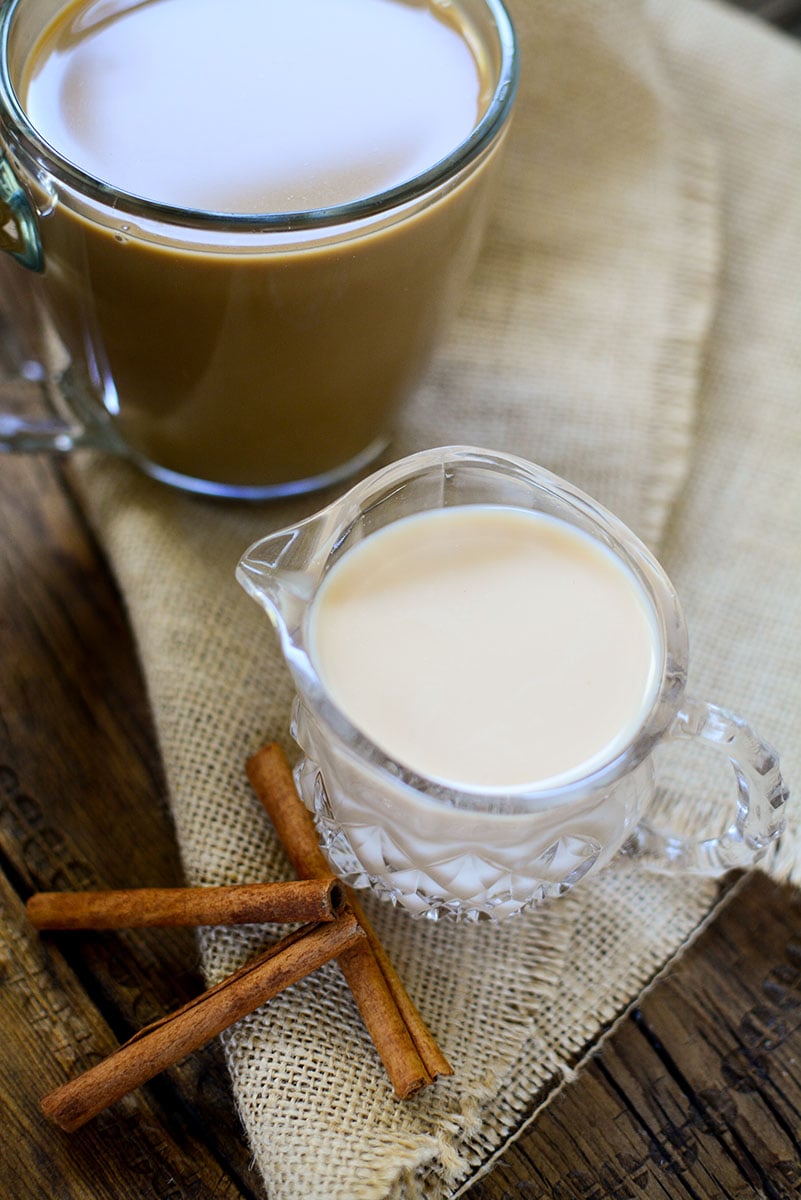 Instant Pot Copycat Cinnabon™ Coffee Creamer
Yes my lovelies, it's here! We all know how scrumptious Cinnabon™ flavored ANYTHING is, yes?
And I'm sure you've seen the Cinnabon™ Coffee Creamer on your grocery store shelf. You've probably even bought it to flavor your wonderful homebrew!
But……….. have you looked on the side of that bottle to see the ingredients lately? (And have you looked at the price?????? Sheesh!)
A Cleaner Cinnabon™ Coffee Creamer
There's no hiding the fact that commercially prepared liquid coffee creamer has a whole boatload of ingredients that we may not want in our daily diet.
And really, you can't blame them because they need to make the creamer shelf-stable for a long time and so the ingredients in the creamer won't all separate, etc, etc.
And while the premade coffee creamers are super delicious, sometimes we want to watch the ingredients we are putting into our bodies, right?
This Cinnabon™ coffee creamer recipe has ingredients that you are familiar with and can even, most likely, make right now because the items will be in your pantry. Awesome, right!?!?!?!! Yaaay!
Using The Instant Pot To Make This Coffee Creamer
So you know how Cinnabon™ cinnamon buns have a beautiful cinnamon flavor? I wanted to REALLY infuse that cinnamon flavor into the creamer without simply just adding cinnamon.
Adding cinnamon would make the spice float on top of the creamer, and if it managed to be incorporated, we'd still get cinnamon spice floaties in our creamer. Not a terrible thing, but it would be so much nicer if it was just a cinnamon flavor derived right from the cinnamon itself.
Hence, the Instant Pot! I used cinnamon sticks, and when I pressure cooked the cinnamon sticks in the liquid, those sticks REALLY let go of that luscious, warm spicy cinnamon flavor! (And even turned the liquid a beautiful amber color!)
I was soooooo excited when I tasted the beginning stages of the creamer after I pressure cooked it. I was SOO thrilled! (Imagine a weirdo doing a happy dance in a kitchen…… yep, that's right… that's what I looked like. Ha!)
By the way. If you're new to the using the Instant Pot and you feel a little cautious around it, take a peek at my Instant Pot For Beginners guide to help make you feel a bit more comfortable to use it!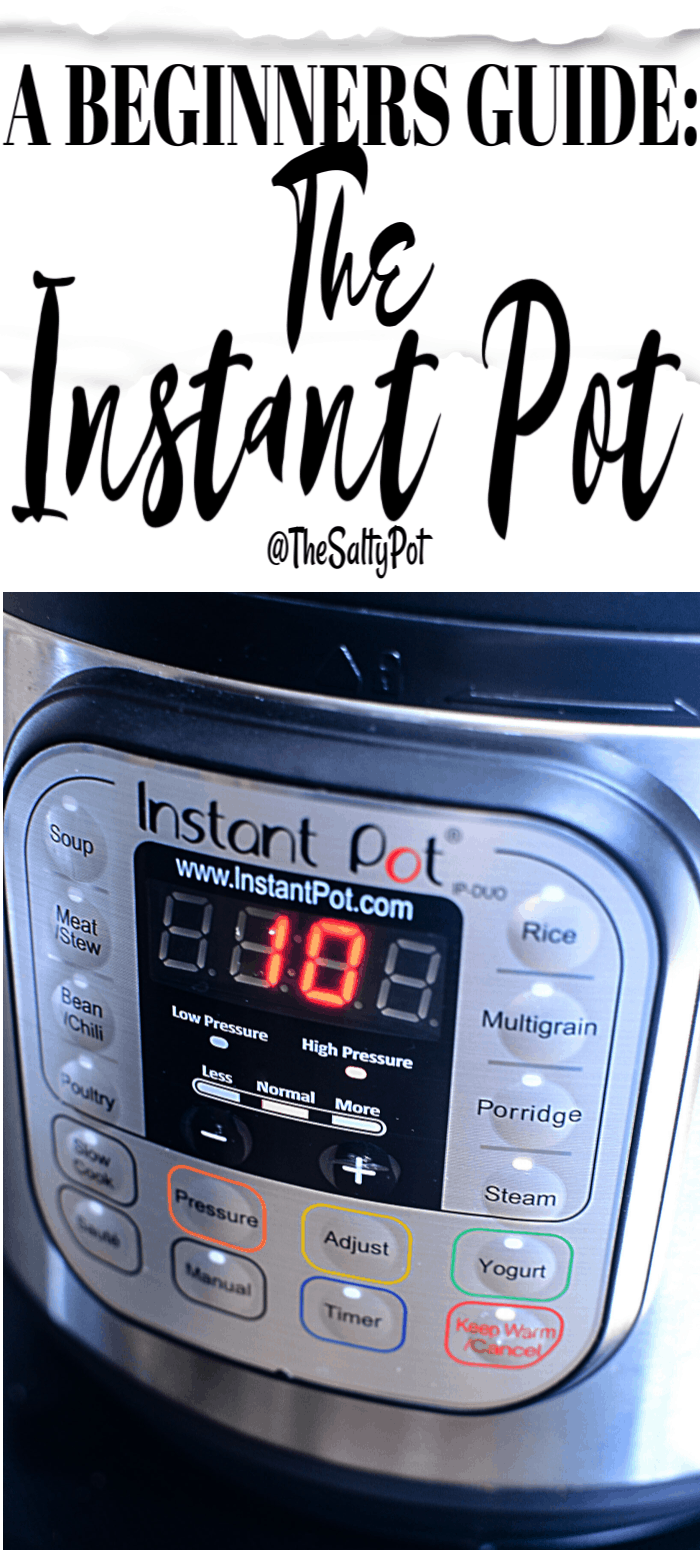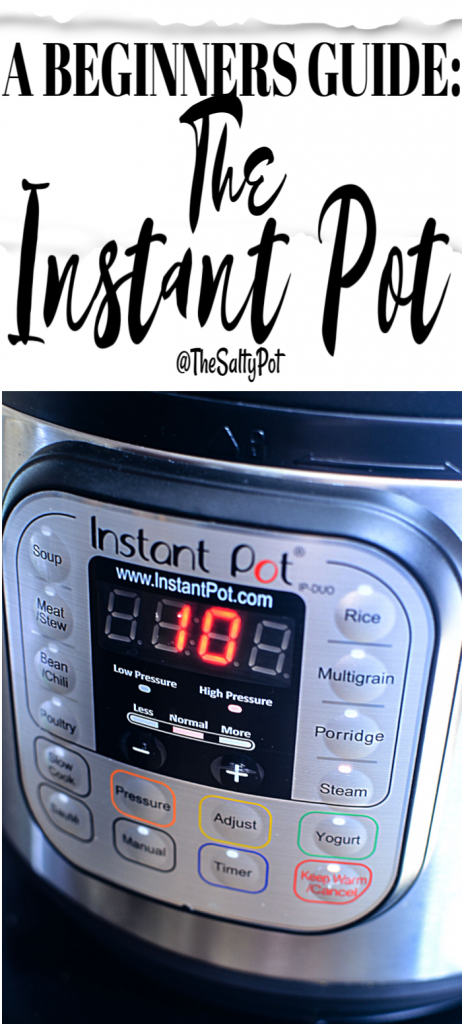 Do I have to use an Instant Pot to make this homemade Cinnabon™ copycat creamer?
No, you don't. Using the Instant Pot makes things a lot quicker, but you don't have to use one. You DO however really want to get as much flavor out of those cinnamon sticks as possible, so I would probably try using a slow cooker or crockpot.
I would use the same ratio of liquid (no added sugar yet though) and drop those cinnamon sticks in. Cook on high for at least 4 – 5 hours or more – (watch the liquid levels so it doesn't evaporate). Then when it's done cooking, remove the sticks and add the sugar to make the syrup and continue on with the rest of the directions as usual.
How Sweet Is This Creamer?
It's pretty sweet. But hey, it has to be. You're sweetening your coffee and giving it those wonderful warm cinnamon flavors. Cinnamon™ with just a tiny touch of maple.. goodness! My mouth is watering right now!
And.. I'm OUT of my homemade coffee creamer because I drank enough coffee over the last while to use it all up!! Now I need to get back in the kitchen and make some more.
Don't worry about it being too sweet. When mixed with the savory flavors of black coffee, the sweetness is perfectly balanced out and it won't be cloyingly sweet.
If you were going to drink it on its own, then… umm.. yeah.. pretty sweet. LOL!
How Can I Make This Coffee Creamer Keto or Low Carb?
Well, one of the ingredients in this creamer is sweetened condensed milk. So while it would take more prep work, you could make this keto-friendly version of sweetened condensed milk by All Day I Dream About Food. (She even has a non-dairy, coconut milk version!)
Can I Use Vanilla Pods or Paste Instead Of Vanilla Extract?
Absolutely! In fact, the flavor might even be more luscious, but when I was making this, I was out of vanilla pods. So, I just used extract (my homemade vanilla extract!) and it worked out just fine!
You don't have to use homemade extract, you can use commercially made store-bought vanilla extract. Try and get real vanilla extract and not artificial, but at the end of the day, use what you have on hand and it will be delicious!
What NOT To Use In This Coffee Creamer Recipe
When thinking up this recipe, I had thought about wanting a nice, light creamy color for the coffee cream. So I experimented with using a touch of powdered coffee whitener. Oh geez, I don't know what I was thinking.
I added it to the creamer, and it immediately got all lumpy and WOULD NOT separate or dissolve! I don't know what sort of chemical reaction happened there, but nope!, there was no dissolving it. It just stuck together like little hard lumps.
So weird.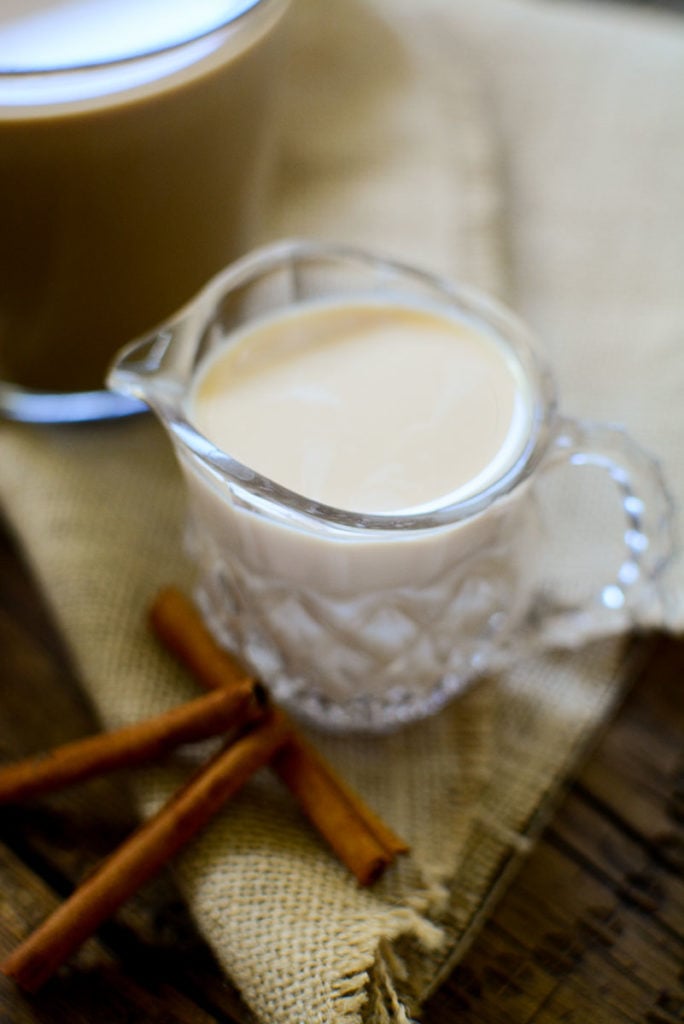 So yeah, don't use powdered whitener. And really, using the powdered stuff kinda negates the 'cleaner' ingredient option for making this Cinnamon roll coffee creamer, doesn't it?
So then I was back to the drawing board and made it again, and I was THRILLED with the end result! It made me want to make a few more flavors, which I have and I'll be posting about soon! Subscribe if you want to be part of the Salty Pot Family and know EXACTLY when those new flavors come out!
How long will the homemade coffee creamer be good for?
As long as you keep it refrigerated, it should stay good for at least 10 days if not more in the fridge. There's nothing really that can spoil except for the condensed milk, and sometimes I find it crystalizes a tiny bit at the top if it's not covered properly.
I don't think it's a big deal though. If that happens, I simply remove the crystallized portion and keep on going with the creamer 🙂 However, if it's got a funky smell or weird color to it, then I'd suggest you pitch it and make some new coffee creamer!
When you make this delicious instant pot Cinnabon™ copycat coffee creamer, I'd love to hear from you! Did you change up the recipe at all? Give me a shout as I'd love to hear any new ways you made it!
Thank you for stopping by The Salty Pot today, and I hope you have a fantastic day!
~Joanne
**OH! DON'T FORGET TO PIN THIS INSTANT POT COPYCAT CINNABON™ COFFEE CREAMER TO YOUR FAVORITE PINTEREST BOARD TO SAVE FOR LATER!!!**
Instant Pot Copycat Cinnabon™ Coffee Creamer
Additional Time:
10 minutes
This Instant Pot Copycat Cinnabon Coffee Creamer is so delicious! Just like the store-bought version, but with fewer ingredients, and allows you to save some money because it's homemade!
Ingredients
2 c water
1 c granulated sugar
5 cinnamon sticks
2 tsp vanilla extract
1 tsp maple extract *optional but totally worth adding!
1 can sweetened condensed milk
pinch of salt
Instructions
Place the water, sugar and cinnamon sticks in the instant pot cooking insert.
Cover with the lid, seal, and press manual for 15 minutes.
When cooking time is up, do a natural release for 10 minutes.
After 10 minutes is up, carefully release any remaining pressure in the pot.
Set up a fine-mesh strainer with a coffee filter inside over a bowl and pour the liquid into the bowl, removing the cinnamon sticks.
After sieving the liquid, add the vanilla, maple extract, sweetened condensed milk, and salt. Mix well.
Add to black coffee and enjoy!
Notes
COOKS NOTES:

1. Use cinnamon sticks and not powdered cinnamon. Less mess, less grit, and a smoother flavor.
2. You could substitute maple extract for maple syrup, but I'd use slightly more as maple syrup is not as intensely flavored as maple extract.
3. Do not skip the straining step. The cinnamon sticks may have slightly crumbled or broke in the pressure cooking process and you really want your cinnamon bun coffee creamer to be smooth and luxurious!
Nutrition Information:
Yield:

24
Serving Size:

2 tbsp
Amount Per Serving:
Calories:

34
Total Fat:

0g
Saturated Fat:

0g
Trans Fat:

0g
Unsaturated Fat:

0g
Cholesterol:

1mg
Sodium:

13mg
Carbohydrates:

8g
Fiber:

0g
Sugar:

8g
Protein:

0g