Nutrient-dense and loaded with flavor- bone broths have become super popular in recent years. Why not whip up a nice turkey bone broth right in your kitchen? It is super easy, and once you realize how delicious and healthy it is, you won't go back.
Read on to discover exactly how and why to make it, and some other tips and tricks to make it nail it.
What's the Deal With Turkey Bone Broth?
Turkey bone broths, or any other bone broths for that matter, are one of the healthiest foods on the planet. They're packed with nutrients and taste absolutely delicious, and if you're still not convinced about how (and why) to add them to your diet, read on.
They pack in amino acids like cysteine, arginine and glutamine which help boost immunity.

There's solid scientific evidence to confirm that they also alleviate the symptoms of common cold and cough.

Some experts also believe that bone broths can help strengthen the bones and teeth by offering the body a myriad of nutrients including vitamins A, C, K and B, as well as zinc, magnesium, copper, iron, phosphorus and calcium.

Adding more of it to your diet can also help lower the levels of inflammation in the body, and can offer pain relief for individuals suffering from joint pain and arthritis.

In addition, bone broths have also been found to keep blood sugar levels in check, normalize the stomach acid, boost digestive health and even improve sleep quality.
So How Do I Make it?
Sure, you can always pop the leftover turkey bones into a pot of boiling water and create a basic stock, but if you really want to relish all its flavor and taste (and the health part), I would suggest using the Ninja Foodi.
If you've not heard about Ninja Foodi yet, here's a quick rundown on what it is, and why it is the ultimate genius kitchen appliance every home cook needs!
If you already have it, that's great. Here's how I usually go about the turkey bone broth with my Ninja Foodi.
I start by seasoning my leftover turkey bones, skin and fat with some salt and pepper, and then drizzle a bit of olive oil over the top. Place them in an oven safe roaster and roast them bones until they are brittle. I know, sounds crazy right?
But it REALLY adds so much awesome flavor!
Now, I pop all of these into my Ninja Foodi insert bowl. Add enough water to come (but not exceed) the water line on the side of the bowl.
Using the slow cooking function, cook the bones for 8 hours. You can actually do a second slow cook of 8 hours to really get as much flavor out of those bones as possible!
Alternatively, you could add some veggies (think onions, celery, garlic, and carrots) to the bones while they slow cook, or just create a plain turkey bone broth- no veggies.
You could also make this quicker by pressure cooking the bones in the Ninja Foodi. Again, all you need to do is add the water and set it on high pressure for around 30 minutes or so- that's it! It will also produce a wonderful flavor, but I really prefer the slow cooking version.
It's just so nice to have options of making this turkey broth in two ways with ONE appliance!
So after the cooking time is up, pour the contents into a colander to sieve off the bones and extra stuff. The bowl underneath will catch the golden bone broth! After that, you can drink it right away or do a whole host of other things with this nourishing broth!
Can I Make This Turkey Broth On The Stovetop Instead?
Sure can! Check out this tutorial on how to make a nice stovetop bone broth (this one is chicken, but using turkey bones works perfectly in its place) for you to enjoy!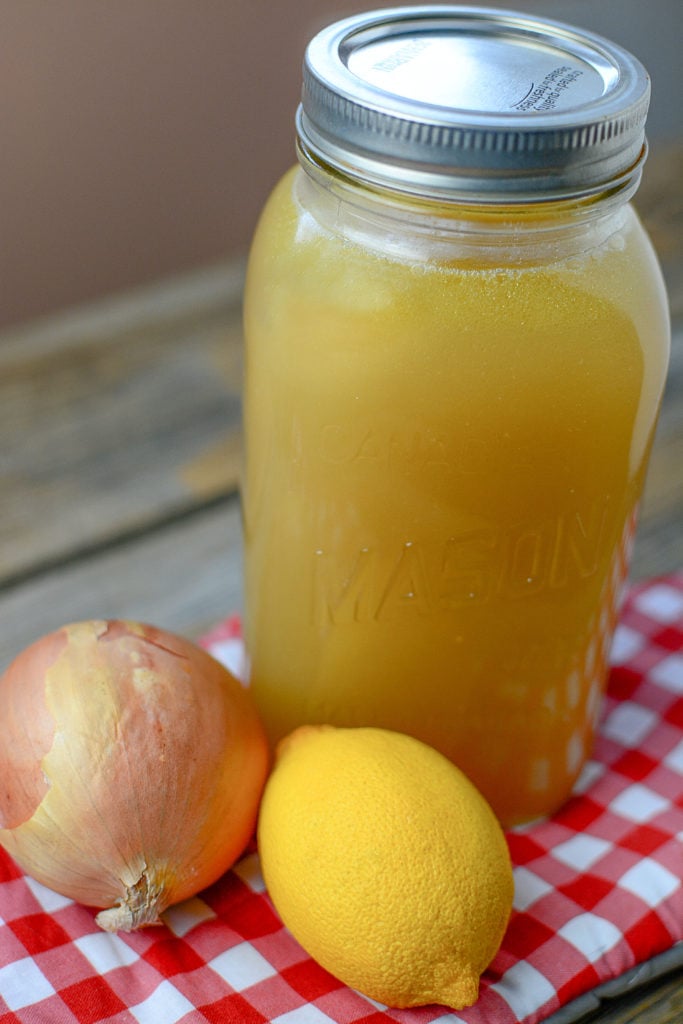 Stovetop made Chicken Bone Broth
Tips & Tricks to Do it Right
Sure you've got it all right? Wait up! I've also got you some additional tips and tricks to make sure you do it right.
Instead of tearing apart an entire turkey to get the bones and whip up a turkey bone broth, just remember to set the bones aside and save them the next time you cook with the bird. This doesn't just make more sense but is frugal too.

Use it to make richly flavored rice
Instead of using milk, you could use turkey bone broth to make your mashed potatoes more flavorful and creamy
Make a 'bulletproof' drink by adding a bit of butter and collagen powder, mix in your blender and drink that instead of coffee.
Freeze it in small amounts to put in your dog/cat's bowl to help cool them down in summer, and still give them the added nutritional benefits as well!
Put the broth back into the Foodi on slow cook function, add veggies, chicken and noodles and make a Chicken Noodle Soup!

Got leftover stock? Pour it all into an ice tray and pop it into the freezer. You can use these stock cubes the next time you're cooking pasta or making a one-pot meal, or even a nice curry. It'll add a nice depth of flavor to your dish and offer loads of nourishment too.

Short on pan drippings? Utilize your leftover bone broth! You're sorted.
Don't have those turkey bones this post has been all about? Guess what? You can actually whip up a fishbone broth or a chicken bone broth instead! Those flavored, nutrient-packed broths are just as good for you as turkey bone broth and super delicious as well!
I hope I've convinced you just how easy it is to make your own Ninja Foodi Turkey Bone Broth. I just love how taking an ingredient (turkey bones) and turning them into something so healthy and nutritious for you, is such a simple thing to do! It's healthy, frugal, and easy!
Thanks for stopping by The Salty Pot today, and I hope you have a fantastic day! When you make your own bone broth, I'd love to hear what you think of it, and what you used it for! Leave me a comment below!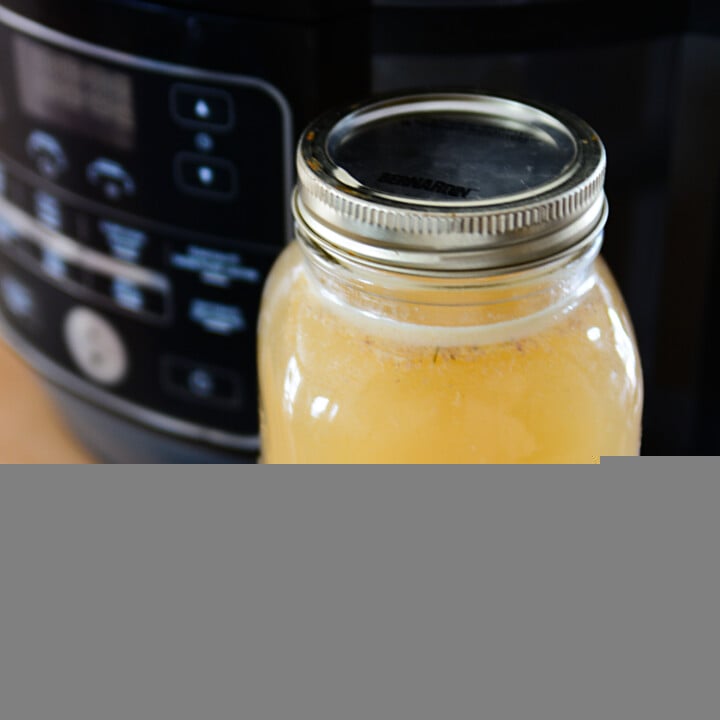 NINJA FOODI TURKEY BONE BROTH
Total Time:
8 hours
30 minutes
This super nourishing and delicious turkey bone broth is made so simply in the Ninja Foodi. Using this appliance you can slow cook the bones as I did, or you can pressure cook them if you choose. Either way, the results are amazing and super delicious!
Ingredients
Bones of 1 turkey carcass
extra seasoning
2 tablespoon of olive oil (or avocado oil)
10 - 12 cups of cool water
Instructions
In a large roasting pan, drizzle the oil over the carcass, skin and cartilage. Season with the same seasonings that you used to cook the turkey. (see notes below)
Roast in the oven at 350 for 30 minutes or more, until the bones become dark and brittle.
Place everything from the roasting pan into the Foodi cooking insert.
Add enough water to reach the "fill" line on the side of the insert.
Place the lid on the top, be sure the toggle switch is in the "venting" position, and press 'slow cook' and adjust the time for 8 hours.
After the cooking time is up, seive the contents from the soup through a colander.
The broth is ready to to be used. (see notes)
Notes
1. If you did not cook the turkey yourself, you can add seasonings like poultry seasoning, salt, pepper, Italian seasoning, garlic powder, onion powder, etc.
2. When the initial cook time is up, taste the broth. If you would prefer a stronger flavor, feel free to slow cook for another 8-hour cycle if you'd like. (or less).
3. Instead of tearing apart an entire turkey to get the bones and whip up a turkey bone broth, just remember to set the bones aside and save them the next time you cook with the bird. This doesn't just make more sense but is frugal too. 
*** DON'T FORGET TO PIN THIS NINJA FOODI TURKEY BONE BROTH RECIPE TO YOUR FAVORITE PINTEREST BOARD TO USE FOR LATER!! **