Peanut butter cookies are one of those childhood favorites, am I right? That crunchy, sweet peanut butter flavor is reminiscent of sitting at my desk at school, enjoying a cookie or two for dessert at lunchtime.
Air Fryer Peanut Butter Cookies offer that classic peanut butter cookie flavor with the perfect baking option to make a few or make a lot, and they come together in a snap.
This post may contain affiliate links. If you make a purchase after clicking a link, I may earn a small commission AT NO COST TO YOU. As an Amazon Affiliate, I earn from qualifying purchases.
Delicious and Easy Air Fryer Peanut Butter Cookie Recipe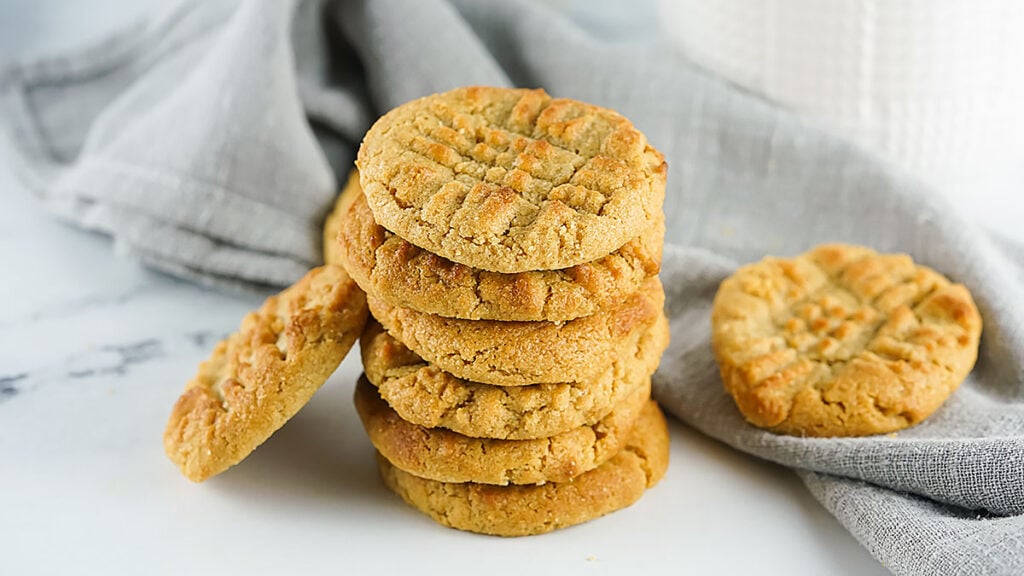 Why You'll Love this Air Fryer Peanut Butter Cookie Recipe
What's so great about these cookies? Well, personally, I love this recipe because you can make just a few cookies when you want them for a fresh and tasty snack whenever you want.
Also, you can easily scale the recipe up to make as many cookies as you want with that gorgeous nutty flavor.
If you are making these in the summer this is the perfect option for hot fresh cookies without having to kick on your oven and heat up the house!
The Groceries You'll Need
How to Make 3 Ingredient Peanut Butter Cookies in the Air Fryer
Combine all three ingredients in a medium mixing bowl. Mix until fully combined.
Using a 1 ½-inch cookie scoop, or heaping tablespoon, scoop the dough onto parchment lined baking sheets or cutting board.
Using a fork, press the cookie flat, first in one direction, then again in the opposite direction to make that iconic crosshatch pattern on top.
Chill in the fridge to allow the dough to solidify a bit as it is very sticky to work with.
Transfer the cookies onto your Air Fryer Parchment Liners, or parchment paper that you have cut to fit inside your air fryer.
Cook's Tip: Greasing your cookie scoop or spoon can help improve the working ability with the cookie dough.
Place as many cookies in your air fryer that will fit, while giving each cookie a half-inch space. Keep in mind that peanut butter cookies do not expand the te level other cookies do so this is plenty of space for airflow. Most air fryers can fit 4-6 cookies depending on the size and shape of your basket.
Set your air fryer at 370 degrees and cook them for 4 minutes before letting them rest in the air fryer for 4 minutes to finish up the cooking process without burning them by overcooking for 8 minutes.
A fully detailed and printable recipe is available at the bottom of this post for you.
Tips and Tricks for Making this Cookie Recipe Perfect
In the recipe directions, you'll see a step that includes chilling the cookies before air frying. It's important that you do not skip the chilling step! Air frying cookies make them spread out more than baking them in the oven. So, the chilling step prevents them from spreading too much.
The resting time after cooking in the air fryer basket is essential. You don't want to try and move them at this point because they'll fall apart. They need time to set up.
Each air fryer is a different shape. The basket on my air fryer allowed for 4-6 cookies at a time, but your basket (or tray) shape might not allow that many, or it may allow for more. Just be sure to give enough space for the cookies to spread a bit and you'll be good to go.
Each air fryer has various cooking settings. If your air fryer doesn't have a 370-degree
setting, choose the closest step under it as opposed to over it.
Suggestions for Putting a Twist on the Recipe
These air fryer cookies are a dream when you're talking versatility! With just a few different swaps or additions, you have a completely new flavor profile.
You can easily add candy or peanut butter chips to bring the sweetness up a notch and have some fun with it. These work particularly well with reeses pieces because the candy shell will keep the candy from melting into the cookie.
Amp up the peanut flavor by adding halved peanuts, chopped peanuts, or even other chopped nuts like almonds, hazelnuts, walnuts, or pecans.
You can create peanut butter chocolate chip cookies with a cup of your favorite chocolate baking chips for a fun twist that makes for the perfect unique cookie for the cookie exchange.
Try adding a handful of oats to the dough for a peanut butter oatmeal cookie that can be a lot of fun for a special on-the-go morning treat.
Swap the sugar for your favorite granulated alternative sweetener that you like to use for baking. This works great for diabetics that need a sugar-free option to enjoy cookies.
What Goes With These Cookies?
Serve these in the most classic way ever – with a large glass of ice-cold milk for an afternoon snack. Try adding them to a cookie platter for a fun option for the dessert table or cookie exchange. Other easy cookie recipes you could add to that cookie platter could be these 4 Ingredient Chocolate Chunk Cookies and these delicious Butter Caramel Toffee Cookies.
Also, crumbling them up slightly and adding them to top off a dessert as I did with this Easy Banana Bread parfait. Or, layering them like I did for this No Bake Cookie Cake trifle idea is a delicious, easy dessert.
Storing The Extras
Store your leftover air fryer cookies in an air-tight container to keep them fresher, for longer. If you make more dough than you will be needing you can easily place this dough in your freezer for use later on.
I recommend shaping before flash freezing on a parchment-lined baking sheet, then when frozen storing them in an air-tight freezer bad. That way you can simply grab out a few cookies, then bake them when you want them.
Questions You Might Have
If I can fit more cookies in my air fryer basket, do I adjust the baking time?
No, you don't have to. As long as the cookies are all about the same size, and you have about 2 inches between each cookie, it will be fine. The resting time is also the same with this recipe.
If I want to half the recipe, how do I half one egg?
According to the Kitchn, you'd break the egg into a bowl and whisk it together, mixing the yolk and the white. Then measure half of the egg mixture (approximately 2 tablespoons).
Let me know how you switched up this recipe! I'd love to hear about it! Please leave a comment below or email me directly at Joanne@thesaltypot.com. Have a great day!
Air Fryer Peanut Butter Cookies
Making these Air Fryer peanut Butter Cookies couldn't be easier. Three ingredients is all it takes to make cookies with that classic peanut butter flavor in the air fryer!
Ingredients
1 Cup Creamy Peanut Butter
¾ Cup Sugar
1 Large Egg
Instructions
Combine all ingredients in a medium mixing bowl and mix until fully combined.
Using a 1 ½-inch cookie scoop, (or heaping tablespoon) scoop the dough onto a parchment paper-lined baking sheet or cutting board.
Using a fork, press the cookie flat first in one direction, making sure the tines of the fork make the impression in the dough, and then again from the opposite direction to make a crosshatch pattern on top. **See comments
Chill in the fridge for at least half an hour or more. **See notes
Line the bottom of your air fryer with a parchment paper liner (or parchment paper that you've cut). ** See notes
Place as many cookies in your air fryer that will fit, while giving each cookie a half-inch space. Typically, you do about 4-6 at a time.
Set your air fryer to 370 degrees and cook them for 4 minutes. When the time runs out, leave them to sit in the air fryer drawer for another 4-5 minutes to set up and finish cooking.
Repeat until you've used up your batter, or made as many cookies as you'd like.
Notes
When making the fork designs in the top of the cookies, the tines of the fork may stick in the cookie dough. A way around this is to dip the fork in icing sugar before pressing it into the cookies.
Alternatively, you can also dip the fork in water before pressing it into the cookies as well.
If you're going to make your own parchment paper liner, be sure to not have extra parchment paper that runs up the sides of the basket. It could easily fold over the cookies during the frying process and you'll get inconsistent cooking.
Be sure not to use wax paper! Only parchment paper.
****BE SURE TO READ THE REST OF THE 'TIPS AND TRICKS' FOR THIS RECIPE IN THE BODY OF THE POST BEFORE MAKING THESE COOKIES.****
Nutrition Information:
Yield:

18
Serving Size:

2
Amount Per Serving:
Calories:

121
Total Fat:

7g
Saturated Fat:

1g
Trans Fat:

0g
Unsaturated Fat:

5g
Cholesterol:

10mg
Sodium:

72mg
Carbohydrates:

12g
Fiber:

1g
Sugar:

9g
Protein:

3g
All nutritional information is based on third-party calculations and is only an estimate. Each recipe and nutritional value will vary depending on the brands you use, measuring methods, and portion sizes per household.