Technically it should be called creamy mushroom chicken ON toast, but was always been known as 'chicken toast"in our family so to call it anything else would just be making it weird. lol

Creamy Mushroom Chicken Toast – It's a Budget Buster Meal!
What's so great about this dish?
That's EASY to answer. It's easy peasy to make, super filling, and deeeeelicious on those busy evenings! Best of all, the ingredients are easy to get, and serving it on toast really stretches your grocery dollar.
What Exactly Is Mushroom Chicken Toast??
It's pretty much just as it sounds, actually. Tender chicken slow-cooked in a creamy sauce with mushrooms and dill, spooned over some perfectly toasted bread.
Besides tasting amazing, one of the best things about this recipe is that I'll bet you have all the ingredients in your freezer/pantry right now.
What Ingredients Do You Need For This Chicken Toast Recipe?
Well, a pretty simple list actually:
Skinless, Boneless Chicken (breasts or thighs are perfect. I prefer thighs because they are much more forgiving in the cooking process and it's really hard to overcook them.)
Sour cream
Mushrooms
Mushroom soup
Dill (dried or fresh)
Onions
Garlic
Salt and pepper
Milk
What size of Slow Cooker Do I Need For This Recipe?
You'll want to use anything over a 3 quart, so a 4 – 5 quart would be ideal. You don't want too large either (unless you're doubling or even tripling the recipe). According to Best Kitchen Guides, most standard sized slow cookers/crock pots are 4 – 5 quarts.
Can I Use Fresh Mushrooms For This Mushroom Chicken Toast?
Sure can! I used canned because:
It's handy and I keep them in my pantry.
I prefer the texture of canned mushrooms over fresh mushrooms in this type of dish.
I think if I was going to use fresh mushrooms, I would spend a bit of time upfront and panfry the mushrooms over relatively high heat so that they sear the surface of the mushrooms – changing the texture from something airy and spongy to something more meaty.
But that's just me. You can use them fresh, right out of the package if you prefer, that will be totally fine.
Do I Have To Use A Slow Cooker?
Heck no! If you don't have one, that's fine. You can use the stovetop/oven method or even use an Instant Pot / Ninja Foodi Pressure Cooker.
Stove/Oven method: Use a heavy bottom dutch oven or stew pot, you could make this dish using steps 1 – …………………… Place it the oven at 350 for 45 – 50 minutes. Then to finish, add the sour cream and return it to the oven for the last 10 minutes of cooking.

To use the Instant Pot or Ninja Foodi for this Mushroom Chicken Toast recipe, put all ingredients into the inner pot (except the sour cream). Use an extra ½ cup of chicken broth (One cup of broth total). Close the lid and turn to sealing.
Pressure cook on manual for 10 minutes and at the end of cooking, do a quick release to expel the extra pressure.
*Note: You may have to use a cornstarch slurry to help thicken the cream sauce (depending on how large the chicken thighs were).
A cornstarch slurry is 1T cornstarch mixed into 2T of water/broth.
After you've removed the chicken to shred, add the sour cream to the inner pot, stir and turn the machine onto "saute". Add the slurry, stir the mixture and as soon as it thickens, turn off the appliance.
Add the shredded chicken back to the cream sauce, taste and adjust for seasonings, and serve!
How Long Will It Last In The Fridge After Cooking?
Because we're dealing with chicken here, I'd only feel comfortable leaving it up to about 4 days. Usually, it's eaten before that though!
I'd say up to five days.
Can I Freeze This Chicken Toast Dish After?
Yes, you can. I usually don't because I have family members who love this dish so it doesn't last long.
If you want to freeze the leftovers, then be sure to use a container or freezer bag appropriate to freeze in, and remove as much oxygen out of the bag as possible. (Use a container that is practically filled with to the top with it, negating any headspace).
The more you can prevent oxygen from getting at the food, the longer it will last frozen. I'd say you can freeze it up to a month or two.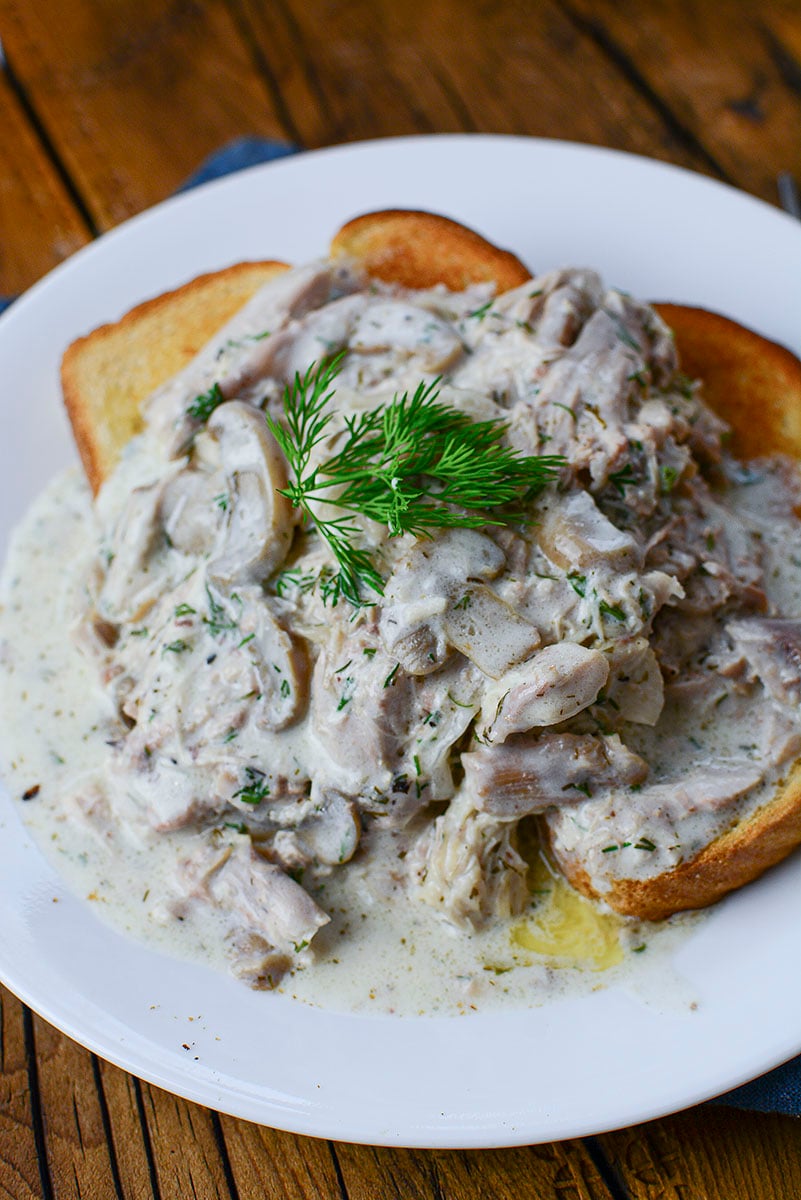 How Else Can I Serve This Delicious Creamy Chicken Toast Recipe?
You certainly don't have to be limited to toast! You can serve it on waffles (yes, believe it or not!). Also, the usual list of characters like mashed potatoes, mashed cauliflower, and over rice would be fantastic.
Well my lovelies, I hope these simple instructions and the yummy recipe will convince you to give this crockpot mushroom chicken toast a try! When you do, I'd love to hear from you and how you served it! Please leave a comment below, or feel free to shoot me an email at joanne@thesaltypot.com!
Until then, I want to thank you for stopping by The Salty Pot today, and I hope you have a fantastic day today!!
Slow Cooker Creamy Mushroom Chicken Toast
Total Time:
6 hours
10 minutes
A super creamy chicken dish flavored with mushrooms and dill, served over toast. Easy, cheap, and very delicious.
Ingredients
5-6 chicken thighs (**see notes)
½ onion
1 can mushrooms, drained
1 can cream of mushroom soup
½ c chicken broth
½ c sour cream
Up to ¼c milk/cream (**see notes)
2 tablespoon Dill, FRESH (**see notes)
1 teaspoon garlic powder/salt
as desired, salt and pepper
Instructions
Season the chicken thighs
Place them in the slow cooker bowl
Add chicken broth, drained mushrooms, onions, soup and dill.
Cover and cook for 5-6 hours on high, 7-8 hours on low.
Near the last half hour of cooking time, remove the chicken from the slow cooker and shred. Before returning the chicken to the slow cooker bowl, whisk in the sour cream.
Taste for seasoning preference and adjust if needed.
Finish cooking for the time remaining and then serve on freshly toasted bread.
Enjoy!
Notes
Depending on how big the chicken thighs are, you may need to thin out the mixture after adding back the shredded chicken and sour cream. If you want to loosen the mixture a little, stir in a small amount of milk at a time until you reach the desired consistency.
Feel free to use chicken breasts rather than chicken thighs if you prefer.
You can use bone-in chicken thighs for this recipe as the bones are EASILY removed when shredding the chicken. I used bone-in thighs because I believe the bone offers extra flavor in the meat/recipe.
Regardless of whatever type of chicken you use, just be sure it's skinless.

Regarding the dill. If you're using fresh, you'll always want to add more than if you were using dry. Dry dill is more intense in flavor. I happen to love the flavor of dill, so using 2 tablespoons of fresh is not a problem for me, but you can begin with using 1 tablespoon if you prefer. If using DRY dill, then start 1 ½ teaspoons and then taste at the end of cooking to adjust.
Nutrition Information:
Yield:

5
Serving Size:

1 cup
Amount Per Serving:
Calories:

466
Total Fat:

31g
Saturated Fat:

11g
Trans Fat:

0g
Unsaturated Fat:

20g
Cholesterol:

220mg
Sodium:

1067mg
Carbohydrates:

9g
Fiber:

1g
Sugar:

2g
Protein:

40g
***DON'T FORGET TO PIN THIS SLOW COOKER MUSHROOM CHICKEN TOAST TO YOUR FAVORITE PINTEREST BOARD TO USE LATER! ***