This Keto Stuffed Peppers w/Parmesan cheese recipe kicks carby butt into next week! Why? Because there's NO carby rice in the filling AND no cauliflower rice either!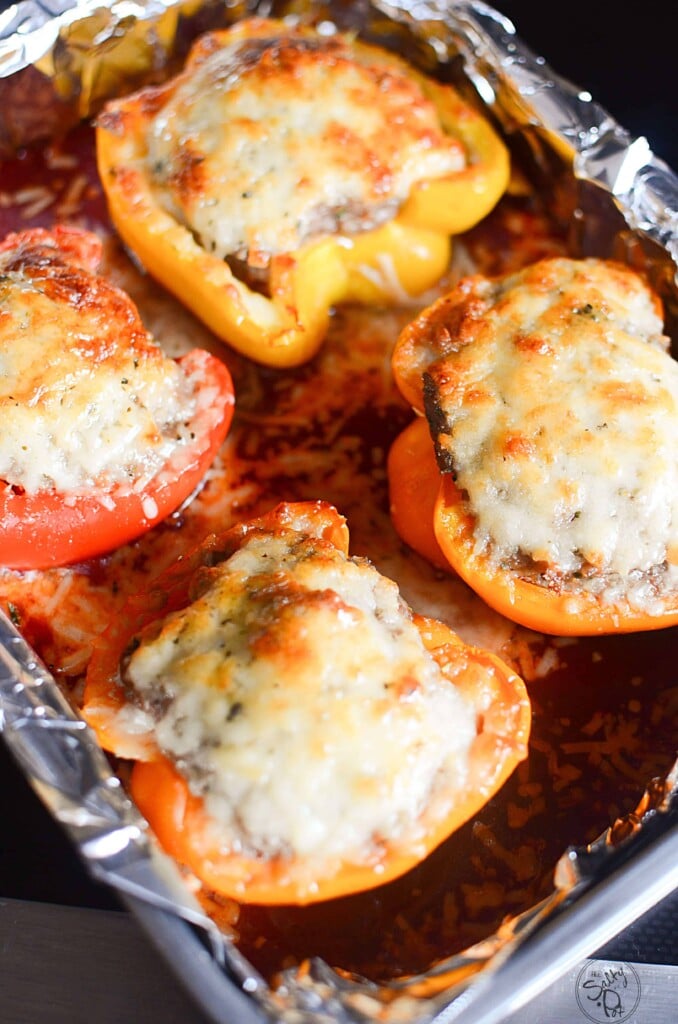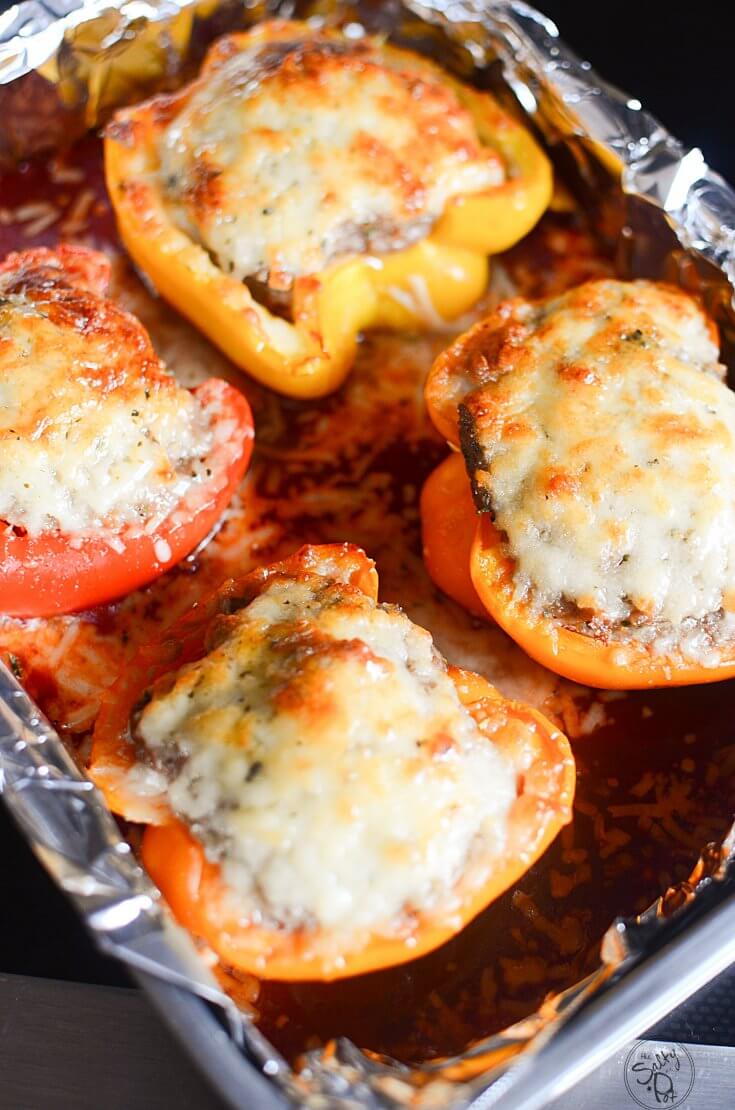 KETO STUFFED PEPPERS w/PARMESAN CHEESE
So my last post focused on stuffing the sweet mini peppers with buffalo chicken. Remember? Such a GOOD recipe! Well, this new post is about the grandaddy of stuffed peppers with a tiny twist.
So you can smile and be giddy about this amazing dinner that has some excellent sausage flavors, cheesy cheese, and a nice crunch and freshness from peppers. And guess what else? They're SUPER filling!!
Just a caveat here, there are some carbs in the tomato sauce at the bottom of the dish that the peppers are baked in, but really?… when you divide that small amount between four people, it's really kind of a "whisper" of carbs.. lol.
What Do You Put In These Peppers If You're Not Using Rice??
Well my gorgeous friends – there is no rice in this recipe because we all know that rice equals carbs. Plus, there is no cauliflower rice in this recipe either because, well, I didn't have any on hand, and I thought it didn't need it!
So, to answer the question, here are the ingredients that ARE in this spectacular dish!
Italian Sausage (look for the lowest carb count.)
Peppers, of course
Eggs
Tomato Sauce
Seasonings
Onion
Parmesan cheese
Best part of this stuffed pepper recipe is that they are super easy to put together, (are any of my recipes not??? lol)
It's a matter of cleaning the peppers, stuffing with the stuffing… cooking.. and then cheesing. (Cheesing is now a verb. A GREAT verb, at that! )

What Can You Serve These Stuffed Peppers With?
You could serve this with some roasted low carb veggies, or a side salad. And, if you don't care about the carbs, feel free to use brown rice, white rice, red rice (which is amazing, btw), or even quinoa which could easily be best friends with these peppers.
You could also serve them with a Low Carb Mashed Cauliflower "Fauxtatoes" that I have a recipe for here on the blog. That would make it a meal of pure comfort food for sure!!
If you wanted to stretch the recipe and stuff more peppers, you could make up cauliflower rice, and mix it in with the filling, and then stuff the peppers. I would mix about 2 cups of cooked cauliflower with the filling and then increase the peppers to another two halves.
Can I Use Any Color Of Pepper?
Yes, absolutely! You could also use green peppers. I used yellow and orange because that's what I had on hand. It won't make a difference though. Incidentally, when you're shopping for peppers, if they have three bumps on the bottom, they are "male" and if they have four bumps on the bottom, they are female.
Apparently, the 'female' peppers are sweeter. This is just what I've read.. no idea if it's actually true!
Just be sure to choose nice firm peppers because they will soften a tiny bit (if not overcooked) in the oven so don't want to start your dish with soft peppers and then well… they get mushier.
Not a good look.. mushy peppers with sausage. Try to avoid that…….. even though it will STILL taste amazing if you did!
Can You Make These Ahead Of Time?
Yes, I would think you can. However, I wouldn't make them so far ahead that you'd want to freeze them only because I'm not sure how the pepper would hold up on the thawing process.
However, I think you could make the filling up ahead of time and free that in individual portions, then thaw and stuff the pepper when you're ready to make them. That would be super handy!
What About The Carbs In The Tomato Sauce??
Well, as I mentioned before, the small amount of carbs, divided between 4 – 6 people is negligible. 
However, if it's a big concern of yours, and you wanted to avoid the minor amount of carbs that might be in the tomato sauce, you could do a few things:
Use a sauce with no added sugar
Use a can of drained diced tomatoes. Sometimes they have Italian spices that would be nice.
You could also pour about a half cup of chicken broth into the bottom of the pan as well. This would prevent any burning and slightly steam the peppers, as well as roast them.
Use water in place of anything else.
Any way you choose to do this dish is A-Ok.
What About Other Low Carb Recipes?
Well, if you're looking for another sausage stuffed in sumpthin' kinda recipe – take a peek at these crazy AND LOW CARB Sausage Stuffed Portobella Mushroom Pizzas!! Darn, these were good that day!!! Totally fixed my craving for pizza!
Also, I have a recipe for Buffalo Chicken Stuffed MINI Peppers! They're so awesome as a snack or an appetizer. If you stuff enough and have a side salad, there's a decent meal!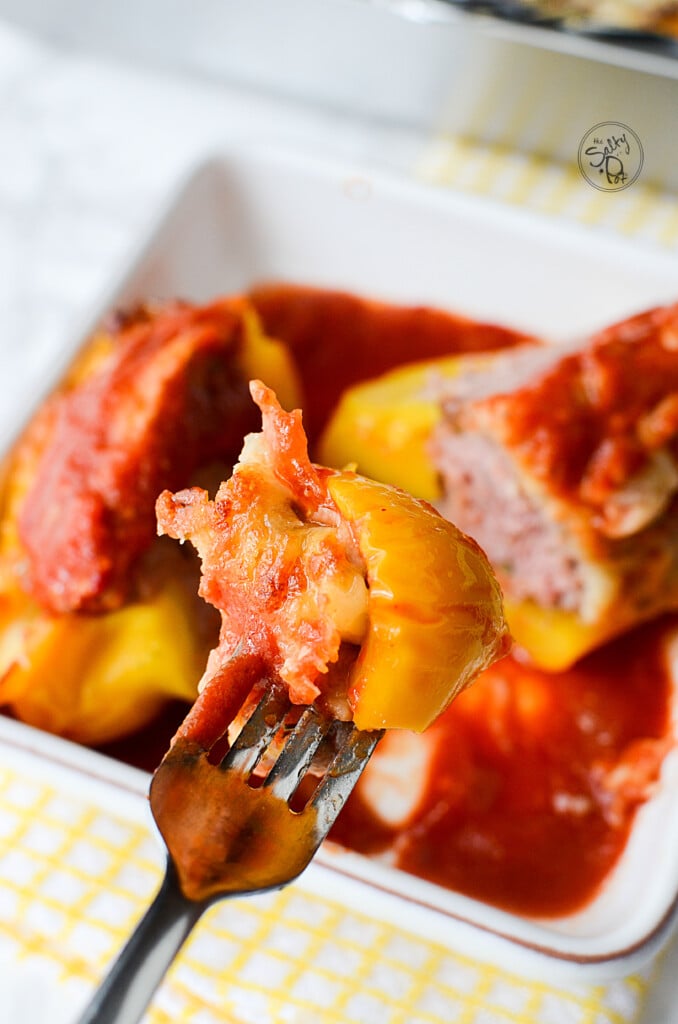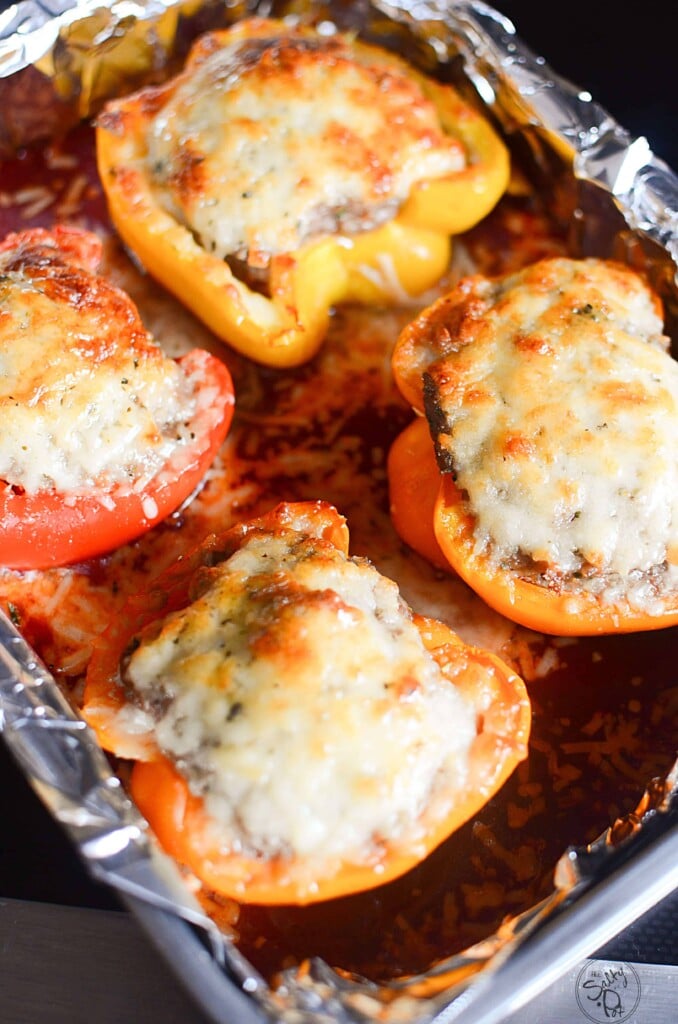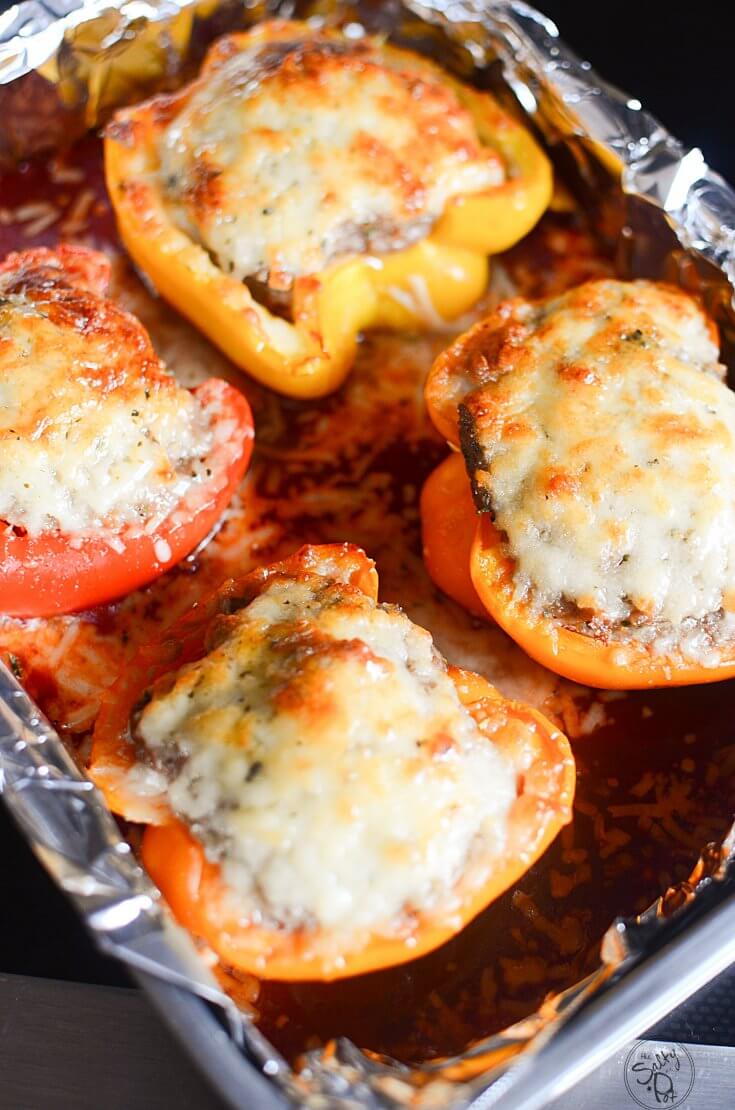 I hope you try these sausage stuffed peppers with parmesan. I think you'll find they're a really nice switch from the typical meat and potatoes dinner and guess what else?? They're super filling!!! Sprinkle a tiny bit of Italian seasoning over the cheese before you bake them, and they're a perfect, filling dinner that's something different, tasty and versatile!
***DON'T FORGET TO PIN THIS SAUSAGE STUFFED PEPPERS PIN TO YOUR FAVORITE PINTEREST BOARD FOR SAFEKEEPING TO USE FOR LATER! ***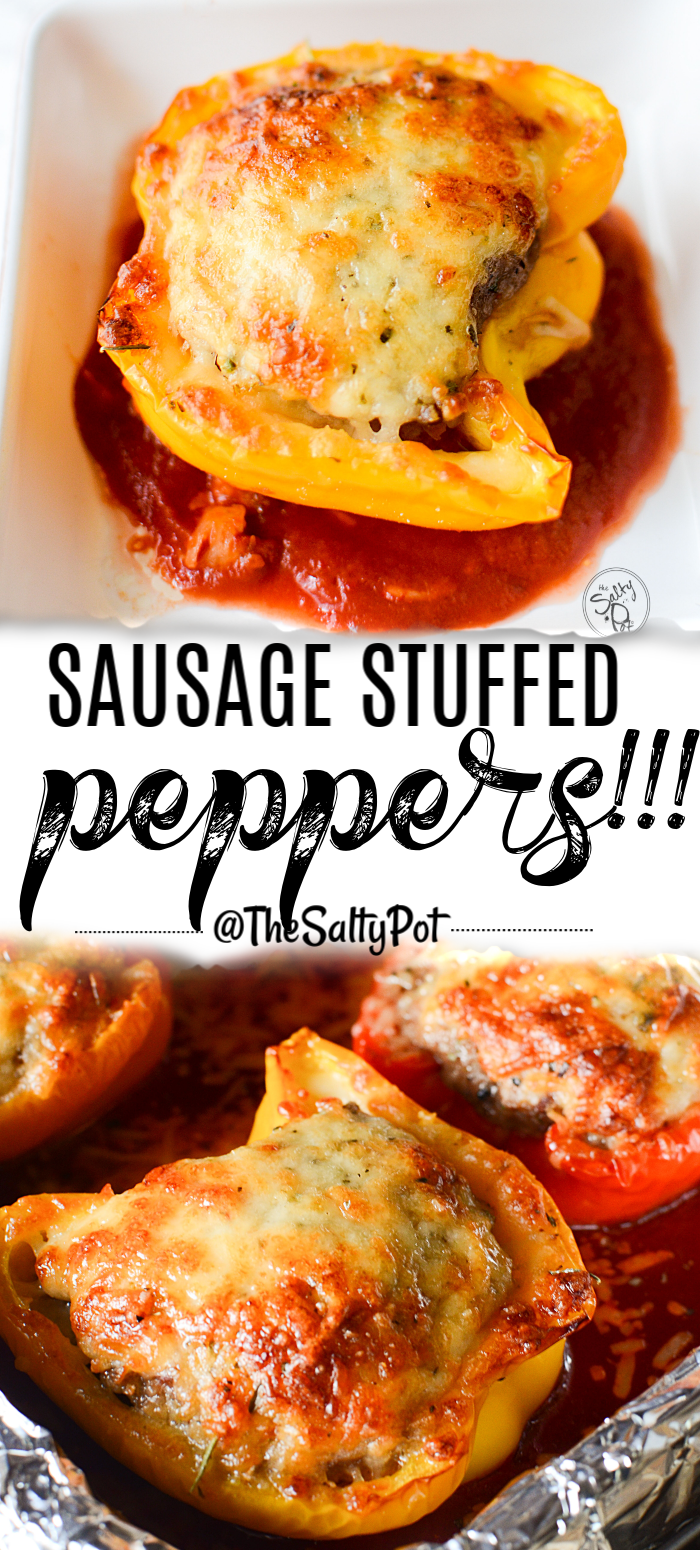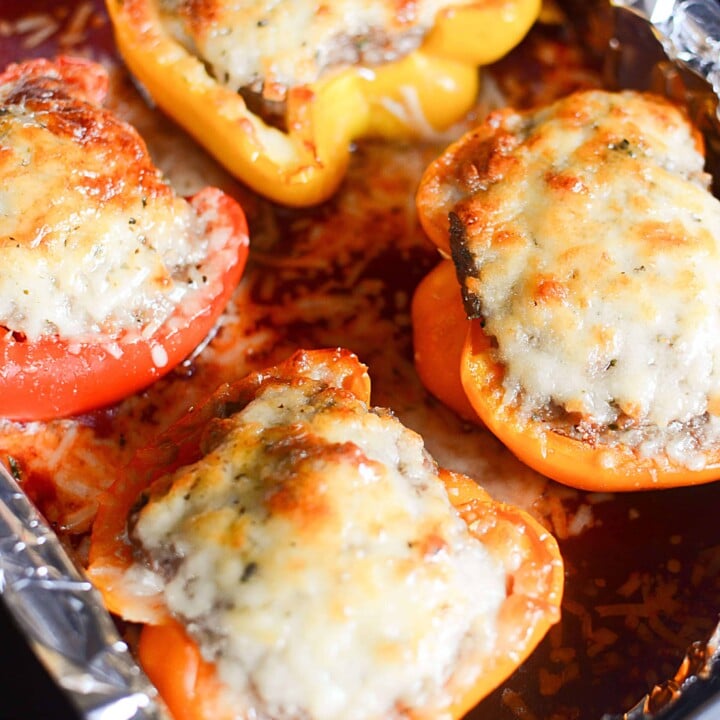 Keto Stuffed Peppers with Parmesan
Really easy to make, these savory keto sausage stuffed peppers offer a flavor hit that's sure to satisfy even the biggest meat and potato fans, all while being low carb!
Ingredients
1 lb Italian sausage
2 sweet peppers *see notes
1 onion, small dice
1 egg ( see instruction #4)
½ c tomato sauce
2 teaspoon italian seasoning
2 c shredded parmesan, or more if you wish
Instructions
Preheat oven to 350
Cut peppers in half and clean out seeds, set aside
In a baking dish, wrap with foil or parchment and spread out the tomato sauce, set aside
In bowl, combine the sausage, onion, egg, and italian seasoning.( If you prefer to stretch the volume of the filling to fill more cups, add 2 cup of cooked cauliflower rice and add one more egg.)
Mix the sausage filling together and stuff the sausage halves.
Place into the baking dish and sprinkle the parmesan cheese over the tops.
Bake for 30 minutes or until the sausage is cooked through.
Enjoy!
Notes
** To stretch the volume of the filling to make more stuffed peppers, add 1 - 2 cups of cooked cauliflower rice and add it to the filling before you stuff the peppers.