So my last post focused on stuffing the sweet mini peppers with buffalo chicken. Remember?  It's this one here.  It was a great dish, right? Well, this is new post is about, like, the grandaddy of stuffed peppers with a tiny twist. These Sausage Stuffed Peppers can kick carby butt because there's none of the carby rice included in the recipe! So you can smile and be giddy about this amazing dinner that has some excellent sausage flavors, cheesy cheese, and a nice crunch and freshness from peppers.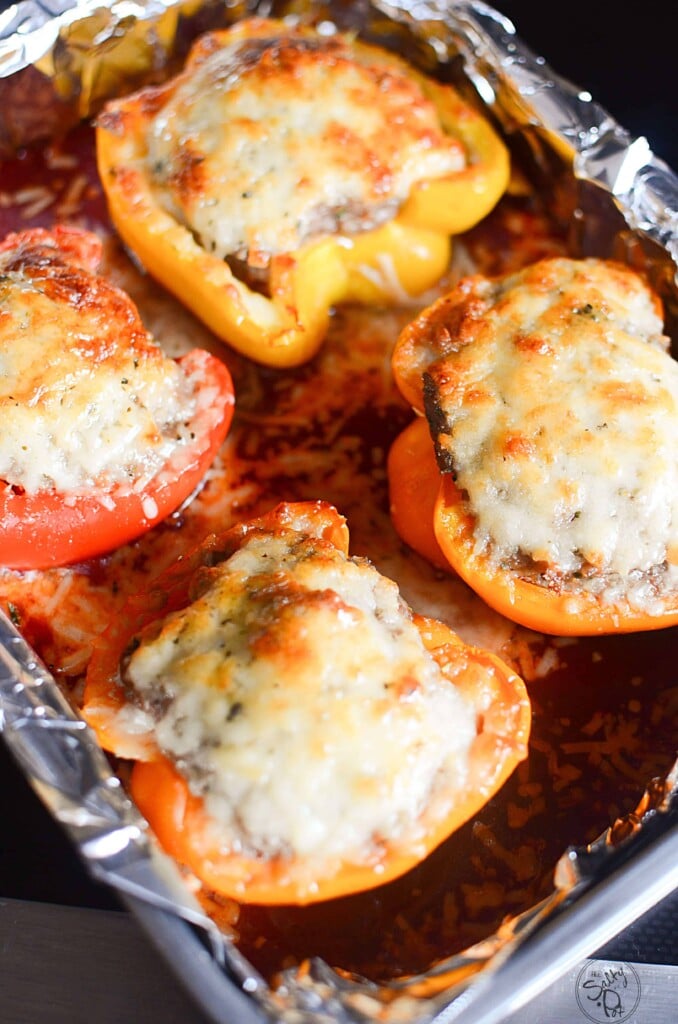 Just a caveat here, there are some carbs in the tomato sauce at the bottom of the dish that the peppers are baked in, but really?… when you divide that small amount between six people, it's kind of a "whisper" of carbs.. lol.
Super easy to put together, (are any of my recipes not??? lol), it's a matter of cleaning the peppers, stuffing with the stuffing… cooking.. and then cheesing. (Cheesing is now a verb. A GREAT verb, at that! )
You could serve this with some roasted low carb veggies, or a side salad. And, if you don't care about the carbs, feel free to use brown rice, white rice, red rice (which is amazing, btw), or even quinoa which could easily be best friends with these peppers. You could also use green peppers, yellow or orange if you prefer. It won't make a difference. Just be sure to choose nice firm peppers because they will soften a tiny bit (if not overcooked) in the oven so don't want to start your dish with soft peppers and then well… they get mushier. Not a good look.. mushy peppers with sausage. Try to avoid that…….. even though it will STILL taste amazing if you did!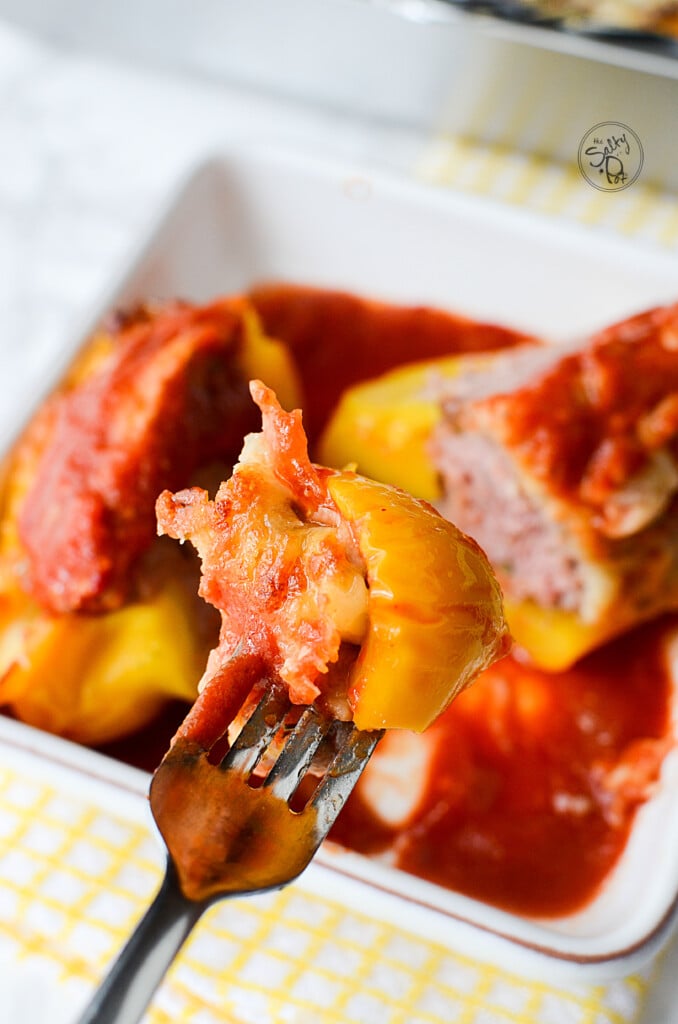 Also, if you wanted to avoid the miniscule carbs that might be in the tomato sauce (you could look for sauce with no added sugar), you could also pour about a half cup of chicken broth into the bottom of the pan as well. This would prevent any burning and slightly steam the peppers, as well as roast them. Any way you choose to do this dish is A-Ok. Get your creativity on the track to flavorville!!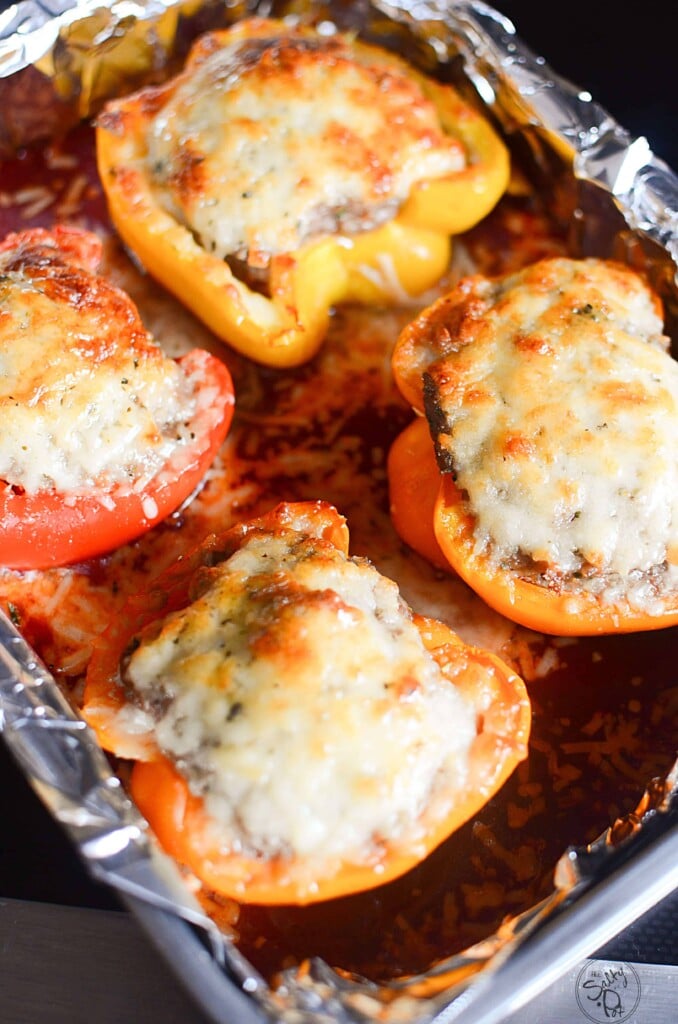 I hope you try these sausage stuffed peppers with parmesan. I think you'll find they're a really nice switch from the typical meat and potatoes dinner and guess what else?? They're super filling!!! Sprinkle a tiny bit of Italian seasoning over the cheese before you bake them, and they're a perfect, filling dinner that's something different, tasty and versatile!
Yield: 6 servings
Sausage Stuffed Peppers with Parmesan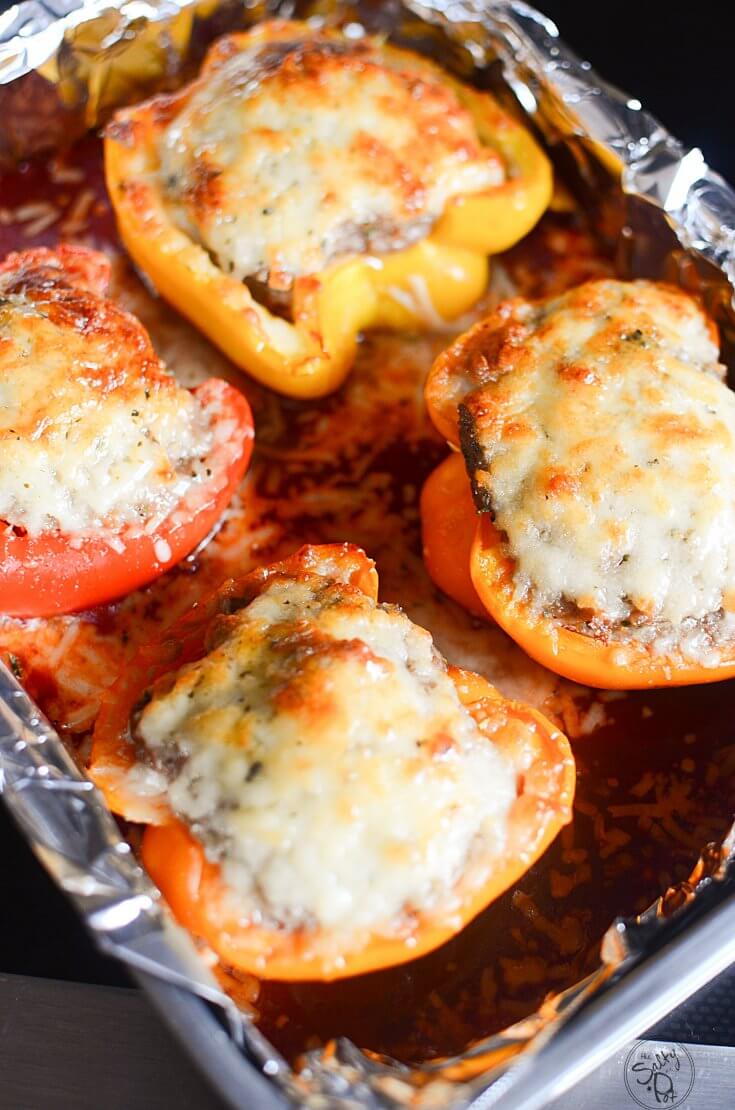 Really easy to make, these savory peppers offer a flavor hit that's sure to satisfy even the biggest meat and potato fans, all while being low carb!
Ingredients
1 lb sausage
3 sweet peppers
1 onion, small dice
1 egg
1/2 c tomato sauce
2 tsp italian seasoning
2 c shredded parmesan, or more if you wish
Instructions
Preheat oven to 350
Cut peppers in half and clean out seeds, set aside
In a baking dish, wrap with foil or parchment and spread out the tomato sauce, set aside
In bowl, combine the sausage, onion, egg, and italian seasoning.( If you prefer to stretch the volume of the filling to fill more cups, add 1 cup of breadcrumbs and add one more egg.)
Mix the sausage filling together and stuff the sausage halves.
Place into the baking dish and sprinkle the parmesan cheese over the tops.
Bake for 30 minutes or until the sausage is cooked through.
Enjoy!