I have your one dish wonder right here. Slow Cooker Sausage Casserole with Green Beans and Potatoes. It's smoky, garlicky, and the baby potatoes and fresh beans make this dish hit all the bliss points for a super busy weekday dinner!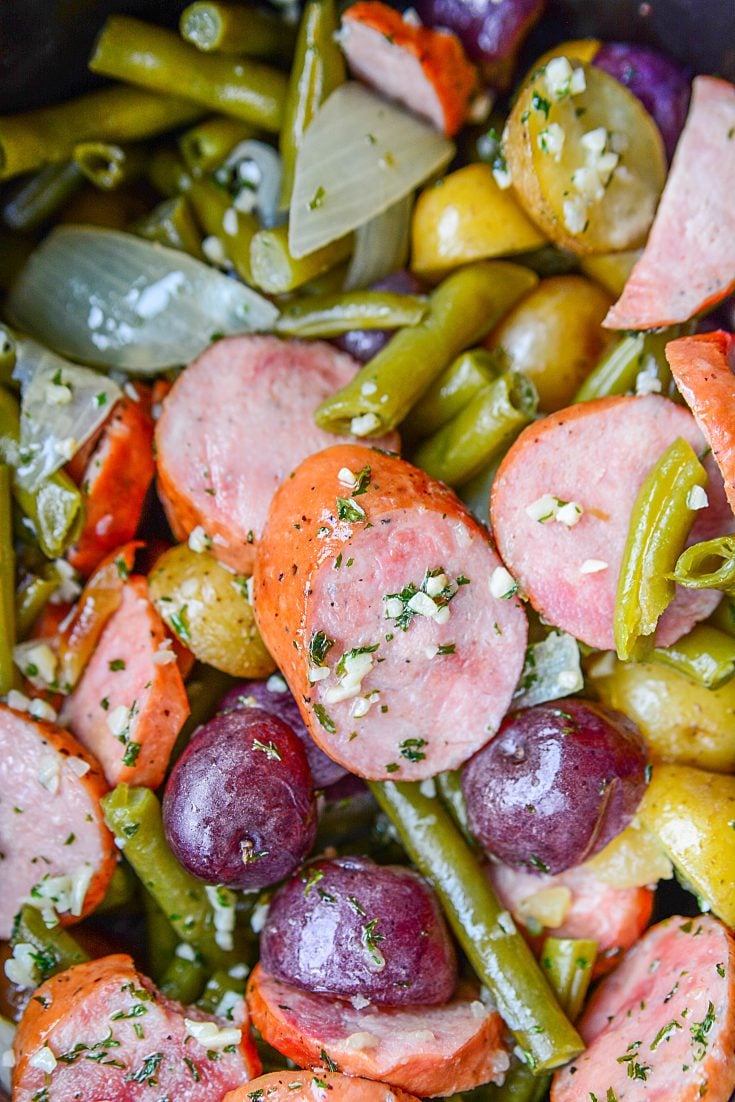 How To Make Sausage Casserole With Green Beans And Potatoes
You and your taste buds are going to be so happy when you figure out how easy sausage, potato, and green bean casserole is to make! As soon as this yummy green bean casserole with sausage touches your lips, you are going to be hooked. My favorite part of this dish is that it's total comfort food!
So next time you are having a crummy day and want that comforting meal, make this green bean and sausage casserole! So, let's get started because I am starving!
Step 1: Begin by slicing sausage, halving potatoes, preparing green beans and chopping the onion, garlic, parsley, and thyme.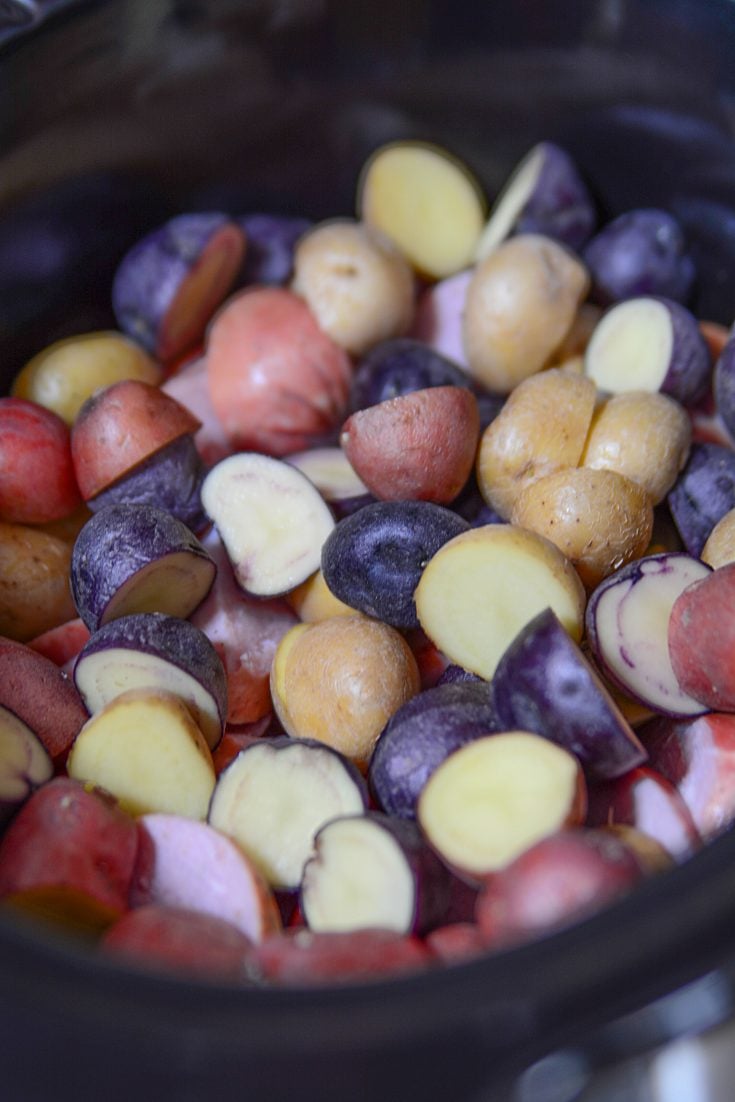 Step 2: Throw everything in the slow cooker and pour in the chicken stock — add the herbs and garlic, and season with salt and pepper to taste.
Step 3: Cover the slow cooker with lid and cook for 6-7 hours on low or 3-4 hours on high. Just keep an eye on it, so you don't overcook the potatoes.
NOTE: You don't have to use the tri-colored baby potatoes. I just love the color and ease of using them. You can use full sized potatoes, just cut them into 1-2 inch pieces.
Slow Cooker Sausage Casserole Variations
This sausage, potato, and green bean casserole is seriously amazing just the way it is written. But if you like to toss in some extra ingredients here and there, go for it! Here are some fun ideas to try out:
Bacon – Legit, bacon goes with everything, right?! Brown some bacon and crumble it into smaller pieces. Toss it on top after cooking as a garnish, or toss in the slow cooker from the beginning. Either way, it's phenomenal.
Sweet Potatoes – Go wild by adding in a little bit of diced sweet potato. It gives a mildly sweet flavor that pairs nicely with the sausage.
Red Peppers – I love the color of red bell peppers, and they have a sweet flavor that compliments the sausage casserole.
Mushrooms – Add some chopped mushrooms into the green bean casserole with sausage. So yummy!
Can I Use Canned Green Beans?
No, I don't recommend using canned green beans for this casserole. If you use canned green beans, they will be mushy, and in the end, just won't taste as good. The crunchiness that fresh green beans gives it an ideal texture. Trust me on this one! Use fresh green beans, (or frozen) and you will be much happier with the results.
How To Store Leftover Sausage, Potato, And Green Bean Casserole
Store leftover sausage, potato, and green bean casserole in the fridge. Make sure it cools down all the way and throw it in an airtight container. It will last 3-4 days in the refrigerator.
You can also store any leftovers in the freezer too. Just put it in a freezer safe container or bag, and it will last 1-2 months. This dish is perfect for meal planning because it tastes great reheated.
How To Reheat Potatoes And Green Bean Casserole
You can reheat the potatoes and green bean casserole pretty quickly. Here are the best ways to warm them up.
Oven – Place leftovers in a baking dish that is covered — Bake at 250 degrees for 20-30 minutes. I recommend adding a little bit (¼ cup) of chicken or beef broth to keep it moist. You want to warm it low and slow, so it doesn't dry out.
Microwave – Cover with a paper towel and heat it up in a microwave-safe dish. Try to do 1-minute intervals because it warms up quick!
Skillet – Place a little bit of olive oil and a tad bit of water in a skillet (preferably cast iron), cover with a lid and warm up the green bean casserole until it's the temperature you want.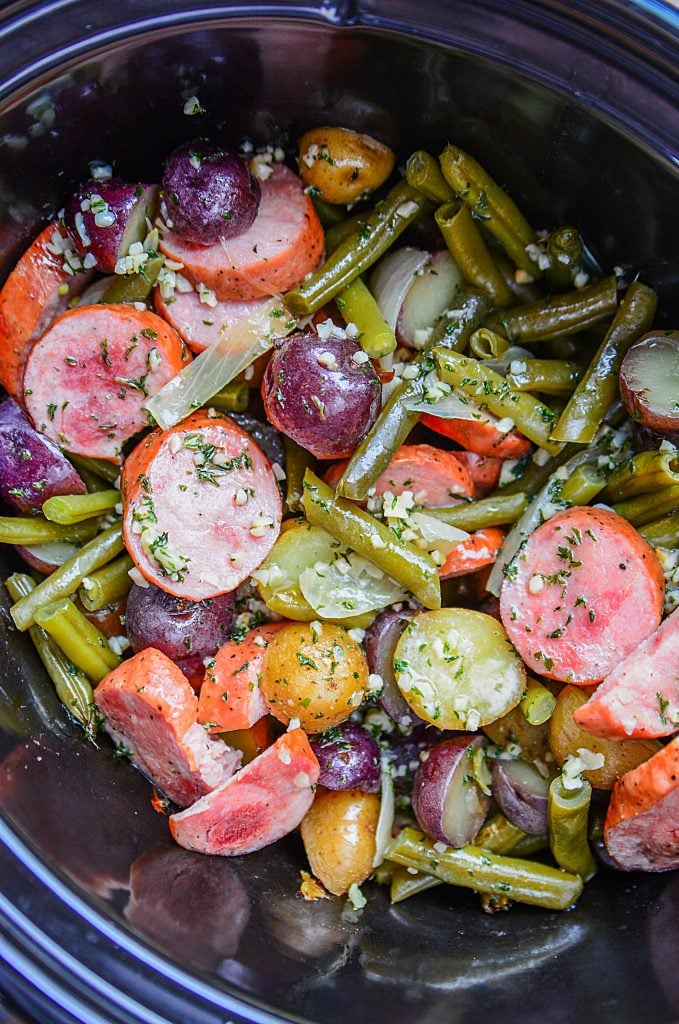 If you love this slow cooker green bean casserole with sausage, you should see my other yummy slow cooker recipes. Here are some of my favorites:
This sausage casserole is SO delicious and really, the perfect solution to a hearty meal for those crazy busy weeknights. It's so simple and easy to put together, and it's a one-dish wonder that can easily go into your monthly meal rotation. When you try this casserole, let me know what you thought about it in the comments below! Thanks so much for stopping by The Salty Pot today, and have an incredible day!
**DON'T FORGET TO PIN THIS SLOW COOKER SAUSAGE GREEN BEAN AND POTATO CASSEROLE RECIPE TO YOUR FAVORITE PINTEREST BOARD TO SAVE FOR LATER!!**
SLOW COOKER SAUSAGE GREEN BEAN AND POTATO CASSEROLE
Yield:
1 complete dinner for 4 - 5 people
Total Time:
6 hours
5 minutes
This slow cooker sausage green bean and potato casserole is such a perfect dish for those busy weekday evenings. You can put it together in the morning and when you come home, it's ready to go!
Ingredients
1 large ring garlic sausage (kielbasa), 15 oz
1 lb fresh green beans, tips removed, rinsed *see notes
1 ½ - 2 lbs baby tri color potatoes *see notes
½ onion, sliced
2 teaspoon roughly chopped garlic
1 teaspoon parsley, fresh, chopped
1 teaspoon thyme, fresh, chopped
as desired, salt and pepper
½ c chicken stock
Instructions
Combine all the ingredients into the slow cooker bowl
Add the broth
Cook on low for 6 - 7 hours or until the potatoes are cooked through. Can also cook on high for 3 - 4 hours but watch that the potatoes don't overcook and go mushy.
Enjoy!
Notes
**Notes: Do not use canned green beans as the texture won't be very nice for your dish. Feel free to use frozen!
The tri colored baby potatoes aren't necessary. You can use regular baby potatoes, or even regular sized potatoes cut into bite sized chunks. Again, just watch the cooking time so they don't overcook.
I found that my potatoes were done around the 6 hour mark.
Nutrition Information:
Yield:

10
Serving Size:

2 cups
Amount Per Serving:
Calories:

244
Total Fat:

7g
Saturated Fat:

2g
Trans Fat:

0g
Unsaturated Fat:

3g
Cholesterol:

33mg
Sodium:

178mg
Carbohydrates:

34g
Fiber:

4g
Sugar:

4g
Protein:

13g