Did you plant a boatload of herbs this year? Not sure what to do with them? Let's not let them die and waste away.. let's save them!! Let me give you some ideas for Preserving Summer Herbs as it's most likely a lot easier than you think.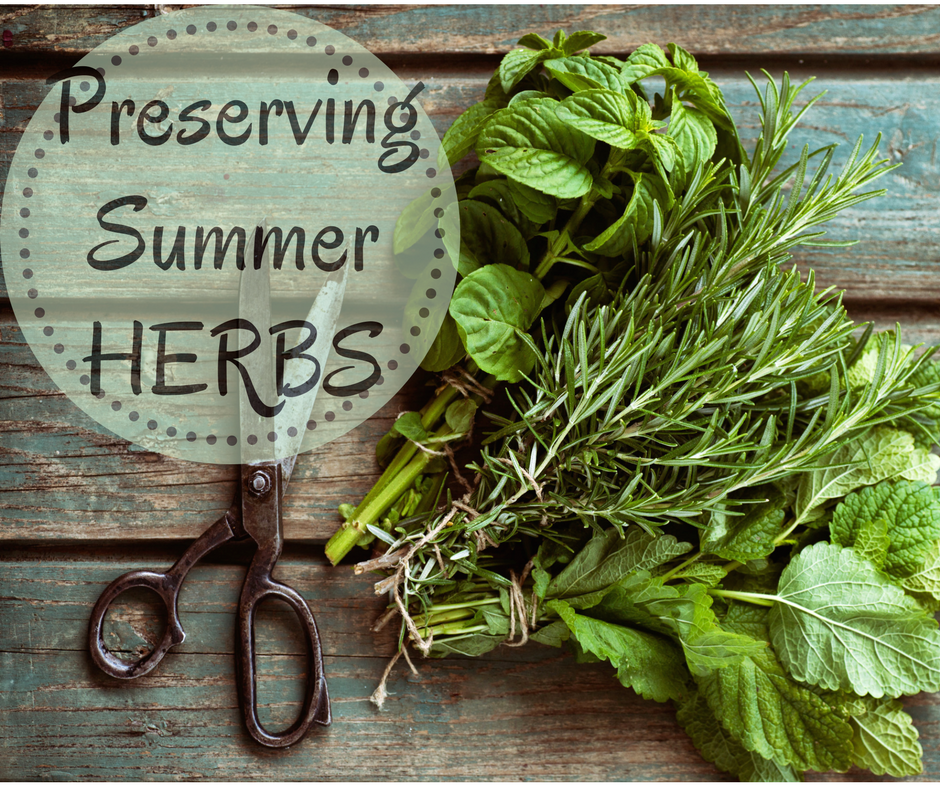 Tips for Preserving Summer Herbs
When you think about preserving herbs you grew during the year, it's truly a wonderful way to use their summer flavor all through the year, plus your taste buds and your wallet will thank you later!!!
"Your tastebuds (and your wallet) will thank you later!!"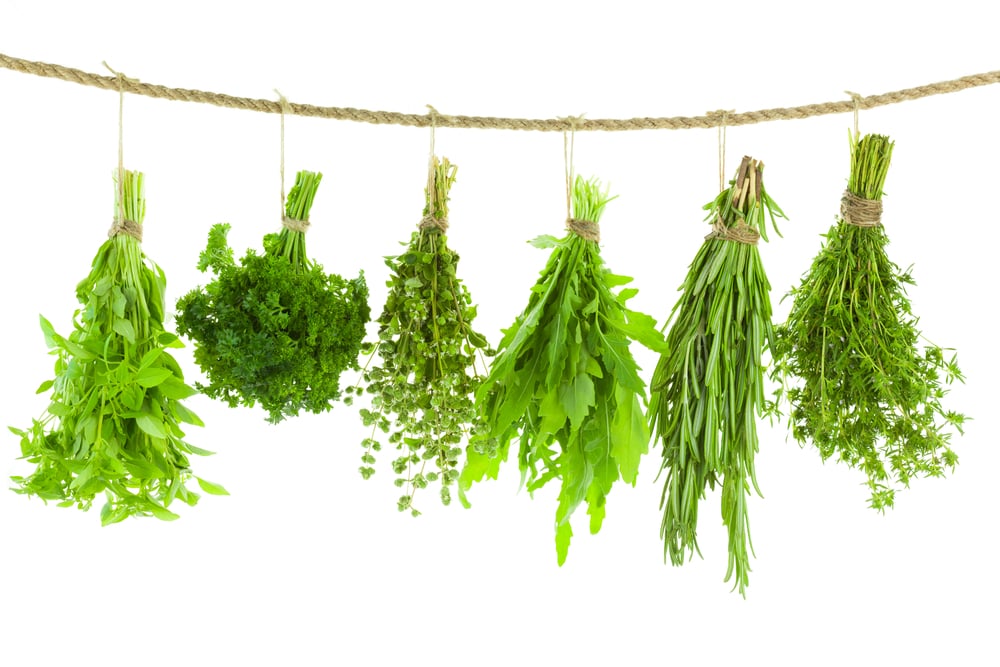 PRESERVING HERBS: METHOD 1: DRYING
Now, not all herbs are suitable for drying simply because they lose flavor in the process. Good candidates however, are ones like mint, rosemary, thyme, dill and parsley. (Don't try to dry cilantro. It seems to lose 90% of its flavor. So sad. )
Some people suggest only drying herbs with strong stems but I say whatever's clever! If it dried completely, and you can use it? GO FOR IT – I do. But, of course, it's totally up to you. If decide to use the stems, you can leave them as is, or separate them from the leaves, mince them up, and dry them separately. Alternatively, dry the leaves of the herb, and then freeze the stems for use in soups, stews and casseroles. (more on freezing later).
Depending on the variety, dry herbs generally remain potent anywhere from six to 12 months so a general rule is to use HALF the amount of what you would normally use fresh for cooking purposes – there IS such thing as too dilly a dip! I know (been there, done that).
Harvesting herbs (for drying) in cool mid-morning shade is recommended. Evening shade is fine too, but never in full sun. If your herbs are organically grown, there's really no need to wash them… unless you really want to. (You never know what bugs have slugged their way across the leaves. Ew.)
So, there's more than one option when it comes to drying and preserving herbs indoors:
tying herbs in small bundles and hanging them upside down. It's recommended to put them in small paper bags to catch leaves that might fall off stems
using some type of drying screen (make your own or buy one commercially)
placing herbs on a dish towel covered rack
Also, drying herbs in direct sunlight is not a good idea even though you'd think it would be a great way to dry them faster, right? The sun can scorch the delicate leaves before they're completely dry, ruining them. Boo.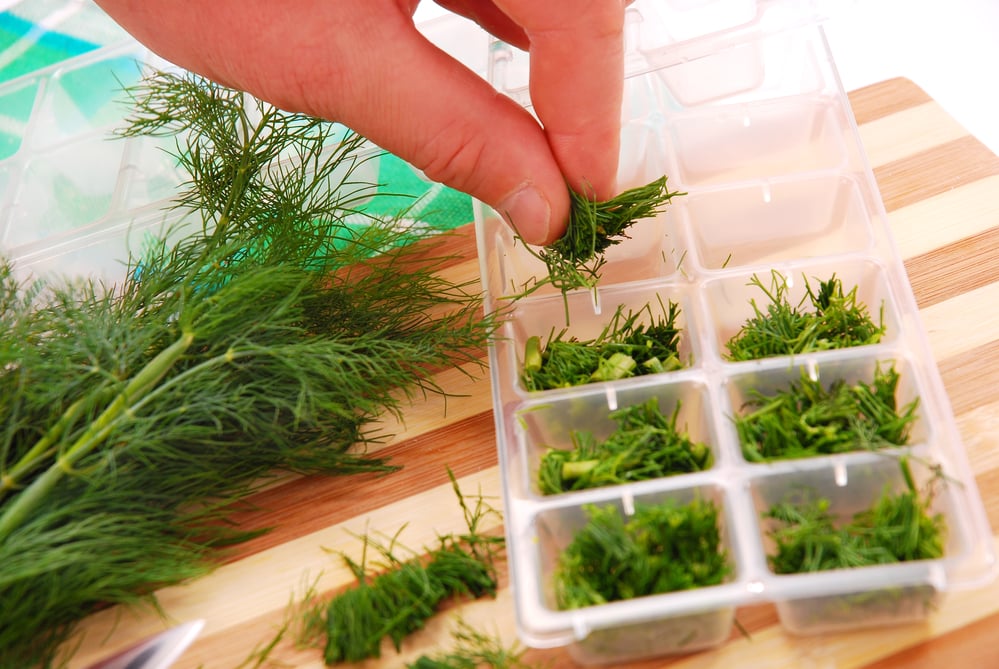 PRESERVING HERBS: METHOD 2: FREEZING
Freezing herbs is super simple! You'll be wondering why you haven't been preserving Summer herbs all along. First, decide whether or not you want to freeze your herbs whole or chopped. Next, place them (in a single layer) on a baking sheet lined with parchment paper or foil, and freeze overnight.
Once frozen, transfer to labelled freezer containers. Frozen herbs typically stay fresh for months before losing flavor. But if you're like my household, they won't last that long!
Ice Cube Trays (also freezing)
This is a cool little way of preserving compared to air drying or batch type freezing. It has advantages because it allows for a more prolonged storage. You'll want to cut leaves into small pieces and pack roughly one tablespoon into each section of an ice-cube tray. Fill tray sections full of water and freeze overnight. Once frozen, transfer the cubes to a labelled freezer container. One extra step you could do to help prevent freezer burn is to initially only fill the tray cube containers ¾ full. Freeze them, and then top them off with more water and freeze overnight again, thus putting a barrier of water between the herbs and the air. To use in your favourite recipes, simply drop a cube or two into soups, stews, etc.
Alternatively, instead of water, you can also freeze in a homemade stock (or bone broth) like I've made here!
PRESERVING HERBS: METHOD 3: INFUSION
Don't put away your ice-cube trays yet! You can easily repeat the process mentioned above, using extra-virgin olive oil in place of water. The only other difference is that you fill the tray completely with oil and cover with plastic wrap to freeze. How cool is that? Herbs like sage, rosemary, oregano and thyme are perfect for this.
In addition to dropping these particular cubes into pots of soup or stew, you can also throw a couple of them in a skillet with whatever you happen to be frying. You get yummy flavor without the extra time it normally takes to chop your herbs.
If putting summer herbs into ice-cube trays with oil isn't your thing, you can always preserve them in a jar of oil (olive, avocado, sunflower, even canola). Pack the herbs into the jar and fill with oil. Let them steep for a few weeks in a cool place. One word of caution – be sure that the leaves and stems are not wet or damp in any way before adding them to the oil. It can seal in sketchy mould and bacteria that you don't want on your plate.
Now that you have a few more ideas about preserving herbs, there's no reason why you can't give it a try. If these methods don't intrigue you, you might consider making herbal butters and/or vinegars. Honestly, when it comes to preparing herbs for future use, the possibilities are almost endless!
What other methods have you tried for Preserving Herbs, I'd love to hear them!
Looking for other Back to Basic recipes? I picked out a few that you might like….