I just love slow cooker soups that are like a meal in itself. This slow cooker smoky chicken corn chowder should be next to the definition of 'hearty and delicious' in the dictionary!
***IF YOU AREN'T READY TO PRINT THE RECIPE TODAY, PIN THIS SLOW COOKER SMOKY CHICKEN CORN CHOWDER BELOW TO YOUR FAVORITE PINTEREST BOARD TO SAVE AND USE FOR LATER!!***
Slow Cooker Smoky Chicken Corn Chowder
Don't you just love hearty soups? For me, there's a certain time of the year that just screams for hearty soups ~ which is usually in the transition from summer to fall. My mind goes to crunchy leaves, crisp, see your breath morning air, and sweater weather.
This also makes me want hearty soups.
But I"m not about to babysit a pot full of soup on the stovetop all day, so I drag out my trusty, reliable friend….
The Slow Cooker!
The Crock-Pot / Slow Cooker, (whichever term you use) is one of the handiest cooking appliances out there, in my opinion. You can assemble dinner in the morning, and by the time dinner time rolls around, it's cooked. Meats come out tender and succulent, and things like soups and stews are incredibly convenient to make in them because they aren't sitting on your stovetop all day.
If you're looking for a bunch of other soup/stew type recipes that are made in the slow cooker, take a peek at my collection of Slow Cooker Soups and Stews. Besides this amazing Chicken Corn Chowder, there's bound to be a few other recipes in there that will make it to your regular rotation!
Ingredients needed for this Smoky Chicken Corn Chowder
There's not a long list here, thank goodness. Take a peek:
Chicken
Niblet Corn
Creamed Corn
Chicken Broth
Heavy Whipping Cream
Bacon (for garnish)
Spices (that's where the smokiness comes in!!)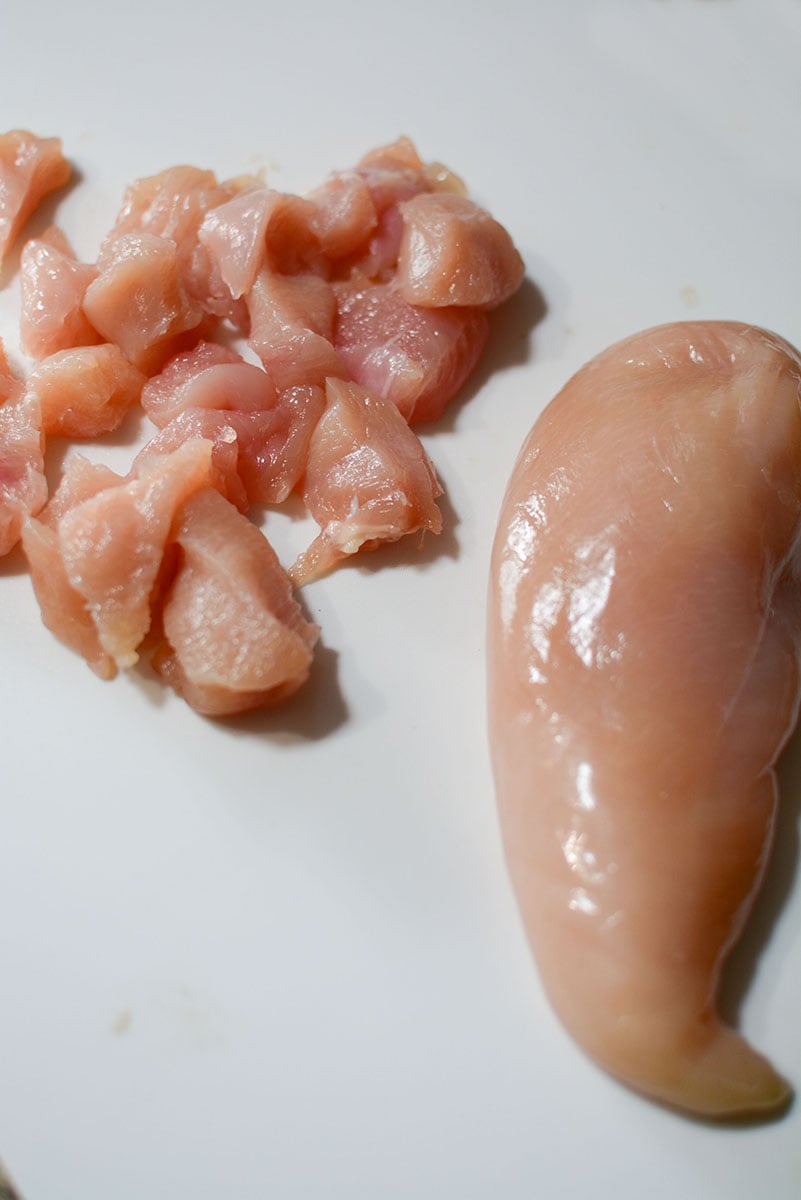 Can I Make This Soup Into A Freezer Meal?
Absolutely! Cook the chicken ahead of time or use leftover chicken. Add it to a freezer bag or freezer-safe container.
Add the rest of the ingredients except the whipping cream. Freeze. When you want to make it for dinner, thaw it the night before and proceed according to the directions as usual.
Cook time will be reduced by a few hours, both on high or low.
Alternatively, you can cook this corn soup, and then freeze the leftovers in individual portions. When thawing, the soup may look like it's separated, but a quick mix up will bring it back to life!
Do not freeze the leftover portions of this soup with the bacon garnish on top. The bacon will get mushy and kinda gross. LOL
Different Types of Corn In This Corn Chowder Recipe:
You can use frozen or fresh corn in this recipe instead of using canned. I would however still recommend that you use the creamed corn as well because it helps add to the luxurious and rich mouthfeel of the soup.
IF you prefer to make your own creamed corn, please, by all means, do so! I just like sometimes, to make things as easy as possible.
What Can I Serve With This Slow Cooker Chowder?
My most favorite thing to serve with it would be, of course, a nice fresh crusty piece of buttered bread! Ohhhhhhh wow, it's really a fantastic combination with this soup!!
You could also serve a regular sandwich of any sort, or even a grilled cheese sandwich would be outstanding. The texture contrasts with the soup and the crunchy sandwich would be amazing.
Serving a nice green salad with some fresh veggies would be great, or even some of these Garlic Butter Bacon Cheddar Wheels or Hurry Up Buns that I've made!
How Long Can I Freeze This Soup For?
If you're freezing this meal for a future Slow Cooker Freezer Meal, I would say it would be good for up to 6 months. If you're freezing leftovers, then I'd say about a month or two.
Adding Extra Veggies
If you wanted to add extra vegetables to this soup, you could add pretty much any type of vegetable that cooks fairly fast, that you prefer. However, I would add them AFTER you've blended the soup.
Simply add the soup back to the slow cooker pot and add your small broccoli florets, peas, diced tomatoes, or green beans, etc. Cook for another half hour or so, or just long enough for the veggies to cook through and soften a tad.
Well, there you have it, my lovely readers! Please please please, when you make this luscious corn chowder, please send me a pic or leave a comment below, or come on over to the Facebook page and leave a message telling me what you thought of this soup!!! I'd love to hear it! And, as always, thank you so much for stopping by The Salty Pot today, and I hope you have a fabulous day!! 
SLOW COOKER SMOKY CHICKEN CORN CHOWDER
Additional Time:
5 minutes
Total Time:
8 hours
12 minutes
A sweet and smoky slow cooker chicken corn chowder! This hearty soup is rich and creamy, sweet and smoky, and has just enough texture so that it feels like a meal! With a slice of buttered crusty bread on the side, what more do you need? YUM!!
Ingredients
2 chicken breasts, cut into cubes
1 potato, large, cut into cubes
½ green pepper, large dice
1 can creamed corn
2 can niblet corn, drained
3c chicken broth
as desired bacon, cooked and crumbled
1tsp garlic, minced
1-2 tsp smoked paprika
as desired salt and pepper
1 c heavy cream
As desired cheddar, shredded
Instructions
1. Put all ingredients into the slow cooker except the heavy cream. (when using the smoked paprika, I recommended between 1 - 2 tsp. I think that's sufficient to achieve the smoky flavor to this soup.
2. Cook on low for 7-8 hours or high for 4-5 hours
3. When cooking time is up, CAREFULLY use your immersion blender to blend the soup to your desired texture. (see notes)
4. Add the cream and mix
5. When serving, garnish with a bit of shredded cheese and the crumbled bacon
Notes
1. Feel free to use canned, frozen or fresh niblet corn. If using fresh corn off the cob, feel free to break up the cobs into a few large pieces and add them to the soup for extra flavor. Just remove them before you blend the soup.
2. If you don't have an immersion blender, you can use your regular blender but BE VERY CAREFUL as you're dealing with hot liquids. Remove the center cap from the lid of the blender, and cover with a tea towel while you blend. This will help prevent the lid from popping off from the steam and going all over the kitchen!
3. If you don't have whipping cream on hand, you can use a coffee cream or table cream, (half and half). I would not use milk because it won't make it creamy enough.
Nutrition Information:
Yield:

12
Serving Size:

1 cup
Amount Per Serving:
Calories:

198
Total Fat:

10g
Saturated Fat:

6g
Trans Fat:

0g
Unsaturated Fat:

4g
Cholesterol:

46mg
Sodium:

447mg
Carbohydrates:

18g
Fiber:

2g
Sugar:

3g
Protein:

11g