Tender, meaty, and juicy, my Boneless Country Style Pork Ribs recipe is a winner. Smoky with that slight char that only grilling can impart, you'll see these are not your average ribs, my friend. Forget the ever-loved baby-backs, these ribs are my favorite!
***This post was updated on June 2023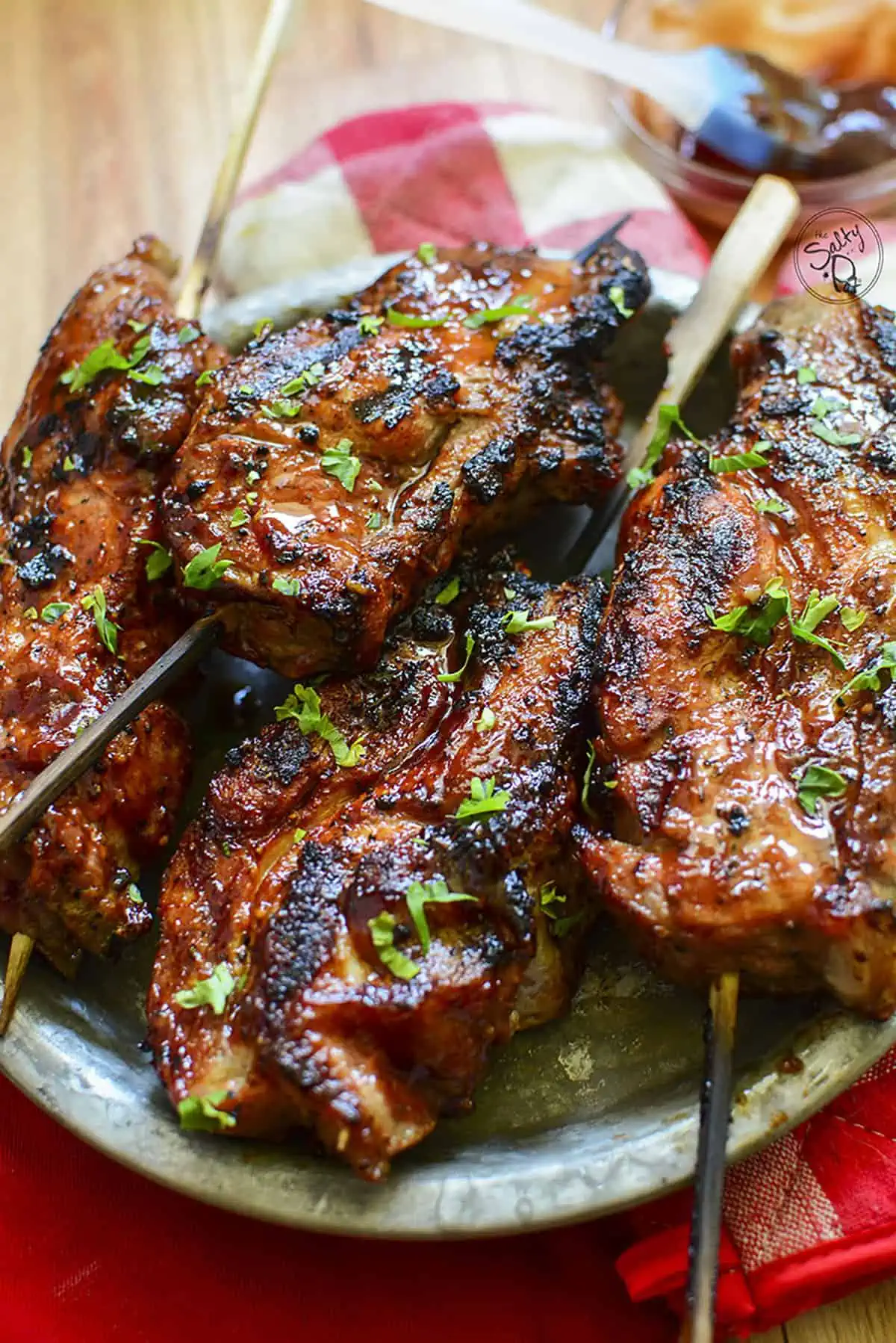 Grilled Boneless Country Style Ribs – one of the best ribs out there!
Boneless Country Style Pork Ribs
Who knew country pork ribs would make one of the most incredibly delicious summertime barbecue dishes? Seriously! Just like my Country Style Chili Lime Ribs recipe, these Pork Ribs are a nice and easy-to-cook recipe that will yield that meat unctuously tender and delicious.
I love these ribs so much that I can confidently say you're in for an easy and absolutely delicious barbecue ribs meal when you try this pork recipe.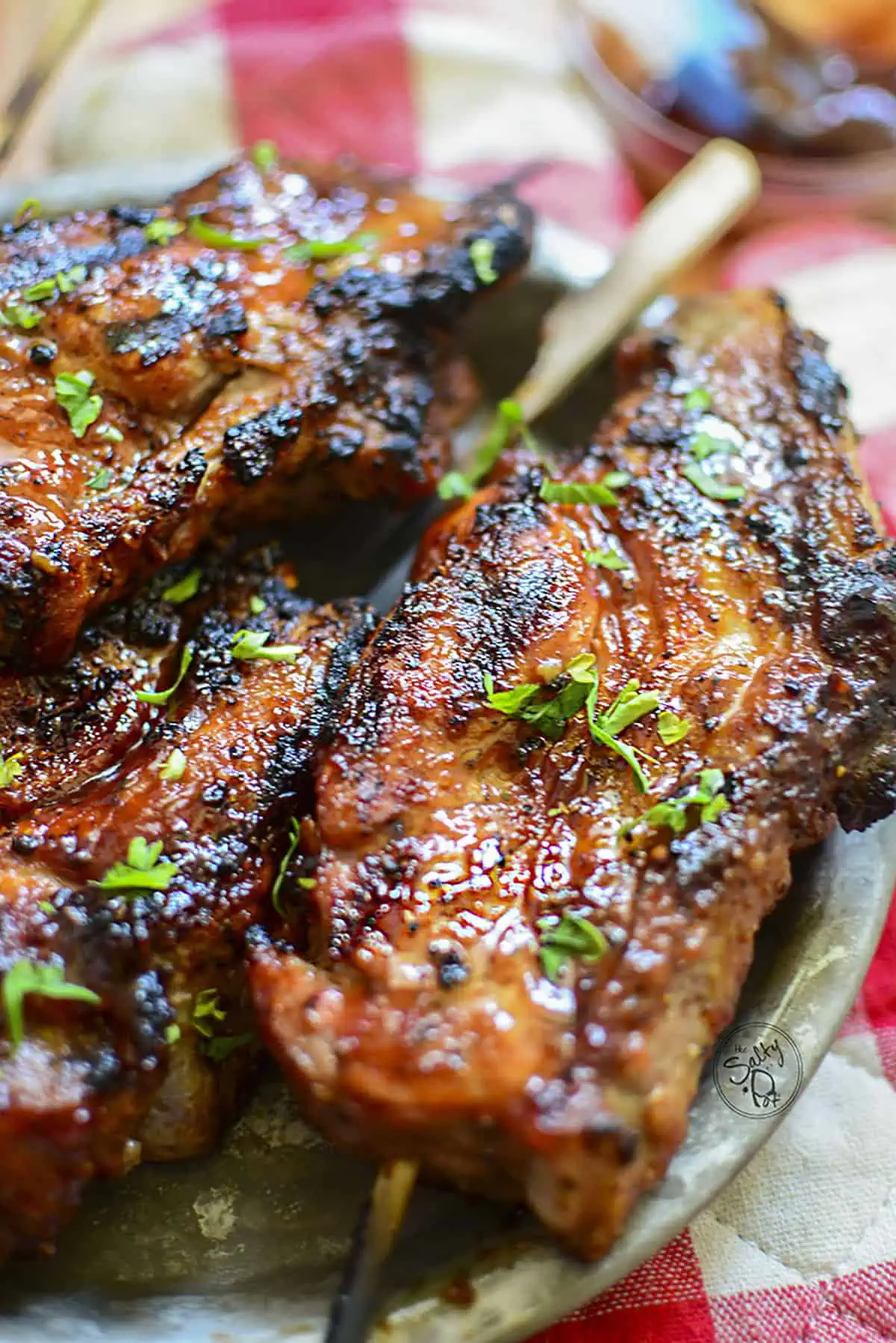 First, what exactly are Country Style Pork Ribs?
Ironically, these special pork ribs aren't really "ribs." Crazy right?
They're actually super tasty cuts of pork shoulder (you know, the kind that is usually cooked for pulled pork}.
These pieces are cut from the blade end and can sometimes have a small bone but usually are sold boneless. They have enough fat and marbling to keep them moist while cooking and because it's way meatier than the regular pork ribs, they are more filling.
Plus, they usually ring cheaper than your usual rack of baby-back ribs, making them a much bigger bang for your hard-earned dollars!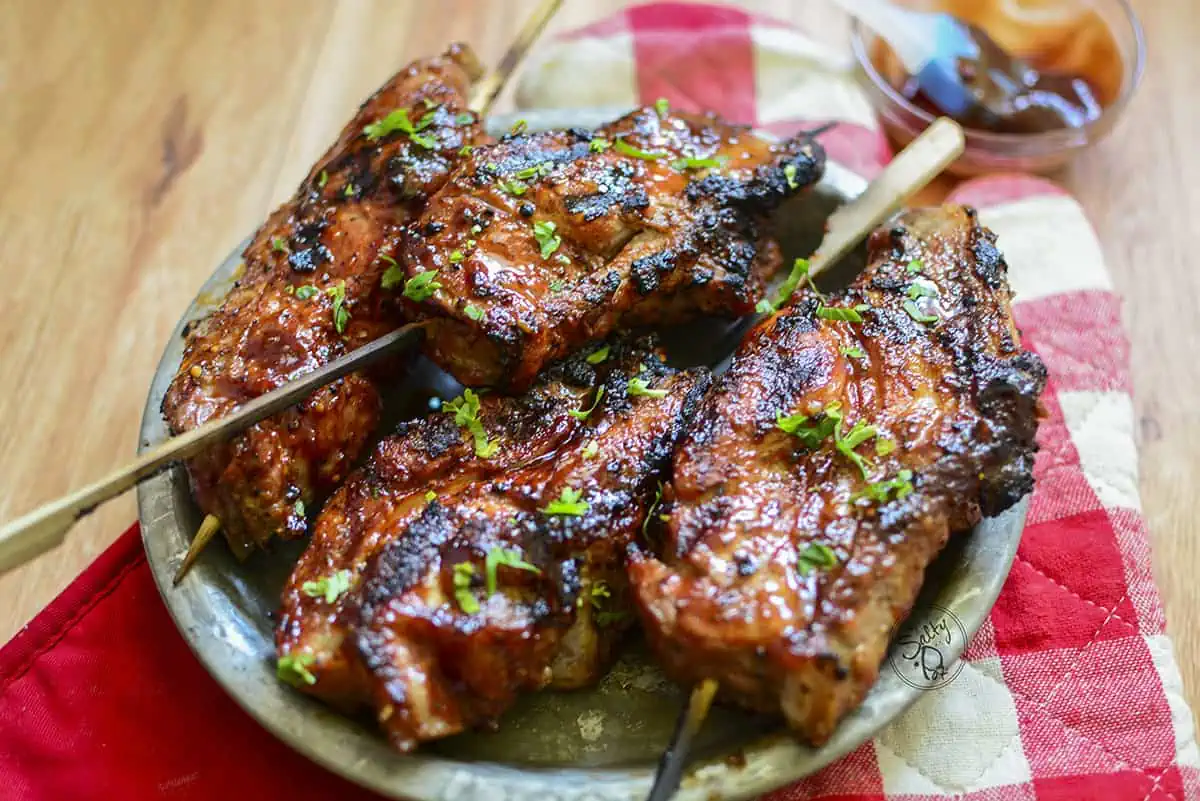 How to Make Grilled Country Style Pork Ribs
Prepping the Ribs:
First, a word on marinating. If you have a favorite marinating blend, be sure to marinate the ribs for at least a few hours or overnight. I've used my delicious Balsamic Brown Sugar Marinade on these ribs before and they turn out excellent.
Bring the pork ribs to room temperature for about a half hour or so before cooking. Grilling cold ribs can result in uneven cooking (cooked on the outside and raw on the inside.).
Seasoning: Today, I used my favorite, Montreal Steak Seasoning. I love this blend of different dried herbs and spices, (but I don't use it when I marinade the ribs first) but if you have your list of favorites, please use them. For other suggestions, see the recipe card below for a list.
This step is optional, but because the connective tissue is sometimes weak in spots throughout the rib, I like to skewer the pork ribs. (Plus they're like a 'meat lollipop' and it makes it fun to grill!). Skewer the pork ribs through the center of the rib, running from the bottom to the top.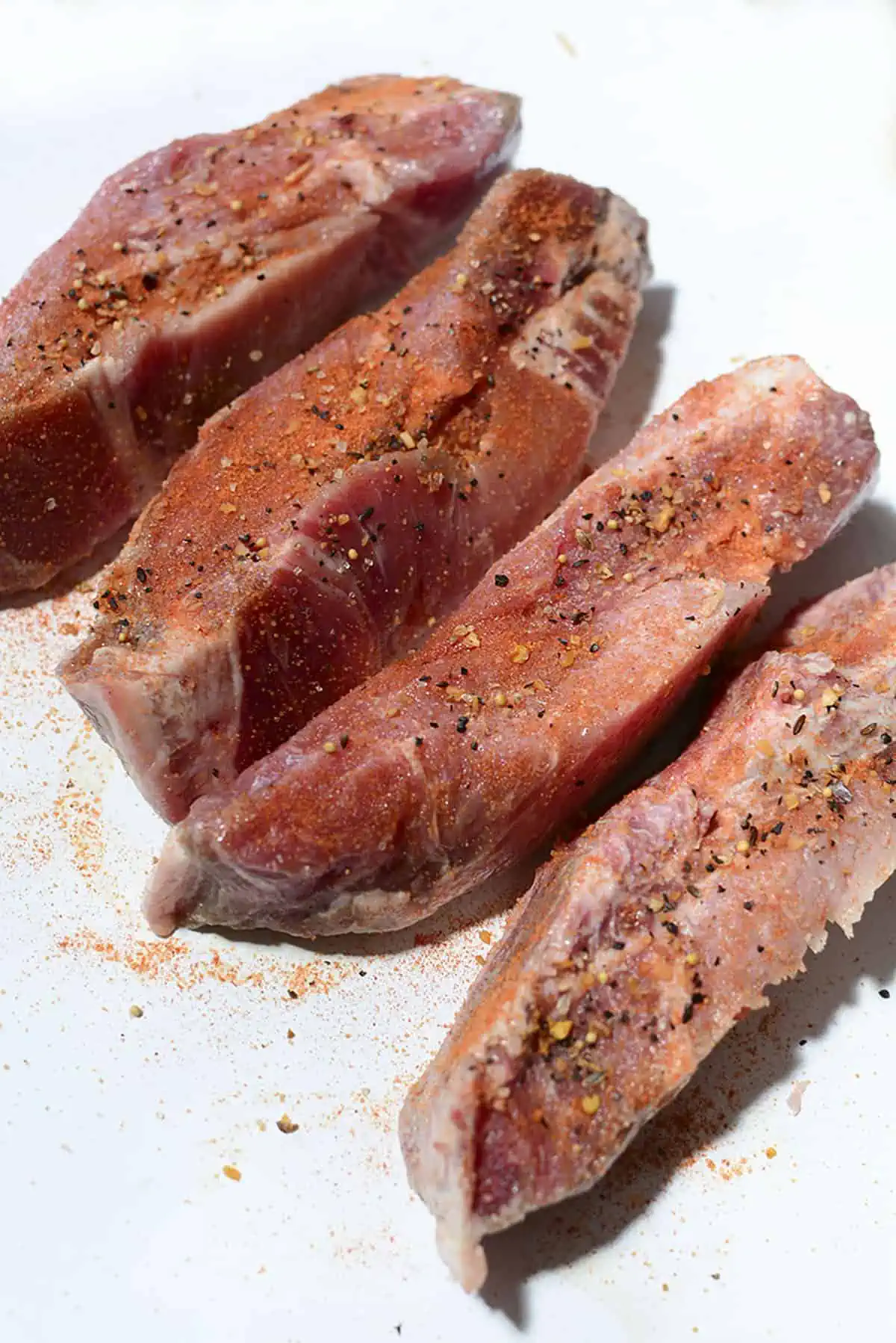 Grilling The Ribs
I use a gas grill for the majority of my summertime grilling. So here's how I did it:
Preheat the grill to 400F. (FYI If you are using a charcoal grill, I'll leave directions in the recipe card below for specific instructions for that as well).
Get the ribs on the grill over direct heat and grill quickly for color and caramelization. Turn down the heat and start basting. If you're cooking over charcoal, move the ribs over to a cooler spot on the grill so you're no longer over direct heat.
When the ribs are done, remove them from the grill and let them rest for 5 minutes!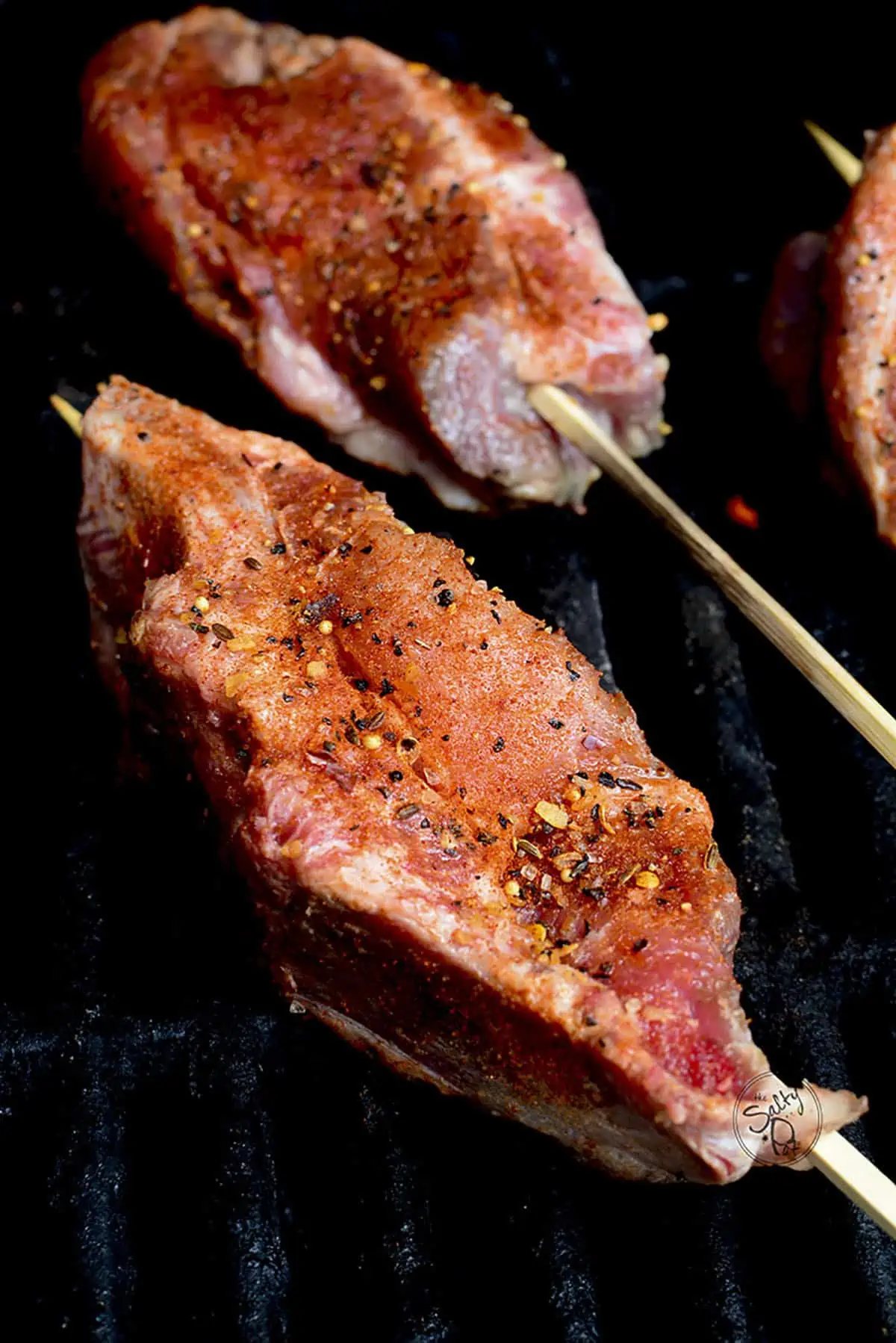 **Remember, all ingredients and cooking instructions will be in the printable recipe card at the bottom of this post.
How to Serve These Pork Shoulder Ribs
These country-style pork ribs have a lot of side options! You can serve the ribs with Grilled Corn On the Cob (4 ways!!), or this Beet Avocado and Feta salad would be excellent, or this Creamy Cucumber salad would be an excellent choice.
For an even easier side, try these 3-minute Instant Pot Maple Cinnamon Butter Carrots, or these Pineapple Baked Beans – they are divine!
Dealing with Leftovers… (IF there are any!)
The barbequed pork will stay good in the fridge for up to 4 days. Just be sure to wrap them up securely in an airtight container.
To reheat, it's as easy as heating them in the microwave, or for a method to keep the crispy outside char intact, try air frying them for a few minutes at about 350 Degrees F.
You can freeze the ribs after cooking for easy meal prep. Be sure to use a freezer-friendly container and they should keep well for up to 3 months.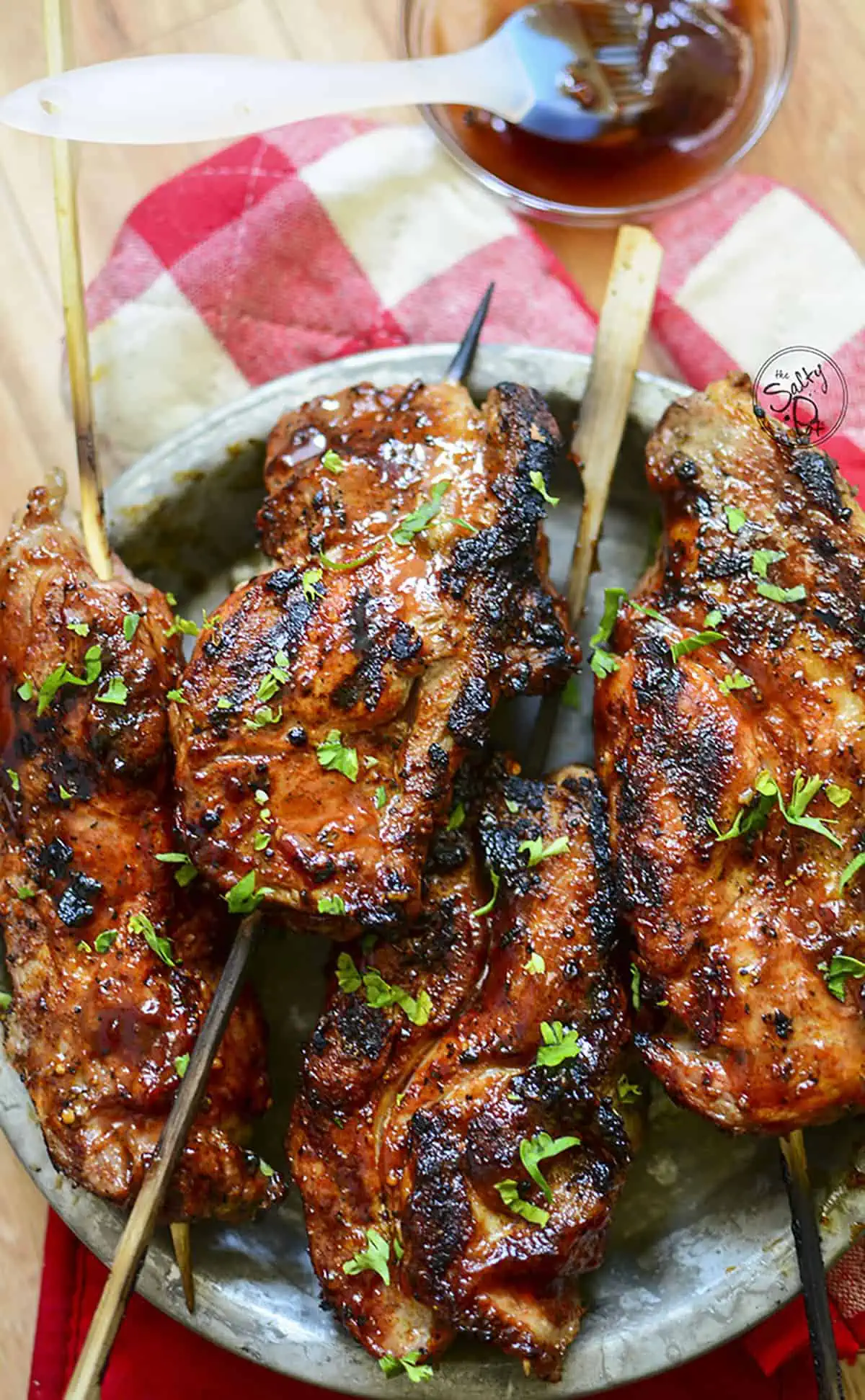 Salty Pot Cooking Tips
If you use wooden skewers as I did, be sure to soak them in water for about 30 minutes before you put the ribs on them. This will help so the skewers don't burn while grilling.
There's a lot of store-bought barbecue sauce that you can use but you can also make your own homemade barbecue sauce like this Sweet and Smoky one from Wanderlust Kitchen or my tangy and smoky Rhubarb BBQ Sauce.
Be sure to let the ribs come to room temperature before grilling to ensure an even cook on them.
Using a digital thermometer is the best way to keep an eye on the ribs so they don't overcook (or undercook!). Depending on how you prefer the pork, a good safe internal temperature for these ribs would be 165F. (Some people grill to only 145F and others pull the ribs off the grill at 200F. 165 is my happy place!).
A general rule is 2 ribs per person for a serving size. However, depending on how large the butcher cut them, one might be enough. Yay for leftovers!
Other Valuable Grilling Tips
Remember to Preheat the Grill: Many people underestimate the importance of preheating the grill. Preheating is necessary because it creates a nice sear, locking in the flavors and juices of the ribs. It also makes the ribs less likely to stick to the grates.
Overcooking or Undercooking: Both can lead to undesirable results. Overcooking can make the ribs dry and tough, while undercooking poses health risks.
Not Resting the Meat: Resting the meat after grilling is crucial because it allows the juices to redistribute throughout the meat. Cutting into the meat right after taking it off the grill can cause the juices to run out, leading to dry ribs.
Grilling on High Heat the Entire Time: While high heat is great to start the cooking process and get a good sear, country-style ribs (and most other meats) benefit from cooking over a lower temp heat. this helps to prevent a burnt outside and raw inside, or just simply overcooking the meat.
Not Cleaning the Grill: A clean grill isn't just about hygiene; it also impacts the flavor and overall success of your BBQ. A dirty grill can cause flare-ups and impart a burnt flavor to your ribs. Please DO NOT use metal brush grill cleaners. The metal bristles can come dislodged and instead stick into the meat and it can unknowingly be eaten and cause internal injuries.
Ignoring Indirect Grilling: Some people grill ribs directly over the heat the entire time, which can cause them to burn. For tender ribs, it's often better to use a two-zone fire, searing the ribs on the hot side before moving them to the cooler side to cook indirectly.
Applying Sauce Too Early: If you're using a sauce, particularly one that's sugar-based like barbecue sauce, it's a mistake to apply it too early. The sugar can burn and create a charred, bitter flavor. It's generally best to apply such sauces near the end of the grilling time.
Have You Tried This Pork Rib Recipe?
If you've made these ribs, I'd love to hear what you think! Did you switch up the recipe at all? Let me hear about it in the comments below and please give the recipe a star rating in the recipe card! Thanks so much for stopping by The Salty Pot today!
~Joanne.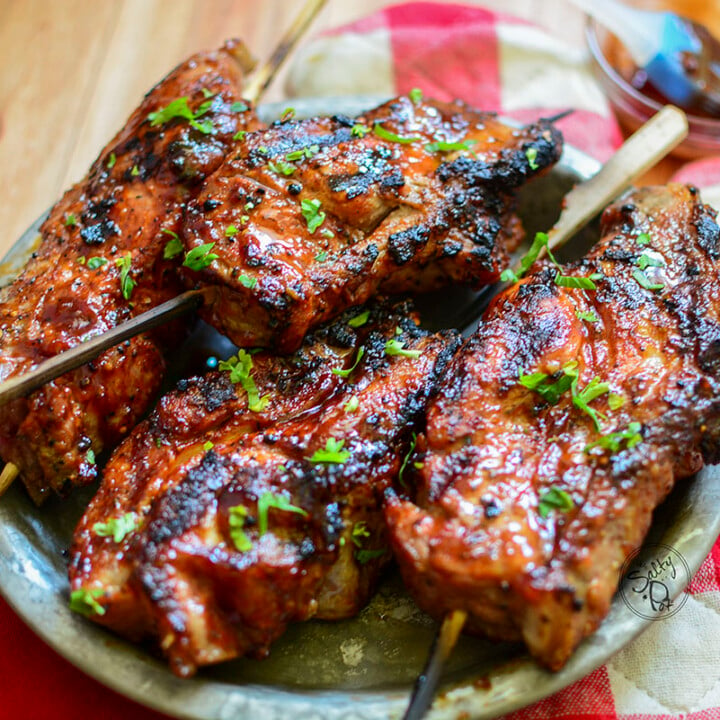 Boneless Country Style Pork Ribs
Super delicious and tender, these juicy grilled boneless country style pork ribs are not your average rib. Incredibly meaty, these are perfect when grilled and sauced - they'll be your new favorite rib dish to make!
Ingredients
4 country style pork ribs
1 teaspoon smoked paprika
2 teaspoon minced garlic (or garlic powder to taste)
1 teaspoon onion powder
salt and pepper to taste
***You can also just use Montreal Steak Seasoning which has all those above ingredients plus more***
1 cup of your favorite barbeque sauce
Instructions
1. Bring the ribs up to room temperature from the fridge. (Approximately 20 minutes.) While doing that, soak the wood skewers in warm water.
2. Preheat the grill to 400F.
3. Season with Montreal Steak seasoning or the ingredients listed above.
4. Carefully skewer the pork ribs, being mindful to leave enough of the skewer on the end of the rib for turning on the grill. (Watch your hands!)
5. When the grill is hot, place the skewered ribs onto the bbq. Grill for a few minutes to get a sear and color.
6. Turn down the heat to 350F. Start basting and grill for 7 minutes per side, basting at every turn with the sauce. The internal temperature should be 165F
6. Remove from the grill when thoroughly cooked and let sit for 5 minutes before serving.
Notes
1. Be sure to soak the skewers if they are made of wood so they don't burn on the grill.
2. Cook to an internal temperature 165F
3. Bringing the meat to room temperature before using it ensures the pork will grill evenly. If it's cold from the fridge, the outside will cook faster than the inside and may result in a dry, overcooked rib on the outside before it's cooked to the right temperature on the inside.
4. If you are having a lot of flare-ups on the grill while cooking, move the ribs to indirect heat for a few minutes before moving back.
5. For charcoal grilling, get the grill hot and ready. Move the coals to one side of the grill and sear the ribs for color and flavor. Leaving the coals on the side, move the ribs to a cooler area of the grill and continue cooking and basting until the internal temperature reaches 165F.
Nutrition Information:
Yield:

4
Serving Size:

1
Amount Per Serving:
Calories:

502
Total Fat:

26g
Saturated Fat:

9g
Trans Fat:

0g
Unsaturated Fat:

15g
Cholesterol:

132mg
Sodium:

1018mg
Carbohydrates:

30g
Fiber:

1g
Sugar:

24g
Protein:

37g
All nutritional information is based on third-party calculations and is only an estimate. Each recipe and nutritional value will vary depending on the brands you use, measuring methods, and portion sizes per household.