Tender, meaty, juicy grilled country-style pork ribs. Smoky with that slight char that only grilling can impart, these are not your average ribs, my friend. Forget the ever-loved baby-backs, these ribs are my favorite!
Grilled country style ribs = one of the best types of ribs out there!
Country Style Pork Ribs
Who knew country pork ribs would make one of the most incredibly delicious summertime barbecue dishes? Seriously! These Pork Ribs are a nice and easy-to-cook recipe that will yield that meat unctuously tender and delicious.
I love these ribs so much that I can confidently say you're in for an easy and absolutely delicious barbecue ribs meal, when you try this recipe.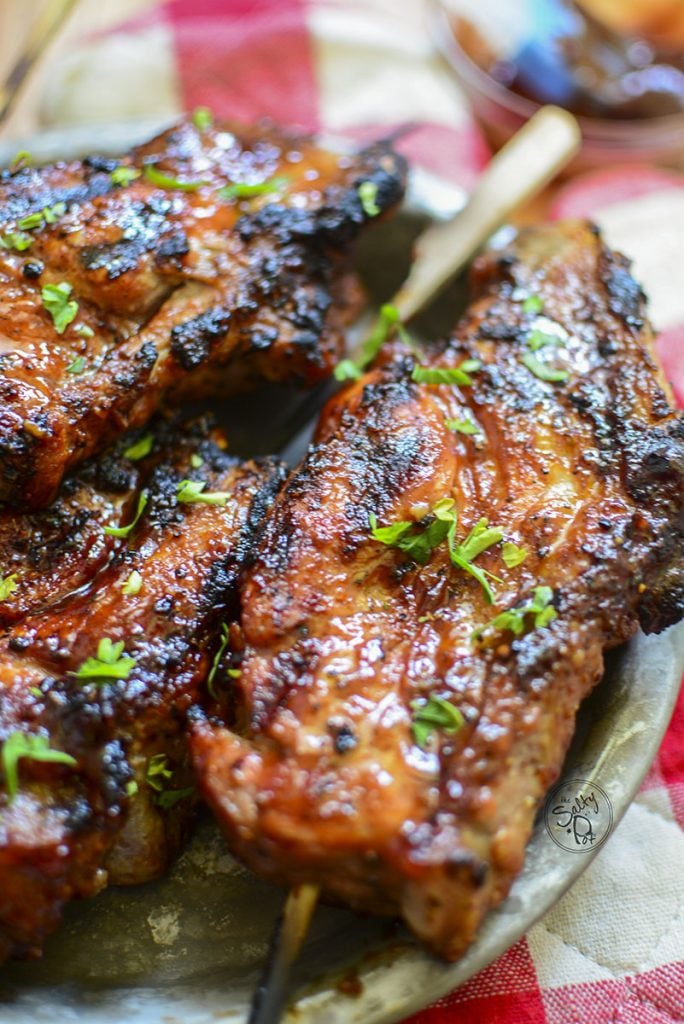 First, what exactly are Country Style Pork Ribs?
Ironically, these special pork ribs aren't really "ribs." Crazy right?
They're actually super tasty cuts of pork shoulder (you know, the kind that are usually cooked for pulled pork}.
The pork meat has enough fat and marbling to keep it moist while cooking and because it's way meatier than the regular pork ribs, they are more filling.
Plus, they usually ring cheaper than your usual rack of baby-back ribs, making them a much bigger bang for your hard-earned dollars!
How to Cook these Ribs
Bring the pork ribs to room temperature and season. I used my favorite, Montreal steak seasoning. You can also use other seasonings. See the recipe card below for a list.
Because the connective tissue is sometimes weak in spots through out the rib, I decided to skewer the pork ribs. (Plus they're like a 'meat lollipop' and it makes it fun to grill!). Skewer the pork ribs and cook on the grill for about 7 minutes per side.
Start basting with your favorite barbecue sauce after the first turn.
Cook until the ribs reach an internal temperature of 165 degrees F or until they have that rich mahogany color.
And that's it! You can check out the full recipe below.
Cooking Tips
If you use wooden skewers like I did, be sure to soak them in water for about 30 minutes before you put the ribs on them. This will help with keeping the ribs together and make turning on the grill easier.
You can choose to make them right away after seasoning or you can marinate the meat a bit longer for better flavors. Seasoning them a day ahead and put them in the fridge. I recommend doing this so you can make sure that the ribs actually absorb the flavors you want to give them.
There's a lot of store-bought barbecue sauce that you can use but you can also make your own homemade barbecue sauce like this Sweet and Smoky one from Wanderlust Kitchen.
Dealing with Leftovers… (IF there are any!)
The barbequed pork will stay good in the fridge for up to 4 days. You can freeze the ribs after cooking for easy meal prep. You can also prepare (season) the ribs up to two days ahead of time to then cook, but make sure to not refreeze pork (or any meat) after thawing if previously frozen.
How to Serve
These country-style pork ribs have a lot of side options! You can serve the ribs with Grilled Corn On the Cob (4 ways!!), or this Beet Avocado and Feta salad would be excellent, or this Creamy Cucumber salad would be an excellent choice. For an even easier side, try these 3 minute Instant Pot Maple Cinnamon Butter Carrots, or these Pineapple Baked Beans – they are divine!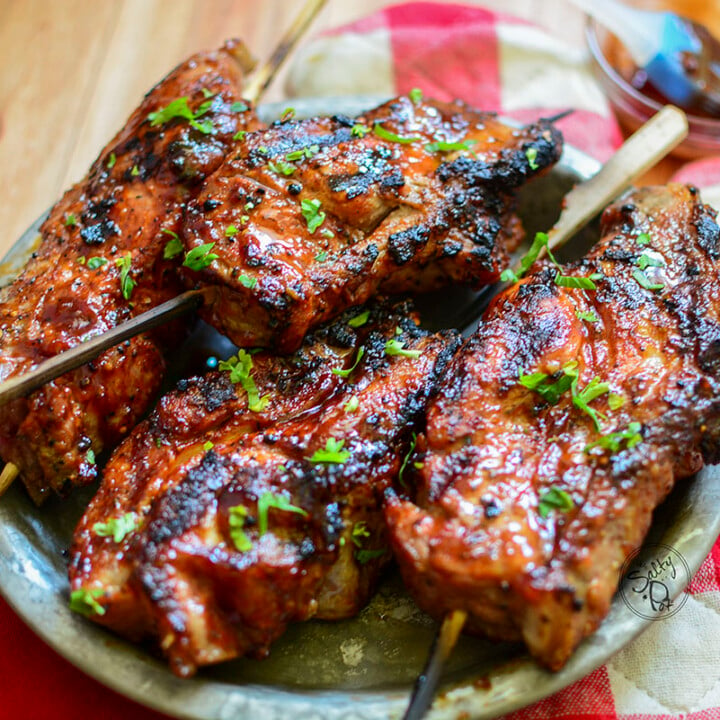 Grilled Country Style Pork Ribs
Super delicious and tender, these juicy grilled country style pork ribs are not your average rib. Incredibly meaty, these are perfect when grilled and sauced - they'll be your new favorite rib dish to make!
Ingredients
6 country style pork ribs
1 tsp smoked paprika
2 tsp minced garlic (or garlic powder to taste)
1 tsp onion powder
salt and pepper to taste
***You can also just use Montreal Steak Seasoning which has all those above ingredients plus more***
1 cup of your favorite barbeque sauce
Instructions
1. Bring the ribs up to room temperature from the fridge. (Approximately 20 minutes.) While doing that, soak the wood skewers in warm water.
2. Preheat the grill to 375.
3. Season with Montreal Steak seasonning or the ingredients listed above.
4. Carefully skewer the pork ribs, being mindful to leave enough of the skewer on the end of the rib for turning on the grill.
5. When the grill is hot, place the skewered ribs onto the bbq. Grill 7 minutes per side, basting at every turn with the sauce. The internal temperature should be 145F
6. Remove from the grill when thoroughly cooked and let sit for 5 minutes before serving.
Notes
1. Be sure to soak the skewers if they are made of wood so they don't burn on the grill.
2. Cook to an internal temperature 145F
3. Bringing the meat to room temperature before using it ensures the pork will grill evenly. If it's cold from the fridge, the outside will cook faster than the inside and may result in a dry, overcooked rib on the outside before it's cooked to the right temperature on the inside.
4. If you are having a lot of flareups on the grill while cooking, move the ribs to indirect heat for a few minutes before moving back.
Nutrition Information:
Yield:

3
Serving Size:

2 ribs
Amount Per Serving:
Calories:

917
Total Fat:

51g
Saturated Fat:

18g
Trans Fat:

0g
Unsaturated Fat:

30g
Cholesterol:

265mg
Sodium:

1422mg
Carbohydrates:

41g
Fiber:

1g
Sugar:

31g
Protein:

74g
All nutritional information is based on third-party calculations and is only an estimate. Each recipe and nutritional value will vary depending on the brands you use, measuring methods, and portion sizes per household.